Novo Nordisk's (NYSE:NVO)'s next-generation pipeline drugs will drive the company's next leg of growth beyond its current insulin products.
Insulin aspart, one of these promising drugs, is making headlines this morning for being rejected by the FDA. However, NVO investors should not be worried, as the rejection is already old news and the company can get the drug back on track without heroic effort.
Old News
Despite the headlines and an official SEC filing this morning, Novo actually released a press release on Friday stating insulin aspart was rejected by the FDA.
The release came near midnight Central European Time, which was after-market in the United States. As a result, the market digested the news over the weekend, and NVO's stock opened lower in Monday's (yesterday)'s trading: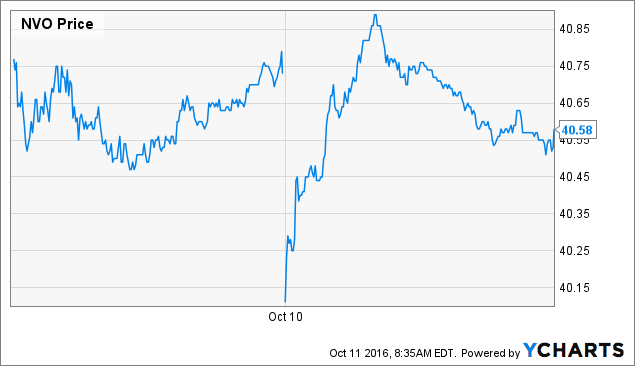 NVO Price data by YCharts
The stock sharply and quickly recovered, however, as the market bounced back and investors digested the actual content of the news.
FDA Requesting, Not Rejecting - Drug Still in Play
The headlines dictate insulin aspart was "rejected," and this is true, in a sense; the FDA did not approve the drug.
However, the drug was not disproved.
Instead, the FDA requested more information. The regulatory agency wants to learn more about the drug's content and quality, specifically its enzymatic makeup.
If Novo supplies this information and the FDA is satisfied, the drug would still be approved. Novo's chief science officer said the company
"We will work closely with the agency to... complete the review"
and
"Our ambitions for this innovative drug are unchanged."
Potential Decreased Slightly, But Not Much
Back in August, I wrote NVO could be undervalued after its most recent earnings release due to the company's massive pipeline potential.
As a result of the FDA's letter, I am slightly decreasing my estimates for the company's pipeline and slightly increasing the assigned discount rate.
Original estimates:

New estimates:

As readers can see, the total present value of sales decreases by ~$700M.
Small Sell-Off, Nothing To Worry About
At NVO's current P/S of 5, this represents a decrease in market value of $3.6B, or a price decrease of $1.80.

As the stock is hovering around $41, this would represent a decrease of around 4%.
In summary, I believe this "setback" to be relatively insignificant. A small sell-off may be justified, but absent further bad news regarding NVO's pipeline, investors should not worry about this release.
Continue Reading: LendingClub's Late Loan Mix and Availability - Potential Boon for Income Investors
Disclosure: I/we have no positions in any stocks mentioned, and no plans to initiate any positions within the next 72 hours.
I wrote this article myself, and it expresses my own opinions. I am not receiving compensation for it (other than from Seeking Alpha). I have no business relationship with any company whose stock is mentioned in this article.