The Moment of Truth
The S&P 500 (SPY), (IVE), (SH), (VOO), (SSO), (SDS), (IVV), (SPXU), (UPRO) has been sidelining since mid July.
Currently at 2.168, the index has been trading at the border of the positive trend line initiated in February 2016, which has been providing support to the index. However, it is also trading close to the short-term negative trend line initiated in September, which has been working as a resistance.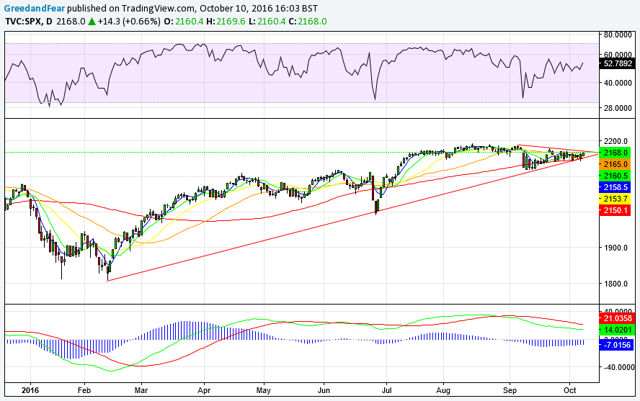 Source: Trading View
This consolidation triangle is getting tighter by the day and odds are that a break up or down will be followed by a strong movement in the same direction.
Potential Triggers
The way I see it, today there are more events that could trigger a break lower than higher. On the negative side, we have worries over the US Election, Deutsche Bank, China, Brexit, another quarter of earnings decline, a Fed rate hike and/or a correction in the oil price back to the low 40s. On the positive side, the only trigger I see is a surprise on 3rd quarter earnings.
My guess is that earnings will be the trigger for a break lower or higher. In fact, investors seem to have gotten used to the problems in Deutsche Bank, China and Brexit (even if they're probably too complacent about them). Also, the US Election and OPEC meeting will only take place in November and a Fed rate hike is likely to come only in December (nonetheless, both events could exacerbate the movement that is probably going to be initiated in October).
In what regards earnings, with the S&P 500 trading at an historical high valuation in terms of P/E and P/S, the pressure is towards the downside. In fact, stocks must justify the current 12-month trailing P/E of 25 and the current CAPE ratio of 27 through positive earnings growth. Otherwise, how will the S&P 500 reach the end of year estimated P/E of 18 without an increase in earnings? Oh, that's right: stock prices will have to fall.
But even if there's a substantial increase in earnings in order for the S&P 500 to reach the estimated P/E of 18 (which I severely doubt), investors must not forget that 18 is the highest level seen during this bull market (and way above the last 5-year average of 15.5). So, nobody should be comfortable with this high valuation: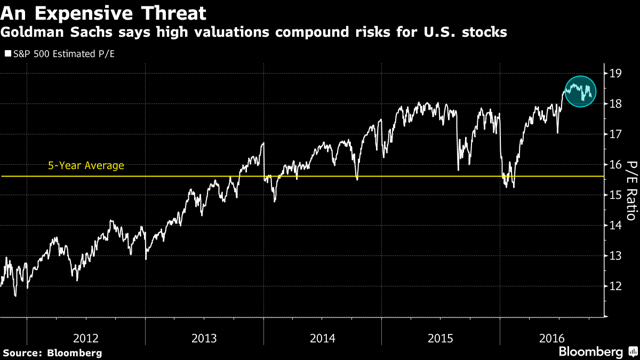 Source: Bloomberg
Finally, we all know that analysts are usually very conservative on their predictions. In fact, as we can see from the graph below, actual earnings have always beaten analysts' estimates since 2014. As this is well known by investors, one should not get too optimistic over the possibility that earnings may beat estimates by a small margin. In fact, be careful to buy on slightly better than expected earnings given that valuations are too high.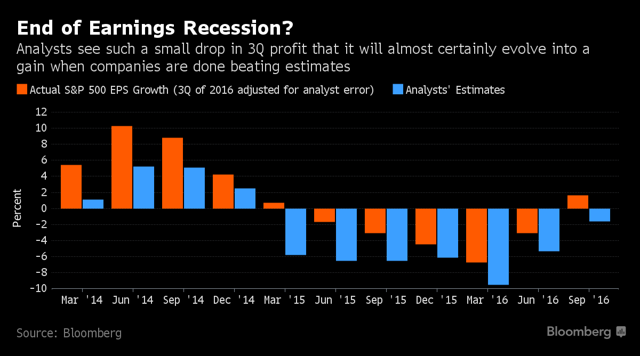 Source: Bloomberg
October VIX
Another reason that makes me biased towards a break down (regardless of the underlying reason(s) behind it) is the fact that the VIX (NYSEARCA:VXX) is too low specially for the month of October, which is historically the most volatile month of the year.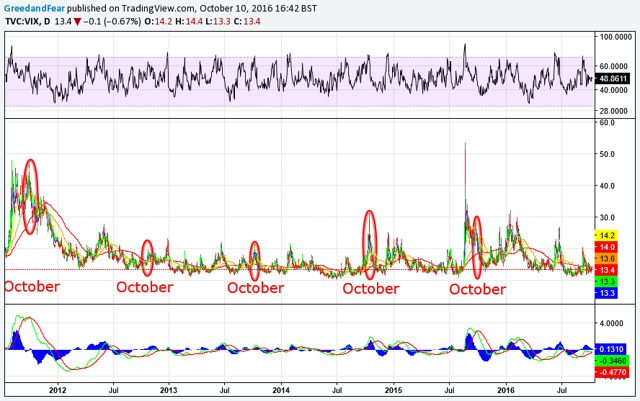 Source: Trading View
In fact, the VIX is currently trading at 13.4 while the lowest high seen in a month of October since 2011 was 20. That leaves a lot of room for a substantial movement in the S&P 500 during this month.
In Summary
After 3 months consolidating between 2130 and 2180, stocks are on the verge of a substantial movement higher or lower. The trigger for that movement is likely going to be the 3rd quarter earnings season.
With the S&P 500 trading at an historical high valuation in terms of trailing P/E, CAPE ratio, estimated P/E and trailing P/S, the pressure is towards the downside. In fact, earnings have to increase substantially in order to sustain the current equity prices.
Disclosure: I/we have no positions in any stocks mentioned, and no plans to initiate any positions within the next 72 hours.
I wrote this article myself, and it expresses my own opinions. I am not receiving compensation for it (other than from Seeking Alpha). I have no business relationship with any company whose stock is mentioned in this article.