Financial Guidance for 2016
There are several reasons that can help one conclude that Valeant Pharmaceutical's (NYSE:VRX) financial guidance for 2016 may be too optimistic. The company has projected that it will earn revenues in the range of $9.90 billion to $10.10 billion, while adjusted non-GAAP EPS will fall in the range of $6.60 - $7.00. While the company has already attained 48% of its annual revenue guidance in 1H16, the adjusted EPS in this period is only 39% of the company's full year target.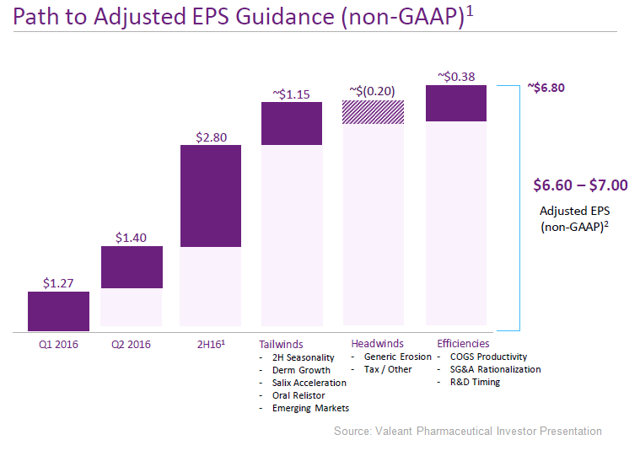 The above diagram shows how Valeant Pharmaceutical expects to achieve its 2016 adjusted non-GAAP EPS. It shows that adjusted EPS in 2Q16 was $1.40, a slight increase from $1.27 recorded in 1Q16. The company registered only a modest rise in sequential quarter-over-quarter revenues from $2.37 billion in 1Q16 to $2.42 billion in 2Q16. This involved flat quarter-over-quarter revenue growth from developed markets.
Walgreens Deal may not turn profitable
One can argue that Valeant's subdued performance in 2Q16 is just an exception. They may claim that the company lost substantial revenues in 2Q16 due to challenges faced in its distribution model with Walgreens. The termination of Valeant's relationship with Philidor RX Services, an independent specialty pharmacy, in October 2015, has resulted in significant loss of refill prescriptions in 1H16. They may believe that this situation will not continue in future quarters and the Walgreens deal may become profitable in the 2H16.
Contrary to the belief, I think Valeant's fulfillment deal with Walgreens has a high possibility of failure.
Valeant Pharmaceutical announced fulfillment agreement with Walgreens on December 15, 2015. While few dermatology products are slowly witnessing a revival of revenues, the deal has till date failed to make up for the lost mail order business with Philidor.
And Walgreens may never be able to recover majority of the revenues for many years ahead, mainly because the company's drugs are expensive and can easily be substituted. The past commercial success of the company was dependent on mail-order business, in which patients never visited a brick-and-mortar pharmacy. Hence,they were never exposed to the high price of the drugs. It was only the health insurer who had to bear the brunt of reimbursing the costly medicines. Hence, it may not be feasible to sell such products through a retail distributor like Walgreens, especially when the company has not significantly reduced prices of its drugs.
A flashback of the year that destroyed Valeant's share price
On February 10, 2015, Marathon Pharmaceuticals announced the sale of its non-strategic drug portfolio, which contained heart drugs, Isuprel and Nitropress, to Valeant Pharmaceutical. After the deal, Valeant Pharmaceutical increased the prices of these drugs by 525% and 212%, respectively.
The price raise set the ball rolling for unraveling of a major scandal in the pharmaceutical industry. In August, 2015, this pricing strategy was first questioned by Senator Bernie Sanders and another member of Congress, Elijah Cummings. By September 28, 2015, the number of democrats investigating Valeant's excessive price hike reached 18. This would prove to be a turning point for the company. Valeant Pharmaceutical's share price took a hit of about 16.5% from $199.47 on September 25, 2015, to $166.50 on September 28, 2015.
The investigation further intensified after Deutsche bank released a report on October 05, 2015, which informed that Valeant Pharmaceutical had increased prices of 54 drugs in 2015 by approximately 66%.
On October 19, 2015, Southern Investigative Reporting Foundation threw some light on the seemingly strange relationship between Valeant Pharmaceutical and Philidor, a specialty pharmacy service. The nebulous connections were further explained in a report by Citron Research published on October 20, 2015.
On October 21, 2015, Valeant claimed that the report by Citron Research was erroneous and that Philidor is an independent specialty pharmacy.
However strangely, the company also added that Philidor's inventory was been reported as a part of Valeant's consolidated inventory balances.
By then, the investors had seen enough to sniff a scandal. Valeant Pharmaceutical's stock price was pushed down by approximately 38% from $177.56 on October 16, 2015, to $109.87 on October 22, 2015.
On October 25, 2016, Wall Street Journal published an article which highlighted the involvement of Valeant's employees in Philidor's operations under fake names.
In the conference call hosted on October 26, 2015, Valeant Pharmaceutical reiterated that Philidor is an independently operated company. However, Valeant explained that it owns an option to acquire the specialty pharmacy. The company had already paid $100 million as upfront payment and milestone payment of $33 million.
Since Philidor accounted for less than 10% of Valeant's total revenues, the company maintained that disclosure was not obligatory under GAAP requirements.
Valeant Pharmaceutical also claimed that the option to purchase Philidor also failed to cross the internal threshold maintained by the company for reporting transactions in business combination footnotes. Hence, the company did not require to disclose these details to shareholders. As expected, the company's investors found these explanations unsatisfactory.
On October 30, 2016, Valeant announced that it would sever all its relationships with Philidor, and the pharmacy will be closed with immediate effect. The sudden termination, however, unnerved shareholders and the stock slid by about 16% and reached $93.77.
On February 22, 2016, Valeant Pharmaceutical finally confessed that the company would have to restate 2014 and 2015 financial statements to adjust for certain sales from Philidor. This admission hit the company's stock by approximately 11% from $84.99 on February 19, 2016 to $75.92 on February 22, 2016. The next blow to the share price of approximately 18% came on February 29, 2016 when Valeant declared that it was been investigated by U.S. Securities and Exchange Commission. By then, Valeant's share price had reached $65.80.
The final nail in the coffin was driven on March 15, 2016, when Valeant announced that it will delay the filing of its 10K for year ending December 31, 2015. Being a breach of a reporting covenant required by the agreement with debt holders, this was the news of a technical default by the company. Investors could not tolerate this news and pushed the stock down by a colossal 51% to reach $33.01.
In April 2016, the Senate Aging Committee held an investigation regarding the company's drug pricing strategy. Both Republicans and Democrats blamed Valeant Pharmaceutical for its business model of acquiring drugs and then selling them after jacking up prices.
Valeant Pharmaceutical's then CEO, Mike Pearson, and Ackman apologized for the company's pricing strategy and commented that they would correct it at the earliest.
And yet the problem continues
Valeant Pharmaceutical then replaced Mike Pearson with Joseph Papa effective May 03, 2016. A Patient Access and Pricing Committee was set up to ensure patient access to Valeant's drugs as well as ensure that these drugs are correctly priced.
However, the committee seems to have done very little in terms of reducing prices, barring exception of Isuprel and Nitropress. And that too may prove to be "too little too late" to stir up demand. Instead of correcting drug prices, Joseph Papa explained in Wells Fargo Securities Health Care Conference held on September 7-8 2016, Valeant Pharmaceutical has commenced a volume-based discount program for Isuprel and Nitropress. This program offers discounts to group purchasing organizations and hospitals in the range of 10% to 40%.
Even in case of Wilson's disease, Valeant Pharmaceutical has not reduced prices of Cuprimine and Syprine but has raised the eligibility criteria for its patient assistance program to include patients up to 500% of the federal poverty level.
All these changes still avoid the main problem, of actually correcting drug prices, despite the company having lost around 90% of its share price in the past one year. These actions raise doubts regarding the integrity of the company, exposing it to added scrutiny as well as loss of coverage by major pharmacy benefit managers such as Express Scripts and CVS Health.
On February 23, 2016, CVS Health announced that it would limit use of Valeant Pharmaceutical's anti-fungal drug, Jublia. CVS Health has removed the company's heartburn drug, Zegerid and steroid drug, DexPak, from its drug formulary for 2017. Express Scripts also dropped the company's diabetes drug, Glumetza, from its 2016 formulary, complaining about its excessive pricing.
High drug pricing has spoiled Valeant Pharmaceutical's relationships with payer community. The increased scrutiny by pharmacy benefit managers leads to stricter prior authorization process and significant refusal for reimbursement. This may have affected Valeant Pharmaceutical's profitability in 1H16. Additionally, lack of price correction measures has also exposed Valeant Pharmaceutical to significant regulatory and legal risk. It can result in unexpected actions by the government agencies or even litigations against the company. This can pose threat to the company achieving its financial targets in 2016.
Increasing copays
In case of drugs which require prior authorization, Valeant Pharmaceutical dispenses drugs through Walgreens even before receiving approval from the payers. This is done to enable continued patient access to the drugs.
However, in case the prescriptions are not approved, Valeant Pharmaceutical has to still bear the pharmacy fees paid to Walgreens for offering the products. This has resulted in negative average selling price for several of its dermatology products in 1H16. The damaged reputation of the company can be one of the core reasons for significantly high number of denials of prescriptions for Valeant's products.
To counter this problem, starting August 2016, Valeant Pharmaceutical has increased copays for such prescriptions. Copay is a flat amount paid by the patient for sharing the bill of the drug with the health insurer. In case of leading dermatology drug Jublia, copays are being said to have increased from $0 to $35. This can prove to be a major deterrent in new patients opting for Valeant's drugs. It can also result in existing patients switching from the company's drugs to other substitutes. This can have a negative impact on the prescription volumes for Valeant Pharmaceutical's drugs, subsequently affecting overall profitability in 2016.
Low valuation multiples
Valeant Pharmaceutical is currently trading at forward price to earnings or PE multiple of about 2.9x, significant lower than those of other pharmaceutical companies with similar business models such as Endo International (NASDAQ:ENDP) and Mallinckrodt (NYSE:MNK). The multiple is calculated using non-GAAP earnings. Based on weak business fundamentals, Valeant Pharmaceutical may not witness any improvement in its PE multiples in 2016.
Even if we consider Valeant Pharmaceutical managing to achieve non-GAAP adjusted EPS for 2016 in the range of $6.60 - $7.00, an optimistic estimate, the company's share price based on current PE levels falls in the range of $19.07 - $20.23. The midpoint of this estimated share price range, $19.65, is lower than Valeant's current share price of $23.16 by about 15.2%.
Owing to limited revenue growth opportunities, I believe that Valeant Pharmaceutical's quarterly non-GAAP EPS due to product sales in 3Q16 and 4Q16 will only be about $1.40, in range with that earned by company in 2Q16. Combined with impact of generic erosion, taxation, and efficiencies, the full year 2016 EPS may fall in the range of about $5.45 - $5.85. Valeant Pharmaceutical's share price based on more realistic EPS estimate for 2016 falls in the range of $15.75 - $16.91. The midpoint of this estimated share price range, $16.33, is lower than Valeant's current share price of $23.16 by about 29.5%. Hence, I believe that it is best to avoid this stock at current levels.
Disclosure: I/we have no positions in any stocks mentioned, and no plans to initiate any positions within the next 72 hours.
I wrote this article myself, and it expresses my own opinions. I am not receiving compensation for it (other than from Seeking Alpha). I have no business relationship with any company whose stock is mentioned in this article.