The end of September and beginning of October brought along a fairly good size market pullback, especially in the REIT sectors. While it was painful to sit back and see some of this year's large gains get whittled away, it also provided some opportunities to establish some new positions.
Usually when the market has a pullback, I find myself with my hands tied behind my back because I rarely keep any money back for rainy days. So all I can do it sit and watch. This Fall however, I had some circumstances which resulted in my 21 year accumulated 401K funds getting rolled over into my IRA and Roth IRA brokerage accounts. So I have had a significant amount of dry powder to manage.
Last week, I put a portion of those funds to work in some companies that I feel had some good value and/or a solid dividend growth history. Some of the purchases were full positions, and many of them were half positions which I will add to if the price drops further.
The Purchases
Armada Hoffler Properties (NYSE:AHH) - Armada Hoffler is a diversified REIT investing in retail, office, and multi-family properties, primarily in the Mid-Atlantic region. Their property portfolio can be viewed here. After a large run up in 2016 through August, the stock has pulled back 15% and now yields 5.6%. The dividends have been raised .01 per year the last few years, for around a 6% dividend growth rate.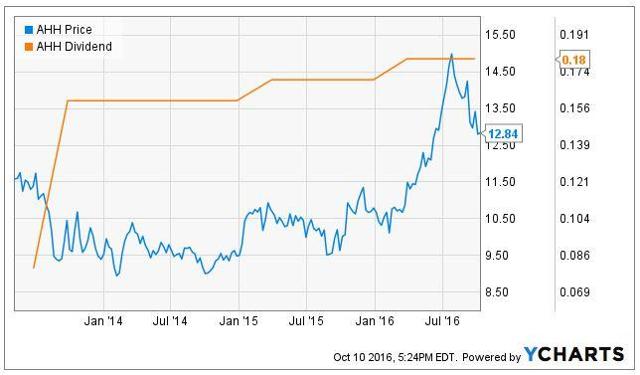 I purchased 386 shares at $12.94 as a half position and will look to add if the price falls below $12.50.
CorSite Realty (NYSE:COR) - CorSite is a data center REIT that has been on my radar for most of the year. They currently have 17 high tech data centers spread across the US, as detailed on their site here.
I continue to think that the data center market has nowhere to go but up and the internet keeps getting bigger and bigger. CorSite's stock price has pulled back 20% since its high in early July, providing a great buying price. Their yield is now 2.94% but the dividend has been growing at an average rate of around 25% for the last three years. Their quarterly earnings consistently beat the consensus and are growing at about 41% YoY.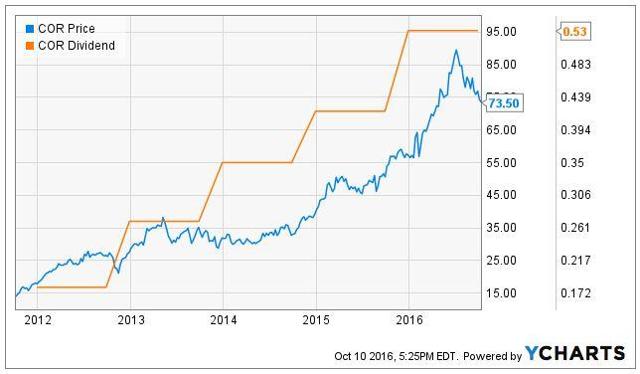 With this great story in mind, and the large pullback, I went with a full position and purchased 178 shares at $74.54.
Cisco Systems (NASDAQ:CSCO) - Cisco is your old school internet infrastructure company, although granted they are trying to reinvent themselves a bit with their software acquisitions. In the last 5 years their stock price has been on a slow steady climb. Cisco currently yields 3.3% and their dividend growth rate over the last 3 years has averaged around 15% (with a 24% increase in the last year).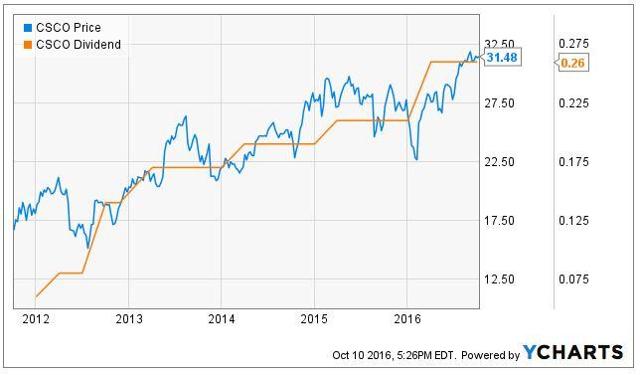 As another internet play, I think CSCO has a bright future; but since it hasn't had one of its signature $2 pullbacks in awhile, I only dipped my toe in with a half position. I purchased 158 shares at $31.54 and I will look to add more if the price pulls back below $30.
Eastgroup Properties (NYSE:EGP) - Eastgroup is an industrial REIT operating in many of the sunbelt states. Their properties are primarily warehouses and distribution centers.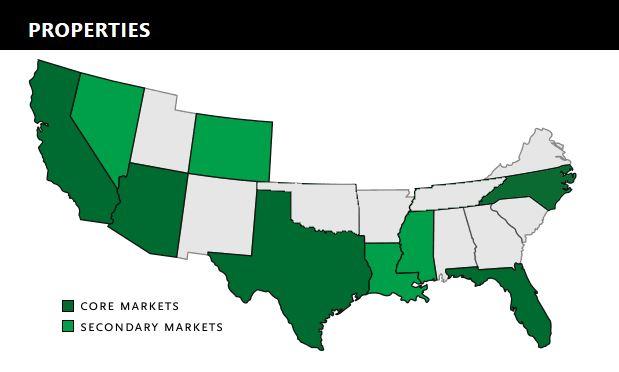 The story that caught my eye with Eastgroup is that their earnings are up 53% YoY resulting the following FFO vs Dividend chart for the last 5 years.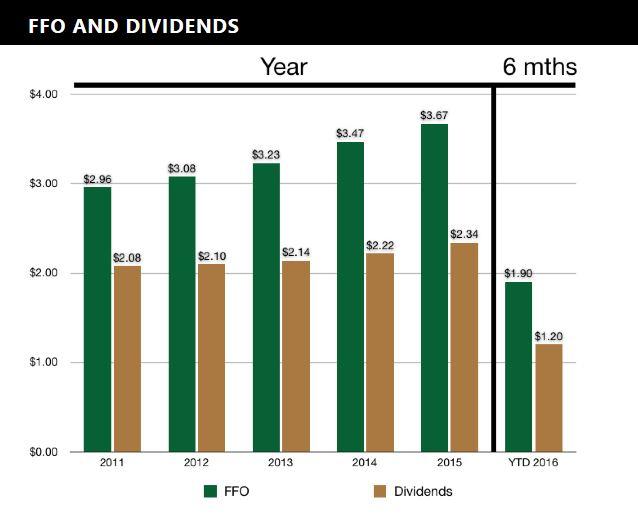 East group has pulled back about 8.3% since their high in early September after having a long sustained run up in the first half of 2016. The stock yields 3.63% and only has a modest 3.58% average annual dividend growth rate.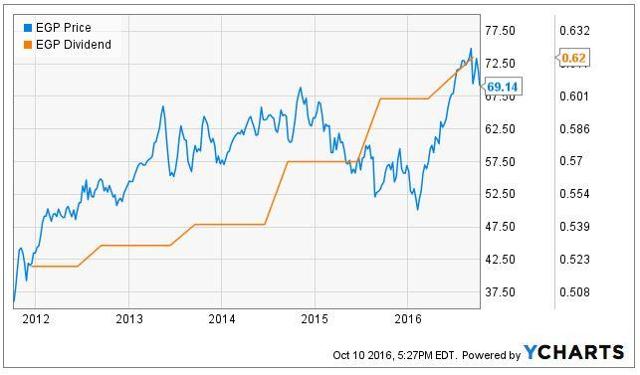 I cautiously purchased a half position of 73 shares at $68.64 and I'll look to add if it drops back below $62.
Extra Space Storage (NYSE:EXR) - Extra Space Storage is a REIT with personal storage facilities in most US States. I don't know about many of you, but around where I live, storage facilities are all full and difficult to find a spare rental in a convenient location.
The EXR stock has had some wild fluctuations this year, after having run up very consistently for over 5 years. It is currently down 20% from the high reached in July. I think this consolidation is forming a base to launch from.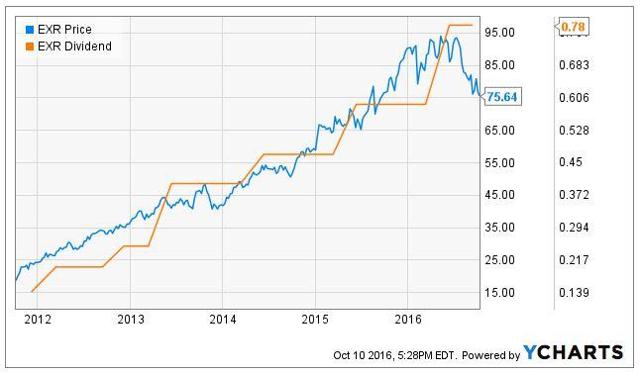 The compelling story for me is the dividend and dividend growth rate. The yield is currently 4.13% and the average dividend growth rate over the last 3 years has been around 32%.
I wanted in on this, so I purchased a full position of 141 shares at $75.38.
Flowers Foods (NYSE:FLO) - Flowers Foods seems to be a favorite among many dividend investors. The stock price has been beaten up pretty heavily over the last year due in part to DOJ litigation (concerning whether or not their delivery drivers are contractors or employees), however I think the damage is mostly done at this point.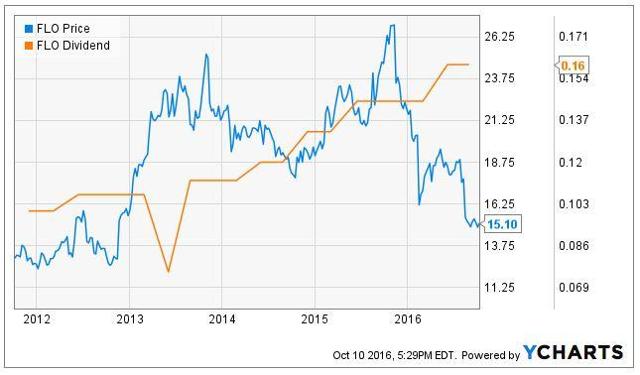 The stock now yields a nice 4.35% and it has been growing at a dividend growth rate of around 10% a year.
Still being a little nervous about the litigation, I purchased a half position of 300 shares at $15.17 and I may add more if the price drops down below $14.50.
General Mills (NYSE:GIS) - Everyone knows General Mills. This stock is a quality consumer products play that has seen a fairly large pullback in the last few months. It is down over 14% since its high in July, pushing its yield over 3%. In addition to the price reduction, the thing that caught my eye is the dividend growth rate which has averaged around 9% over the last 3 years.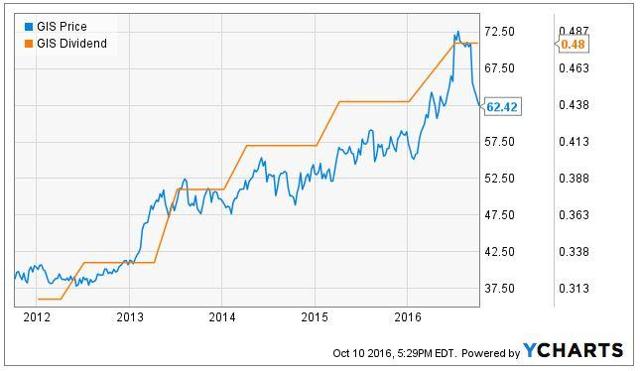 The $62 level seemed to return the price back to the trend line over the last 3 or 4 years, so I decided to pull the trigger. I purchased a full position of 145 shares at $62.22.
Coca Cola (NYSE:KO) - I've been an owner of Coca Cola in the past and I had sold due to lackluster price appreciation. Now its the dividend that I appreciate. After reading Dividend Sensei's article here last week, I was convinced that he was right and that Coke was going to be generating new earnings on non-soda products.
The stock has pulled back over 11% since April and the yield is pretty respectable at 3.35%.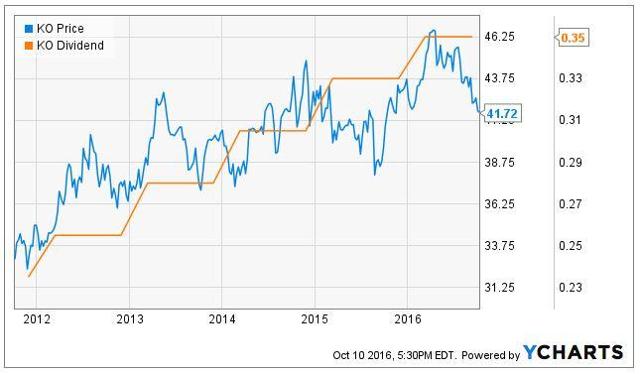 This looked to be a good price point to start a position again. I purchased a half position of 119 shares at $42.09 and will add if the price drops to around $40.
Alliant Energy Corp. (NYSE:LNT) - Alliant is an electric and natural gas utility operating in the Midwest. I like utilities when they are fairly priced since they basically have a monopoly in their markets, and its hard for customers to turn off the power when recessions hit. Many utilities have low dividend growth rates, but Alliant has been growing dividends at around 7.5% over the last 3 years.
The stock has pulled back almost 10% since its high in July, so it looked to me to be a good point to initiate a starter position.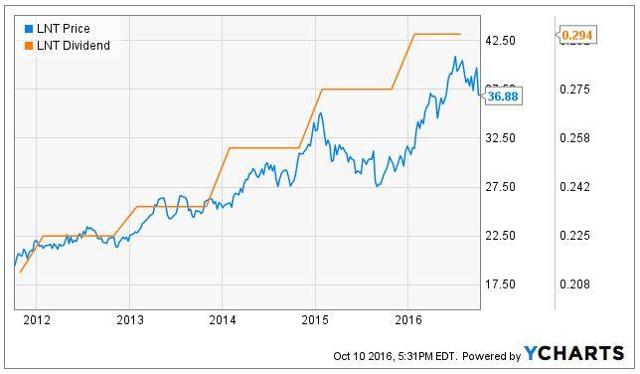 I purchased a half position of 136 shares at $36.54 and will consider adding more if the price drops below $35.
McDonald's (NYSE:MCD) - McDonald's is another stock that I had owned in the past and I always regretted selling. The McDonald's restaurants in my area always seem to be full and I believe that there is some cost reductions in the works in the future as more robotic technology becomes available. The stock is off 12.8% since its high in May, which has pushed the yield up to 3.14%. This is just a blue chip CCC Champion that I wanted to be back in.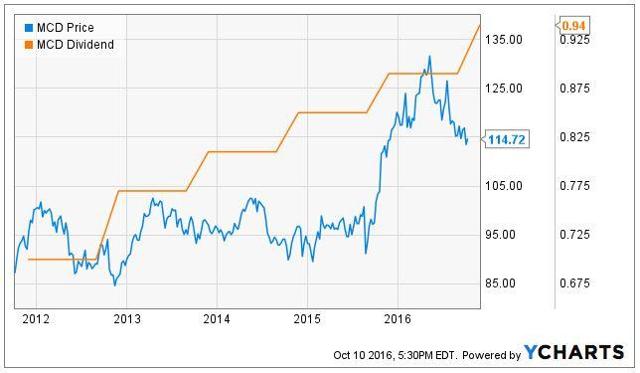 I purchased a full position of 100 shares at $115.29.
Public Storage (NYSE:PSA) - I like Public Storage for all the same reasons that I mentioned above for EXR. The PSA yield is currently 3.4% and the dividend growth rate is around 14% average over the last 5 years. With the stock price down over 23% since April, it is back on its 5 year trend line.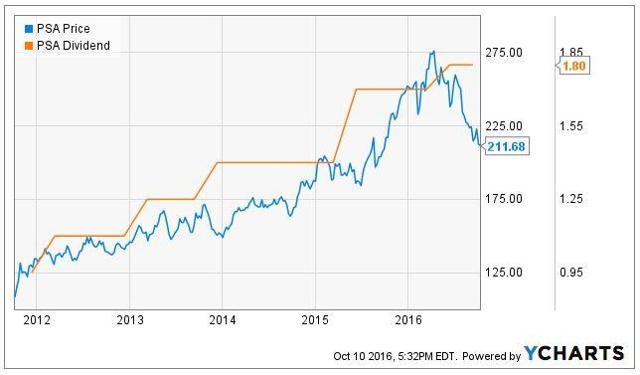 I wanted to buy PSA to add a little diversity in the storage space market along with EXR. I purchased a half position of 23 shares at $212.96 and will add if it continues to drop to around $205.
Starbucks (NASDAQ:SBUX) - Starbucks is a bit of an enigma for me. There seems to be a Starbucks store on every block, and in some cases two of them. But, the stores always seem to be busy and they are adding new meal items like specialty sandwiches which should be easy for them to incorporate into existing stores. In the end, I also really like their coffee and I like to invest in companies that make products I like to buy.
The stock price is down 16% over the last year in a pretty constant slide. This results in a yield of 1.5%. Normally, I don't go for these lower yields, but the dividend growth rate on SBUX has averaged 25% over the last 4 years.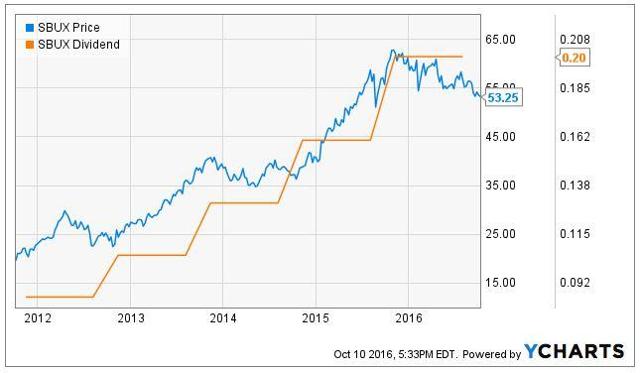 With the price back down to the 5 year trend line, I purchased a half position of 100 shares at $53.46 and will add if the price drops further to the low $52s.
Target (NYSE:TGT) - I have been watching Target since the separate credit card and bathroom issues came up. I figured, once the dust settled it should be a good long term CCC Champion to hold. Well, it seems like it has touched down to the $67 to $68 level a couple times and that's about it.
I'm not overly concerned with the Amazon competition since people seem to like browsing around in the Target aisles. I am also interested in the new style neighborhood stores that Target is developing. If they can execute on this well, it should be a good growth driver.
With a yield of 3.48% and a dividend growth rate of around 7.5% over the last 2 years (and around 21% in 2013 and 2014), I decided it was time to start a position.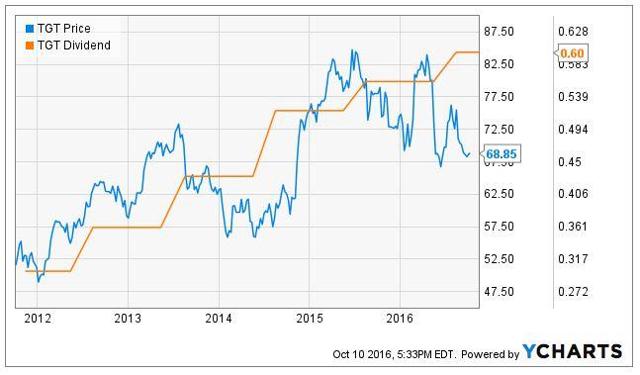 I purchased a half position of 73 shares at $68.79 and will consider adding if the price drops below $65.
VF Corporation (NYSE:VFC) - VF Corp. is a clothing company that has seen a fairly large 28% drop in share price since July. The company holds many great clothing brands that seem to have dedicated, almost cult like followings (such as North Face and Timberland).
I had been watching VFC for quite a while but finally decided to pull the trigger after reading Jonathan Wheeler's article here last week.
With a yield of 2.71% and a dividend growth rate averaging around 19% over the last 4 years, I decided to initiate a position.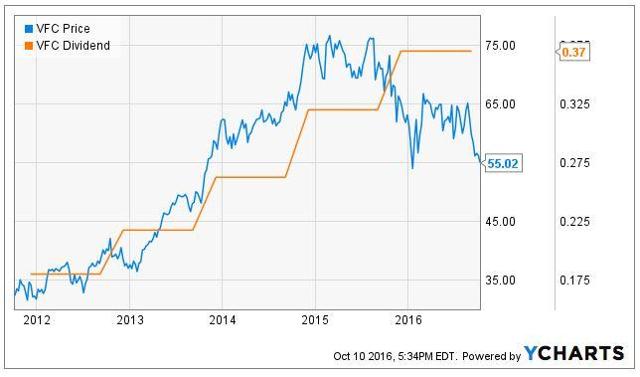 I purchased a half position of 90 shares at $54.74 and will consider adding if the price drops further to below $50.
Verizon (NYSE:VZ) - I don't really have any big compelling reasons to be interested in Verizon, except that I am a Verizon customer. I like the idea of having enough Verizon stock for the dividends to fully cover my cell phone bill. I'm not quite there yet, but its nice to think about having free cell phone service, especially in retirement.
The stock has pulled back over 10% since July so it seemed like a good time to take out a position. The yield is very respectable at 4.63%. The stock growth has been pretty minimal overall and should almost be considered a bond proxy, like AT&T (NYSE:T).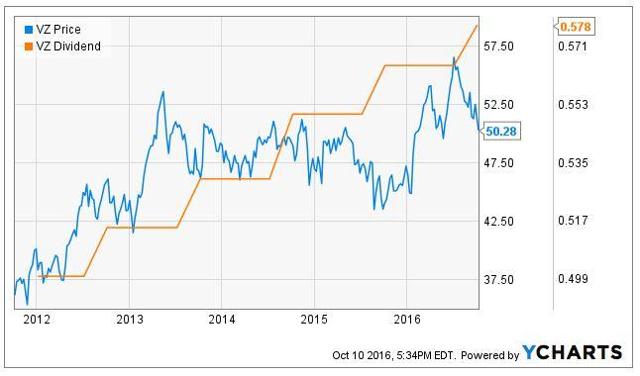 I purchased a full position of 200 shares at $51.11, and the resulting dividend now covers over half of my cell phone bill. I may have to add more if the price drops more (but I don't have a specific target at this time).
My Dividend Portfolio Monthly Cash Flow
The effects of these new purchases can be seen in the chart of monthly cash flow that my portfolio generates. You can see that the average monthly dividend income (red line) has taken a serious turn upwards over the last 2 months as I have been investing my 401k funds. The average is currently $2359 per month.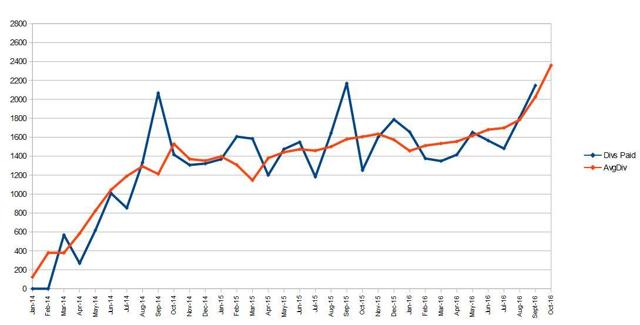 Let me know what you think about the stocks I selected. Have any of you purchased these stocks, or have them on your watch lists? Also, if you have any great selections that you have found recently, let me know in the comments.
All the best, Tom.
Disclosure: I am/we are long ALL STOCKS LISTED IN THE ARTICLE. I wrote this article myself, and it expresses my own opinions. I am not receiving compensation for it (other than from Seeking Alpha). I have no business relationship with any company whose stock is mentioned in this article.