We have recently been profiling the high yield dividend aristocrats stocks, covering both energy plays, Chevron (NYSE:CVX), here and Exxon (NYSE:XOM) here.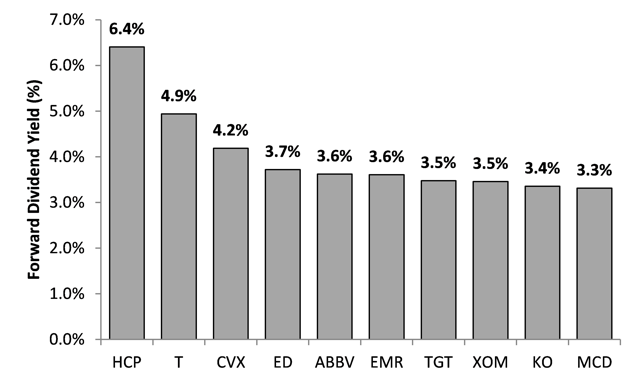 Source: www.smartdividendstocks.com
At the end of September (NYSE:MCD) McDonald's increased its dividend by 6%, helping to push it into the top 10 list. McDonald's is the newest addition to the top 10 list, displacing Nucor (NYSE:NUE), while this change may be temporary as it would take less than a single percentage point to displace one of the top 10, or to move it into the top 3 bucket. Nonetheless, McDonald's is a healthy yielder and worth a closer examination. The new quarterly dividend stands at $0.94/sh (or $3.76/sh annually), meaning almost $800M in quarterly dividend burden for the company, or $3.2B annually. According to McDonald's president:
"I'm encouraged by the meaningful progress we've made against our turnaround plan and energized by the opportunities that lie ahead. Today's dividend increase reflects the strength and stability of our cash flow and our continued focus on driving long-term value for all stakeholders." ~Steve Easterbrook
McDonald's has a stated goal of returning all Free Cash Flow to shareholders over the long-term, although we note that this is nearly already occurring. More recently they have increased leverage and used the money generated from the debt issuances to increase buybacks. McDonald's current credit rating is BBB+ and they would be unlikely to continue raising leverage to a point that lowered this credit rating.
With 2016 nearly behind us, McDonald's is on the tail end of its three-year $30B cash returned to shareholders target. Last quarter they repurchased $3.4B of stock, bringing year to date share repurchases to $7.1B (57M shares). Through June 2016, the cumulative cash returned under the three-year target was $24.4B, implying another $5.6B of anticipated cash return in the back half of the year. Through August, McDonald's returned a cumulative $26 billion and is on track to complete the remaining $4B by the end of the year. While it is likely the company does complete the $4B in coming quarters we think it is unlikely much additional capital will be allocated beyond the dividend in coming years.
Use of Cash: the use of cash test provides a visual overview of the various cash uses that a company has been allocating cash towards. It shows the relative size of the cash uses versus the outstanding cash balance available to the company. It is a quick and simple way to view how the company has used its cash over the past 10 years, and is indicative of what the company may do in the next 10 years with its cash reserves. We examine dividend payments to all shareholders (including payments to preferred dividend holders) as well as net repurchases which includes equity issued via stock option plans etc… as well as interest payments on debt, this offers a more wholesome view of how the company allocates capital.

Source: www.smartdividendstocks.com
Over the past ten years McDonald's has had a very healthy use of cash profile, managing continuous share repurchases, increasing dividends, and maintaining a solid debt profile. In 2015, the company issued a significant amount of debt (about $10B) in order to fund accelerated buybacks as part of its $30B capital return program. There is still $4B of capital return outstanding for the year, about half will be in the form of dividends.
Looking ahead we expect to see much less in the way of buybacks as cash flows primarily fund the dividend leaving minimal room for repurchases. We don't expect McDonald's will continue to use debt to finance buybacks as it will not want to risk its credit rating just to repurchase shares. This means that one of the major levers for increasing EPS is disappearing, as share counts reduce EPS increases, but without significant repurchases the share count will be more static.
10-Year Dividend Yield and Payout Ratios: Higher dividends are great but not if they come at the expense of dividend sustainability. Assessing the payout ratio is a key metric in determining the sustainability of a dividend, and is calculated as dividend per share dividend by earnings per share (DPS/EPS).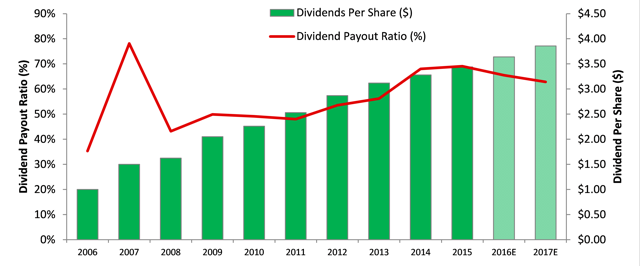 Source: www.SmartDividendStocks.com
McDonald's payout ratio has been rising steadily since 2008 as dividend growth has exceeded earnings growth. On an absolute basis the dividend has increased from $1/sh to today's $3.76/sh a massive amount of growth in just a decade. The dividend CAGR over the same period of time has been 13.2%, while the EPS CAGR was only 5.4%, which is exactly why we saw the payout ratio move towards 70%.
Looking ahead we still see dividend growth in the coming years as there is still a FCF gap between the dividend paid and the available FCF. But this gap is narrowing, and refranchising in exchange for G&A savings does have a limit to how much you can get from it.
Long-term Dividend Growth: It is important to view dividend sustainability across market cycles, following the prolonged bull market we have seen in recent years it is necessary to look a bit further out to get a more balanced view of dividend sustainability.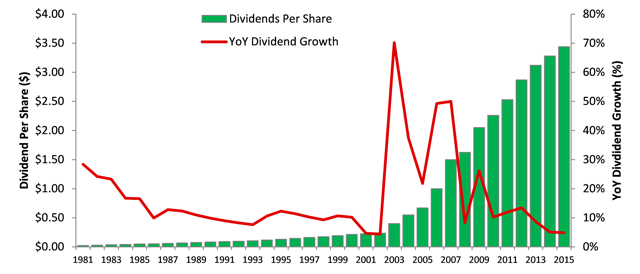 Source: www.SmartDividendStocks.com
McDonald's has raised its dividend each and every year since paying its first dividend in 1976. What is most interesting in the long-term dividend chart for McDonald's is the sharp step-up in dividends beginning in 2004. While the dividend growth rate has slowed since then, McDonald's moved from being a weak dividend yielder, to a very strong one. It has now become one of the top 10 highest yielding dividend aristocrats. A dividend history of this length and quality means a few things for the investor; (1) the company prioritizes not just a dividend but also dividend growth, (2) its corporate policy rather than a single management team, (3) the company has a strong business model that supports dividend growth even during recession; (4) dividend growth is likely to continue.

Source: www.SmartDividendStocks.com
As part of the company's Q2 earnings, McDonald's announced a string of strategic changes that included refranchising 4,000 stores by the end of 2018, which would free up $500M of G&A, largely by the end of 2017. This savings number will help FCF generation, which ultimately should support a higher dividend level. Over the past three-years McDonald's has targeted capital return; over the next three-years they will target corporate savings, largely on the back of refranchising.
The quarterly dividend burden to maintain the existing dividend, let alone fund a higher dividend, is about $800M. Full year this is $3.2B, which will absorb nearly all of the companies FCF which has been relatively stable between $4B and $5B since 2010. Looking ahead, analysts expect FCF will be $4B in 2016, and closer to $4.5B in 2017, meaning there will be little cash available for future buybacks, especially since leverage is mostly tapped out.
If we were to call the 2017 FCF of $4.5B steady state and allocate the entire FCF towards the dividend (keep in mind interest payments would also are paid out of FCF). On a share base of 850M this would allow for a maximum dividend of $5.3/sh or 41% from today's level. At this point McDonald's would be tapped out in terms of dividend growth.
Credit risks: One of the largest risks to dividend sustainability is a leveraged company facing large debt payments and/or putting its credit ratings at risk, which would lead to higher interest charges.

Source: www.SmartDividendStocks.com
Following a period of additional debt issuance in order to repurchase stock, McDonald's has seen an increase in its debt metrics. The debt schedule is very back-end weighted as the issuances for the buybacks were long-term in nature. Essentially, McDonald's was taking advantage of the low interest rate environment that we are in to accelerate buybacks. With about $26B in long-term debt and a BBB+ credit rating, along with Net Debt/EBITDA of 2.5x, we anticipate a cessation of debt issuances for repurchases. In other words, McDonald's has tapped that form of earnings growth, at least for now.
Summary: McDonald's has been paying an increasing dividend since 1976 and is now one of the highest yielding dividend aristocrats. Along with dividends, McDonald's has been a huge purchaser of its own shares, especially in recent years as it completes a three-year $30B capital return program. In order to fund the buybacks large amounts of debt were raised, looking ahead buybacks are likely to decrease significantly as McDonald's looks to protect its credit rating. With the company's stated target of directly all long-term FCF to shareholders, we anticipate dividend growth will continue, but the pace of it is likely to slow as dividend growth has been much higher than earnings growth over the past 10 years. McDonald's current strategic objectives are moving away from capital return towards efficiency, and they look to save $500M of G&A by refranchising stores, this should support higher earnings. We see the headroom for dividend increases narrowing, and think dividend growth is likely to slow and possible halt altogether a few years out.
Disclosure: I/we have no positions in any stocks mentioned, and no plans to initiate any positions within the next 72 hours.
I wrote this article myself, and it expresses my own opinions. I am not receiving compensation for it (other than from Seeking Alpha). I have no business relationship with any company whose stock is mentioned in this article.