Only a few months ago, Seagate Tech (NASDAQ:STX) was trading down at $18.40. The high dividend paying tech stock was making an aggressive capital return strategy that originally signaled buying the stock on dips.
After reporting some rebounding quarterly results, the stock has flown higher by over 100% to nearly $38.00. The question now is whether the same signal occurs to abandon the stock.
First and foremost, Seagate consistently pays a rather high dividend for a tech stock. At the current price, the $2.52 annual dividend yields 6.7%. The yield actually approached 14% at the lows back in May.
The key signal for the stock were the buyback portion of the capital return plan. The company aggressively bought shares on the dips until Seagate got low on cash balances. Most notably, the storage company spent nearly $1 billion on buybacks last FQ1 (Sept. quarter) alone.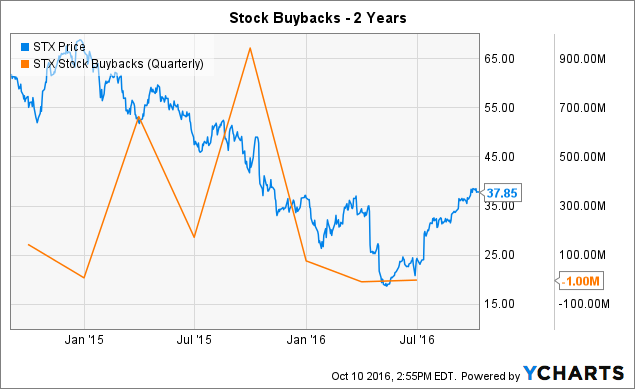 The big hiccup is that the stock price during the large buybacks was only roughly equivalent to the current price. Seagate has only spent around $100 million on buybacks in the 3 quarters since the big buyback.
By the December quarter, cash balances fell to $1.2 billion after the large buyback and disappointing results. With long-term debt at $4.1 billion, Seagate basically over spent on stock buybacks too soon leaving limited cash balances to make purchases at the lows.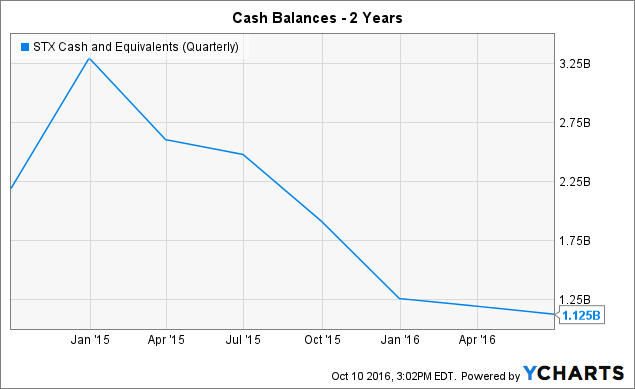 Now Seagate expects better results with a FY17 forecast of earning $2.50 per share. Analysts are targeting the company hitting EPS targets over $3.00 per share.
The key investor takeaway is that the stock is only reasonably valued at the current price. Seagate lacks the financial flexibility to make more buybacks if the stock is cheap. Even worse, the dividend payout will suck up most of the available cash flow with the improved results expected this fiscal year.
Investors can bet on the business rebounding further in FY18 and beyond warranting higher stock prices, but the company is no longer able to signal the stock remains cheap.
Disclosure: I/we have no positions in any stocks mentioned, and no plans to initiate any positions within the next 72 hours.
I wrote this article myself, and it expresses my own opinions. I am not receiving compensation for it (other than from Seeking Alpha). I have no business relationship with any company whose stock is mentioned in this article.
Additional disclosure: The information contained herein is for informational purposes only. Nothing in this article should be taken as a solicitation to purchase or sell securities. Before buying or selling any stock you should do your own research and reach your own conclusion or consult a financial advisor. Investing includes risks, including loss of principal.