Alphabet (NASDAQ:GOOG) (NASDAQ:GOOGL) is starting to take the smartphone business seriously. That could be a problem for Apple (NASDAQ:AAPL).
The release of the "Pixel" phone seems likely to begin a slugfest between two powerhouses. Headlines describing the new device as "everything you wanted the iPhone to be" sets the stage for a head-to-head competition.
Interestingly, the new flagship Android device from Google will not compete on price - it is priced at or higher than the top-of-the line iPhone pricing. Instead, the Pixel will try to set itself on users' "buy" list by offering top of the line Qualcomm (NASDAQ:QCOM) processors, a distinctively better camera, and, a high degree of integration into the Google ecosystem.
Initial volumes are projected at 3 to 4 million units for 2016 - small numbers by Apple standards but big for anyone else and in all likelihood a large portion of those units will come at the expense of current premium smartphones from Samsung and Apple.
There's no doubt the new Pixel devices have high-end specs. They may be the best Android phones ever made.
Android OS holds over 85% of the worldwide smartphone market.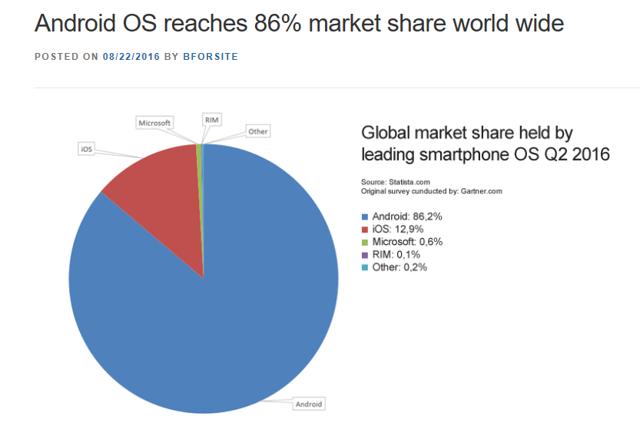 Source: Statista.com
The premium end of this market comprises users who make up almost 20% of Android shipments which, when you consider Android's 80% plus market share, must represent 16% of the total market. Android OS shares the premium space with Apple's iPhones that make up 85% of all iPhones sold. Apple's global market share is less than 20% according to IDC, so iPhones would appear to be more or less equal in numbers to premium Android OS smartphones.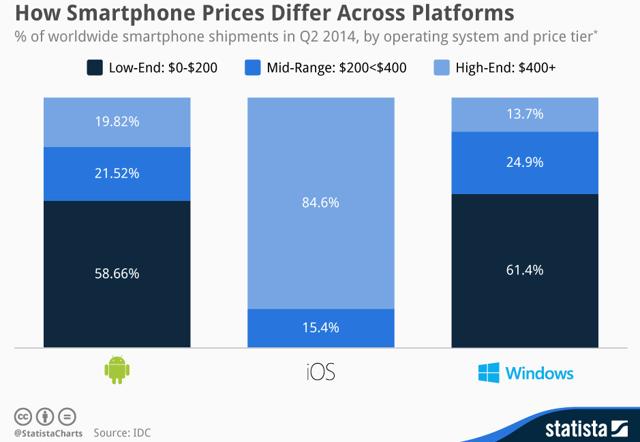 Source: Statista.com
A frontal attack by Google on the smartphone market will almost certainly cause disruption, primarily for Samsung but likewise for Apple. A few million smartphones this year will make little difference, but over time a truly "flagship" device with Google's marketing muscle will gain traction in my opinion. If so, it is a negative for iPhone growth for the next few years.
To really have an impact, the new Pixel from Google will have to achieve tens of millions of unit volume annually, something I expect will happen. Ten million units at an average selling price of $800 and 30% gross margin translates into $2.4 billion of profit for Alphabet and an equal amount less profit for the other premium smartphone suppliers, largely Samsung and Apple.
Google seems serious about this smartphone venture. If so, their devices will only get better and better and in my opinion they will spare no effort to demonstrate the remarkable depth of the Android ecosystem.
For my money, GOOG is the better investment and AAPL will likely suffer. GOOG can afford a few missteps as it carves out a smartphone position while AAPL can ill afford any material loss of volume of its key product.
In summary, this is a good time to cash out of AAPL and if the proceeds burn a hole in your pocket, put some of it to work with a holding of GOOG.
Disclosure: I/we have no positions in any stocks mentioned, and no plans to initiate any positions within the next 72 hours.
I wrote this article myself, and it expresses my own opinions. I am not receiving compensation for it (other than from Seeking Alpha). I have no business relationship with any company whose stock is mentioned in this article.