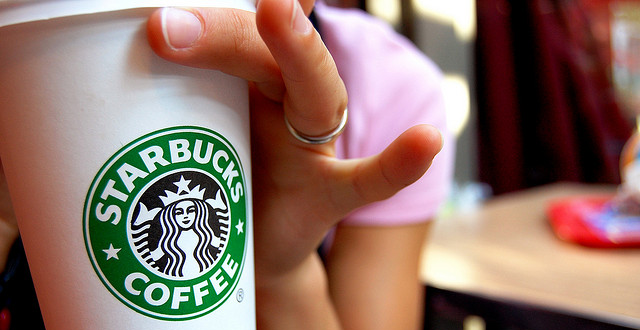 Starbucks (NASDAQ:SBUX) has actually fallen a little off my radar of late. This was for no more exciting reason than that I have recently picked up my "hit" of caffeine investment through my holding in UK-based Costa Coffee chain owner, Whitbread (OTCPK:WTBCY) on which I have written more for PRO readers.
Naturally enough, however, Starbucks has been carrying on doing what it's seemingly always done: growing. Yet since I last covered it in early January, its share price has taken a bit of a knock, dropping about 12% whilst the S&P 500 has lifted about 5%: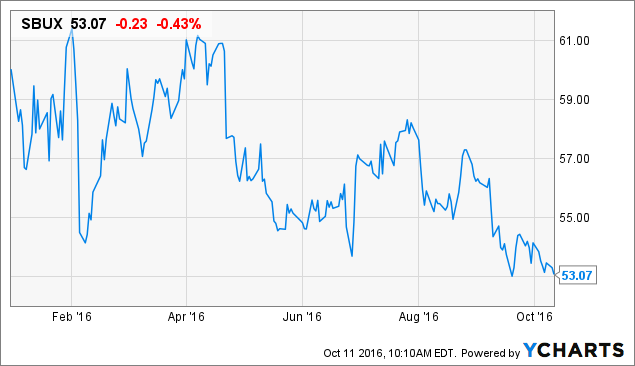 This fall-combined with a timely reminder from "Bcrew312" on my recent PepsiCo (NYSE:PEP) article-has piqued my interest in the company again.
Indeed, with its FY2016 actually finished in recent days, we are now just waiting for their Q4 and full year results. Yet, in preparation, it seemed a good time to take a look at their Q3 results to see how things were doing. Generally speaking, pretty good. However, there are a few things to watch which seem to have spooked many investors. Let's see what I mean.
Reported Growth Ticking Along?
On a reported basis things looked pretty strong with their top and bottom line progress. Operating income in the first three quarters has jumped up another 11.9%. Revenue did not quite mange to break into a double digit growth, yet at 9.5% was hardly pedestrian: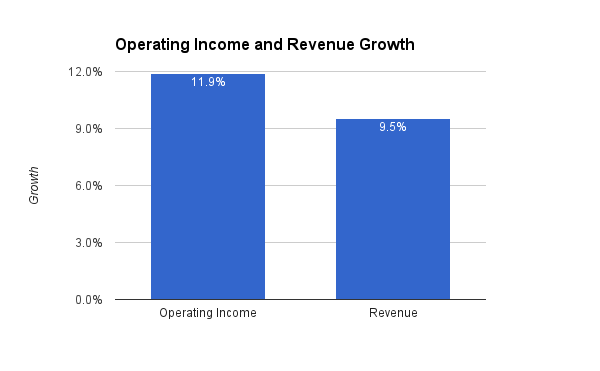 Nonetheless, compared to Starbucks recent history of growth it is clear that this is a slowdown. What is more, breaking up FY2016 so far into its three quarters it becomes clear that the growth trajectory has been very noticeably declining as the year has progressed: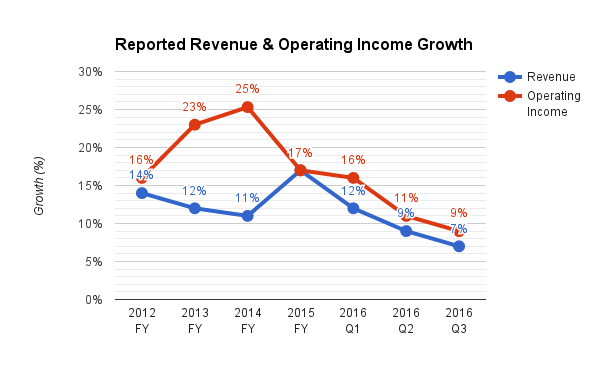 This is, perhaps, a surprise as it is clear that their program of store numbers growth has continued. Up to Q3 2016, they have opened another 1,352 net stores which seems largely in line with the 1,600 to 1,700 new stores added each year since 2013: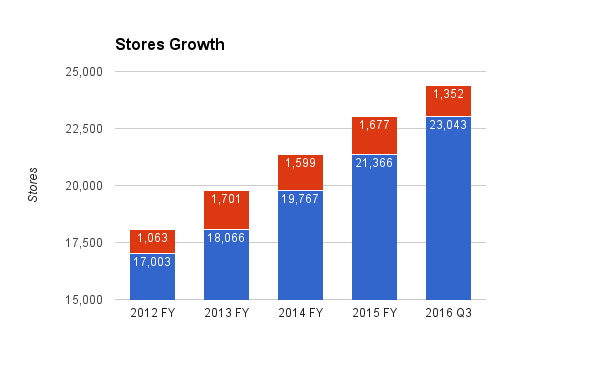 Expansionary growth, therefore, is still chugging along nicely. So what is driving the slowing growth rates? Put simply, organic growth within the established stores is slowing down significantly.
Comparable Sales Growth Declining
This slowing comparable growth is certainly quite striking from a total sale growth perspective. Each quarter has seen a further 2% sales growth chipped off: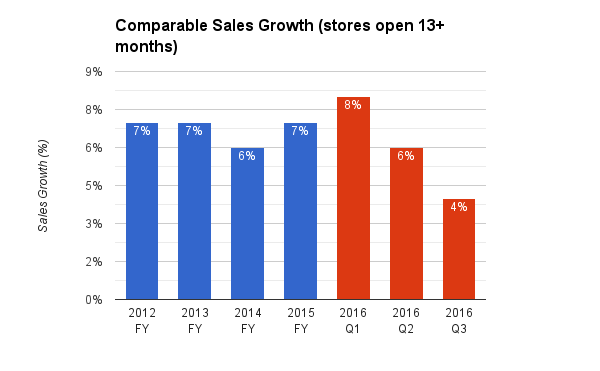 Ultimately, growth rates like this are still attractive. Yet what is more interesting and less appealing is that this comparable sales growth is highly reliant upon growth in "ticket" (that is, how much is spent each transaction) rather than "transactions" (that is, total volume of transactions):

Although somewhat muddied, what this suggests is that Starbucks is leaning much more heavily on pricing than volume growth for their organic sales growth. Now, in itself, that is not a wholly unpleasant situation. After all, if you are convincing customers to spend more each time they come into a store that is very much a good thing.
Yet the decline in the number of transactions does suggest that "ticket" growth is being more obviously driven by pricing hikes than simply buying more. After all, if you consistently lift prices, you would expect to see transaction growth decline a little as customers cut-back either consciously or subconsciously. Indeed, when you overlay total results we see exactly that trend emerge-as tickets have grown, transactions growth has slowed: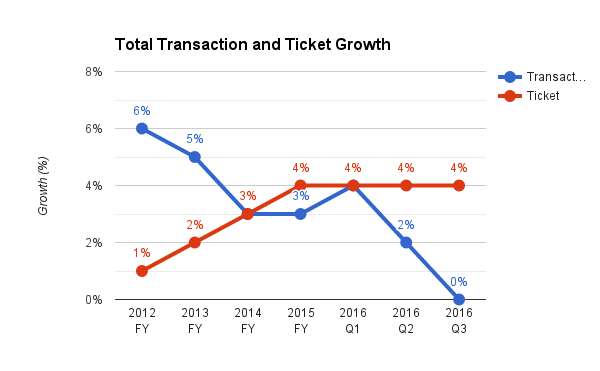 Yet Q3 2016 did show a somewhat worrying trend of relying exclusively upon ticket growth to drive overall sales growth. Transaction growth contributed nothing.
This is certainly something to be watching out for. Emphasizing ticket growth at the expense of transaction growth is fine as long as transaction growth at least starts to show signs of modest upward momentum again.
Cash Flow
Fortunately, the rest of Starbucks' results were less ambiguous. Starbucks remarkable record of cash flow growth continued unabated. Despite another uplift in total CapEx in the first three quarters, a massive uptick in operating cash flow still left FCF well ahead of this time last year: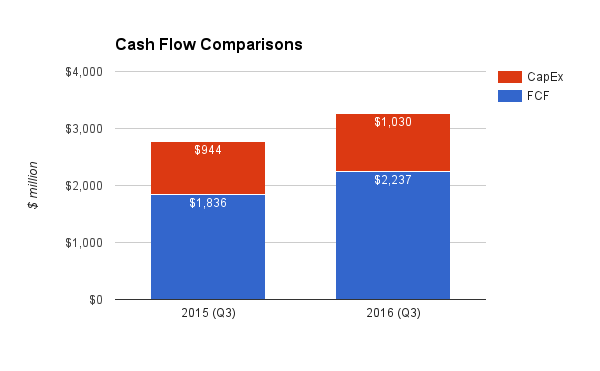 The strength of this cash flow performance means that despite Starbucks lifting their debt levels by over 50% from $2.35 billion in FY2015 to $3.6 billion in Q3 2016, their CROIC figures remain on track to be in-line with FY2015. CROIC-or, cash return on invested capital-is calculated by dividing FCF by the sum of their total debt and shareholders' equity.
In FY2015 they managed to generate an impressive CROIC of 29.94%. Assuming that Q4 2016 contributes a similar proportion of full year CROIC as in FY2015, we should see Starbucks cross the 30% mark once more: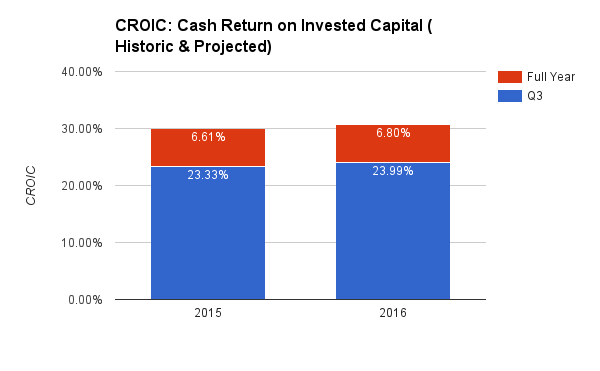 This is an impressive CROIC suggesting that for every $100 of capital invested, they generate $30 in FCF. When you remember that this FCF figure is still incorporating their massive store growth program, this is even more staggering. This suggests that the company still has the means by which to drive forward its store growth around the globe. This is encouraging news especially if organic sales growth continues to soften in the immediate future.
Shareholders' Yield Impresses
Their impressive cash flow is also continuing to underpin their attractive shareholder returns. Their dividend, for instance, although hardly sporting a record-beating historic yield remains very healthily covered indeed by FCF: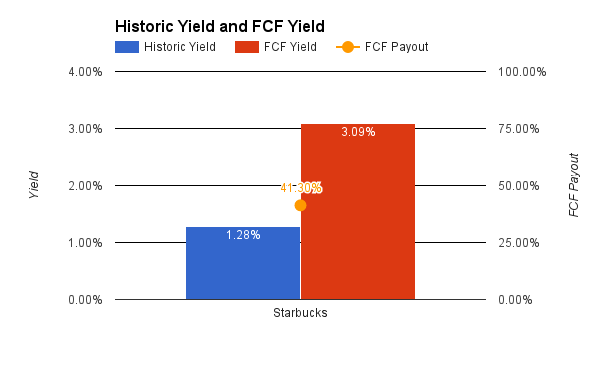 What is more, that is based on FY2015 figures. With FCF about 12% ahead of Q3 2015 in Q3 2016 and the dividend already set to yield over 1.5% based on the $0.60 already paid out and an anticipated $0.20 (not including the expected hike that comes at this time of year) its FCF and dividend yield is looking very good for FY2016.
Indeed, a predicted yield of over 1.5% is nicely ahead of their 5 years average yield of about 1.27%. What is more, in recent years share buybacks have contributed generously to shareholder returns: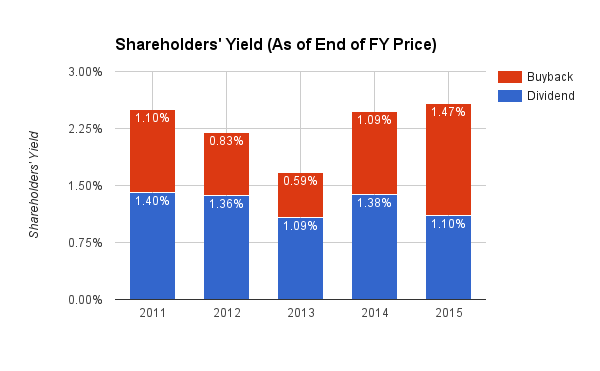 In previous years, both buybacks and dividends have been covered by FCF: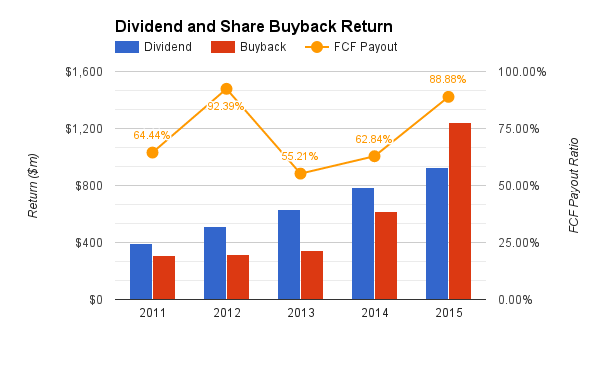 This is set to remain true in FY2016. What is more, returns through dividends are not the only thing set to be well ahead of FY2015. So far this year they have already bought back about $1.47 billion worth of shares compared to the $1.24 billion in the whole of FY2015. Shareholders, it seems, are still set to do very well from FY2016.
Conclusion
There is little doubt that Starbucks is starting to show signs that its organic growth is slowing. Yet the pace of its overall growth remains impressive even if slightly moderated. With cash flow continuing to grow impressively, however, they have the means to continue to drive growth through their massive store opening program. At present, there is no doubt that these new stores are continuing to drive custom and revenue for the company. Yet it would be a welcome thing to see if they could drive organic sales growth higher with transactions growth too. Something certainly to watch as we await the Q4, full year results shortly.
Growth is still strong, however, and this is matched by growing rewards for investors. With the dividend still very generously covered by FCF and growing very quickly indeed (nearly 20% annualised growth over the last five years) and share buybacks accelerating, total shareholders' yield continues to look impressive.
Starbucks remains a highly attractive company which is both investing heavily in its own growth whilst also remaining highly cash generative. Indeed, its recent share price declines also suggest that it is pretty attractively valued. Utilizing my three-part valuation method described elsewhere suggests a fair value of around $60 to $63. At a current share price around the $53 mark, this suggests that even considering the slowdown in organic growth there is a fairly wide margin of safety in the current valuation.
When their full year results do come out shortly, it will be very interesting to see whether the slowing trends seen in Q3 are continued or reversed. For now, however, Starbucks still looks a pretty compelling growth story at an increasingly appealing price.
Notes
Unless otherwise stated, all graphs and the calculations contained within were produced by the author. Creative Commons image reproduced from Flickr user andre5.
Disclosure: I am/we are long WTBCY.
I wrote this article myself, and it expresses my own opinions. I am not receiving compensation for it (other than from Seeking Alpha). I have no business relationship with any company whose stock is mentioned in this article.