Fannie Mae (OTCQB:FNMA) and Freddie Mac (OTCQB:FMCC) are two companies that the government says is worthless and is making worthless to public investors by sweeping away their net worth to itself. Judge Sweeney recently ordered the government to respond as to why they shouldn't have to pay for losing a plaintiff motion to compel where she manually reviewed 50+ documents that plaintiffs say were randomly sampled from the privilege logs. The plaintiffs didn't even have to ask for that, which is generally the way events tend to unfold. Nevertheless, the real action coming to a theatre near you, probably not just the stock market is happening in Appeals Court where Judge Lamberth's "the facts don't matter" ruling is up for appeal and has been fully briefed if you include a subsequent set of clarification questions and answers for over two and a half months. My research indicates that in general these rulings normally come out 4 months after oral arguments and we are now coming up on 7 months since the middle of April.
Investment Thesis: Can you hear the change in the air? If you can't it's probably because all of the money of these two Fortune 50 companies that make $15B/annum and made reliable operational cash profits throughout conservatorship has not made any noise in the public. It's true that the government has spent years of this litigation alleging that shareholders have no rights when their company is taken over by the government as long as they are managed by FHFA in conservatorship. There are multiple lawsuits for multiple reasons and the primary reason to own preferred shares is because you think that at the very least a lawsuit will prevail against the net worth sweep. The upside in the preferreds could be par, could be par less historical dividends in some type of restitution workout, just dividends or who knows. I'm not a lawyer but I've read most if not all of the legal filings thus far and I've drawn my conclusions and placed my bets. The upside to the commons is much more but a lot of it has to do with whatever FHFA decides along the way. I've seen some pretty interesting documents come out of the government in favor of the plaintiffs just with the legal rulings alone.
Robinson Ruling
The Robinson ruling references Lamberth's dismissal. The government thought that this reference using the lower court ruling would be useful to prove that they do not have fiduciary duties to shareholders. I literally cannot make this stuff up: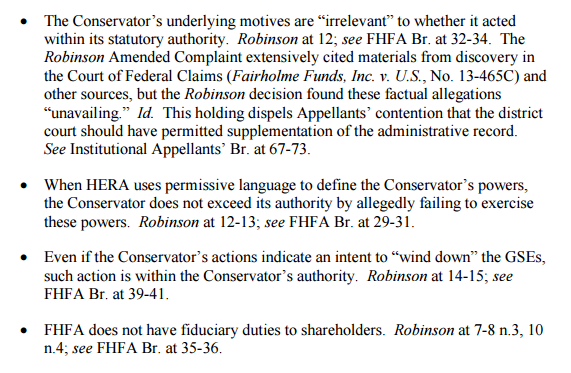 That's the governments defense. They're saying that they can do what they did. They're not challenging plaintiffs story at all, they are just challenging whether or not plaintiffs even have standing to sue. It begs the question, is this the first class of shares in history that doesn't have standing to sue when their economic rights are taken away? I don't think so, but that's based on my interpretation of reading all the legal briefs, the applicable law, and some case law.
Plaintiff lawyer Charles Cooper suggests that this is not what congress had intended:

That sounds crazy especially given the key points that plaintiffs argued:


If true, how could it be remotely possible that those things happening like plaintiffs claim is legal? Put simply, if true then companies placed into conservatorship would immediately become worthless and therefore companies that could be placed into conservatorship would need to be appropriately discounted.
We know that a leaked memo they looked to accelerate the recognition of losses prior to 2012:

The Path Less Traveled
Here's what I think is prone to happen. If you assume that Perry Capital is remanded with strong instructions then the Hindes Delaware lawsuits may be first to bat or the direct accounting fraud lawsuits against PwC and Deloitte. Odds are that the remand would come with some sort of instructions to prevent an identical ruling. If I had to guess I'd guess that they will provide that a conservator is supposed to only take action to conserve the assets of the enterprise. Mind you that an asset has an owner and in this case the conservator manages the conservatee on behalf of the owner, implying a fiduciary duty. The dynamics could change rapidly with that writing in a legal filing.
The two companies have negligible capital by design since the government has swept $100B+ of cash away from them since conservatorship has started on a net basis which was no easy task because when conservatorship started they had their highest levels of capital in history. This is where the appointment of FHFA not only as conservator but chief decider of accounting came into play. FHFA instructed Fannie Mae and Freddie Mac to report accounting losses in spite of their cash profits in their early years of conservatorship.
I'd love to know how this shakes out and I have no clue. The most optimistic projection involves the voiding of the entire conservatorship ab initio resulting in two GSEs having more than twice the capital that they had in 2008. Private shareholders would benefit enormously. Although possible, I am simply betting on the reversal of the net worth sweep. So far it seems like the government doesn't want to share this at all and is willing to run the clock out on every play and as such it's tough to be in other parts of the capital structure when the government is trying to get around it effectively voiding it for all practical purposes. The Perry Capital Appeal is basically life or death, but it's probably going to be life and even if the GSEs are put to death I think junior preferred shares have liquidation value and breach of contract claims to be tended to.
Summary and Conclusion
I own GSE preferreds, which are the securities that the government owns except that the government has a different class of preferreds. The government hasn't even bothered to exercise the warrants but if they do then in the long run my GSE preferreds are worth par because it would imply that the commons have value.
Robinson confirmed Lamberth's reasoning to suggest that no matter what the government does or says it did, it doesn't matter anyway. So why did the government subsequently abandon the defense that the net worth sweep was done to save the companies? How come that part wasn't really argued during oral arguments? Documents proving that the government lied had been handed over to plaintiff lawyers and the cases had been amended to reflect these facts.
Judge Sweeney nevertheless continues to hold the government's feet to the fire by ordering them to keep producing and handing over and they still haven't handed over the documents that were ordered that were reviewed in camera. Odds are they are going to try and appeal the order to do so and will subsequently get denied but power to them for buying more time. In my opinion, the entire pyramid of privilege assertions is a time buying technique that seems to have bought more than a year.
Time keeps ticking, and a Perry Capital Appeals ruling is coming any day and I can't afford to buy anymore shares. I'm going to have to start selling soon, so my timing is spot on. I hope you're as excited as I am. The real hammers haven't started dropping yet but when they do maybe there will still be time to get involved. I cannot predict what sort of price fluctuations may happen or where the prices will be at anytime in the process, I just know that I have my shares and I'll for sure be trading one or two to see this movie at some point in the not too distant future.
Disclosure: I am/we are long FNMFN,FMCCH,FMCCP,FMCCT,FMCKO,FNMFO,FMCKP,FMCKI.
I wrote this article myself, and it expresses my own opinions. I am not receiving compensation for it (other than from Seeking Alpha). I have no business relationship with any company whose stock is mentioned in this article.
Editor's Note: This article discusses one or more securities that do not trade on a major U.S. exchange. Please be aware of the risks associated with these stocks.