Introduction:
I have recently returned home from a rather extensive road trip out West. There is something about the West that Horace Greeley summed up in a simple statement. He said, Go West, young man" and that was good advice then and it is good advice now.
Every road trip that I take has a purpose. This one was part of a bigger story of regret. I regret that I never took the time to explore the West as a young man, even though I was raised in California.
It seems that, like many Americans, I was always "too busy" making a living and doing everything that other people wanted me to do and not enough of doing what I wanted to do. I saw a meme the other day that sums up that point so well. It says:
There is no way that I was born just to pay bills and then die.
Unfortunately, that seems to be exactly how some people choose to live their lives and I have to say "guilty." But it doesn't have to be that way unless we let it be that way.
What You Should Know:
So, where did I go? I took a run up to South Dakota and packed in a whole lot of sightseeing while I was there. I did the usual and the unusual. I went to Sturgis, Deadwood, Spearfish Canyon, Rushmore, Crazy Horse, the Badlands, Custer State Park, and even visited a missile silo that was a leftover from the Cold War.
Leaving South Dakota, I visited Devils Tower and saw a couple of guys actually climbing the thing. I wasn't sure about what I thought I saw until I downloaded the pictures that I took and then enlarged a couple of them to see those brave souls up there risking it all for the thrill of the climb.
Then it was off to Montana to visit Custer National Battlefield, where I spent a lot of time trying to understand the events that took place and how they unfolded on that fateful day back on June 25-26, 1876. I've read a lot of books about the battle, but until you actually see the location and explore the battlefield, none of the books make a whole lot of sense.
At the end of this part of the trip, I had to make a choice. Head up to Idaho and visit with my brother-in-law or head south through Wyoming to Yellowstone and the Grand Tetons. It wasn't that hard of a choice, actually and both Yellowstone and the Grand Tetons are beyond spectacular.
On the way home, I traveled through Colorado, Nebraska (along the Oregon Trail, but in reverse of the pioneers), through Oklahoma, Arkansas and then back home.
While there were plenty of discoveries made on this trip, one of the discoveries was that my stock portfolio was right where I left it, doing exactly what I expected it to do, which is pay me dividends and having those dividends channeled to my Schwab checking account so that I can spend them as part of my income stream.
What You Should Know:
So, let's take a quick look at how the portfolio has done through September 30th ending. So far, I remain happy in the companies that make up the portfolio and with the income that I am receiving from the companies held in the Perfect Portfolio.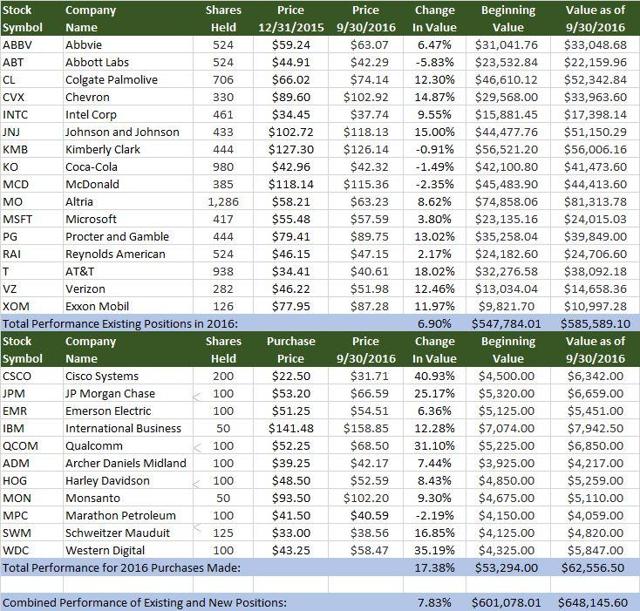 The table above shows a snapshot for the value of the portfolio in two ways. The first group of companies were purchased in 2009, 2010 and 2011. The price as shown reflects a starting point of 12/31/2015 and does not represent the "cost basis." I wanted to insure that for the purposes of this exercise that we bought things current. So, if you have been following along, you could have or could not have purchased any of the original stocks on my start date and your personal results would be relative to the shares you purchased and the particular companies that you added to your own holdings.
The second group of stocks are selections that we made for 2016. We began a series of articles that discussed the companies that we were looking to purchase and when we made a purchase, we shared the purchase date, shares bought, and purchase price, in the form of confirmation orders from my brokerage company.
Bear in mind that none of the new stocks were purchased at the start of the year, so comparing these new stocks to various index benchmarks needs to be done, not from a year-to-date, but instead, from a purchase-to-date method, in order to be relevant.
Now that we've addressed performance (change in value), let's look at dividend income year to date and purchase to date.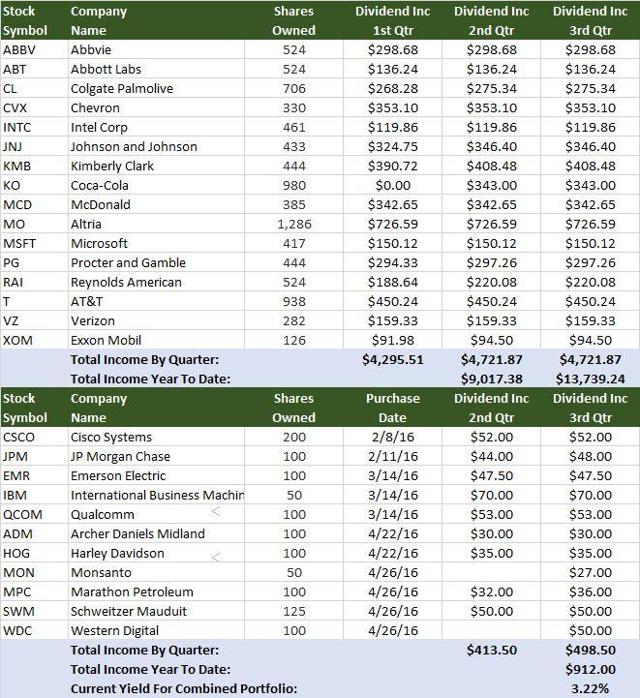 Things To Consider:
The Perfect Portfolio was designed to create an income stream that supplemented my mother's income. When she passed away, the portfolio became a revenue source for my own needs.
While we pretty much left the portfolio "as is" after creating it, with purchases made in 2009, 2010, and 2011 (no changes until 2016), the income from dividends has increased year over year, much in the same way that my income from my employment used to do the same thing. But, the dividend income has been growing at a rate that is greater than inflation (not always the case with my job) and should continue to do that moving forward.
Don't obsess over the portfolio. It is what it is. It's a collection of individual companies that are, for the most part, dividend growth companies. The intention is to use the dividend income for supplemental income and not the capital gains derived from the portfolio as supplemental income.
Since this account is taxable, it will go directly to my wife, upon my death with no tax consequences for her (we hold the account jointly). When she passes, the kids will get the portfolio and the dividend income it provides and they will establish a new cost basis for everything in the portfolio based on the price of each holding at the time of my wife's passing.
Over the course of the year, the original company holdings have been higher and lower in terms of "value" relative to the value of the stock group. That's a given for stock portfolios. They go up and they go down. Every day. But we don't purchase stocks to hold for one day. We buy them to hold for a lifetime.
We have had the time to consider some other notions about this portfolio, based on comment streams from other articles that I've written about the portfolio. My plan is to flesh out and address some of these comment threads in coming articles.
It should be fun!
Disclosure: I am/we are long ABT ABBV CL EMR HOG IBM JNJ KO KMB MO PG QCOM RAI SWM T VZ XOM MON JPM MCD MSFT INTC CVX. I wrote this article myself, and it expresses my own opinions. I am not receiving compensation for it (other than from Seeking Alpha). I have no business relationship with any company whose stock is mentioned in this article.