At A Glance
| | |
| --- | --- |
| Ticker | SGX:R01 |
| Rating | Hold |
| Price (SGD) | 1.58 |
| Intrinsic Value | 1.70 |
| Recommended MOS | 60% |
| Change to Price (%) | 7.1% |
| Market Cap (B) | 2.69 |
| Enterprise Value (B) | 2.61 |
| Number of Shares (B) | 1.73 |
| Free Float (%) | 47.9 |
| 52-Week Price | 1.29-1.67 |
Unless otherwise stated, all data are obtain from Raffles Medical Group Annual report from 2006-2015.
There was no identifiable service that Raffles Medical Group is able to provide that their competitors could not. Raffles Medical Group has a long and trusted reputation in Singapore with strong relationships with the Singapore government to take on national level projects. Multiple expansions in Singapore and Shanghai might post liquidity risk to their current balance sheet.
A 60% margin of safety from their intrinsic value is not present at the moment.
Company Overview
General Overview
Raffles Medical Group ("The Company") (OTCPK:RAFLF, OTC:RAFLY) has proven to be a prudent and risk averse company over the last decade. In our analysis, the company has proven to maintain low debt to equity, strong return on invested capital and be able to quickly adjust to their environment. Since the company was founded in 1976 in Singapore by Dr Loo Choon Yong, Executive Chairman, and Dr Alfred Loh, Senior Clinical Director, it has grown to become one of the regions most renowned medical group. The company now consist of a 380 beds tertiary hospital, 2 large size medical centers in Shaw Centre and Holland Village, over 100 multi disciplinary centers across Asia and RafflesOne, the company's corporate healthcare solution.
With 678 more beds in the pipeline, the company is prepared to grow both locally and overseas while maintaining a healthy balance sheet. With the company's liquidity ratios maintained at a high and debt kept at a low level, the company has been keeping themselves well protected financially. Cash flow generation has also been on the increasing trend without any significant capital outlay which shows strong capital allocation capabilities.
Inception of SGX:R01 was on April 11th, 1997.
Business Segment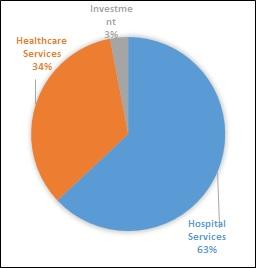 Hospital Services
The provision of specialized medical services and operation of hospital and business of medical laboratory and imaging center.
Healthcare Services
The operations of medical clinics and other general medical services; provision of health insurance, trading in pharmaceutical and nutraceutical products and diagnostic equipment, and provision of management and consultancy services.
Financial Analysis
Free Cash Flow Generation

(Source: Annual Report)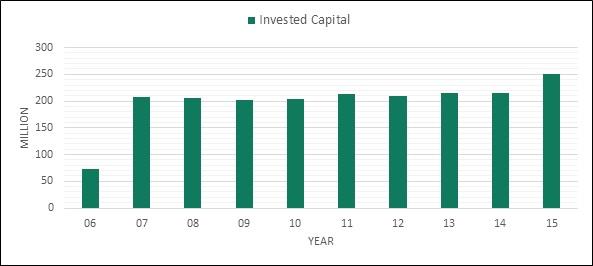 (Source: Annual Report)
Steadily Growing FCF
Since 2007, the company increased their free cash flow by around 14.96% annualized over the last 10 years while maintaining an invested capital of around 200m. This resulted in an increasing CROIC of 12% annualized over the last 9 years which averaged around 30% over the last 4 years.
Over 2014 and 2015, the company invested 304m into property development locally and in Shanghai. As of June 2016, only Raffles Shanghai and Raffles Hospital Extension are still in progress. An estimated cost of 215m will be required by 2018. Conservatively, the company should be able to generate 50m cash per year after dividend payout. After deducting cash in hand of 86m, RMG should be able to support the remaining cost needed of 215m. However, based on the company's cash ratio trend, they might raise an additional 75m through equity or debt to maintain a cash ratio of 0.5.
Capital Allocation
Strong capital allocation and asset utilization can be inferred from the company's strong free cash flow generation. For example in 2011, the company bought Thong Sia building for 94m intending to convert it into a specialist medical center. However, after failing to get the necessary approvals, the company decided to swiftly dispose off the property and move on with other expansion plans. The company made a profit of 22m from the disposal of property at 120m.
Debt Management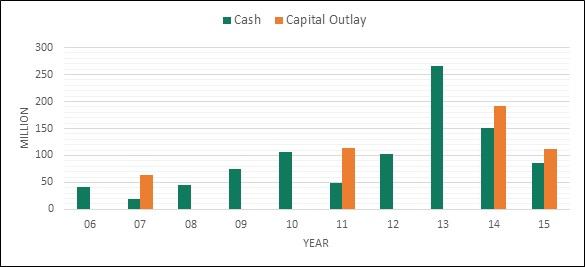 ]
(Source: Annual Report)
Low Debt Funded Expansions
Low debt has been one of the main attractions of RMG and this is achieve partly from the company's ability to generate and accumulate cash to fund the company's own expansion.
For example, the company accumulated 42m in cash to purchase RHP's remaining 50% stake of 64m. The company further accumulated 107.1m in 2010 before they made the purchase of Thong Sia building in 2011 for 94m. Prior to the investment in Raffles Hospital Expansion, Raffles Shaw Centre and Raffles Shanghai, the company accumulated 265.9m in 2013.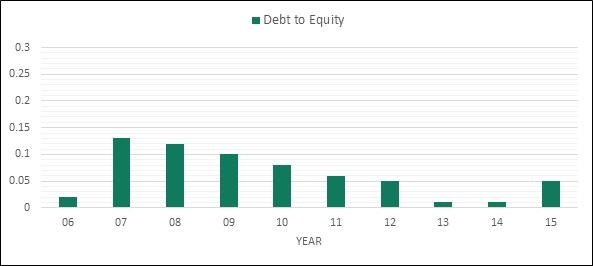 (Source: Annual Report)
Debt to Equity
Interest bearing debt to equity had never exceed 0.13 which further exemplify the prudent mentality of the company. Except for debt acquired from purchasing of RHP and RMG's large capital requirements for 2014-15, RMG has never acquired significant amount of debt.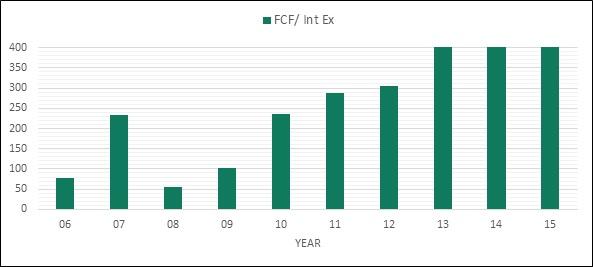 (Source: Annual Report)
Interest Coverage
The company has an outstanding FCF/ Int Exp ratio which allows the company to comfortably take on more loans in the future if needed. Since 2006, this ratio has never dip below 50.
Debt acquired in 2007 was comfortably paid off in 2012 after the disposal of Thong Sia building after making new loans every year from 2007-2011.
Capital Efficiency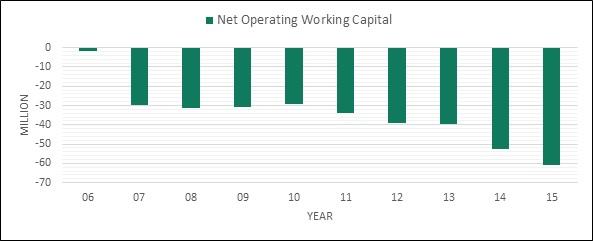 (Source: Annual Report)
Decreasing Working Capital
The company has also been decreasing it's working capital which shows capital efficiency and freeing up of cash for other use.

(Source: Annual Report)
Increasing Inventory Cash Cycle
From 2010 to 2015, the inventory cash cycle has been increasing significantly over the years from -120 to -45 which might lead to lower capital flexibility.
Summary
The company is financially and operational well managed by the management with steady increase in cash flow and low debt. In the next 2 parts, we will focus on the growth, competitive advantage and finally valuation on the company.
Disclaimer: The writer does not hold any positions in SGX:R01. Past performance is not indicative of future gains, and the investor is advised to employ individual due caution before utilizing the advice presented in this investment report.
Disclosure: I/we have no positions in any stocks mentioned, and no plans to initiate any positions within the next 72 hours.
I wrote this article myself, and it expresses my own opinions. I am not receiving compensation for it (other than from Seeking Alpha). I have no business relationship with any company whose stock is mentioned in this article.
Editor's Note: This article discusses one or more securities that do not trade on a major U.S. exchange. Please be aware of the risks associated with these stocks.