Overview
Bunker fuel or bunker oil is a generic term given to any type of fuel oil used aboard commercial ships. There are two main types: distillate fuels and residual fuels.
Commercial applications of this fuel are much different than recreational applications.
Typically, recreational vessels have far more stringent guidelines on environmentally acceptable fuels, usually mandated by government agencies, like the EPA here in the USA for example.
Commercial marine businesses utilize fuels that involve less refining (leaving higher amounts of sulfur in the fuel), and are therefore less costly than other diesel fuels.
The International Maritime Organization' Marine Environment Protection Committee is set to meet in London on October 24-28 to decide whether to impose a global cap on sulfur content by 2020 or 2025. This would see sulfur emissions fall from current levels due to restricting sulfur content in bunker fuel from 3.5% content to 0.5% content.
This impacts all shipping companies including but not limited to Ardmore Shipping (NYSE:ASC), Costamare Inc. (NYSE:CMRE), Capital Product Partners L.P. (NASDAQ:CPLP), Danaos Corporation (NYSE:DAC), Diana Containerships (NASDAQ:DCIX), DHT Holdings (NYSE:DHT), Dynagas LNG (NYSE:DLNG), DryShips (NASDAQ:DRYS), Diana Shipping (NYSE:DSX), Euronav (NYSE:EURN), Frontline (NYSE:FRO), Golar LNG (NASDAQ:GLNG), GasLog (NYSE:GLOG), Gaslog Partners (NYSE:GLOP), Golar LNG Partners (NASDAQ:GMLP), Genco Shipping (NYSE:GNK), Gener8 Maritime (NYSE:GNRT), Golden Ocean Group (NASDAQ:GOGL), Navios Maritime Midstream Partners (NYSE:NAP), Nordic American Tankers (NYSE:NAT), Navios Maritime Holdings (NYSE:NM), Navios Maritime Partners (NYSE:NMM), Navios Maritime Acquisition (NYSE:NNA), Pyxis Tankers (NASDAQ:PXS), Scorpio Bulkers (NYSE:SALT), Safe Bulkers (NYSE:SB), Star Bulk (NASDAQ:SBLK), Ship Finance International (NYSE:SFL), Seaspan Corporation (NYSE:SSW), Scorpio Tankers (NYSE:STNG), Teekay LNG Partners (NYSE:TGP), Teekay Corporation (NYSE:TK), Teekay Tankers (NYSE:TNK) and Tsakos Energy Navigation (NYSE:TNP).
The degree of the impact will vary from company to company depending on charter agreements where the cost of bunker fuel can either be paid by the charterer or the owner. Typically, on long-term charters bunker fuel costs are paid by the charterer while on spot voyages it is often paid by the owner. Of course, there are exceptions which is why the charter structure for each company will produce varying impacts.
Environmental And Human Impacts
As noted earlier, commercial vessels under IMO guidelines can use a 3.5% sulfur content in bunker fuel. The high sulfur content serves to keep costs under control but often at the expense of air quality. This can be particularly concerning once ships enter ports, especially busy ones with high populations.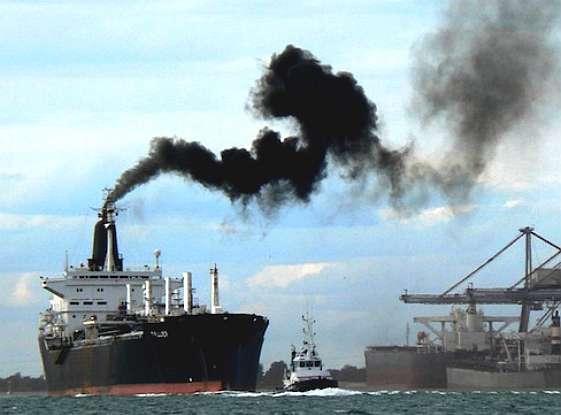 Source: Bluebird Electric
One of the more recent and detailed studies by Olaf Merk, presented at the International Transport Forum in Paris of December 2014, revealed that approximately 230 million people are directly exposed to the emissions in the top 100 world ports in terms of shipping emissions.
Furthermore, he noted that "on a global scale, calculations suggest that shipping-related PM emissions are responsible for approximately 60,000 cardiopulmonary and lung cancer deaths annually, with most deaths occurring near coastlines in Europe, East Asia and South Asia."
While trucks, equipment, rail traffic, etc. can contribute to these emissions, shipping traffic makes up the vast majority of these emissions in port areas.
Sulfur dioxide is one of the most egregious offenders. While shipping contributes about 2.2 percent of global CO2 emissions, it produces 13 percent of the world's SOx emissions, according to the IMO.
Reuters reports: "One large vessel in one day can emit more sulfur dioxide than all the new cars that come onto the world's roads in a year," said Thomas Koniordos, head of business line environmental solutions at Norway's Yara International."
Bunker Costs and OPEX
Depending on the type of vessel, bunker costs compose anywhere from 40% to 70% of total 'on the water' operating expenses. Of course, older and less efficient vessels are likely the ones seeing the higher percentage while newer designs, engines, etc. can reduce those costs.
The cost of bunker fuel has a direct correlation to crude oil prices. The drop in crude prices and consequently bunker prices provided a much needed cost reduction for shippers. In fact, bunker prices in 2016 were down approximately 50% from 2014 levels.
So while charter and spot rates have been falling across all segments (dry bulk, containers, tankers, LNG and LPG) lower operation costs in the form of reduced bunkering costs have provided a respite.
But the reduction from 3.5% sulfur to 0.5% could mean significant cost increases for bunker fuel. Estimates place the potential impact anywhere from 44% to a 100% price increase.
Additionally, infrastructure to process the required content appears to be tight. While major bunker centers like Singapore and Fujairah will be able to supply 0.5% sulfur fuel oil, smaller ports may not have the infrastructure and blending components which could create a shortage causing prices to rise even more than anticipated.
Furthermore, the desire to supply that fuel seems to have generated little interest from refiners. Ship & Bunker reports: " Speaking at a CMA event in late June, John Mahon, director at Kinder Morgan Terminals, said that so far refiners have expressed 'little interest' in addressing the so-called fuel oil problem, or making a compliant bunker fuel."
Finally, even if the desire was there, it looks like refiners may face extreme difficulty in meeting the demand. In a separate article, Ship & Bunker reports that a joint study by EnSys and Navigistics Consulting revealed that "The global refining industry is unlikely to be able to meet the needed extra sulfur removal demand because 2020 sulfur plant (and hydrogen plant) capacity will not be adequate based on current capacity plus projects."
Of course, a demand shortage, whether from port availability or refining capacity, will inevitably impact prices.
Therefore, much of the benefits from lower crude prices as it relates to reduced bunker costs may soon evaporate as these new regulations come into play.
2020 or 2025
These reasons could lead the IMO to conclude that implementation at a later date may be an easier path for the shipping industry as a whole.
But doing so risks them being behind the curve as many regions are already requiring this shift.
The EU has already mandated that the 0.5 percent sulfur requirement will apply in 2020, within 200 nautical miles (370 km) of EU Member States' coasts, regardless of what the IMO decides.
Even China is onboard as authorities in Shenzhen, the world's third biggest container port, introduced restrictions, demanding that ships calling there do not use fuel with a sulfur content of more than 0.5 percent.
Platts reports: "The International Maritime Organization will likely set a global sulfur cap of 0.5% on bunker fuel from 2020, senior partner Adrian Tolson at 20|20 Marine Energy consultancy told S&P Global Platts Wednesday. If it's implemented in 2020, it will be more for political reasons than anything else as the world is moving to cleaner fuels," he said.
Conclusion
Higher cost fuels are on the horizon for a vast majority of vessels on the water. Increasing OPEX will negatively impact profitability. This shift could begin well ahead of the implementation.
Reuters reports: "For traded oil markets, the shift to low-sulphur fuel will "substantially reduce demand for bunkers in the run up to 2020 and increase demand for gasoil and alternative fuels including LNG," said Christopher Haines, head of oil and gas at BMI Research."
Furthermore, older and less efficient vessels which are already facing costs from implementing the IMO's Ballast Water Management Convention will become more likely to be scrapped.
But that brings us to a potential bright spot. While costs for fuel may increase, this measure could also inspire a wave of badly needed demolitions across the board, which will reduce an oversupply that plagues the entire shipping sector. Reducing this oversupply is key to achieving higher spot/time charter rates. So while higher costs are bad news for shippers, the potential rebalancing of the global fleet based on these developments, which are mandated for all vessels, may provide a bit of good news in the end.
Thank you for reading and I welcome all questions/comments.
If you would like to stay up to date on my latest analysis I invite you to follow me on Seeking Alpha (click the "Follow" button next to my profile picture at the top) as I continue to cover all aspects of maritime trade.
Note: Value Investor's Edge subscribers receive a 72-hour advantage on all macro reports and trade ideas from James Catlin as well as exclusive research by J. Mintzmyer.
Disclosure: I am/we are long STNG TNP-D.
I wrote this article myself, and it expresses my own opinions. I am not receiving compensation for it (other than from Seeking Alpha). I have no business relationship with any company whose stock is mentioned in this article.
Editor's Note: This article covers one or more stocks trading at less than $1 per share and/or with less than a $100 million market cap. Please be aware of the risks associated with these stocks.