Markets are slumping on Tuesday. While it's not precisely clear what set off the selling, several factors appear to be weighing on the market.
First off, the recent tech IPOs are floundering. Twilio (NYSE:TWLO) shares in particular got whacked for a 15% hit yesterday. Other high-flyers, including Acacia Communications (NASDAQ:ACIA) dropped in sympathy, and the panic spread to this month's IPOs, with Nutanix (NASDAQ:NTNX) and Coupa (NASDAQ:COUP) getting clocked. And most of those shares continue to spiral further down again today.
IPOs are worth watching, since they are one of the market's more speculative outlets for capital. When people are feeling good - like they were two weeks ago - stocks like Nutanix soar. And when the tide turns, these stocks are the first to get wantonly dumped. I was watching Twilio nosedive yesterday and thinking: "this probably isn't good for the broader market".
Sure enough, add in an earnings miss from Alcoa (NYSE:AA) and problems in biotech, and we've got ourselves a meaningful sell-off. Alcoa shares are off more than 10% today, and while the company is hardly an industrial bellwether anymore, it's still not an encouraging start to earnings season.
Biotech/Pharma also appears to be on a fading wave. Between the surge in Hillary's polling and several high-profile stock wipeouts, including Alnylam (NASDAQ:ALNY), Bristol-Myers Squibb (NYSE:BMY), and now Illumina (NASDAQ:ILMN), and it's been a month where risk has come back to the center of the discussion for healthcare stocks. Illumina, an S&P 500 component and biotech mega-cap, is off more than 25% on an earnings warning.
But turns in investor sentiment bring opportunity. And Gilead (NASDAQ:GILD), after months of relentless selling, may finally be a real value for bargain shoppers.
Gilead: Getting Interesting
It's no secret I've been down on Gilead for quite awhile. With the stock at $120, just a couple bucks short of its all-time high, I called "sell" on Gilead in a contest-winning article that generated more than 300 comments, mostly negative. That's no surprise, in it, I specifically warned that many people were buying the stock despite not understanding the underlying business in much detail.
Like with Kinder Morgan (NYSE:KMI), there was a group of yield tourists that didn't like to hear that their investment was complicated. While many dividend growth investments are easy to wrap your hands around, biotech doesn't fit the same mold. Selling revolutionary drugs is a bit different than selling cereal or cell phone access. However, people saw that Gilead's earnings growth had been good in the past, and it initiated a strong dividend. So, life was good. Alas, investing isn't that simple; Gilead has dropped like a rock since my article published last June: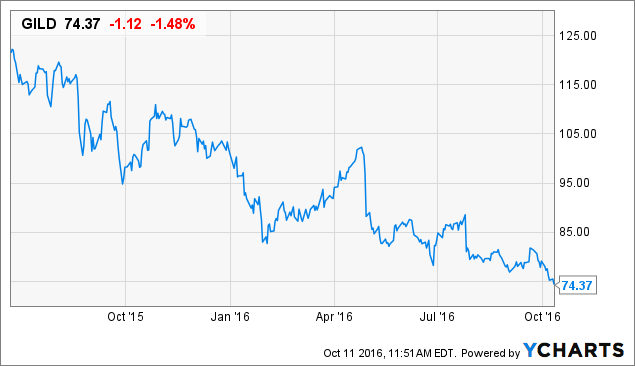 However, as the old saying goes, there's no such thing as a bad stock, just a bad price. I hated Gilead stock at $120, at $90, I turned neutral. And, now sitting under $75 with today's sell-off, I've got to admit, I'm turning into a Gilead bull.
Since the first time I covered Gilead, more than a year ago, the question has been just how badly its sales/profits would drop as the HCV franchise peaked. The more optimistic bulls here at Seeking Alpha were forecasting continuing rising earnings. That seemed unlikely to happen - see the people with $160 price targets on my article from last year.
The professional Wall Street analyst crowd forecast a roughly 2% decline in earnings between 2015 and 2017 before the business would stabilize. Analysts further forecasted that earnings would start to rise again in 2019. That was marginally plausible, though it still required a lot of things to go right for Gilead. And things haven't, in fact, gone right for Gilead - at all.
The pricing controversy that Martin Shkreli started snowballed. While Shkreli may have been the proximate cause of the industry's image issues, much of the resulting anger rained down on Gilead specifically.
Competition also heated up faster than Gilead's bulls had expected; it had dismissed the other HCV players, which, in fact, appear to be much stronger than had been thought a year ago.
Long story short, HCV sales are in sharp decline, rather than declining gradually, and GILD stock has plunged with it. However, the question was always "how much cash flow can Gilead generate off its existing properties?" and the answer to that hasn't changed nearly as much as Gilead's stock price. I'd estimate - compared to what we knew last year - that Gilead has lost about 15% of its long-term earnings power. Gilead stock, by contrast, is down almost 40%.
I estimated fair value at $90/share last year. This fair value has dropped - the faster cliff for HCV sales and new competitive threats to Gilead's other main franchise - its HIV assets - aren't good news. While the threat to Gilead from GSK's (NYSE:GSK) Viiv property doesn't seem particularly great, rumors are about, and they've certainly seeded a lot of doubt in the investing community.
You can read about the fears that have mounted for Gilead's business elsewhere, they're not the main point here. Most of the things cropping up in discussion now were things that were foreseeable risks a year ago. The main change here has been perception - the bulls had dividend goggles on previously. But after watching the stock drop 50 points, people have had to seriously look at fundamentals, and they realize there's a lot more risk than they had previously considered.
And yes, of course there's risk. Stocks don't sell at 6.5x PE ratios or just over 5x EV/EBITDA for nothing. Wall Street is now pricing in a dramatic decline in Gilead sales going forward.
If Gilead earnings fall by 25% - which most people considered unthinkable last year - the stock would now trade with a PE ratio in the 9s. It would still stack up as "cheap" compared to the other large biotech firms. Even if the HCV franchise almost completely dies off and Gilead sees earnings cut in half, the PE ratio still only goes to 13.
I'd argue for a large-cap biotech firm not blessed with an unusually deep pipeline, a reasonable PE ratio is 10-12. These firms have high R&D costs and extremely limited patent protection - thus my (at the time) much-maligned comparison to gold miners is in fact right. You have to assign a low PE ratio to biotechs since their assets lose value quickly, in the same way a gold mine runs out of gold rapidly and thus can't be valued as though it were an ongoing asset.
Keeping that in mind, Gilead earnings could fall by 25%, and it would still look slightly cheap against a "proper" PE ratio for a large-cap biotech. At a 50% decline in earnings, Gilead would only be mildly overvalued. And while it's naive to assume almost everything in Gilead's pipeline will find success, as bulls were doing last year, it's equally unlikely that everything in its pipeline will be a bust. At least a few of its candidates probably will deliver on its clinical promise.
There are still risks to the Gilead story. The first is one that I've discussed previously. With its large share buyback, it could be overpaying for shares. Certainly the stock it bought back north of $100/share now seems a little silly. At today's price, the buyback is much more likely to produce positive results for shareholders, but still, if the business doesn't go anywhere, shareholders might rather that the company had cash instead of a smaller share count a few years from now.
Secondly, Gilead could make mistakes on the acquisitions front. When a company has strong cash flow now but rapidly falling earnings - Gilead's present condition - it has to do something with that cash to shore up the company's future prospects. There's the potential for real value destruction if Gilead keeps taking on debt to aggressively buy back shares while making a few bum acquisitions.
That said, I'm going to go on the record as saying that under $75/share, the balance of the odds now favor the bulls. The stock isn't deeply undervalued by any means at its current quotation, but I can see more outcomes where shares rise from this level in the future as compared to ones where shares keep declining.
Even a modest boost in sentiment for Gilead could send shares up 10-15% in a hurry. On the downside, it'd take some truly dour news to send shares much lower - we're already reaching a state of high anxiety among the Gilead shareholder base. Words like "disaster" and "fiasco" are gaining wide currency. When that happens, more often than not, things tend to improve.
Disclosure: I/we have no positions in any stocks mentioned, but may initiate a long position in NTNX over the next 72 hours.
I wrote this article myself, and it expresses my own opinions. I am not receiving compensation for it (other than from Seeking Alpha). I have no business relationship with any company whose stock is mentioned in this article.