Honeywell (NYSE: HON) was founded in 1885 as a thermostat company, and has morphed into the $85B industrial conglomerate they are today. They have operations in about 1,250 sites in 70 countries around the world, with 53% of their sales being generated outside the U.S.
They operate in three segments: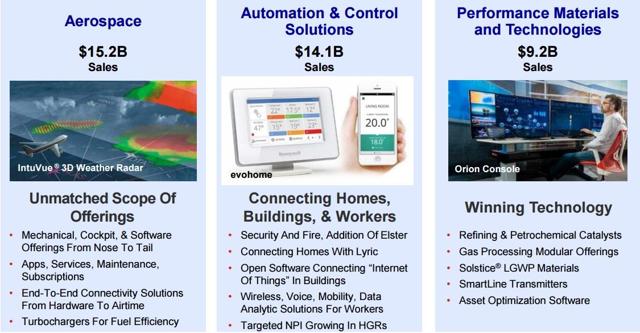 Source: Today's Honeywell
One of the things that popped out at me when I researched the company is their focus on the "Honeywell User Experience." They emphasize the research and effort they put in to understanding how the consumer uses their products, so that they can make them as intuitive as possible. They see themselves as "the Apple (NYSE: AAPL) of the industrial world," in delivering an ecosystem of products that are easy to use and meet consumer needs.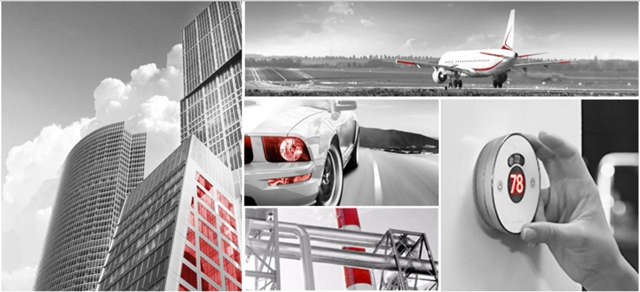 50% of forward growth is expected to come from high growth regions (HGR). Their expansion into international markets should be able to spur outsized returns in emerging markets with higher growth rates than the US. Management has projected double digit earnings growth in combination with their 4-6% CAGR in sales. Additionally, investors should expect their dividend growth rate to remain above earnings growth to raise payout ratio into the near future.
Going forward, the company has deployed $8B to M&A activities, which should have decent prospects in the difficult environment industrials are facing. Their recent merger talks with United Technologies (NYSE: UTX) obviously fell through, but that has not stopped them from looking for possible deals like their recent $1.5B acquisition of Intelligrated, a supply chain and warehouse automation company. This company is expected to bolt-on to Honeywell's Safety and Productivity Solutions department and increase their offerings into the industrial automation segment with 15%+ sales growth projections in the e-commerce business. They will soon spin-off their resins and chemicals business into its own publicly traded company, called Advansix. Honeywell is pushing towards advanced software and higher margin businesses, whereas their resins and chemicals business had mostly matured and is looking to grow mostly consistent with GDP. Additionally, it is lower margin and that doesn't mesh well with their margin improvement goals.
The goal has been margin improvement, and Honeywell has delivered. From a trough in 2011, margins have improved every year for a 128% increase since then. This has been important, with sales figures being soft in the current environment. Higher margins drive earnings growth when revenue increases can't.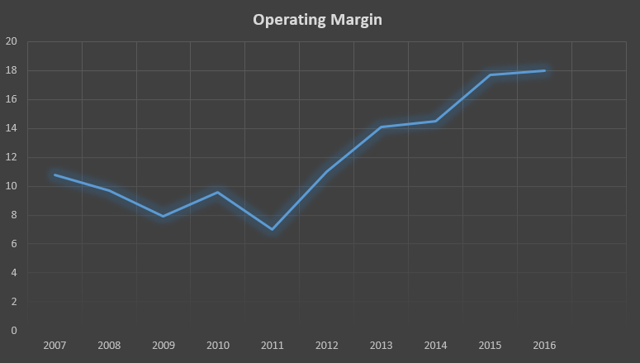 Sell-Off on Friday
On Friday, Honeywell revised earnings downards for the quarter from an expected $1.70 to $1.60 per share ($1.67 excluding a one-off stock compensation restructuring). This caused a steep sell-off in a well-run company, which may have been overdone. Unexpected revisions downwards for earnings outlooks generally cause a pretty rough dip, which fellow stalwart PPG Industries (NYSE: PPG) felt on Friday, as well. Honeywell's organic sales are expected to decline 3%. Their overall sales will increase 2%, including recent acquisitions, but the core business is hurting some. This seems to be the trend with several industrials and may be a leading indicator of worse to come. David Cote's remarks were about as upbeat as PPG's were on Friday:
'This is the bottom' for Honeywell's businesses exposed to the oil and gas industries, but troubles in the business jet industry 'will get worse' next year. [Source: SA News]
Impacts from this could be felt in United Technologies, General Dynamics (NYSE: GD), and Boeing (NYSE: BA), to name a few. With the quarter being revised down, Honeywell narrowed full-year guidance from $6.60-6.70 down to $6.60-$6.64. The lower end of this guidance would be a 8.2% increase YOY, which is not bad for a $87B company in rough industrial headwinds. Additionally, their Q4 results are expected to come in at 10-13% growth YOY. For this reason, I believe that the sell-off was likely overdone.
Financials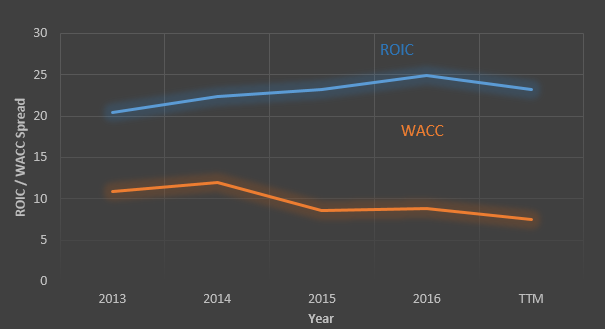 Source: GuruFocus
Honeywell's ROIC-WACC spread has been increasingly positive over time, with ROIC maintained above 20%. This is excellent, and a token of some pride for the company. They mention it more than once in investor's materials, discussing capital allocation into growth prospects. I liked to hear that, considering some companies seem to ignore the poor returns their investments yield for shareholders.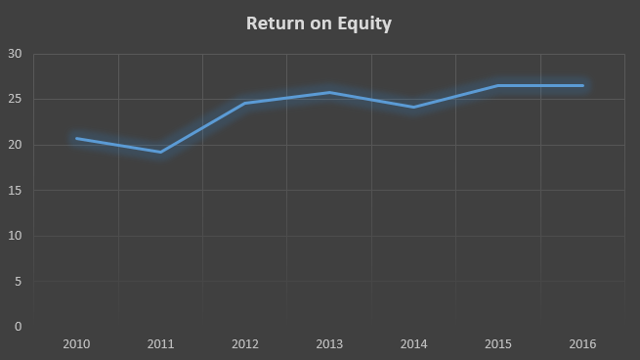 As would be expected, Honeywell's return on equity has been stable and increasing, just like their earnings. They are very profitable, and this metric shows their reliability.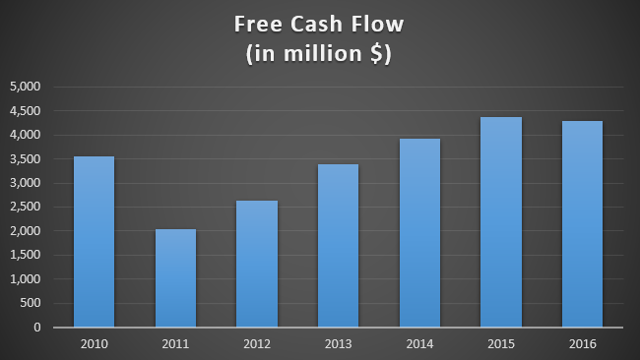 Honeywell generates a pretty substantial amount of free cash flow. Considering their capex has increased every year since 2009, it's nice to see that FCF has, as well. Their FCF yield using an EV of $95.92B (courtesy of GuruFocus) is ~4.46%, which is about average from the steady, dividend-paying companies I have been looking at recently. It's more than enough to service their $5.5B in long-term debt currently on the balance sheet.

Source: CCC List
Honeywell's management has stated that they plan on growing the payout ratio, which will mean outsized dividend growth into the near future. With an EPS growth rate in the double digits, that bodes well for dividend growth investors (and for total returns!). With a payout ratio right now at a conservative 36% and solid FCF generation, I expect Honeywell to continue rewarding shareholders with increasing dividends, like they have for the last 5 years.
Valuation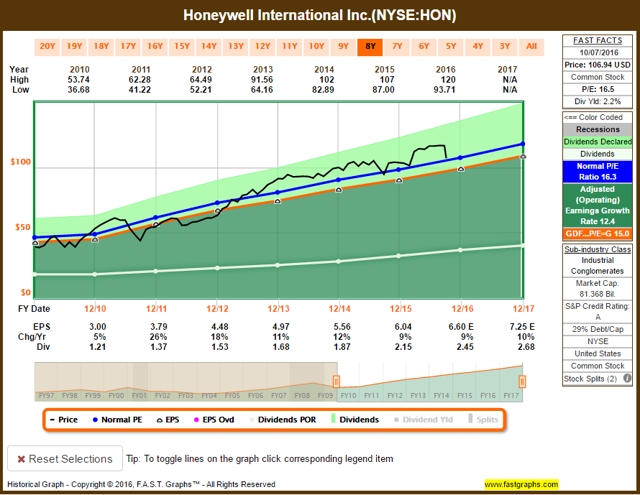 Source: FASTGraphs
I believe that Honeywell is trading around fair value today. Notice that the price decline brought them down into their normal range of a ~16.5X P/E multiple. With a company like Honeywell that I see as best-in-class, buying at fair value may be as good as it will get barring a recession or bear market. A hiccup in the growth story like last Friday presents an opportunity for the long-term investor to open or add to a position.
If you liked this article, and would like to read more like it, please click the follow button next to my picture at the top and select real-time alerts. Thanks for reading.
Elsewhere on Seeking Alpha
Financial statistics were sourced from Morningstar, with the charts and tables created by the author, unless otherwise stated. This article is for informational purposes only and represents the author's own opinions. It is not a formal recommendation to buy or sell any stock. Please do your own due diligence and/or consult a financial professional prior to making investment decisions.
Disclosure: I am/we are long UTX, BA, PPG, HON.
I wrote this article myself, and it expresses my own opinions. I am not receiving compensation for it (other than from Seeking Alpha). I have no business relationship with any company whose stock is mentioned in this article.