As a rule of thumb I try to limit my exposure to one stock per industry. For quite some time I've been a fan of medical conglomerate Johnson & Johnson (NYSE:JNJ), I first wrote about it back in April 2015, but I've been long the stock since 2009, believe it or not. My last article on J&J was July 25th. In that article I advocated 'lightening up' on the stock. At the time, shares were $125, and today they are down at $119; a bit of a difference but not much.
Later, on September 19th, I recommended stepping into Bristol-Myers Squibb (NYSE:BMY). At that time shares were at $55, and today it is still pretty much in the same place. So, not much change. I didn't mean to sell J&J and then pick up Bristol-Myers, but that's just the way it went.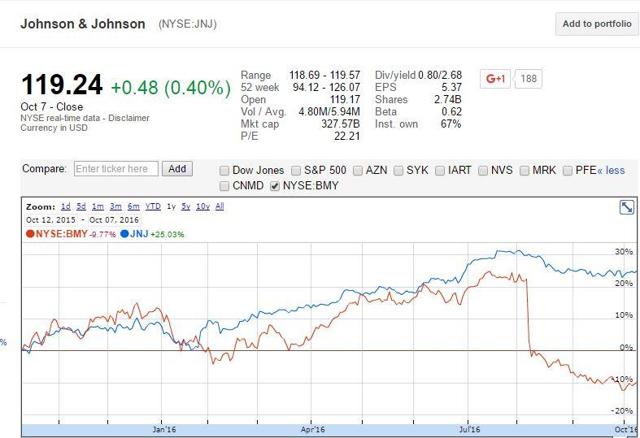 Bristol-Myers has dropped significantly since last summer, making it a much more interesting stock for income investors.
This article takes a look at which one of these two drug companies is a better investment this time, and why. In particular, I take a dividend-centric approach to this comparison. This article takes a look at growth prospects (in the pharma pipeline), valuation, dividend yield and dividend growth going forward.
A look at the pipelines
My comparison of J&J to Bristol-Myers is somewhat arbitrary: Bristol-Myers is entirely a pharmaceutical company. In addition to pharmaceuticals, J&J also has a medical devices business and a consumer products business. However, J&J's largest business is also patented pharmaceuticals.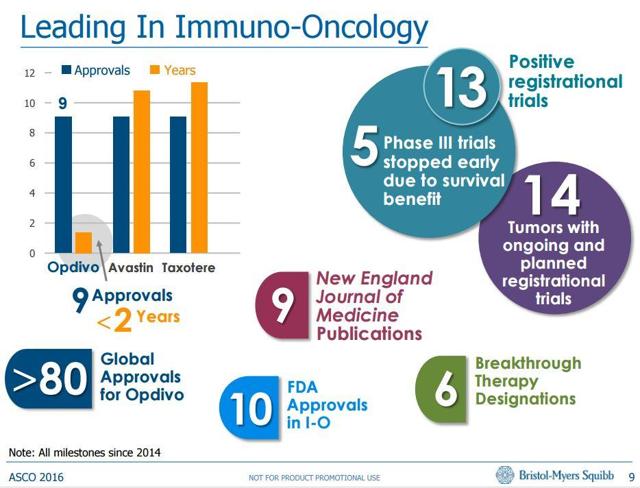 Courtesy of Bristol-Myers Investor Relations.
Bristol-Myers has a lot of drugs in its pipeline, and that pipeline is centered around Opdivo, its lung-cancer drug that will hopefully be a blockbuster. There are 14 ongoing and planned registrational trials. No less than five trials have gone through 'Phase III,' or the 'late stage.' There have been 13 positive registrational trials since 2014. Opdivo now has 80 approvals worldwide. There are also 10 more FDA Approvals since 2014, totally independent of the others mentioned. This strong pipeline has lead to an expectation of 30% EPS growth this year, although that should change somewhat after some disappointing results from Opdivo regarding a certain treatment method for a specialized type of lung cancer.

Courtesy of J&J Investor Relations.
J&J's pipeline is a little more developed, but J&J has been getting a good number of approvals both in Europe and the US. In the last quarter J&J got four approvals in Europe, one approval from the FDA, and an approval from the FDA of an expanded label for Imbruvica.
What does all this mean? J&J expects 8% EPS growth, with 12%-13% revenue growth from the pharmaceutical division. That's pretty good, but not quite the level of Bristol-Myers. Of course, this is all relative to the valuation, among other things.
Valuation
Looking at valuation, J&J trades at 18.1 times trailing, operating earnings and Bristol-Myers sits at 22.3 times. According to data from FAST Graphs, J&J has averaged 15.3 times over the last ten years, putting it at a 15.5% premium to its average valuation. Bristol-Myers may be more expensive absolutely, but relative to its average valuation, Bristol-Myers is a good bit cheaper.
The more interesting thing in my mind is the gap between earnings growth potential. Given the latest test results on Opdivo, Bristol-Myers may fall short of its 30% EPS growth target, but I still think growth rates can be at least mid-teens or greater over the next few years. That's still quite good. And Bristol-Myers isn't a particularly risky choice; it is a well-diversified, established pharma company that will do just fine despite the latest disappointing test. After all, Opdivo is still very effective as a treatment alongside chemotherapy, and there are more tests to come.
For this reason, I believe Bristol-Myers has more upside. Astute readers will note that J&J has averaged 7% dividend growth since 2010, and Bristol has averaged 3% growth since the same time. I think that trend will continue for both companies, but once Bristol-Myers moves through its pipelines, there will be a lot of financial flexibility for the company to either, one, accelerate the dividend, two, really increase buybacks, or three, double down on new development. I'm hoping Bristol-Myers chooses the first of those three, but that's up to management and they probably know better than I do. In any case, I like the flexibility that Bristol-Myers has.
Just looking at things from a purely numerical perspective, Bristol-Myers' revenue has been roughly stagnant for the last few years, and has maintained its dividend by selling off its HIV research assets to one of its large peers. Bristol-Myers' future cash flow depends upon what is currently in its pipeline. J&J, on the other hand, is more diversified and its dividend is only 59% of free cash flow.
Conclusion
To sum up, I think the choice between J&J and Bristol-Myers is more of a philosophical one. J&J represents diversification and healthy cash flow. Bristol-Myers represents 'growth at a reasonable price,' emphasis on the 'reasonable.' Smart people can disagree with which one is the better choice.
As for right now, I prefer Bristol-Myers. Unlike J&J it is beaten up unfairly, and I believe it is a good value right here. J&J, on the other hand, is a bit expensive. So, if I had to choose between the two, I lean toward Bristol-Myers' 'growth at a reasonable price.'
That said, if you're interested in either Bristol-Myers or J&J, I follow both companies fairly closely now, and will provide update articles when doing so is both material and relevant.
(Note to readers: This article was being written as Bristol-Myers' Opdivo test results came out I will address what this test means for the company when I research it more in depth)
Disclosure: I am/we are long BMY.
I wrote this article myself, and it expresses my own opinions. I am not receiving compensation for it (other than from Seeking Alpha). I have no business relationship with any company whose stock is mentioned in this article.