Exxon Mobil (NYSE:XOM) shares have been making a robust comeback on the market of late after remaining flat for the last two months. Over the past three weeks, Exxon shares have gained over 5%, primarily due to a strong improvement in crude oil prices. This rally in Exxon shares does not look surprising as Brent crude has increased from around $45 a barrel three weeks ago to more than $52 a barrel at present.
Higher oil pricing will lead to better realizations
This 15% increase in oil prices has helped Exxon make a comeback on the market after a woeful earnings performance last quarter. More importantly, the rise in oil prices will allow Exxon Mobil to bring about an improvement in its oil price realizations. In fact, last quarter itself, Exxon's upstream business reported a 287% increase in its earnings on a sequential basis. A key reason behind this improvement in revenue is the increase in crude oil and natural gas realizations as its projects are becoming more profitable in a low oil price scenario.
For instance, Exxon's U.S crude oil and natural gas price realizations during the second quarter came in at $37.97 a barrel and $1.74 per thousand cubic feet, respectively, up significantly from the first quarter of 2016. At the same time, its international crude oil and natural gas realizations were $45.48 per barrel and $4.06 per thousand cubic feet, which were up considerably on a sequential basis. This led to an improvement in the upstream earnings as shown below: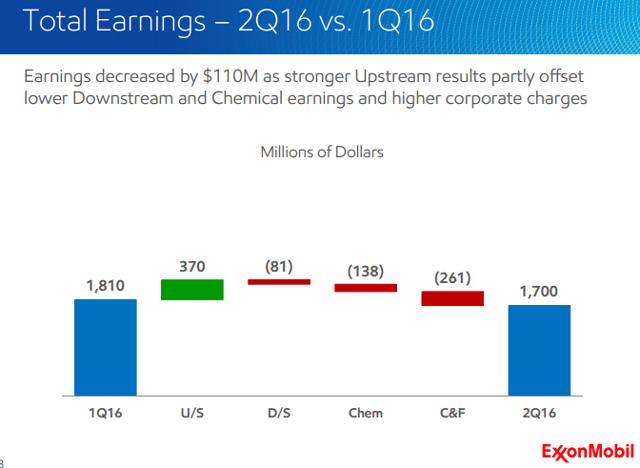 Source: Exxon Mobil
The good part is that crude oil and natural gas prices should continue to rise on the back of positive developments in the end market as far as supply actions are concerned. For instance, OPEC has recently agreed to limit its production to 32.5 million barrels a day, highlighting a decline of 700,000 BOEPD from the production of 33.24 million bpd seen in August.
At the same time, oil demand will continue to remain robust. The EIA forecasts that demand for oil will go up to the tune of 1.5 million bpd this year, and then rise again by 1.4 million bpd in 2017. As oil demand is rising and supply is being cut, inventory correction is taking place in the industry. In fact, last quarter, demand for oil was higher by 500,000 barrels per day as compared to supply and it is likely that the trend will continue on account of the OPEC's recent move. Ultimately, the improving inventory condition in the end-market will lead to higher pricing going forward, allowing Exxon to further improve realizations.
Exxon's cash flow is getting better
Exxon Mobil reported operating cash flow of $9.3 billion during the first half of 2016, which was more than enough to cover its dividend that came in at $6.2 billion for the first six months of the year. What's even more impressive is that the company generated free cash flow of $1.8 billion despite an increase of 2.7% increase in the dividend on a year-over-year basis.
In fact, the company had cash build of $700 million after capital expenditure of $8.7 billion in the first half of the year. The following chart represents its cash flow from operations, which can be expected to rise on the back of higher oil prices.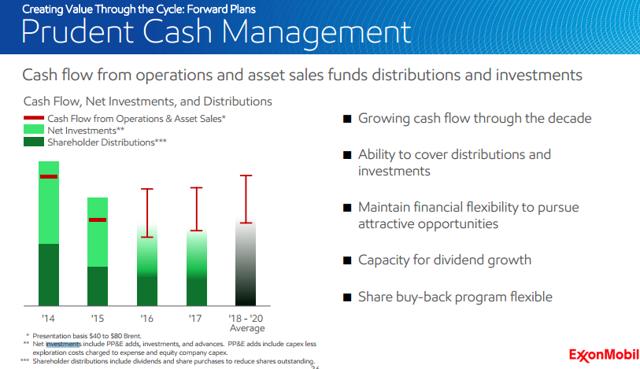 Source: Exxon Mobil
Exxon's ability to generate such strong cash flow from operations and free cash flow in a weak commodity price environment can be credited to its efforts of growing profitability of its unconventional portfolio in the United States.
For instance, Exxon has increased its unconventional production by more than 75% to 175 Koepd at the end of the second quarter of 2016 from 100 Koepd in the second quarter of 2015. The important thing is that Exxon has been able to raise this production level at a development cost that is nearly 50% lower in the Permian and approximately 29% lower in the Bakken from year-ago levels. As a result of this robust decline in development costs, Exxon has built nine years of inventory at 2015 rig levels that remain profitable at $40 per barrel price environment. This is given in the chart below: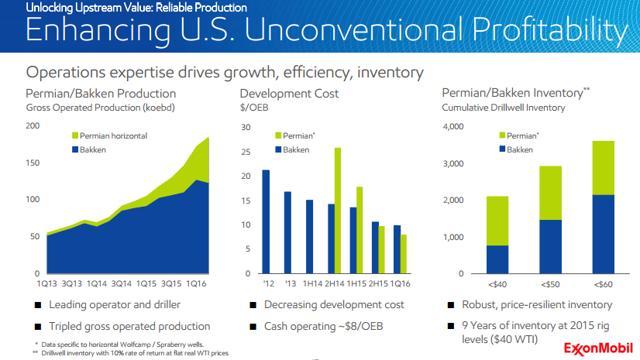 Source: Exxon Mobil
Moreover, Exxon Mobil is making steady progress by adding new project capacity to its upstream portfolio. For instance, the company had six project start-ups in 2015, adding close to 300 Koepd of new capacity to its upstream business. Looking ahead, its 2016-2017 start-ups are expected to add new capacity of approximately 450 Koepd as the company is bringing 10 new projects online by the end of 2017 that remain profitable in the current price environment.
On account of its efforts of increasing production at unconventional resources, Exxon has been able to increase its liquids production by 7% in the first half of 2016. More importantly, its new projects beyond 2017 are expected to add net incremental production in the range of 1.4 million barrels of oil equivalent per day to 2.4 million barrel of oil equivalent per day, as shown below.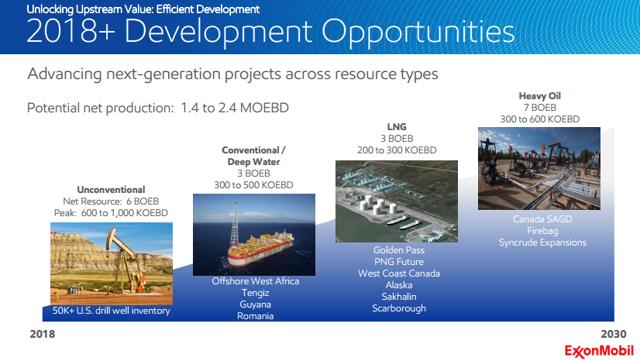 Source: Exxon Mobil
The point to note here is that the production from the new projects is expected to come in at a much lower capital expenditure, thereby increasing the rate of return. For instance, Exxon expects its capital expenditure to be at $23.2 billion in 2016, representing a drop of 25% from the capital expenditure of $31.2 billion in 2015.
In fact, Exxon expects its capital expenditure to decline further going forward due to robust capital efficiency, lower development costs, low cost of production, better drilling efficiencies, and production optimization initiatives. The following chart shows the expected decline in Exxon's capital expenses.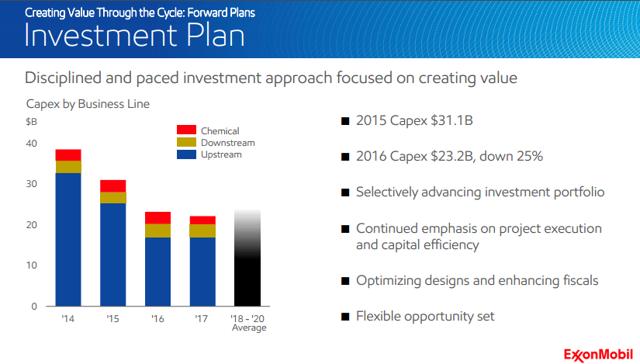 Source: Exxon Mobil
This decline in the capital expenditure going forward should enhance Exxon's free cash flow. Also, investors should note that the company has the highest return on capital employed among its peers, which means that its cash flow from operations will grow at a robust pace in the future.
Conclusion
Thus, as evident from the points discussed above, Exxon Mobil is well-prepared to take advantage of an improvement in oil prices going forward as its upstream business is now more efficient. So, the recent rally in Exxon Mobil shares should continue going forward, which is why investors should continue holding the stock for more upside.
Disclosure: I/we have no positions in any stocks mentioned, and no plans to initiate any positions within the next 72 hours.
I wrote this article myself, and it expresses my own opinions. I am not receiving compensation for it (other than from Seeking Alpha). I have no business relationship with any company whose stock is mentioned in this article.