In this article, I want to give you the most important indicators for the transportation equipment industry. This industry is very complex and consists of many sub-industries like you can see below.

Source: BLS
In this article, I want to focus on heavy duty trucks, which is part of the motor vehicle manufacturing industry. There are several companies that play a part in this industry (see list at the end of this article). This article focuses on the fundamental basis of these industries. It doesn't go into depth which means that you should use this article as a basis for further research or as an additional piece of the economic puzzle.
Let's start with the most important indicator for the US economy. The ISM manufacturing index has slowed significantly after the third quarter of 2014. The index points at a late-cycle economic environment with very low growth. That being said, we can expect challenging times for the very cyclical truck market.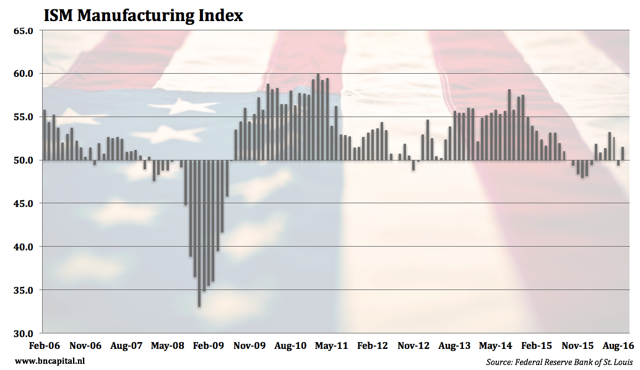 If we dig a bit deeper, we get to the ISM manufacturing index for the transportation equipment theory. This index shows relative strength versus the other seventeen industries. In this case, we see one of the biggest losing streaks since 2008. This means that there is no growth whatsoever and no sign of a relief. Since this index is leading, it means that trouble is going to get worse at this point.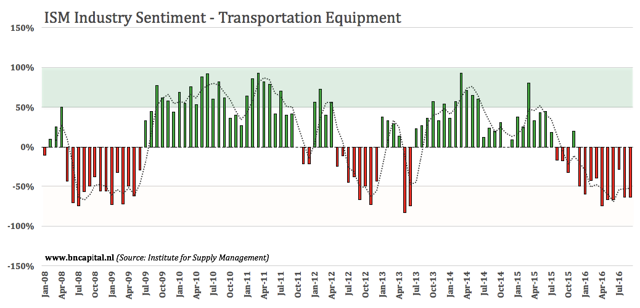 Coincident indicators like industrial production show that leading indicators have been right indeed. Industrial production of heavy duty trucks is currently down 20% on a year-on-year basis. These are recession levels and a terrible environment to invest in.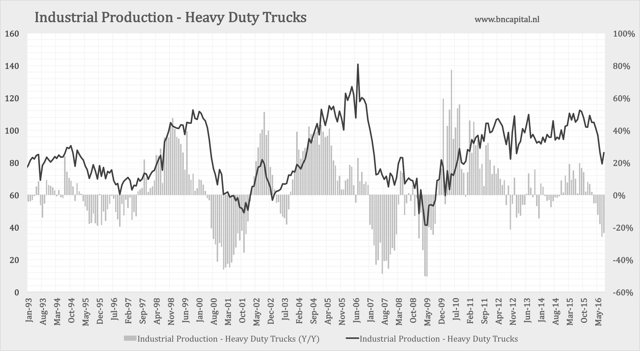 Retail sales are currently down about 30% year-on-year. These are levels where there is absolutely no doubt about the industry weakness.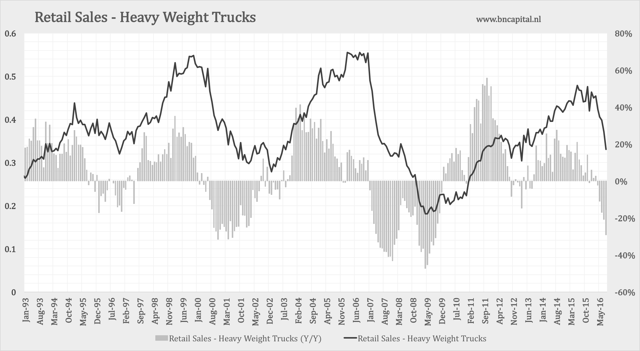 Manufacturing shipments for transportation equipment is falling too. Currently minus 20%. Just like industrial production.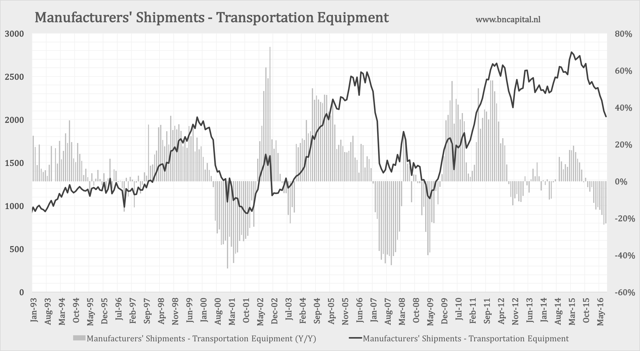 The patterns aver very similar whether you look at production, shipments or retail sales. Heavy declines around 2001 and in 2007, right before the official recession started. At this point, we might see the same: a cyclical peak right before the 'entire' economy peaks.
Anyhow, this article is not about the entire economy but about transportation equipment. In this case: heavy duty trucks. Leading indicators point towards further declines. Coincident indicators confirm this view. This means that transportation equipment companies are likely to underperform.
Now, let's look at some companies in this industry. Paccar PCAR and Navistar NAV produce trucks and related products. Cummins CMI manufacturers engines for heavy and medium duty trucks.
Below, you see the stock market returns of Paccar and Cummins. I excluded Navistar because the stock lost almost 90% after peaking in 2014 and rallied more than 250% from the February bottom.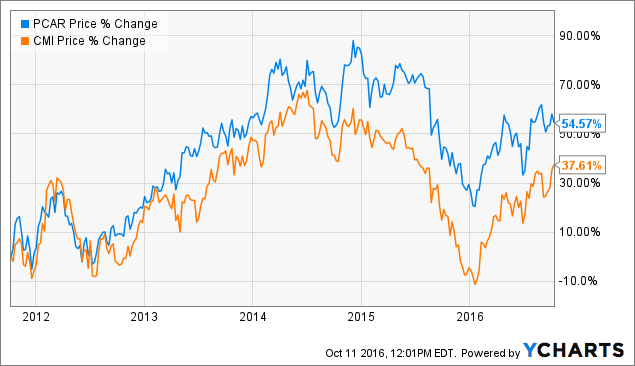 Paccar already started to lose some momentum. Cummins kept going and has not flattened out yet. I think that the current uptrend is in danger since the underlying fundamentals are getting worse. This means two things:
Don't buy these cyclical stocks and wait to buy them later at a lower price. (Risk is that the stock rallies and you are missing out on some nice return)
Short one of these stocks against a stronger asset like the industrial average (Industrial Select Sector SPDR Fund XLI). (You lose money only if the stock you are short outperforms the asset you are long).
Below, you can see the ratio spread between the Utility Select Sector SPDR ETF XLU and Cummins. This trade gained momentum in 2014 shortly after growth started to slow. The ratio has imploded after Cummins bottomed in Q1 of this year. I am positive that this spread is going to go up again. This means that utility stocks are going to outperform Cummins.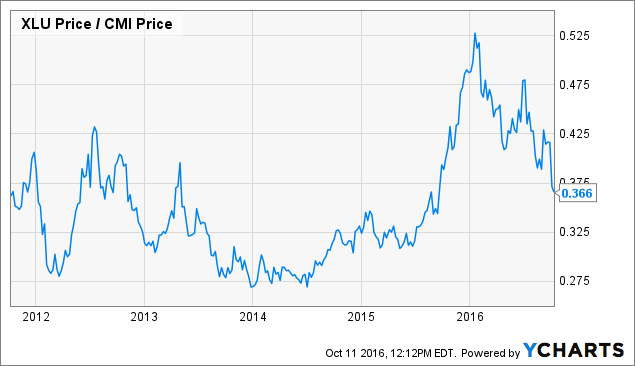 Fundamental Chart data by YCharts
This article showed you how heavy duty truck fundamentals are doing and why they are very unlikely to improve. The trading ideas are just suggestions although I might execute the XLU/CMI trade.
Many thanks for reading this article. Please leave a comment if you have questions or remarks.
Disclosure: I/we have no positions in any stocks mentioned, and no plans to initiate any positions within the next 72 hours.
I wrote this article myself, and it expresses my own opinions. I am not receiving compensation for it (other than from Seeking Alpha). I have no business relationship with any company whose stock is mentioned in this article.