What is Whole Foods Market (WFM)? That may seem like a silly question, but at this point I don't believe the company's management has a good answer. And that's exactly why the rumors about Whole Foods being bought by Kroger (NYSE:KR) may have more meat than you might want to believe - even this specific deal doesn't get done.
Grocery store?
So Whole Foods is a grocery store. But from its beginning it was always more than that. It focused early on expanding the healthy food niche with a national brand and, importantly, a high-end shopping experience. And from that perspective, Whole Foods is the clear leader. Healthier foods and better service, meanwhile, came with higher costs, allowing the chain to do better than peers who were fighting intense price competition from companies like Wal-Mart (NYSE:WMT) and Target (NYSE:TGT), giant retailers encroaching on the grocery space.
For a long time Whole Foods' stock soared along with its growing footprint. Only something is different today. Where once Whole Foods had an almost exclusive niche, competing largely with mom and pop shops, today it has to compete with the entire grocery industry. Indeed, companies across the space have begun to bring in natural/healthy food sections. Why go to Whole Foods if you can get most of what you want from your local Kroger or even Wal-Mart? And at lower prices!
To put some numbers on Whole Foods' problem, same store sales, a measure of performance at stores open for at least a year, fell 2.6% in the recently ended fiscal third quarter. In other words, the company's existing stores aren't doing very well. In the company's fiscal second quarter, however, it broke out weak same store sales numbers by the age of its grocery stores. Not surprisingly, its older locations were dragging the numbers down, with locations younger than five years actually showing positive same store sales. But that just shows the bigger issue, Whole Foods' novelty is wearing off.
Now what?
Now revisit the question... What is Whole Foods? At this point it isn't special anymore. It's just increasingly expensive relative to other options with roughly the same food offerings. One of the ideas for dealing with this has been for Whole Foods to open smaller, cheaper stores selling its own store brand products. While that might lure back shoppers who have defected because of high prices, I think it misses the point of the Whole Foods experience.
Indeed, for people who shop at Whole Foods, it's partially the food and partially the shopping environment. But Whole Foods is cheapening the shopping experience in more ways than one. For example, it's been laying off employees to save costs in addition to trying to compete on price with its store-brand based stores. But step back... Competing on price is the model that Whole Foods disrupted. If it goes too far down this avenue, then it's destined to become just another grocery store.
Why not?
And if the answer to the question, "What is Whole Foods?" turns out to be, "Just another grocery store," then why would it be so surprising to see it bought by Kroger? In this case, there are good financial reasons why Kroger wouldn't want to buy Whole Foods. But if it isn't Kroger, then maybe some other company, perhaps privately held Publix would be a better fit.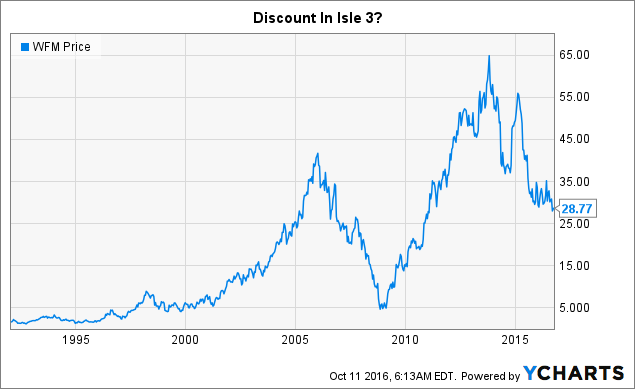 The fact is, Whole Foods shares have fallen hard lately, sitting at roughly half of their recent highs. Add in the troubling trends at its existing stores and the company might welcome a bid. Mix in the fact that management seems to be missing the forest for the trees with its push to open store-brand stores and being bought out might actually be in the best interests of investors.
Maybe it doesn't happen now, maybe it happens after more same store sales troubles show up. But Whole Foods is facing an existential crisis and it increasingly looks like it doesn't know what to do. With that as a backdrop, being bought by a competitor doesn't seem so outlandish.
Disclosure: I am/we are long TGT.
I wrote this article myself, and it expresses my own opinions. I am not receiving compensation for it (other than from Seeking Alpha). I have no business relationship with any company whose stock is mentioned in this article.