Last week, AstraZeneca's (NYSE:AZN) blood thinning drug Brilinta failed a drug trial when it was unsuccessful in improving symptomatic peripheral artery disease patients relative to Plavix (i.e., clopidogrel), initially approved by the FDA in 1997. Brilinta had an additional setback in March, when the drug failed to prevent further heart attacks versus patients taking a standard daily dose of aspirin.
Such disappointments will likely inhibit AstraZeneca from reaching its target of $3.5 billion in Brilinta sales by 2023, which would project to come out to 10-15% of AstraZeneca's total revenue. The drug had been identified as one of the company's six growth platforms beyond 2017 in order to attain its specified goal of $45 billion in sales by 2023 [stated in May 2014 in response to a takeover attempt by Pfizer (NYSE:PFE)]. With its recent pipeline hurdles, it would be infeasible for Brilinta to achieve its $3.5 billion revenue target. However, with current approvals in effect, Brilinta should achieve over $1 billion in sales by FY2017 and already achieved nearly $400 million in sales in the first half of 2016.
Brilinta's trial failure could reduce the ultimate versatility of the drug and represents the latest in a string of disappointing events for the company. The stock is currently down 20% from its May 2014 high, with patent expirations on blockbuster drugs, including Nexium and Seroquel. Its leading cholesterol drug, Crestor, with trailing-twelve-months' revenues of $4.6 billion (source: company press releases), is also facing increased competition from generics. Its patent expired in the US in July 2016 and will expire in the EU in July 2017. AstraZeneca's revenues are down from $33.6 billion in 2011 to a projected total of $23B-$24B for 2016. FY2017 revenues are most likely to come in toward the midpoint of the $20B-$25B range.
Despite the failed Brilinta trial, the news is likely relatively minor in the grand scheme of things. AstraZeneca's pipeline remains strong, with 35 phase III projects as of July 28, 2016. There is some concern, however, that Brilinta's struggles will make the company more susceptible to execution risk regarding its other phase III projects that are likely to provide meaningful top-line results in the coming years. By 2018, AstraZeneca's phase III oncology assets (17 in total) will begin contributing to company revenue. Positive trials in these will be necessary to boost the stock higher.
Valuation
I used the following assumptions to value AZN:
· $24 billion in 2016 sales, $22.8 in 2017 sales, with 7% year-over-year revenue growth thereafter
· 29% EBITDA margin that remains steady over time
· Depreciation and amortization expenses at 11.4% of sales (and set equal to capital expenditures in equilibrium)
· 17% long-term effective tax rate
· 3.00% cost of debt based on a A3 (Moody's)/A (Fitch) credit rating
· 10% cost of equity, for a total weighted average cost of capital of 8.65%
· Perpetual growth rate of 1.8% (i.e., long-run growth expectations of the economy)
· No working capital growth over time
· 2.53 billion shares outstanding
The sales assumptions place 2023 revenue at $34.2 billion, short of the company's stated goal of $45 billion. It would measure $41.9 billion by 2026 for the final year of the projection period.
These numbers would place shares at somewhere around $19-25 per share, with the range created based on perpetual growth rate assumption adjustments of +/- 30 bps and cost of capital adjustments of +/- 50 bps. This contrasts with the current price of ~$32 per share.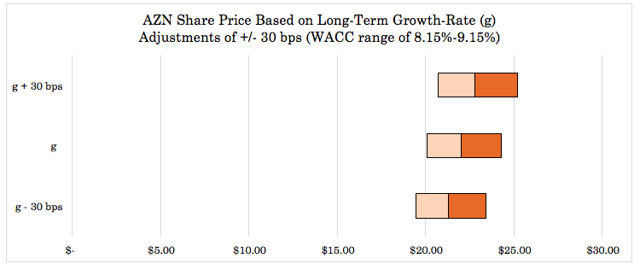 (Source: author)
Note that this is at a 10% cost of equity. If we base this off a more normal cost of equity of 7%, this would price shares in a wider range from $32-47 per share.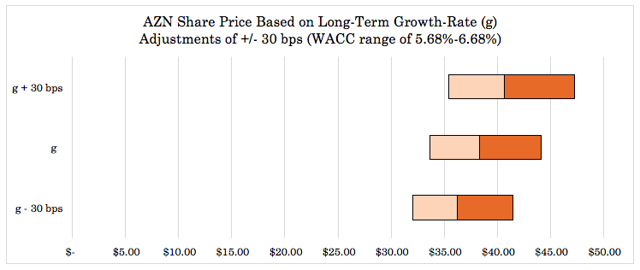 (Source: author)
Valuations at discount rates that typically parallel median market expectations (e.g., 7% cost of equity) confirm that the market is placing practically zero belief in the company's ability to generate $45 billion in revenue by 2023. If we were to mark revenue up to $45 billion by that point using 12% Y/Y sales growth from YE2017, keep other assumptions as is and discount at a ~7% cost of equity, this would place shares somewhere in the $48-70 range, or $59 at the median.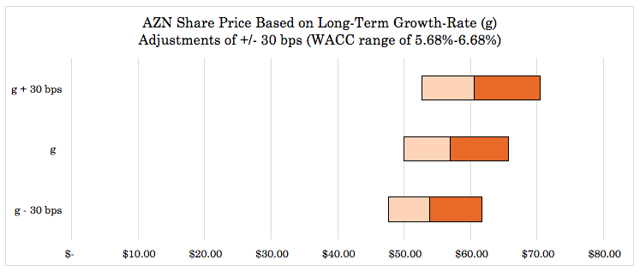 (Source: author)
More realistically, the market is expecting 2023 revenues to hit just over $30 billion, which would mark 5% Y/Y growth from 2017 forward. As for the stock itself, it's likely not going to see much in the way of upward movement until 2018-19 as more of its phase III pipeline comes into play in order to allow earnings to tick up again.
Capital Structure
With a market cap of $81.1 billion, AZN is comprised of approximately 82% equity and 18% debt. Based on an estimation of AstraZeneca's synthetic debt rating using interest coverage ratios (EBIT/interest expense), and estimating the company's current cost of debt based on the historical spreads of these ratings relative to U.S. Treasuries, we can plot out a representative curve to determine the optimal point at which the company could lever. According to this model, AstraZeneca would be optimally leveraged at approximately 25% debt.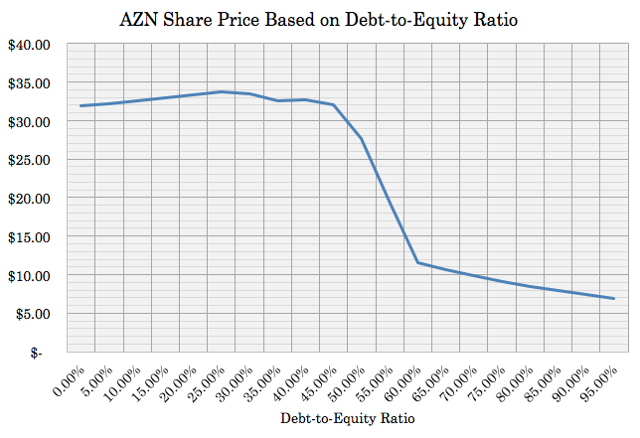 (Source: author)
But like most well-run companies, it stays on the left side of the curve and remains under-leveraged to protect against downside. The company would not project to be severely stressed by its debt load unless it comprised more than 50% of its current capital structure.
Conclusion
Brilinta's trial miss puts a dent in the company's plans for the drug to contribute $3.5 billion in sales by 2023. But even so, the news doesn't project to hurt the company too significantly long-term. More concerning is any increased execution risk the company may face going forward stemming from Brilinta's tribulations. As for the stock, it probably makes for mediocre returns in the short term before potentially heating up in 2018-19 as more of its phase III pipeline (particularly with respect to its oncology drugs) begins the approval process.
Disclosure: I/we have no positions in any stocks mentioned, and no plans to initiate any positions within the next 72 hours.
I wrote this article myself, and it expresses my own opinions. I am not receiving compensation for it (other than from Seeking Alpha). I have no business relationship with any company whose stock is mentioned in this article.