Investment Thesis
Papa Murphy's Holdings (Nasdaq: FRSH or the "Company") is an impaired, likely terminally challenged, restaurant chain facing insurmountable headwinds. Papa Murphy's model of selling raw pizzas may seem absurd in and of itself. That aside, over the last three years, short-sighted owners and management took a niche concept that worked relatively well in the Pacific Northwest and aggressively expanded it into regions where it fails miserably.
To mask decelerating organic growth and an increasing number of store failures, FRSH began buying failing franchise locations. This provided a temporary boost to the top line and prevented the store count growth from turning negative. These short-term actions have saddled the Company with debt, added significant operating leverage and left it with limited flexibility just as two lawsuits and multiple financial headwinds are compounding its problems. FRSH's current 31x P/E multiple does not reflect this reality.
A flurry of restaurant companies have filed for bankruptcy protection recently (Garden Fresh, Cosi, Logan's Roadhouse and Fox & Hound) due to these pressures as well as increased labor costs from higher minimum wage and unmanageable debt burdens. FRSH is heading in this direction. It is likely the Company will be forced into a restructuring over the next 2-3 quarters, an event which would result in a zero for the stock.
Catalysts
1) Continued negative SSS trend with no reprieve in sight.
2) Operating leverage compounding the financial impact of the ongoing decline in unit performance.
3) Acceleration in store closures and contracting system base.
4) Deterioration in free cash flow and margins.
5) Liquidity strain and credit default.
6) Escalating legal fees and potential large settlement from multiple lawsuits.
7) Reduced food stamp payouts and potential elimination of sales tax loophole.
Background & Resulting Profile
The Company's "take 'n' bake" pizza concept originated in the Pacific Northwest in the 1980s. Papa Murphy's itself was formed in 1995 when Papa Aldo's Pizza of Oregon and Murphy's Pizza of California merged. The franchise system expanded in that region over the ensuing twenty years and then in 2004 was acquired by the P/E firm Charlesbank. The new owner sold new franchises in the Midwest and South, bringing the system to 1,000 stores in 2007.
Charlesbank's growth strategy focused on low prices and the concept's ability to accept food stamps/EBT cards (more on this below). In mid-2010, the Company was acquired by sponsor Lee Equity Partners for $180M. Lee continued the Charlesbank game plan but also levered the Company up over the next four years.
Papa Murphy's went public in May 2014 with all IPO proceeds used to pay down debt. The IPO pitch presented the Company as a high return, asset light, royalty-driven franchisor with significant geographic growth potential. Leading up to the IPO and since, the Company began to face decelerating organic growth and an increasing number of store failures (109 stores have gone out of business since the IPO).
To optically mask these challenges, FRSH began buying failing franchise locations. This provided a temporary boost to the top line and prevented the store count growth from turning negative. These short-term actions, however, have very negative medium-term consequences. The result: FRSH went from an asset light franchisor collecting high margin royalties to an asset intensive store operator. Below is a comparison of the Company's profile then and now: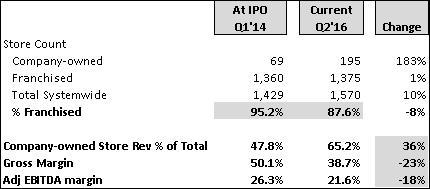 As you can see above, the number of company-owned stores has nearly tripled while the number of franchised locations is flat. In fact, in Q2'16, the number of franchised locations declined sequentially. This trend will likely accelerate. Currently, 88% of the store base is company-owned versus 95% at the IPO. Almost all the locations FRSH has acquired have been failing franchisee-held. Had they not been acquired, the number of locations would be significantly lower and obviously the growth rate would be sharply negative. Regardless, the implication of these actions have come back to haunt FRSH.
FRSH now derives over 65% of its revenue from its company-owned stores versus 48% before. Being an asset heavy restaurant owner like this increases its operating leverage so any change in store-level revenues and costs now get magnified. The Company's margins have dropped significantly as a result. So too have its cash flows and earnings. FRSH has also gone from a free cash flow positive business to a negative one, recording -$5M in cash flow year-to-date. This is only getting worse.
Limited Liquidity & Levered Balance Sheet: At June 30, 2016, FRSH had $110M in debt and only $430,000 in cash, equating to a leverage ratio of 4.3x based on LTM-adjusted EBITDA of $25.8M. FRSH has seen its EBITDA decline 15% year over year in 2016. As this trend continues, it places the Company in a precarious financial position. The next leverage ratio tests on the term loan on September 30 and December 31 require FRSH to be above 5.0x.
If FRSH's EBITDA declines greater than $3.5M over the next two quarters it will violate these covenants. Even if the Company staves off a default through year-end, it is almost certain to trip the covenant with it to 4.5x on March 31, 2017. At the very least, these liquidity constraints severely limit its ability to invest in the business and support any growth.
Growth Headwinds
FRSH now finds itself as an asset intensive, levered business with limited options to combat the onslaught of challenges it faces.
· Competitive Disadvantages: Papa Murphy's business model places it at odds with consumer purchasing trends. Over the last three years, Domino's Pizza (NYSE: DPZ), Papa John's (NASDAQ:PZZA) and other chains have made large investments in online ordering technology. Customers can literally click three buttons on their smartphone and have a fresh, fully cooked pizza delivered in less than 30 minutes. FRSH does not deliver its pizza so it cannot benefit from this trend.
This convenience cannot be matched by a sub-scale operator that sells raw pizza. Even in areas where it has regional concentration, FRSH Domino's and the other national pizza restaurants have also made large investments in product quality. This value proposition and delivery efficiency is enabling them to take significant share from the rest of the market.
· Weak Value Proposition to Franchisees & High Buildout and Opening Cost: Papa Murphy's promotes its lower capital investment level since no ovens are required. The actual numbers do not support these claims. New franchisees have to layout $279,000 to $493,000 to open a store. Contrast this with take-and-bake competitor Noble Roman's (OTC: OTCQB:NROM) stores which require an upfront investment of <$150,000. The total upfront investment for a FRSH store is actually higher than other conventional pizza companies that generate much higher revenue and earnings per store.
The average FRSH store generates revenue of $623,498 and pre-tax earnings of $45,000 in 2015. Contrast this to Domino's average US franchised store revenue of $940,000 and profit of $120,000 on a buildout cost of $315,000. Papa John's also generates substantially better unit performance and its locations cost $220,000 to open. FRSH increased upfront cost 11% in 2016, yet average sales per store were down 3% in the period - further reducing an already weak value proposition
· Papa Murphy's Online Ordering System a Bust: Earlier this year, FRSH started rolling out its own online ordering system despite the obvious fact that online ordering only makes sense for delivery. Why would anyone order something online that they have to pick up in person anyway? In response to the weak reception and low usage, FRSH started aggressively making 50% off promotions that franchisees are required to honor. Thus, selling pizzas well below cost and only adding further pressure to the financially strained franchise base.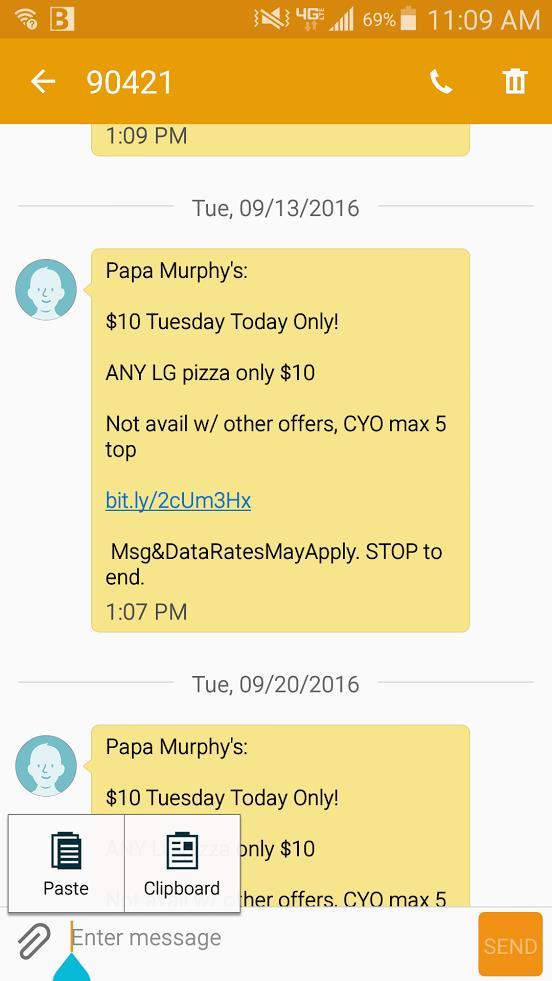 · Grocery Price Deflation & Increasing Labor Costs: Costco, Safeway, Walmart grocery and others all sell unfrozen, readymade and DIY pizzas in just as convenient a format. Grocery prices have fallen for nine straight months in the US, marking the longest streak of food deflation since 1960. Lower prices at the grocery store further erode FRSH's value proposition. FRSH management cited this challenge on the Q2'16 call. Since then, prices have fallen further. The expansion of grocery home delivery is adding to this effect.
· Food Stamp Funding Decline: Competing pizza chains selling cooked pizzas cannot accept food stamps but the raw pizza FRSH sells is categorized as a "grocery item" and thus eligible for purchase under government assistance programs. Approximately, 10-15% of FRSH store levels sales are paid for by EBT. Government funding for these assistance programs has been getting cut and may be eliminated outright as it relates to the ability to buy FRSH pizzas. Many of FRSH's locations are very highly dependent on food stamp paying customers and will almost certainly fail as these subsidies continue to get curtailed.
· Multiple Failed Attempts to Expand in South and Southeast: FRSH first entered the region in the late 2000s. Common sense would tell you people in a hot climate do not want to turn their oven up to 500 degrees to cook a pizza. Not surprisingly nearly all those initial locations from Texas east through Florida subsequently failed. The accounts of personal bankruptcy and loss are numerous and very saddening (see the Franchise Group lawsuit case below or any franchise information website or blog). The Company somehow still banks its growth plan on successful expansion (or re-expansion as it would be) in the Sun Belt.
· Disgruntled and Severely Challenged Franchisees: The Company's heavy handed and uneconomic practices were addressed by the Papa Murphy's Franchise Association (PMFA) in a series of letters to the Company in 2014 and 2015. The challenges addressed by the franchisees then are now manifesting themselves more significantly than ever. Below are some of the key issues noted in the franchisee newsletter:
o - "430 stores that averaged under $8,000 AWS (average weekly sales)….It doesn't take a CPA to figure out that these franchisees can't sustain their business very long without some significant help."
o - "break-even point for a new store with a manager is just under $8,000 AWS. For a store with a manager and $175,000 debt service the break- even is approximately $10,800. Again, at that point there isn't any profit or return on investment."
o "The primary challenge our brand faces surrounds the severe decline in profitability of Papa Murphy's franchised stores in recent years."
o A benchmark study shows 324 franchise stores (~25% of the chain) operating at a loss and 401 stores (~30% of the chain) making less than required to cover the standard debt service to open a store. In the Eastern Division 241 of the 387 stores (63%) averaged under $8,000 AWS. Of all the 52 stores in the Eastern Division, the average AWS was just $6,300. This is the region where FRSH purports to be the main area for growth. It does not appear the concept is resonating in this region.
o "We need promotional price points that are balanced. Low price points with high discounts on TV offers, along with print offers, social media offers and OLO all at the same time may be great for PMI's revenues, but it is tough on the franchisee's P&L."
o "There are very few commercials and price points available that are attractive to co-ops. The support materials coming out of Bridgetown have been a complete disaster. If we spend so much time in evaluating potential vendors how could we have ended up with a company like this?"
o "The number of times PMI is using first right of refusal to take stores that franchisees are negotiating on has never been higher. Does PMI really need to be "cherry picking" the mature markets that the franchisees have worked years to build up?"
o "Costly and ineffective system [POS] riddled with problems."
o "Once we complete the introduction of FAVES, Pan, etc, we then see sales drop. There are too many products. How many of us are forced to carry these products knowing we are going to have high waste as a result?"
o "Our operations have become much more complex and require additional labor investment while transactions and unit sales are flat or lower. Without more significant incremental unit and transaction increases these new products make it difficult to meet Papa Murphy's service standards without absorbing higher labor and waste costs."
· Sunsetting Franchisee Agreements: A large number of stores are approaching their 10-year anniversary and will be deciding whether or not to renew. Many will not because they realize they have never made money and would only be signing on to another 10 years of uncertain performance, probable losses and a new long-term lease liability.
Multiple Lawsuits: It should come as no surprise that the high number of franchisee failures and business practices of FRSH have led to lawsuits. Both of the below cases are in court and are on track to go to trial over the next two quarters.
· Lennartson vs. Papa Murphy's: Last year, a class action lawsuit was filed against Papa Murphy's alleging violation of the Federal Communication Commission's anti-spam rules by sending out SMS text ads without the recipient's consent (public court filing attached). This case is set to go to trial early next year and will potentially result in major fines for Papa Murphy's. It also forced FRSH to end its text ad campaign nationally, which it now has to rebuild from scratch. This significantly hamstrings its marketing efforts. Note: the list of over 900,000 numbers it had been using took five years to build. This primary implications are twofold:
o This almost certainly contributed to the weak SSS results since and will likely continue to result in significant sales headwinds over the next couple of years. Text can be a very effective and efficient market mechanism - low cost, very targeted with high open and redemption rates (+10% per text). It is a major marketing source for FRSH and likely drove +20% of sales prior to being restarted (one 2012 report cites a 33% increase following adoption). Estimate of impact: 1 text promo sent per week x 2k cell numbers per store x 10% redemption rate x $16 average ticket = $166,400 or 26% of the average store's revenue ($623,498 per 2016 FDD).
o Large potential fines: Under Telephone Consumer Protection Act TCPA (47 US Code § 227) FRSH would have to pay a minimum of $500 per text violation in addition to potential regulatory fines if found guilty. Prior to FRSH taking over the program in 2014, one franchisee alone sent out over 100k messages a year. We personally enrolled in the new text program and have been receiving two messages per week over the last six months.
Plaintiffs' attorney Keller Rohrback is a decent sized plaintiff-side litigation firm so it is unlikely this is a small frivolous case. Fines of this nature typically have limited insurance coverage. In Papa Murphy's attorneys' subsequent motion for stay, their own attorney stated "a substantial amount of resources will go into this case in the next six to twelve months if not stayed." This will take time to play out but there are many precedent cases that have resulted in substantial fines.
· Franchise Group v. Papa Murphy's International: Two groups of former and current franchisees are suing Papa Murphy's for $25M. First filed in 2014, these franchisees' 11-count complaint asserts that FRSH "misrepresented and omitted material facts related to the financial performance of its franchises and of collecting more than the contracted amount for advertising." These advertising contributions were alleged to have increased to 10% from the contractual 5%. The inaccurate store-level financial performance was related to the Southern and Southeastern states, the regions that FRSH management still contends will be the driver of growth. This shows the constraints of the Company's growth potential and could result in a >$20M settlement plus FTC and various state franchise association fines. The bigger issue is that the plaintiffs' group may expand or that another suit may be filed. It would obviously be catastrophic to FRSH if the discontented franchisees of the other 820 stores were to seek an equivalent award. Quite a few damning finding have come out of the case so far. Here are a couple noteworthy items:
o "Papa Murphy's International had taken stores in states where stores do weekly sales of over $15,000 per week and averaged them with stores in states where stores do weekly sales of less than $7,000 a week and sold the concept as doing an average of $10,000 to $11,000 a week or $520,000 to $572,000 annually. Papa Murphy's International then sold the plaintiffs franchises using these inflated "average" sales knowing that the average weekly sales for stores in the plaintiffs' region was less than $7,000 per week."
o "In June of 2014, Ken Calwell, the CEO of Papa Murphy's International told Forbes that the "breakeven of a typical Papa Murphy's store is estimated to be around $5,300 in average weekly sales." In July of 2014, in an interview with Forbes, Jayson Tipp, a Senior Vice President at Papa Murphy's International told Forbes that Papa Murphy's was a model where around $6,000 a week in average weekly sales is considered breakeven. These statements were flatly untrue. In a 2014 survey conducted by the Papa Murphy's Franchisee Association less than three percent of all franchisees surveyed reported that their breakeven was under $6,000 in average weekly sales and less than 25 percent of the franchisees surveyed reported that they could break even with average weekly sales below $8,000. More than twenty five percent of franchisees reported that they needed average weekly sales of about $10,000 to break even."
o "…knew or reasonably should have known that new stores in the Plaintiffs' region typically spent two or three times the disclosed amount on local store marketing and only achieved sales which were 30% less than "average" disclosed in the FDD."
Valuation
FRSH's current EV is $220M with a market cap of $110M ($6.48 per share on 17M S/O) and trades at 31x P/E and over 35x LTM EV/EBITDA-capex. This is over twice the multiple of the restaurant industry average. The Company is facing a perfect storm of financial challenges. The concept is broken and under a number of scenarios the stock will likely be a zero over the next several quarters.
Disclosure: I am/we are short FRSH.
I wrote this article myself, and it expresses my own opinions. I am not receiving compensation for it (other than from Seeking Alpha). I have no business relationship with any company whose stock is mentioned in this article.
Editor's Note: This article covers one or more stocks trading at less than $1 per share and/or with less than a $100 million market cap. Please be aware of the risks associated with these stocks.