The OTA giant Expedia (NASDAQ:EXPE) progresses towards taking its majority-owned German subsidiary, Trivago, public and is starting to arrange the logistics for an expected IPO. This year was weak for IPOs; only 81 companies have gone public so far, compared with 144 companies in the same period last year, and at the current run-rate, 2016 will have the least IPOs since 2009, which is a clear sign of the uncertainty in the markets. However, while the markets are volatile and fragile this year, and the IPO market is impacted, a few successful high-profile IPOs like Twilio (NYSE:TWLO), Line (NASDAQ:LN), and Nutanix (NASDAQ:NTNX) show that the market still has a healthy appetite for IPOs - it's just very picky.
The Trivago IPO is raised at this time due to the put/call windows that Trivago and Expedia included in the 2013 deal when Expedia acquired 63% of Trivago. The two companies agreed to include a put/call rights that may cause Trivago owners to sell 50% or 100% of their remaining shares to at fair value Expedia, or Expedia may cause Trivago owners to sell to it these portions of the remaining stocks. The first window closure was postponed until March 31, 2017, after Expedia's and Trivago's founders agreed not to exercise the put/call rights during the first half 2016 window. The parties agreed to postpone the put/call window so that they could explore the feasibility of an IPO; however in the case that the parties abandoned the IPO plans, they could reopen the window later.
Expedia CEO Khosrowshahi mentioned the potential IPO at the Q2 2016 earnings call saying: "Neither Expedia nor the Trivago founders exercised their option under the open put/call window this year nor we have instead agreed to explore the feasibility of an IPO of Trivago shares with the preliminary and ambitious goal of completing the IPO before year end. An IPO would allow investors to value Trivago as a separate standalone company. Note that this is an IPO and not a spinoff. Expedia does not plan to sell any of our shares in an IPO and there are no guarantees that an IPO will ultimately be pursued or be successful."
Last month, Trivago advanced one more step toward an IPO when the company reportedly picked advisors and book runners for the potential offering. Now, it's a matter of time until the company files its S-1 and starts the roadshow. The rationale behind the current timing of the IPO, besides the put/call window, is to take advantage of the appetite for high-profile IPOs, which was mentioned above. With Snapchat (NYSE:SNAP) and Pinterest (Private:PINIT) also marching toward the same goal and concerns of a potential correction still hovering above capital markets, Trivago needed to accelerate the process so it would not be left behind in the race.
As we are getting closer to the IPO, this is the time to get a rough understanding of the possible valuation and whether this offering is even worth considering.
The OTA Market
The online travel market contains dozens of different brand sites and apps, but it is mainly controlled by Priceline (NASDAQ:PCLN), Expedia and Airbnb when the first two own most of the known brands. Both companies strengthen their dominance through acquisitions when the two market leaders recently acquired leading brands like HomeAway, OpenTable, Kayak, Orbitz, Travelocity, and more.
The total market size is expected to grow by 44%, from $564B in 2016 to $817B in 2020 as presented in the chart below. This growth trend is supported by the shift from traditional service to online service also reflected in rapid growth expected in the e-commerce and e-payments markets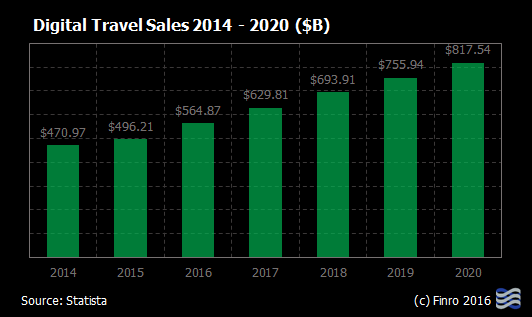 With a strong list of brands, Expedia is expected to maintain its dominant position in the market together with Priceline and Airbnb, with Trivago being one of Expedia's strongest brands. Expedia's broad network of travel aggregators of hotels, flights, cruises, car rentals, and other travel aspects Trivago can greatly benefit from the industry's growth through its ties with Expedia and the intercompany revenues the network provides.
Trivago's Business
Trivago is a German-based travel metasearch company that aggregates travel search results from different sources across the web and features price comparisons for hotels, worldwide. Every referral to an online travel service provider is worth money to Trivago, and this is its primary revenue stream. Since the beginning of the year, Trivago has generated $377M from third-party customers, as well as from other Expedia-owned brands. As is common in the travel industry, Trivago experiences a steep decline in vacation bookings in the fourth quarter of every year as summer, spring and holidays vacations are generally booked during the first three-quarters of each year.
Taking into account revenue seasonality and historical YoY and QoQ trends, Trivago is expected to grow its top-line figures by 44% YoY from $548M, in 2015, to $788M, in 2016E, which maintains Trivago's portion within Expedia of only 9% of the total revenue for the year.
As presented in the chart below, Trivago has had a constant increase in its annual revenue at an impressive rate of 54% on 4-years CAGR and a quarterly growth rate of 19%. Looking at the intra-year revenue fluctuations, seasonality is highlighted in the sharp drop every fourth quarter. However, every Q4 is still higher YoY.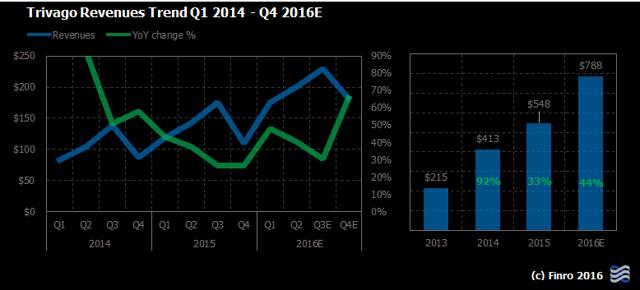 Regarding profitability, Trivago is in a different path than the rest of the high-profile IPOs that took place or expected to take place this year. Trivago has a small operating profit that reflects a modest 2% operating margin and a 3% adj. EBITDA margin. Unlike many other recent IPOs that struggle to break even, Trivago passed that point, and it is now struggling to expand its profits and margins. As the Trivago financial data is somewhat limited at this point, I have no visibility into the bottom line or gross margin figures that could shed additional light onto the company's financials.
These days, Trivago is partnering with Facebook (NASDAQ:FB) on its dynamic travel ads. The ads on Facebook and Instagram are expected to bring additional significant bookings volume in the following years. The Facebook partnership is mutually productive, according to CEO Khosrowshahi, and the spend there is now achieving real significance. This partnership might turn out to be a great growth driver for Trivago or a real burden like the Square (NYSE:SQ) and Starbucks (NASDAQ:SBUX) deal. Only time will tell, and currently, there is not enough publicly available information to assess that partnership and its impact on future performance.
Trivago Valuation
In 2013, Expedia acquired 63% of Trivago's shares for $632M in cash and stocks, which include a control premium and a put/call rights exercise window for the remaining 37% in the mechanism that was described above. The first window was postponed to end in March 2017, and the second window opens in 2018 in depending on the IPO developments.
Four different methods are used to valuate Trivago when a subjectively weighted average is used to compute for the preliminary valuation.
Method #1: an industry average P/S multiple using the data table below.

Method #2: Redeemable minority interest fair value.
Method #3: Portion of Expedia's market cap according to Trivago's revenues percentage of total Expedia revenues.
Method #4: Average P/S of Expedia previous deals as presented in the table below.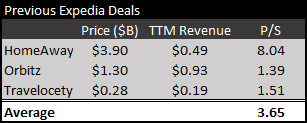 After consolidating the final valuation of each method into a summary table, I assign weights according to the relevance of the method to the IPO valuation: 40% to method #2, 30% to method #1, 20% to method #3, and 10% to method #4. The final result is a $2.5B valuation as shown in the chart below and reflects a P/S ratio of 3.85 to Trivago, which is the lower range of the major OTA players.

Considering the spectacular performance of the previous high-profile IPOs this year, Trivago could expand its P/S ratio by almost 2x and still experience healthy demand. The conservative approach implying that Trivago will not try to raise money at a 7 P/S ratio but only at a 6 P/S ratio, which reflects a $4B valuation, renders the company more attractive than Twilio during IPO and than the current valuations of Twilio, Nutanix, and Line post-IPO.
Summary
Expedia's German-based majority-owned subsidiary Trivago is expected to go public by the end of Q1 2017 as part of the 2013 acquisition agreement. In the IPO, Trivago founders are supposed to sell some of the non-controlling minority shares, while Expedia does not sell any shares and remains the biggest shareholder, with 63% ownership. Trivago's valuation ranges between $2.5B and $4B, which reflects attractive revenues ranging between 3.85 and 6, which will probably attract a healthy demand that could increase the valuation even further.
Unlike many other unicorns or high-profile companies going public, Trivago doesn't have only significant growth potential and impressive growth rate but it also a positive operating profit that involves different kind of challenges around maintaining that status and expanding the profit.
With the attractive valuation, alongside with the existing profitability, impressive growth, and promising future, the Trivago IPO currently looks like an interesting investment opportunity. I initiate a bullish outlook for Trivago's IPO, with a specific price target to be determined once the official offering documents are be filed with the SEC.
Disclosure: I am/we are long FB.
I wrote this article myself, and it expresses my own opinions. I am not receiving compensation for it (other than from Seeking Alpha). I have no business relationship with any company whose stock is mentioned in this article.
Additional disclosure: The information provided in this article is for informational purposes only and should not be regarded as investment advice or a recommendation regarding any particular security or course of action. This information is the writer's opinion about the companies mentioned in the article. Investors should conduct their due diligence and consult with a registered financial adviser before making any investment decision. Lior Ronen and Finro are not registered financial advisers and shall not have any liability for any damages of any kind whatsoever relating to this material. By accepting this material, you acknowledge, understand and accept the foregoing.