Smart Glasses - On The Verge Of A Takeoff?
While perusing the portfolio of Michael Kao's Akanthos Capital, I noticed that he owned Vuzix Corporation (NASDAQ:VUZI). Being vaguely aware of the company and wanting to expand my limitations, I set out to try and reverse engineer why Kao might own it.
What I found was a business that appears to be on the cusp of major growth on the back of a new product launch. That product being the M300 which is the company's next generation of smart glasses.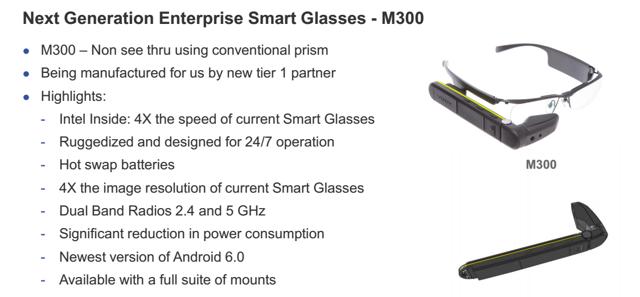 Source: Vuzix Corporate Presentation
My only familiarity with smart glasses has been through the Google version which was aimed at consumers. It hadn't really occurred to me the scale of the commercial uses for the product. I don't know why that hadn't dawned on me, it shouldn't have been a leap to see the possibilities.
The Vuzix corporate presentation details a few of them.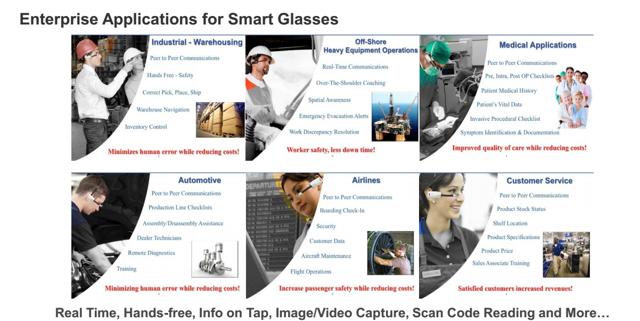 Source: Vuzix Corporate Presentation
I'm going to briefly detail a number of the uses of smart glasses because seeing them was what really helped my grasp how big this opportunity is likely to be.
Then I will do my best to break down the eye wear's actual capabilities.
Commercial Use - Remote Support
Remote support allows customers and field technicians to diagnose and resolve technical and mechanical problems with remote assistance from service providers and experts.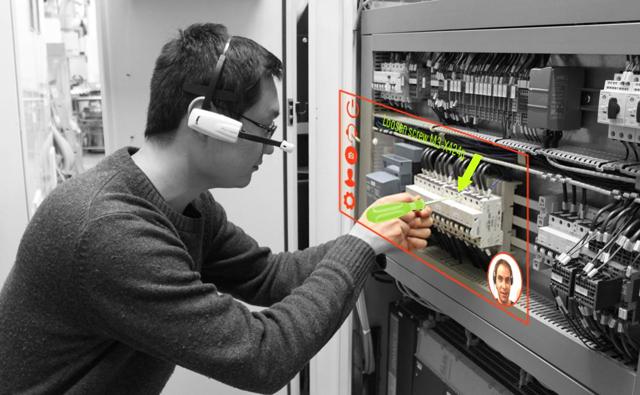 Source: Vuzix
Commercial Use - Warehouse Logistics
Hands-free augmented reality solutions allows warehouse pickers to finish tasks more quickly and efficiently while reducing mistakes. Smart glasses improve the process of manual order picking, incoming/outgoing goods, sorting and packing of goods, as well as inventory and deficiencies.
Commercial Use - Tele-Medicine
Tele-medicine applications with smart glasses are perfect for healthcare organizations working with busy EDs, remote clinics, or in the home use. The smart glasses enables onsite clinicians to connect with remote providers anywhere with partners enabling streaming quality video/audio through smart glasses and tablets.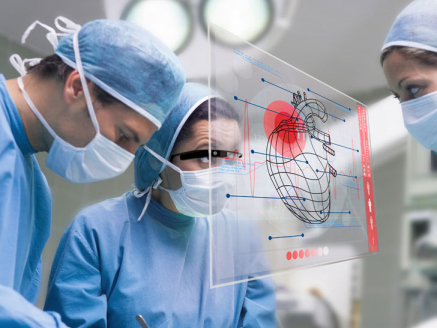 Source: Eliezerganon
Commercial Use - Utility / Field Service
Smart glasses can improve field service by empowering field technicians to diagnose and resolve mechanical problems with online data and manuals, as well as remote assistance from senior/expert colleagues.
Commercial Use - Manufacturing
Smart glasses are used to enhance the manufacturing process. Smart glasses provide faster ramp-ups, improved quality and productivity, by providing relevant information, confirmations, and documentation directly to the workers' eyes.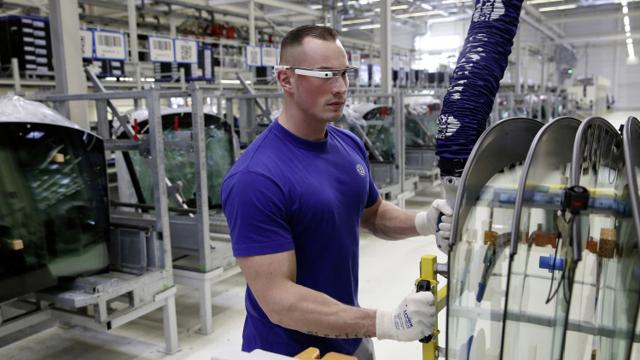 Commercial Use - Training
Training and courses can be conducted remotely, directly to a single location or multiple sites with smart glasses. Training and supervision can be provided on the job from instructors or senior personnel to a single user or groups of users.
This isn't terribly complicated is it? If you need to look at a screen while using both your hands smart glasses are your solution. I think this is pretty clearly going to have widespread appeal.
In the Vuzix corporate presentation, the company puts some numbers on the size of the smart glasses opportunity. From an estimated 400,000 American workers that will use smart glasses next year, the expectation is that the number will soar to 14.4 million by 2025.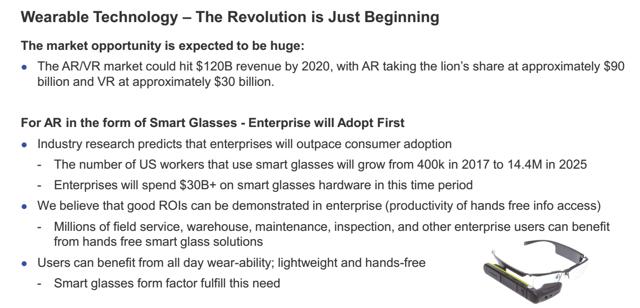 Source: Vuzix Corporate Presentation
I was able to confirm those growth rates through a report released by Tractica that shows the market going from zero to a whole lot in a real hurry.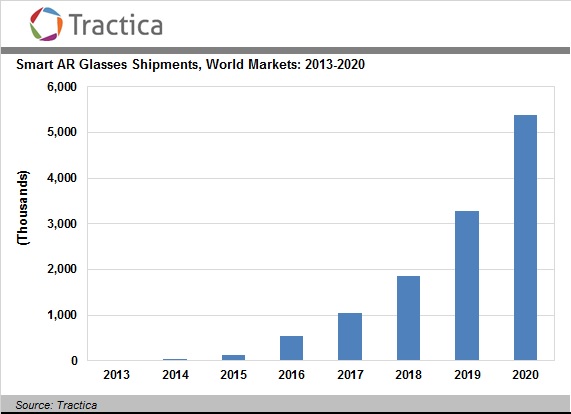 Source: Tractica
This is an industry that currently likely isn't making a whole lot of money. With the exponential sales growth that appears about to happen that is going to change significantly.
Capabilities Of Smart Glasses
I'm sure that smart glasses have additional capabilities, but I was able to narrow down the list to four that I thought were important.
1) Sharing in real time the point of view of the wearer - There are obviously many benefits for being able to let someone in the office see what a field technician is actually looking at. As the saying goes "a picture is worth a thousand words" and an in-office expert can offer guidance to multiple field technicians in multiple places.
2) Hands-free still image, video and audio capture - Having video of transpiring events while still being able to operate hands free is a valuable tool. This can allow for review of a situation for incorporation into efforts to make future improvements.
3) Hands-free on the spot access to real time information - There are all kinds of jobs where the person performing the job also needs access to information at the same time. Rather than having to stop what they are doing to access a laptop, the worker can with smart glasses continue working while accessing that info.
4) Augmenting the real world - This one is difficult to explain, but an example helped me out. When manually assembling a product, diagrams in manuals often do not provide an accurate representation of the task at hand. Smart glasses can layer on real-time instructions for assembly, and superimpose digital models over the physical pieces that workers are handling.
I'm sure that I haven't done the capabilities of smart glasses justice. I do hope that I've helped some readers get past the eye-rolls that I did when watching consumers trialing the Google version of the product.
The application of this technology is going to be commercial, not retail consumers.
About Vuzix Specifically As An Investment Opportunity
It looks to me like smart glasses are at a key inflection point. Commercial use is about to go from very little to becoming quite common. The investment angle here is that companies producing these products are going to go from limited sales to significant sales in a very short period of time.
Trying to value these businesses using historical financial statements is impossible. Vuzix is positioned at the front of this industry which isn't a surprise given Michael Kao's interest in owning the company.
You can see from the Ori Inbar Augmented Reality presentation below how high Vuzix ranks both in mind share and in terms of already having a commercial product.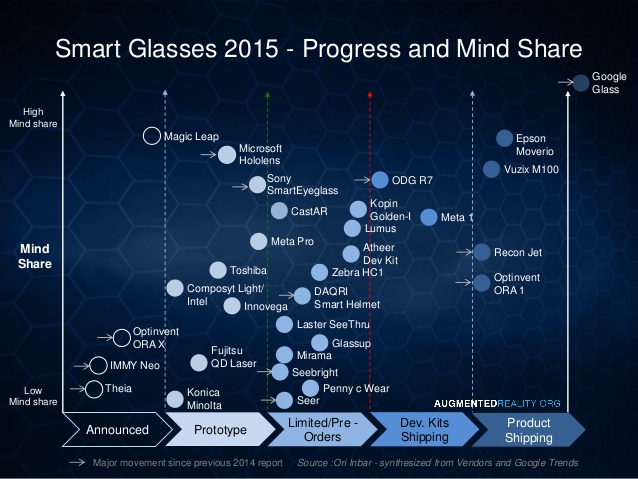 Source: Ori Inbar
Unlike Google (NASDAQ:GOOG) which has enormous other revenue streams, Vuzix has huge leverage to smart glasses growth.
Vuzix's release of the new M300 production should further strengthen that position at a very good time. This will position the company with the state of the art product just as smart glasses are reaching widespread use.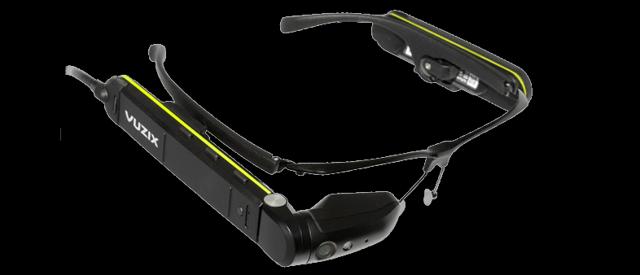 Source: Vuzix website
Vuzix was founded in 1997 and is a leading supplier of wearable display technologies, initially having been focused on the US defense markets. Intel owns 23.5% of Vuzix and the company's CEO and CFO own another 22% of the outstanding shares between them.
I like the strong insider ownership and the fact that Intel sees value here.
Where I struggle with Vuzix and any company with potential exposure to an industry that is about to take off like gangbusters is with valuation.
The last 10-Q filing shows a company with 16.1 million shares outstanding. With a current share price of $7.93 that gives it a market capitalization of $127 million. The company has a net cash balance of $2 million at June 30. Against the potential that this company is looking at that market cap does not seem terribly large.
However, against Vuzix's backwards looking financial statements that market cap does look quite rich. This company at this point is not generating any positive cash flow.
There are no valuation metrics that you can apply here to make Vuzix appear attractively priced.
My preferred investing approach leads me to look first and foremost for opportunities with limited downside. That clearly isn't the case here given the lack of positive cash generation. Unfortunately, that lack of downside protection may keep me from taking part in what could be a very impressive growth story.
My takeaway for investors would be to keep a close eye on this business so you can act before the market notices if business really takes off. That should give us time to get in once we are comfortable that Vuzix (or perhaps another company focused on this niche) is moving to a cash generating phase while still getting on board relatively early.
If you enjoy our articles, please consider following us on Seeking Alpha. You can do so by clicking on the "Follow" button near our name at the top of this article.
About The Superinvestor Bulletin
Our subscriber service is off to a good start with 6 of 7 ideas ahead of the S&P 500. The complete portfolio is ahead of the S&P by 13.75%. We are currently offering a free trial of our service for anyone interested. Just follow this link.
Disclosure: I/we have no positions in any stocks mentioned, and no plans to initiate any positions within the next 72 hours.
I wrote this article myself, and it expresses my own opinions. I am not receiving compensation for it (other than from Seeking Alpha). I have no business relationship with any company whose stock is mentioned in this article.