$WATT is a controversial company because it is pre-revenue and currently has no marketable product, so all it's valuation is predicated on it's technology solution. Numerous investors think that it's worth multiple billions and many are willing to pay >90% borrow costs betting it is worth 0. In situations like this we find that closely watching insider selling as well as employee turnover can yield a competitive edge. The insiders have a real knowledge of if the technology can work at scale, know for sure who their stated Tier 1 customer is, and more importantly know if the company can generate any meaningful revenue before they run out of cash. Thus, evaluating insiders sales is essential especially if transactions are done in a creative way so don't show up as traditional open market sale.
Our analysis has led us to put on a Short position in WATT.
We believe CTO Michael Leabman has the best information on the viability of Energous' techonological solution. The patents granted are under his name and he is the company's founder. So tracking what he and his affiliates do is a great sell indication.
Low and behold he has gotten rid of >90% of his own shares at ~$12 and he very cleverly did so without Investors or Wall Street noticing.
We encourage investors to closely analyze Michael Leabman's most recent Form 4 filing. You'll need to pull out your trusty SEC Form 4 decoder to figure out what Leabman actually did. But once you do you'll discover that he just disposed of 80,201 shares (which was >90% of his direct holdings) on 7-14-2016 when Energous's share price averaged $12.11. That's 32% below today's share price.
Leabman's Form 4 from June 30, 2016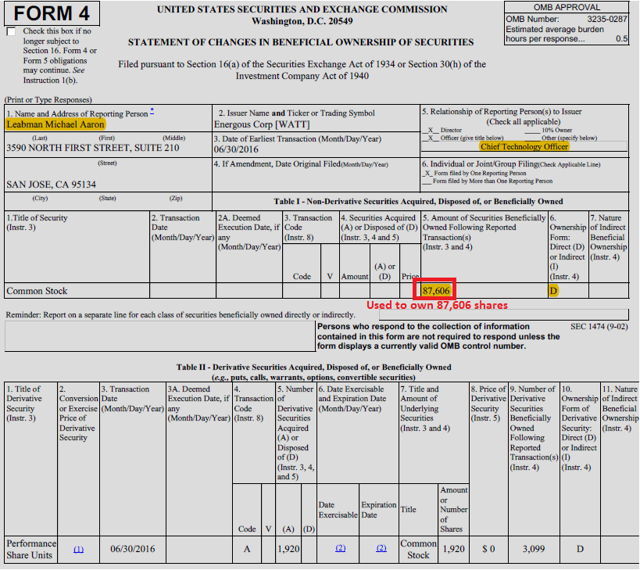 On 7-14-2016 he disposed of virtually all his directly held shares by making a Gift. This is >90% of the equity he has in Energous from before the IPO. (Form 4 filing)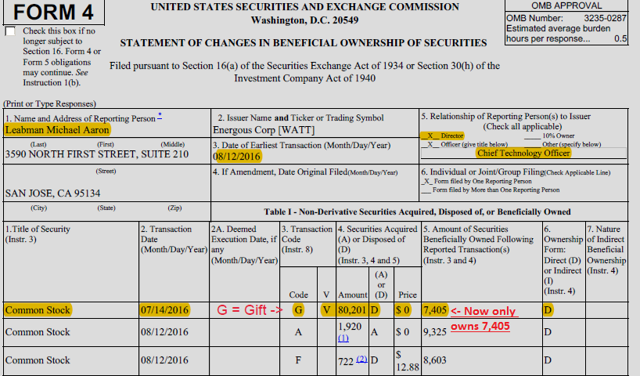 This peaked our interest in Energous. Either Michael Leabman is the most generous CTO and founder we have ever encountered "giving away" all his wealth or perhaps he is using gifting of stock to secretly liquidate all his holdings at their peak stock price. It was also confusing that a company founder and technological genius would only own ~$1 million worth of stock.
So we started investigating who the largest shareholder for Energous was....Gregory Tamkin.
Who is Gregory Tamkin & Why does he own >10% of Energous? Especially when the CTO owns just 1%? (Well used to own since he just got rid of all his shares)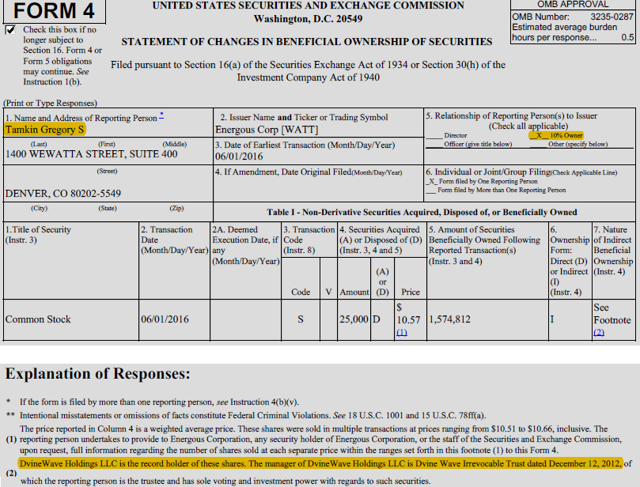 Ok so this Form 4 shows us that Gregory Tamkin is the representative for DvineWave Holdings. And DvineWave Holdings appears to be consistently selling shares.
So who is behind DvineWave Holdings?
We had to dig through Energous' IPO document to discover the answer to our question. We suggest that all Long investors spend the time to review WATT's Initial IPO document. You'll find some other fun gems that will make you laugh at the fact that this is a >$300m market cap company.
But more importantly you'll discover that shareholder Gregory Tamkin (AKA DvineWave Holdings) is in fact the CTO's Parents!
Oh and that they only paid $10,000 for all of the shares of Energous that they own. WHATTTTT!!!!!!!!
Oh and those ~$1,000,000 worth of shares that Leabman just used the gift loophole to dump without declaring a sale, he paid $417 for those.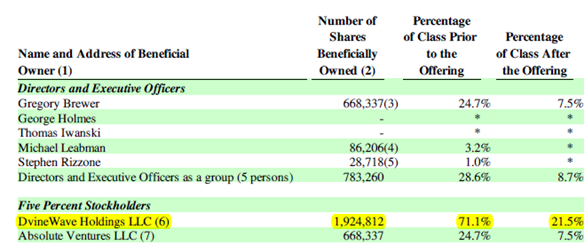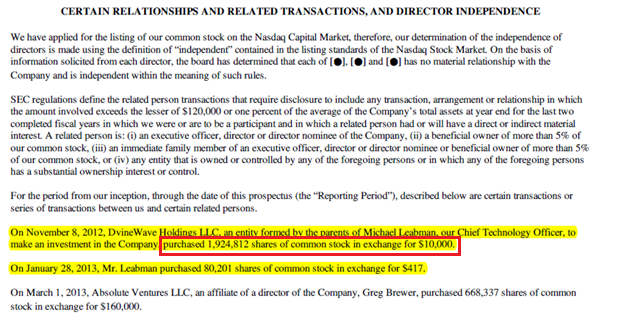 So why does this matter? Because DvineWave Holdings (aka "Parents of Michael Leabman") have been consistently been dumping shares. Below are all the links:
Insider transactions are an exceptionally valuable source of information. Especially for a company whose future is all based on the viability of their technology. WATT's largest shareholder was the CTO's parents and guess what? His parents are selling.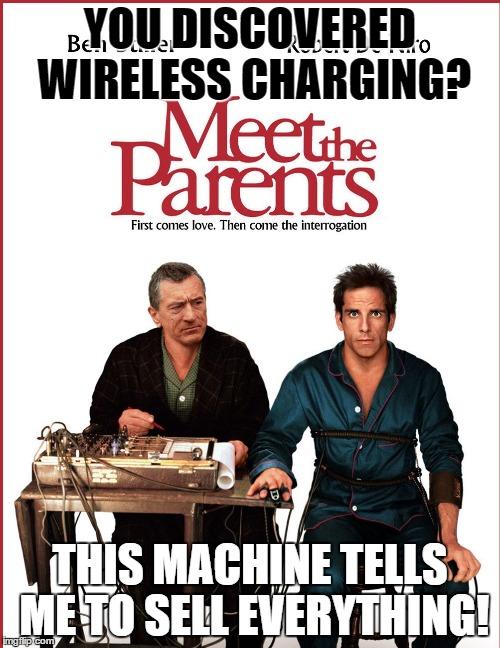 It's also interesting to note that the slow liquidation began on 3-31-2015 essentially the moment the 180 day initial lock-up expired…which inspires 0 confidence. Also they have timed their sales extremely well coinciding with sales either before dilutive public offerings or immediately following partnership announcements that have boosted the stock price.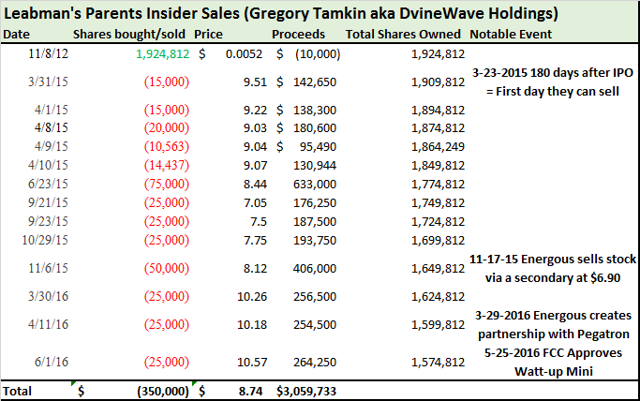 Now let's imagine all the Family Leabman dinner conversations with their very generous son Michael Leabman. Perhaps a check in to see how CES was, a congratulatory dinner after Watt-Up Mini was Released, a quick good luck with that Tier 1 partnership meeting etc? And after all of those loving conversations his parents have responded with - We need to sell more shares!
We are not suggesting that they have "inside information" about WATT's product viability, but they definitely have more perfect information than we do and when you evaluate the timing of their past sales they've timed things perfectly.
As of June 1st 2016 his parents had consistently and carefully sold 20% of their stake in Energous and they did so at prices from $7 to $10.50. That's right, after the most recent dilutive round of fundraising "Parents of Michael Leabman" are now finally less than 10% shareholders which means they should no longer be counted as "insiders" so thus should no longer have to file Form 4's and report sales of WATT stock within 2 business days.
So our conclusion is that Michael Leabman is not the most generous founder ever...but instead is the most brilliant insider seller we have ever seen. Congrats to the Leabman Family!
CTO Leabman figured out how to put all of his own stock in his parents name pre-IPO which has allowed them to off-load it on unsuspecting shareholders. If investors saw him dumping shares at this rate they would be running for the exits.
We don't think that the technology works the way Energous Claims in their press releases and in our mind this consistent insider selling confirms it.
Other seeking alpha contributors have done an excellent job digging into why they think the technology doesn't work. Some of the best pieces are:
Or have exposed that Energous is unable to charge multiple devices at once:
But we think the most telling part of this story is that the CTO has disposed of 90% of his shares and even his own family doesn't believe the hype. The CTO thinks his company is overvalued and worth selling all his shares at $12.11 and his parents are happy sellers all the way down to $7.
How can an independent investor believe Energous will be a Billion $+ company when even the CTO and His Parents don't buy it?
Disclosure: I am/we are short WATT.
I wrote this article myself, and it expresses my own opinions. I am not receiving compensation for it (other than from Seeking Alpha). I have no business relationship with any company whose stock is mentioned in this article.
Additional disclosure: We are short WATT Equity as well as using options to express our short position since borrow costs are extremely high. We reserve the right to add to or cover our position at anytime.