Introduction
I have done a few of these 'Creating Shareholder Value' articles now. Folks seem to like the format and it is a good, quick way of getting an understanding of what happens across time. I am approaching a new stock, which everyone is familiar with - Coca Cola (NYSE:KO). It is my one true weakness. If I could have 1 food that did not negatively impact my health for the rest of time it would be soda. That stuff is delicious. Now, I have been a shareholder of KO for some time, but I have never put the numbers together in this format before. I am interested to see what is going to happen. Full disclosure - I do not think it is going to come out good.
The data used here comes from Guru Focus. It represents the Fiscal Years (December End) 2006 to 2015.
Revenue, Net Income and Margin
Below are six charts that show two cuts of revenue, net income and margin. The charts on the left show the actual numbers. The charts on the right show the year over year change. Finally, I compare two periods of time. The first period is the average of the first three years and the second period is the average of the last 3 years. This allows you to look across the business cycle to see what has changed over a reasonable period of time.
KO has moved the needle a little bit in terms of revenue. It is up 60% over the past 10 years. The bigger concern for me is the trend over the last 4 years - decline! Now any KO follower already knew this. Soda sales are down leaving a gap in revenue that needs to be filled. KO is working hard to diversify its product offering and utilize its distribution network. But, where the numbers hit the books, revenue is down and declining.
At the same time, net income did not grow as fast as revenue. This means there are more expenses hitting the books. Net revenue was up only 37%. Somewhere, 40% of the revenue is being bled for the marginal increase in revenue. That is not good and it translates through to how one sees net margin which is down 15% over the time frame.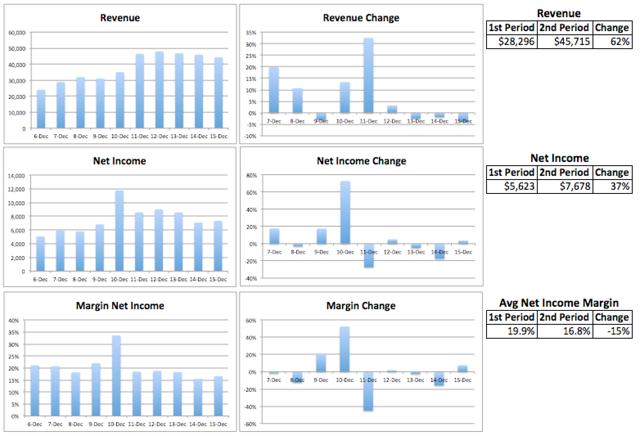 Free Cash Flow, Dividends and Debt
There are always multiple sides to all stories. For a dividend investor, the thing that matters is the dividend. Dividends get paid out of Free Cash Flow which is not looking too bad. Over the time period, FCF was up 54%. That is not great, but it is decent. The more interesting thing to see is it was relatively linear up until the past few years. Those years of declining revenue have been flat on Free Cash Flow.
At the same time, the dividend has increased 78%. If the dividend is growing faster than the FCF then naturally you would see an increase in payout ratios. This is true here where the FCF payout ratio increased 8% (not percentage points) to 66%. That is a high, but manageable rate.
The takeaway for me is that without a new revenue source, the dividend is looking at a slower and slower growth rate going forward.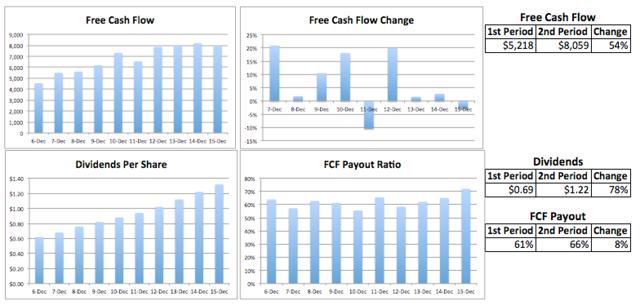 If you want to see an eye opening set of charts on KO, just take a look at what has happened to its debt over the last 10 years. I would say it skyrocketed, but that does not seem fast enough to describe the 800% growth in the time period comparison. Debt to Cash and Debt to Income are both over 350% now. This is up from ~50% back in 2006. Seeing the charts above, one could logically deduce that this is what is happening. If revenue net income is declining, but FCF is staying steady there is only one solution - leverage. This is a bad picture.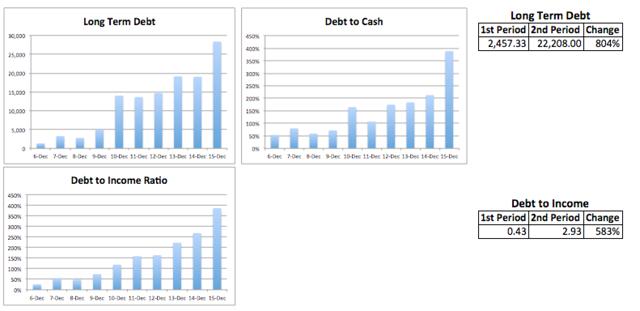 Cash, ROIC and Shares Outstanding
As I always say: If you were looking at your personal finance situation where would you start? I would start with my bank account and figure out how much cash I have on hand. The same applies for the companies that I hold. In theory they should have enough to run the business and continue to invest to generate an outsized return on my behalf.
In KO's case, cash is an interesting one. From the math standpoint, cash is up over 100%! That is a good sign. From the visualization standpoint, the decline that has happened over the past 4 years is concerning. On top of that, the return that the company is getting with my money has been declining pretty consistently for the last 10 years. It is down from 25% to 14%. Now, 14% is still a great return. The declining trend in ROIC, on top of the revenue decline, on top of the debt increase is making this story go from bad to worse.
Now there is one thing that is working out in the investor favor and that is the share outstanding. The chart looks good only next to the relative scale of the others here. Share count is down 5% over the time period, but it has accelerated as of recent.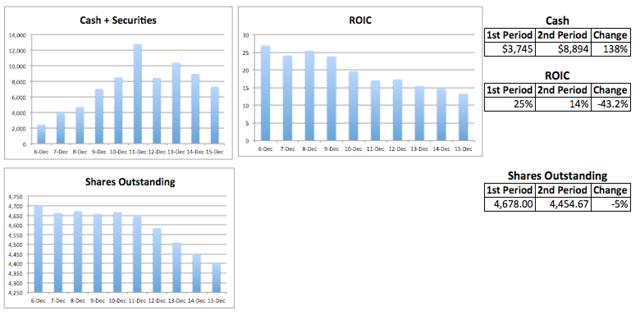 Future
If I were putting new money to work today, I would be scared based on what I see above. Now we do not invest in the past so naturally we always look forward. Using FAST Graphs, I take a look at what would be a potential return for an investment in KO today. A reasonable PE for me is 19. Using the forward forecast provided by S&P Analysts, it looks like someone could expect around a 5%-6% return over the next 3 years.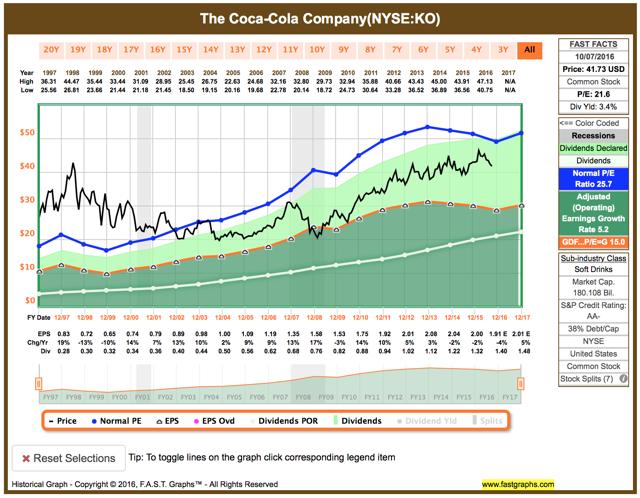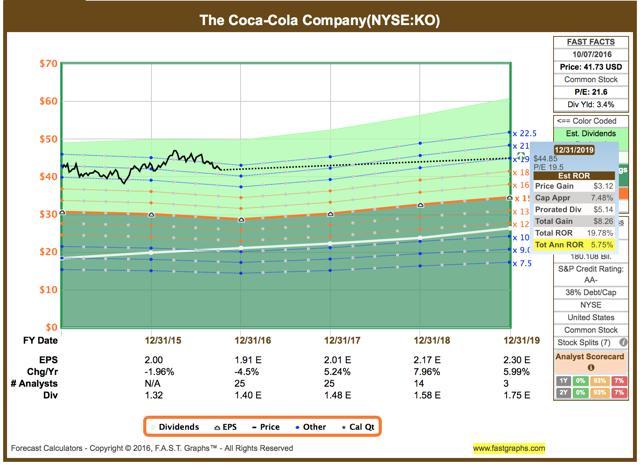 Conclusion
This was certainly eye opening. For a younger guy, I do not think I could count on KO for my future; The growth is not there. The dividend is safe, but it is not going to grow at any rate of return that makes DRIP attractive. The stock is expensive for growing at such a slow rate. Plus, it is hard to see what the future brings for Coke.
I love the product and would drink it all the time if it were not for the unhealthy nature of it. That means I am buying less and others are buying less. The leveraging of the balance sheet is concerning as that is a short term, one time thing. If the trend continues, it would be easy to see small dividend increases and a flat stock for many years. That being said, if I was a retired investor and holding the stock, I would have no trouble sleeping at night collecting and spending the dividend.
So, to the question, has KO created value for shareholders over the past 10 years: Yes...ish. I think that depends on who you are and how much you value sleeping at night. For me, I think I will find a better place to put money to work.
Last Note
The information above is completed based on the last full fiscal year (Dec 2015). We have obviously had quarterly reports since then. Below I present the same charts as above, but done on a quarter over quarter basis for your individual review.
Quarterly Revenue, Net Income and Margin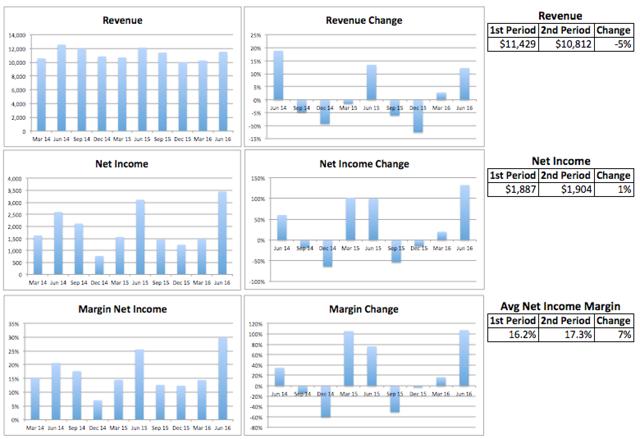 Quarterly Free Cash Flow and Dividends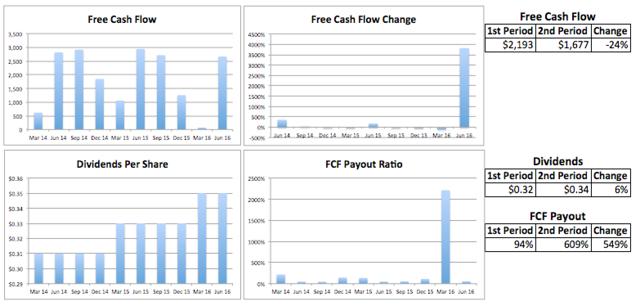 Quarterly Debt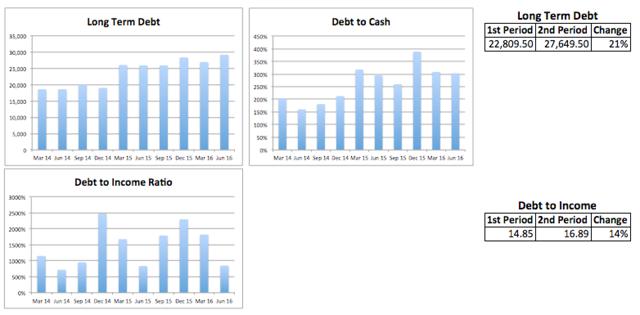 Quarterly Cash, ROIC and Shares Outstanding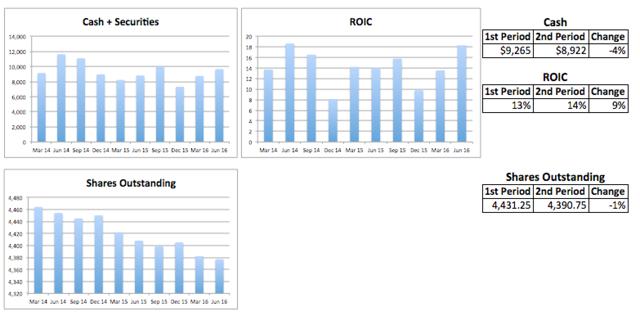 Disclosure: I am/we are long KO.
I wrote this article myself, and it expresses my own opinions. I am not receiving compensation for it (other than from Seeking Alpha). I have no business relationship with any company whose stock is mentioned in this article.