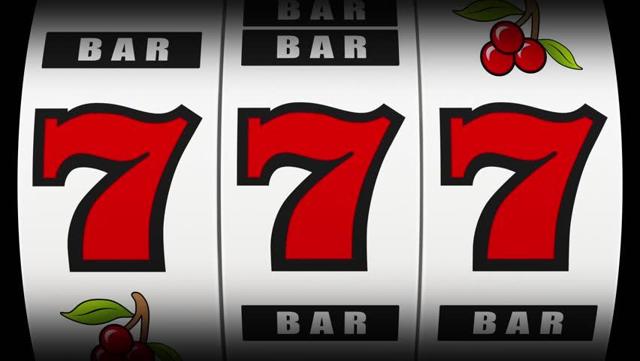 According to the information that has appeared in the Russian media, National Advertising Alliance, which is the largest national seller of TV advertising, is planning to increase the price for advertising services by 12-15% in 2017. This means that many advertisers in Russia will probably have to review their advertising budgets in favor of the internet advertising.
A little background information.
From June 2016, more than 75% of the Russian TV advertising market is controlled by one entity - the National Advertising Alliance. This company is founded by major Russian media holdings - All-Russia State Television and Radio Broadcasting Company, Chanel One Russia, Gazprom-media Holding and National Media Group.
The important thing to know is that it is Alliance's initiative to raise prices for TV advertising in Russia.
According to the Association of Communication Agencies of Russia, the total size of the Russian advertising market averaged 300 billion rubles in 2015 (roughly $ 4.7 billion at the average dollar exchange rate in Russia in 2015), with TV advertising accounting for almost 45% of the market.
However, TV advertising expenditure declined by 14% YOY in 2015. Most likely, it is the permanently falling TV advertising revenues that force the National Advertising Alliance to raise prices.
In the meantime, Russian advertisers are increasingly spending more money on online advertising. In fact, the only type of advertising, the revenues from which were growing in Russia in 2015, is online advertising.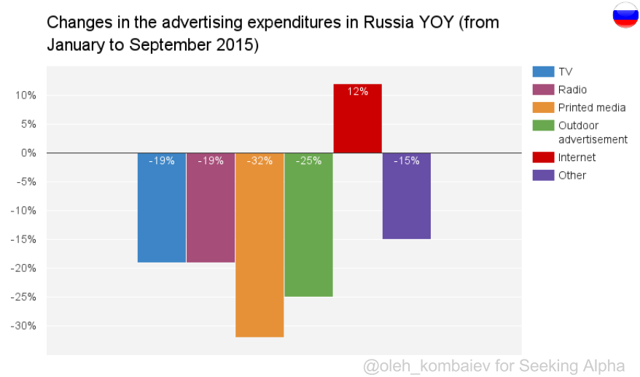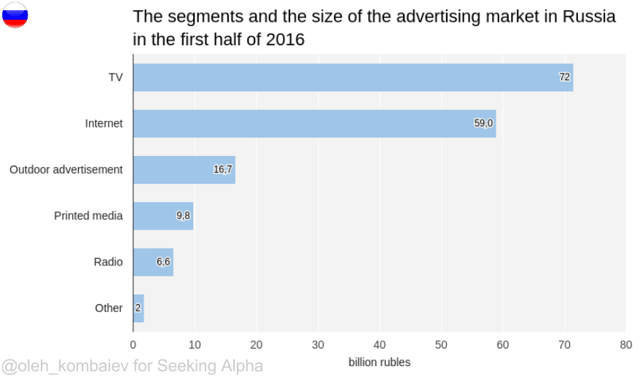 Source of data: ACAR
In private comments, many Russian advertising agencies have called inadequate the planned increase of prices for TV advertising. They argue that the Russian economy has not visible improvements, and the 12-15% rise in prices is not economically justified, bearing in mind that the Central Bank expects 4% inflation by the end of 2017 in Russia.
However, I would like to emphasize that the increase in prices for TV advertising in Russia is only in the planning stage, it is not yet a sure thing. Nevertheless, given that income from this type of advertising continue to fall, the mega seller of TV advertising, apparently, does not have another option. In addition, the fact that the National Advertising Alliance practically holds a monopoly position on the Russian TV market gives the possibility to make such decisions.
This will encourage a part of advertisers to reconsider their preferences in favor of other forms of advertising, and, most likely, switch to the Internet advertising. Of course, Yandex (NASDAQ:YNDX), as the largest national seller of Internet advertising, would benefit greatly from such a scenario.
Disclosure: I/we have no positions in any stocks mentioned, and no plans to initiate any positions within the next 72 hours.
I wrote this article myself, and it expresses my own opinions. I am not receiving compensation for it (other than from Seeking Alpha). I have no business relationship with any company whose stock is mentioned in this article.