The recent uptick in oil prices has given BP (NYSE:BP) shares a shot in the arm as they have appreciated more than 11% in the past couple of months. This recent rally in BP shares has taken the stock close to its 52-week highs with gains of more than 17% in 2016 so far. But, is BP a good investment at these levels and can it break beyond its 52-week highs? Let's take a look.
Oil's rally will be a tailwind for BP
BP shares have rallied such impressively of late as the price of crude oil has increased. For instance, after dropping below $42/barrel at the beginning of August, the price of Brent crude is now closing in on $54 a barrel. This impressive rally in the price of Brent crude will be a tailwind for BP since it will improve its upstream oil realizations.
More importantly, I believe that the recent rally in oil prices is just the beginning as further improvements in the demand-supply scenario of the oil market will lead to further upside. One of the key reasons why the price of oil has appreciated such remarkably in the past few weeks is because of OPEC's decision to cut oil production for the first time in eight years.
More specifically, OPEC has decided to lower its oil output to 32.5 million to 33 million bpd as compared to current production of 33.4 million bpd, a reduction of 700,000 barrels at the mid-point. Saudi Arabia will be taking the lead in reducing the output as it will slash production by 350,000 barrels per day. What's even more impressive is the fact that after OPEC's announcement, even Russia has decided to assist OPEC.
According to Russian President Vladimir Putin:
"We support the recent initiative of OPEC to fix oil production limits. We hope that at the OPEC meeting in November, the idea will be embodied in an official agreement, giving a positive signal to the markets and investors."
Thus, as major oil producers such as Russia and the OPEC, along with the U.S., take steps to reduce the production of oil and demand remains robust, the price of oil will continue to improve. In fact, according to the EIA, oil supply will exceed demand by 1.1 million bpd in the second half of the year, down 50% from excess supply of 2.2 million bpd in the first half of the year.
As a result of the rebalancing of the oil market, the price of the commodity will continue to get better. This is good news for BP since the company will witness an improvement in its upstream business going forward as it has improved the efficiency of this segment.
Lower upstream costs will allow BP to benefit from better pricing
In order to counter the weakness witnessed in the oil market over the past couple of years, BP has taken aggressive steps to reduce its cost base. In fact, the company has one of the lowest production costs per barrel of oil in the industry. This is shown in the chart given below: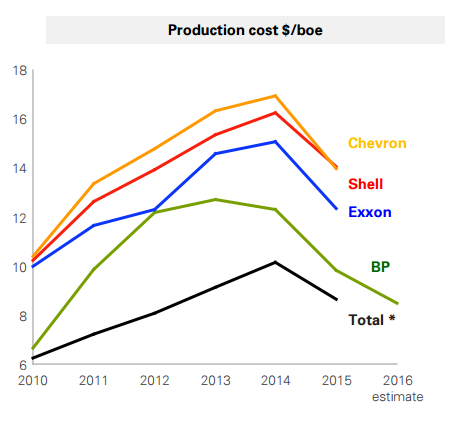 Source: BP
As shown above, BP has managed to reduce its production cost per barrel of oil equivalent to around $8/per barrel, which is lower than most of its peers in the industry. Going forward, it won't be surprising if BP is able to lower its cost base further since it plans to keep its productivity at robust levels while reducing costs at the same time.
In fact, in 2017, BP intends to reduce its cash costs to the tune of 30% as against 2014 levels, which will translate into savings of $4 billion. The majority of this reduction in cash costs will be driven by contract negotiations with third-party suppliers. This is because third-party spending is 50% of the company's overall cash cost structure.
Moreover, the reduction in the cash costs and capital expenses won't affect BP's output much as the company believes that its wells can maintain a base decline rate of 3% to 5% going forward. In comparison, BP has recorded a base decline rate of 3% in the last four years, which indicates that the company is making a smart move by keeping its base decline rate at consistent levels despite reducing its capex by 35% in 2017 as against 2013 levels, along with lower cash costs.
Conclusion
In my opinion, BP is well-placed to take advantage of an improvement in oil prices going forward due to an efficient upstream business. So, it will be prudent for investors to continue holding BP even though it trades close to its 52-week highs due to reasons outlined above.
Disclosure: I/we have no positions in any stocks mentioned, and no plans to initiate any positions within the next 72 hours.
I wrote this article myself, and it expresses my own opinions. I am not receiving compensation for it (other than from Seeking Alpha). I have no business relationship with any company whose stock is mentioned in this article.