This note on Honeywell (NYSE:HON) is likely to be briefer than the typical note that I would write, but I did want to comment on the recent decline in the share price. In reducing current year guidance last week, Honeywell's shares declined to $107 from a recent price close to $116 per share. At the mid-point of the revised guidance of $6.60-$6.64 per share, Honeywell is now trading for about 16x this year's earnings.
About 40% of Honeywell's business is from aerospace - selling aircraft engines and turbochargers and other aerospace components. I think this business is the strongest one that Honeywell owns. Half of that business is private and half is from the government. Home and Building Technology, items like thermostats and fire alarms, compose about 24% of sales. Performance Materials and Technologies sells products such as control systems, resins, fibers, additives and chemicals and is responsible for about 25% of sales. Finally, safety and productivity solutions is involved in the business of selling safety equipment and workflow solutions among other things and comprises the remaining 12% of the business.
Honeywell is a well-run industrial conglomerate that is able to routinely purchase smaller businesses that fit into the portfolio of businesses that they own and capture both synergies as well as benefits from converting the acquired businesses to Honeywell's strong business processes and culture. The largest recent acquisition was the $5.1 billion of Elster, a UK-based manufacturer of metering equipment for gas, electricity and water. More recently than that, Honeywell purchased industrial software designer Intelligrated for $1.5 billion.
With CEO David Cote indicating that the acquisitions will continue, shareholder returns are at the mercy of the decisions of the capital allocators of Honeywell - whether they continue to purchase companies that fit within the existing portfolio and at sensible prices. Their record so far has been a good one.

Honeywell revenue and earnings, 2006-2016. Source: Honeywell SEC Filings.
But much of the gains over the last decade have come through cost reductions as opposed to top line growth as an extremely disciplined and successful operating system has been built into Honeywell's DNA. While operating margins have expanded from 10% to 18%, revenue has only grown at a pace of about 2% per year. Some of the flat-lining of revenue has more to do with the environment than true progress or lack thereof at Honeywell. Revenue shrunk from $36.6 billion to $30.9 billion in 2009 and lately revenue peaked at $40.3 billion in 2014 before industrial production began weakening and the dollar strengthening. Longer term, there is no reason why Honeywell cannot grow revenue at a rate of 4% to 5%, although margin expansion from a level of 18% might prove to be somewhat more challenging.
Capital allocation has been extremely balanced, with 28% of cash flow going to dividends, 26% to acquisitions, 24% to share repurchases and 21% to capital expenditures. Free cash flow conversion has declined from several years ago because of an intentional increase in capital expenditures, but free cash flow has still grown at a 5.4% rate over the last decade.

Honeywell operating cash flow, capital expenditures, free cash flow and allocations to acquisitions, share repurchases, and dividends from 2006 to 2016. Source: Honeywell SEC Filings.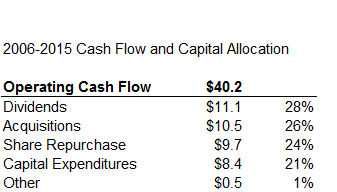 Honeywell cumulative amounts spent on dividends, acquisitions, share repurchases and capital expenditures, 2006-2015. Source: Calculated by author.
There are a couple of different ways you can view the return that the business is generating - the dichotomy being driven by the number of acquisitions made and the accompanying goodwill and intangible assets on the balance sheet.
Over the last decade or so, return on tangible invested capital is about 50%, with the recent number of 46% still extremely attractive. If the acquisition related goodwill and intangible assets are included on the balance sheet, then the return on equity is closer to 25%. That is a probably more accurate way to look at future company returns since it seems almost certain that the acquisitions will continue.

Honeywell return on equity and ROIC, 2006-2016. Estimated by the author.
By my calculations, the average earnings multiple for Honeywell over the last decade has been 17.4x, implying a fair value of about $115 currently. That means the current price of $107 is a discount of only about 7%. Investors in Honeywell should focus their research on a couple key areas and risks. The biggest risk is that the capital allocation of Honeywell could falter in the future. To date, though, they have not behaved in a way that would make you believe that was the case. Additionally, companies that make frequent and smaller acquisitions seem to integrate them with more success than those who do not.
I would be more concerned with the environment in which Honeywell operates, which is a global economy whose growth rate is contracting. A strong dollar and 1% GPD growth is not a good environment for Honeywell to operate in. So, while this is a fantastic company with wonderful assets and superb management I would wait for a better entry point. If the stock continues to pull back below $95, then it would became an extremely tempting entry point at about 14x earnings. If the global economy continues moving in the direction it has been, you are likely to get that opportunity.
Disclosure: I/we have no positions in any stocks mentioned, and no plans to initiate any positions within the next 72 hours.
I wrote this article myself, and it expresses my own opinions. I am not receiving compensation for it (other than from Seeking Alpha). I have no business relationship with any company whose stock is mentioned in this article.