Sony (NYSE:SNE) is officially releasing its virtual reality (VR) product this week. The product is competitively priced and easy to use. The PS4 user base of over 40 million people gives Sony a readily installed customer base.
Allied to the release this week, other recent trends remain remarkably favorable for the company. I had detailed many of these in a recent article. Since that article was published positive news has continued to come in for the company.
Virtual Reality.
Sony is of course not the first to launch a VR product. High-end externally powered products in the form of the Oculus Rift from Facebook (NASDAQ:FB) and Vive from HTC have already been launched. The latter is generally seen as being the best quality, but most expensive, product on the market. We are also seeing lower-end products such as the Samsung Gear and Google Cardboard. Facebook are working on a standalone high end product, but that is some way off. Their Oculus Rift has not seemingly gained much traction amongst consumers.
Apple (NASDAQ:AAPL), who many thought would embrace VR, have been slow to the party and have no pending VR product as far as we know. Tim Cook did recently state he thought VR had "huge" potential for growth and was a "cool" idea. The company may well be focusing on augmented reality rather than virtual reality.
The major secular question is whether wearing bulky equipment around one's head will be appealing to consumers. We all know what happened to the much-heralded Google Glass product. Different analysts have hugely varying ideas about what the total VR market could be worth. It will not be another smart phone in terms of value though.
Apart from its obvious huge gaming potential there are also interesting uses for VR is what might be termed more "useful" applications. There have been very promising developments in using VR, for instance, for medical purposes. These include for treatment of pain relief, psychosis and Alzheimers. There are also seen to be applications for medical teaching and for conducting operations.
The medical benefits are mainly based around the idea that by immersing a patient in a new virtual reality world,the overload of sensory inputs can remove the patient's focus from the medical problem they have. Medical facilities are keenly studying the cost benefit of, for instance, one VR system compared to the cost of just one more day in a hospital.
On the negative side, the medical profession has been warning that VR could increase still further the increasing problem of childhood myopia.
As to how big the VR market will be, you can pick a study and take your choice. Some recently quoted statistics show this. One study reckoned there would be 171 million active VR users in 2018. Another reckoned the market would be worth US$70 billion by 2020.
Sony's VR Launch.
Sony's two models, the Core at US$399 and the Launch Bundle at US$499, sold out rapidly at the pre-launch. This week's full launch is likely to be no different. The product is also being made available in bricks and mortar retail at Game Stop (NYSE:GME) and Best Buy (NYSE:BBY) stores. Various new game titles are being launched with the headsets. A new PS4 Update 4.01 has been launched for existing PS4 users.
The biggest selling point of all is the fact that this VR can be played on Sony's PS4 consoles. About 43.4 million consoles have been sold around the world. New versions, the PS4 Slim and the PS4 Pro, roughly coincide with the VR launch. I detailed these new models here. Sony expects VR sales to exceed supply capability over the coming holiday season.
Reviews have been mostly favorable, especially in regards to comfort.
The head-set is illustrated below.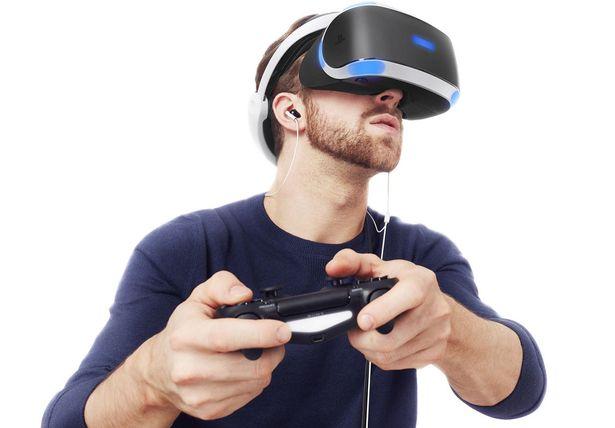 While the Oculus and the Vive strap to your face, the Sony VR uses an adaptable headband which takes the weight off the visor and should be more comfortable.
Additionally the general look of the whole set is seen as more "cool" than many of its rivals.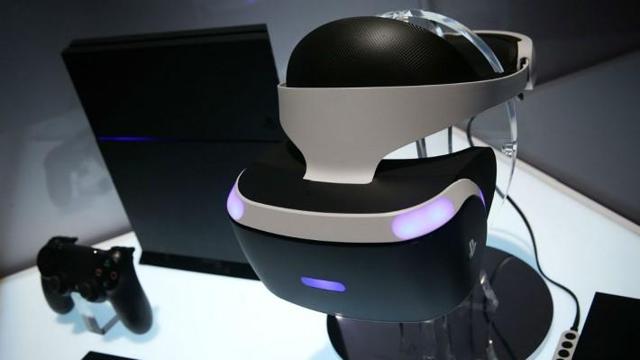 As well as comfort and cool, the Sony product has price advantage and more games than its rivals. At present there are over 50 titles at launch, of which "Batman:Arkham" is expected to be the leader. Games developers are already acquainted with the PS4 power management. That should make it easier for them to continue to develop more titles. However it is seen that there is no "killer app" game at present.
It should be noted that reviewers in general feel that although the Sony product is the best all-round deal on the market, it is not yet the defining product. Improvements will no doubt come in the near future to make its performance better. Its ease of use and cost advantages may though garner many new takers.
A good example of how Sony's different divisions now complement each other is shown by the decision of Sony Pictures to have a partnership with Reality One to develop and publish VR content. The company had previously stated that it sees opportunities to leverage VR across many of its divisions. This looks like the first step in that process.
Other Developments.
My article last month summed up many of the promising developments at Sony at the moment. These centered around the growth from the PS4 business and the Pictures business. Since that article, Sony has topped the box office again with "The Magnificent Seven" (in partnership with MGM). This picked up a solid US$35 million in its first weekend. Subsequently "Deepwater Horizon" has performed well but not spectacularly.
A tremendous positive for Sony the last few years has been its Image Sensor Division. In the past year revenues fell due to earthquake damage at its factory at Kumamoto in Southern Japan. The company has announced it is now back up to full production capacity, and running at that capacity.
Sony is estimated to have 35% market share of this US$10.5 billion market. Its sensors are being used in the new Apple iPhone 7, for both front and rear cameras. The greater than expected success of the iPhone 7 will benefit Sony greatly. It is also supplying its image sensors for Samsung phones and for several of the Chinese mobile phone manufacturers.
It was recently confirmed that Sony are supplying their image sensors to the fast-growing Xiaomi company in China for its rapidly expanding digital camera product.
Strong potential is also seen for image sensors in the rapidly expanding video surveillance market. 28 million HD CCTV cameras are expected to be shipped worldwide this year.
Conclusion.
I've been recommending Sony since last year and the stock price has been very kind to investors this year. The year-to-date graph below shows this.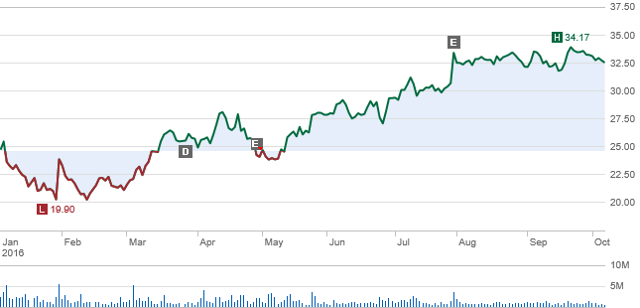 The dividend yield is just 0.53% though the company has intimated this will increase as its cost-cutting measures have completed and as free cash flow increases. The stock price at US$32.73 is currently close to the top of its 52 week high low range of US$19.90 to US$34.17. It still looks a good medium to long term play despite its recent gains. Investors might want to take advantage of any general market downturn to accumulate stock, and to take advantage of earnings scheduled for 27th October.
The Sony VR product has key advantages of a competitive price, comfort, the PS4 installed base, and game availability. Indeed the availability of VR is likely to increase the lead of Sony over the Xbox product of Microsoft (NASDAQ:MSFT). Additionally the VR experience will be better by using the new more expensive PS4 Pro. This just might drive higher than otherwise would have been the case the sales of that new product. The company is focusing on its most profitable divisions: Gaming, Image Sensors and Music. As a proportion of total sales these rank as follows:
Gaming 16%.
Imaging Products 8%
Music 6%.
For gaming, under which PS4 and VR fall, Q1 2016 sales rose 14.5% to 330.4 billion yen (US$3.2 billion). On a constant currency basis this rise would have been 25%. The company has forecast full year sales at 1,680 billion yen (US$16.8 billion).
PS4 and VR look like being the catalyst to push higher the company's upward trajectory in earnings, and consequently in the stock price.
Disclosure: I/we have no positions in any stocks mentioned, and no plans to initiate any positions within the next 72 hours.
I wrote this article myself, and it expresses my own opinions. I am not receiving compensation for it (other than from Seeking Alpha). I have no business relationship with any company whose stock is mentioned in this article.