What are the market expectations?
In a previous article, I shared my view that the market is on the verge of a break higher or lower. I also explained that the trigger for the next movement will come from the 3rd quarter earnings season.
Analysts anticipate a small 2% drop in corporate profits in the 3rd quarter. However, as we know, analysts tend to be conservative in their projections. In fact, since 2014, actual earnings always beat estimates by 4% on average. If you take that into consideration, the earnings season that is about to start should finish the profit recession that lasts for 5 consecutive quarters, with actual earnings growing 2%.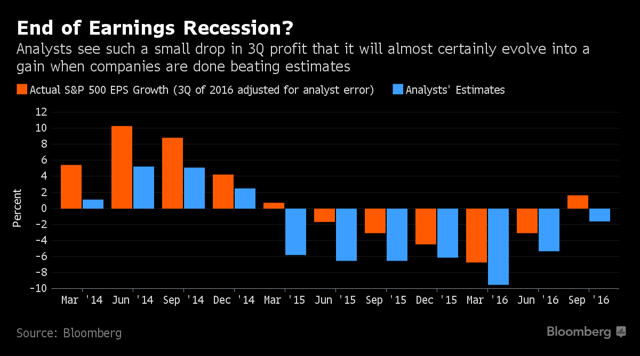 Source: Bloomberg
Of course we could discuss if it's analysts who are conservative or if it's management who provide lower guidance or work the financial reports in order to beat estimates. Anyway, the bias is always towards earnings coming out slightly better than expected.
Putting it all together, we should end up this earnings season with a -2% to +2% net income change. At least, that's where expectations are. This means that in principle, any variation within that range shouldn't affect the broad equity prices. So, don't get too optimistic with earnings that marginally beat estimates and be careful before buying into slightly better than expected earnings.
But the main problem is that the S&P 500 (SPY) (VXX) (IVE) (SH) (VOO) (SSO) (SDS) (IVV) (SPXU) (UPRO) (QQQ) (DIA) (DOG) (UDOW) (SDOW) (DDM) (UDPIX) (UWPIX) (UDPSX) is trading at historical high valuations in terms of trailing PE (25), cyclical adjusted PE (27) and estimated PE (18). So, companies are under pressure to deliver an improvement in earnings to sustain their rich valuations. In fact, valuations are so high that I wouldn't be surprised to see stock prices going down even if earnings increase.
Furthermore, how will the estimated PE of 18 materialize by the end of the year, when the trailing PE is at 25 and earnings are declining (or not growing)? There's only 1 way and it's through a severe correction in equity prices.
What should you expect?
Even though earnings have been declining over the last 5 quarters, they have always beat estimates. So, a bigger problem would come if earnings come out short of expectations.
Goldman Sachs sees "a week 3rd quarter reporting season coupled with negative 4th quarter EPS revisions pushing stocks 2% lower to the year end target of 2.100". Behind this view is a macro analysis of some of the main drivers of surprises in company earnings: economic growth, interest rates, oil prices, the dollar and earnings revisions. Needless to say that higher economic growth, higher interest rates, higher oil prices, a lower dollar and positive earnings revisions increase the probability of earnings beating estimates.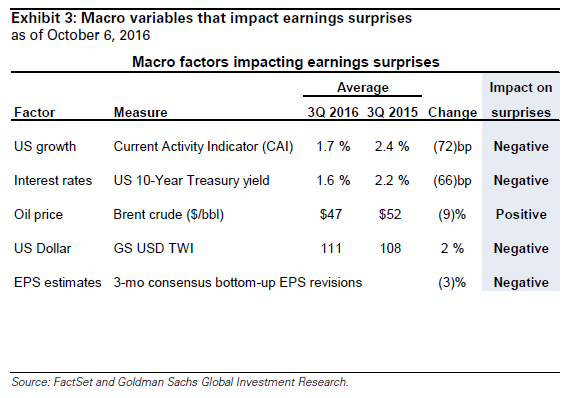 Source: Goldman Sachs
However, as we can see from the previous table that doesn't seem to be the case this time around. In fact, Goldman Sachs model "suggests that a below average share of firms will report positive earnings per share surprises".
I guess most of us have already bought stocks before the earnings release and sold them after to trade a positive earnings surprise. Even though risky, this has been a profitable strategy during this (and other) bull markets. However, if Goldman Sachs predictions are correct, this strategy won't work this time around. Furthermore, maybe it's time to follow the opposite strategy: take profits before the earnings announcement.
What about other economic indicators?
I would like to add 2 economic indicators to those used in Goldman Sachs model that I find very disturbing and that could have a negative impact on this earnings season.
The first one is the high level of inventories. I know this is a tricky indicator because a temporary increase in inventories can be a good sign. For example, if Apple increases its inventories before the launch of the new IPhone this means it expects an increase in sales in the near future. Also, its only natural that Apple's level of inventories is today much bigger than 10 years ago because the company sales are also much higher. Finally, it is not a bad sign that a retail company increase its inventories before Christmas because sales increase during that period.
The problem is when the increase in inventories is not temporary but structural and companies start piling inventories that they are not able to sell. The graph below shows us that the inventory to sales ratio remains at very high levels.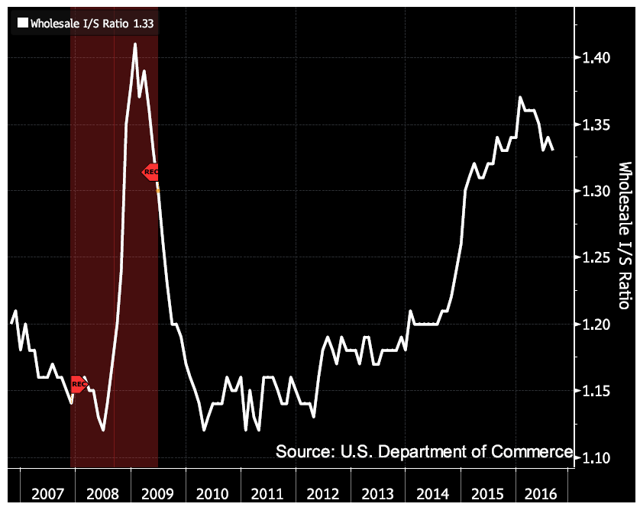 Source: Bloomberg
An increase in inventories has a positive impact on economic activity as orders to suppliers increase (more than they should) and so does industrial production and job creation. The problem comes when inventories reach such a high level that companies have to liquidate them at a lower (or even negative) margin and as they sell their stocks they reduce their orders to suppliers, having a negative impact on economic activity. That's why this high inventory to sales ratio is a sword pointed at the chest of any earnings season.
The other economic indicator that worries me is industrial production. Needless to say that when industrial production grows, jobs are created and as families income increases so does consumer spending creating a positive spiral of economic activity. This indicator is somehow related to inventories because if inventories are too high, clients will reduce their orders to their suppliers who will produce less and reduce their workforce, creating a negative spiral in the economy. In fact, the graph below shows us that a negative growth in industrial production, usually drags down job creation with it and normally points towards an economic recession.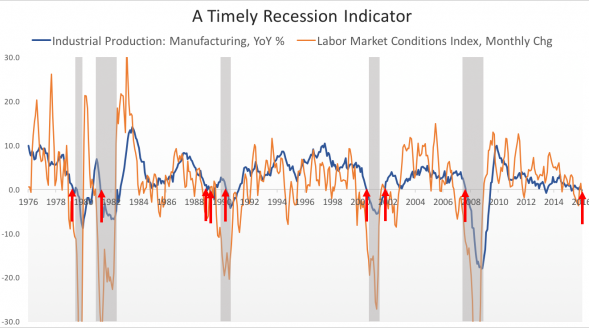 Source: Model Capital Management
In the latest reading from August, Industrial Production declined 1.1% and given the still high inventory to sales ratio it shouldn't improve any time soon.
In summary
Expectations are for a -2% to +2% change in company profits in the 3rd quarter. However, the pressure to deliver a positive earnings growth is substantial given the equity market is trading at an historical high valuation. So, one shouldn't be surprised to see equity prices falling even if earnings beat estimates.
Furthermore, several economic indicators point towards the possibility that 3rd quarter earnings will come out short of expectations. This is Goldman Sachs view after analyzing the economic growth, interest rates, the price of oil, the dollar and the earnings revisions. Other economic indicators such as inventories and industrial production support the view that investors should be cautious now that the earnings season is about to kick-off.
Disclosure: I/we have no positions in any stocks mentioned, and no plans to initiate any positions within the next 72 hours.
I wrote this article myself, and it expresses my own opinions. I am not receiving compensation for it (other than from Seeking Alpha). I have no business relationship with any company whose stock is mentioned in this article.