Given the similar market capitalization of Craft Brew Alliance (NASDAQ:BREW) (hereafter CBA) today when compared with the prior high attained in October, 2013, I thought it would be valuable to reflect on the relative performance and outlook of the company then and now.
It becomes clear rather rapidly that BREW shares are significantly undervalued today relative to the valuations afforded by the market in October, 2013, both on a pure fundamental basis as well as when the considerable benefits to the company of both the new and renegotiated agreements with Anheuser Busch InBev (NYSE:BUD), (hereafter AB/I), as outlined in the CBA 8-K dated 8/23/16 are considered.
The first step in comparing the company today to October, 2013, is to identify what drivers contributed to the two rallies and the valuations we seek to analyze. In 2Q and 3Q13, the increasing M&A activity in the craft beer space seemed to put shares of all craft brewers in motion. Shares of Boston Beer Company (NYSE:SAM) and CBA both experienced strong moves over a period of months prior to achieving their respective October highs. These moves culminated in new highs for both companies in late October, 2013, as Belgium based Duvel Moortgat, on October 17, 2013, announced the acquisition of Boulevard Brewing of Kansas City, MO. Both stocks came off those highs in the following quarters as M&A activity diminished for a period and the hopes for a material event diminished.
I believe it is fair to state that the rally of BREW shares in 2013 was largely due to speculation over potential M&A and the assessment that CBA could be acquired by some larger player seeking to augment their craft portfolio. In this regard, both rallies have had the potential for M&A as a contributing factor in their appreciation.
It is important to recognize that CBA faced considerable uncertainty in 2013 as AB/I had already established itself as a direct competitor to CBA through their acquisition of Goose Island in 2011. Following this transaction, investors in CBA had legitimate concerns as to what AB/I's intentions were with Goose Island specifically and, more importantly, its designs on the craft space in general. Despite this uncertainty, BREW shares attained a market cap of approximately $350MM on the speculation.
This backdrop contrasts markedly to CBA today following the agreements outlined in the CBA 8-K. Today, the potential for a merger of CBA and AB/I has been discussed, minimum prices for the acquisition of CBA have been established and the potential for a "change of control" by an outside party has been addressed. The migration of KONA production to AB/I breweries is estimated to save CBA $3 MM per year at a minimum (reduction of Cost of Goods), and the "fee cliff" scheduled for FY19 has been eliminated. In addition, the parties have agreed to consider and discuss "Project Husky" which will drive KONA growth domestically and calls for other cooperative efforts between the parties.
The following graphic is from the investor presentation available on the company's web site and shows many of the aspects of the new agreements as well as the anticipated positive impact on CBA.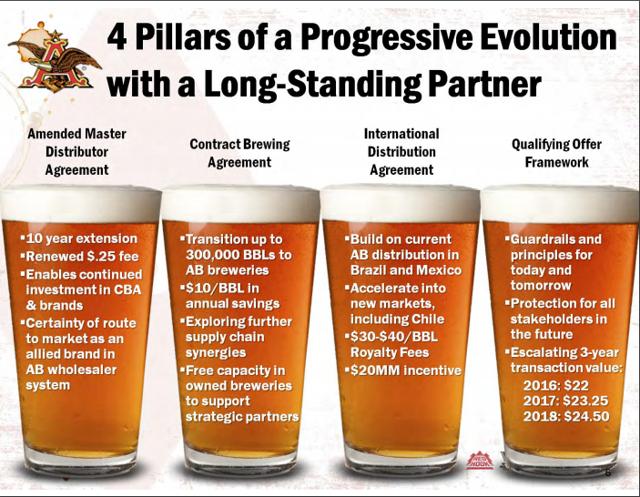 Source: Craft Brew Alliance Investor Presentation available at craftbrew.com
Domestic Initiatives with Potentially Significant EPS Impact on BREW
The most immediate and quantifiable benefits of the new distribution agreement include:
1) The ten year extension and $0.25 / case lock on the distribution fee said to save CBA at least $10 MM / Year for 10 years commencing in FY19.
2) The migration of 300K BBLS of KONA to ABI breweries saving $3MM / year
3) CBA brewing beer for export to AB/I markets with a $40/BBL royalty fee
4) AB/I brewing CBA brands in international markets with a $30 / BBL royalty fee
As significant as these developments are, what I found particularly promising in the 8-K was the discussion of Project Husky which appears as Section 18 in the filing and reads:
18. Project Husky. From and after the date hereof and until the earlier of August 23, 2017 and the parties' entry into definitive agreements with respect thereto, AB and CBA agree to continue to consider and discuss in good faith the implementation of the items set forth on Schedule 18. In addition, at the reasonable request of either party from time to time, the parties shall discuss in good faith other measures proposed by either party to improve efficiencies, reduce costs or otherwise enhance the effectiveness of the parties' commercial arrangements. Notwithstanding anything to the contrary in the foregoing, the failure by the parties to enter into definitive agreements relating to the items set forth on Schedule 18 or any other matters discussed pursuant to this Section 19 shall in no event be deemed to be a breach of either party's obligations hereunder or result in any Liability to either party under this Agreement.
Those that paged forward ten pages in the document to investigate "Schedule 18" encountered the following:
Schedule 18

1. Drive Kona Growth Domestically

2. CBA Contract Brewing Select High End Beers

3. DC Network Optimization via sharing warehouses, shipping and eventual consolidation of wholesale inventory management and production planning information systems
So once again the contrast between a post 8-K CBA and circumstances the company faced in 2013 is significant. In my initial report, I commented that AB/I brands in several markets seemed to be more fully distributed than the products that AB/I did not own outright, including KONA in the Pacific Northwest (PNW) market where CBA was actively advertising the KONA brand. In fact, in testimony in December, 2015 before the Senate Judiciary Committee several craft market brewers alleged anti-competitive behavior by AB/I owned distributors similar to this.
Likely in part as a result of this testimony, the DOJ initially held up the AB/I's acquisition of Devils Backbone before ultimately dropping their suit after winning concessions from AB/I. In the DOJ press release dated 9/6/16, the DOJ discussed the issues of competition and preventing competitor beers from reaching markets and concluded their statement with the following:
If the division sees evidence that ABI may be circumventing its distribution obligations or has used multiple craft acquisitions to impair competition, it will consider all its enforcement options - including re-opening its investigation of ABI's acquisition of Devils Backbone - and all appropriate relief."
Based upon market observations it appears that some improvement has been made in the PNW market but the work is clearly not complete. For instance, in many local convenient stores, field checks frequently find 5 Elysian 6-pack offerings and 3 or 4 Redhook offerings, and perhaps a Widmer product. Curiously many of these "mom-n-pop" single store businesses with predominantly immigrant proprietors, have no KONA offerings. Why would CBA's largest and highest gross margin brand, KONA, not be distributed to all such stores?
Again, I have found considerable improvement in the penetration of KONA over the past three months but Project Husky is by no means complete. I believe CBA will directly benefit, through increased KONA sales in particular, by requesting from AB/I owned distributors all data from individual stores to identify which stores have no KONA sales and identify salesmen who apparently remain unaware of Project Husky and the potential implications for AB/I of their actions. Clearly, the relationship between CBA and AB/I has improved significantly, and they agreed in Project Husky to discuss issues, and this is one issue that could be corrected in short order and boost KONA growth even further.
So the big change for CBA today is both that AB/I is a partner seeking to further grow CBA's largest and highest margin business ("Drive Kona Growth Domestically"), but that the DOJ stands ready to enforce compliance on AB/I should evidence appear that demonstrates AB/I is not in compliance with the settlement. It goes without saying that this protection was not afforded BREW shareholders in 2013, and should be seen as a significant positive for KONA sales and CBA shareholders.
"CBA Global" Ownership and Distribution Rights:
Moreover, AB/I has now has established its interest in distributing all CBA brands globally, and agreed to pay "Fair Market Value" for the international distribution rights (and brand ownership) should a CBA change of control take place.
I don't believe that the BREW share price, today or in 2013, ever reflected significant value or consideration for the international distribution or ownership of the CBA brand family overseas. Yet today, AB/I, following a change in control triggering event, has the exclusive right to acquire this business for "Fair Market Value". This agreement therefore has established "CBA Global" as a separate and distinct business within CBA that AB/I has the exclusive right to buy it in the event of a change of control.
Moreover, this "Fair Market Value" AB/I will pay must now reflect the considerably enhanced, combined international might of AB/I following its acquisition of SABMiller's international operations. I think it would be difficult for anyone to argue that the ownership of all CBA brands, and the global distribution rights thereto, are adequately valued and incorporated in today's $17.91 share price and current market capitalization of $344 million.
As a result of the agreements between the parties, AB/I was immediately granted the exclusive right to distribute all CBA brands in Mexico, Chile and Brazil. In FY15, SABMiller and AB/I sold approximately 40 million and 116 million barrels (NYSE:BBL) of beer respectively in Latin America. Both AB/I and SABMiller received approximately 1/3 rd of their revenues from this region in FY15. To put these volumes in perspective, AB/I sold approximately 95 million BBLs in the US in FY15.
Additionally, upon 60 days notice following the 8/23/16 agreements outlined in the 8-K, AB/I has the right to commence brewing CBA products in these territories, in AB/I owned breweries located in the territories. On a timeline this would indicate that if AB/I immediately notified CBA following the establishment of these agreements of its intention to do so, AB/I could begin brewing in Latin American markets as soon as two weeks from now.
For simplicity, assuming the combined AB/I and SABMiller sold 160 million BBLs in Latin America. Were CBA brands to become 1/2 of 1 percent of the combined company's volumes in Latin America, CBA brands would achieve sales of 800K BBLs in Latin America. If AB/I produces the beer in their own breweries in that territory, the royalty fee/BBL payable to CBA is $30. Under this scenario, CBA would realize $24 MM in pre-tax operating income ($1.25/ BREW share pre-tax) and have no operating or marketing costs associated with these fees. CBA essentially has added a "virtual brewery" in Latin America, and other territories going forward, while realizing $30/BBL on each barrel sold. The powerful EPS driver of this agreement does not appear to be reflected in the current market for BREW shares.
Of course we do not know how fast AB/I might achieve this level of sales or even if it will ever achieve this level of sales. Nonetheless, it demonstrates that this new agreement has considerable potential to drive CBA EPS going forward, and understand this is just the first territory turned over to AB/I. As additional territories become available, these too will be turned over to AB/I as exclusive territories for distribution and brewing of CBA products.
Even if CBA fee revenue is just 10% of the numbers in my example above, it still would add an additional $2.4 million pre-tax income, which would double the $2.4 TTM operating income for the 12 months ended June 30, 2016 as reported in the CBA 2Q16 press release.
Importantly, AB/I has significant incentive to market and distribute these products through the channel as the margins on craft in Latin America are significantly greater. Moreover, KONA sells well within 50 miles of ocean shores, and Latin America adds significant equatorial markets with year round temperatures in the mid to high 80 degree temperatures, mirroring KONA's home market, Hawaii.
Readers are encouraged to review AB/I conference calls to hear first hand Carlos Brito, CEO of AB/I, who has, on several conference calls, mentioned that despite the problems facing their legacy beers in Brazil, the High End craft products are selling well and his stated a goal of expanding the High End offering in this market.
Thus, owners of CBA shares today have considerably greater upside EPS potential based upon the success of AB/I driving CBA brand sales internationally - a significant benefit which would suggest the shares should be valued appreciably higher today than in 2013 when these agreements did not exist and international sales were not a consideration. But in reality, the market cap today lags that of 2013.
Clearly, the relationship and mutual interdependence of CBA and AB/I contrasts significantly with the relationship and open competitiveness that existed in 2013, yet the market values the company today slightly less than it did in 2013. Moreover, the establishment of "CBA Global" as a separate business which AB/I acquired the exclusive right to purchase is a significant development apparently ignored by the market and not additive to the market capitalization of the company. Where is any valuation bump for the anticipated value of CBA global sales through the largest beer producer in the world?
ABI/s interest in "CBA Global" is clear in the language stipulating that CBA immediately initiate discussions to terminate or rescind the existing international distribution rights awarded to Craft Can Travel. Further it demands that"CBA shall continue to use commercially reasonable efforts to negotiate the surrender of termination of the Existing Distributor's distribution rights with respect to such Existing Territory on such alternative terms as CBA and AB may mutually agree, in each case in accordance with applicable Law…"Further, AB shall reimburse CBA for any fees payable by CBA to the Existing Distributor in connection with such surrender or termination, as well as outside counsel fees reasonably incurred".
In, Is Something Brewing at Craft Brew Alliance, I argued that the Ballast Point $1 billion valuation was in part due to the fact that Ballast Point was exporting its beer to Brazil, and I hypothesized that the war for the number three largest beer market in the world, Brazil, had begun. In fact, I underestimated the speed at which global craft sales would achieve such significance to the major beer producers. It was not simply about Brazil, it was about a global expansion for craft beer. As US craft sales slowed in FY16, most major players focused their attention on exporting US craft brands throughout the world. Brazil just happened to be the first target for global expansion by Constellation Brands (NYSE:STZ).
Given the language in the CBA 8-K, it would be hard to argue that the "Fair Market Value" for this business would be insignificant. Clearly, the faster that CBA can negotiate with their existing distributor to reclaim additional territories, the faster the valuation of CBA Global will appreciate.
CBA's Revenues, Margins and Anticipated EPS Compare Favorably to 2013
At the company level, a careful examination of CBA results then and now indicates that the company is significantly stronger today than in October, 2013, when it achieved a near two decade high share price of $18.70.
Exhibit 1 presents selected financial data from FY13 and YTD FY16. Normally financials are examined on a sequential basis, but given we are examining two specific periods to gauge relative valuation, these two non-sequential periods will analyzed for comparison purposes.
On a comparative basis, revenues are significantly higher today than in FY13. It is important to remind the reader that 1Q16 was a "kitchen sink" quarter for CBA where the company's most efficient brewery was closed for a period of weeks for planned upgrades which negatively impacted both revenues and gross margins. What would have been 1Q16 shipments were shifted to the prior quarter, 4Q15, as product was shipped prior to the brewery closure to fill the pipeline and avoid inventory shortages at the wholesaler level. This closure and diminished revenue has a corresponding reduction in gross margin which contributed to 1Q16 lagging 1Q13 on these metrics.
The brewery modernization was part of an ongoing program designed to improve the efficiency of the Portland, OR brewery and provide for improved gross margins. Gross margins have been trending higher since 2013, and the company recently updated corporate guidance for 33-34.5% in 2HFY16, comparing favorably to the 30.1% and 26% gross margins recorded in 3Q and 4Q FY13.
It is important to note that these gross margin rate expectations for 2HFY16, the highest in the company's history, were announced prior to the 8-K dated 8/23/16, which presented significant initiatives designed to further increase margin performance.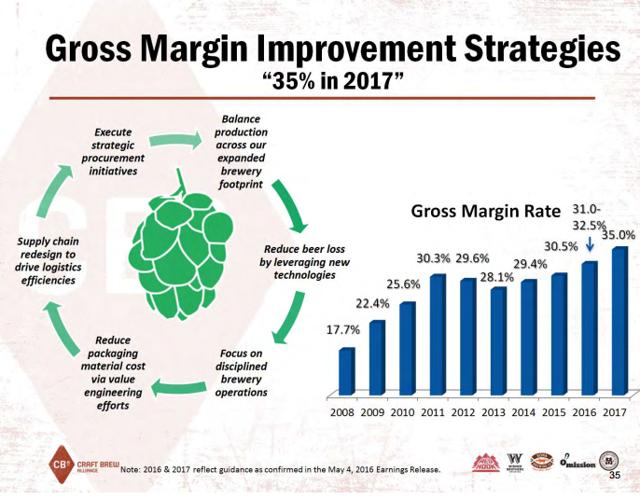 1HFY16 Gross Margins were significantly impacted by brewery closure for upgrades.
2HFY16 Gross Margins were guided to 33-34.5% in the Q2 EPS Release.
Source: CBA Investor Presentation September, 2016 available at craftbrew.com
Similarly, EPS comparisons show a markedly stronger CBA today. Again, 1Q16 was an anomaly due to the closure of CBA's largest brewery, but 2Q16's $0.12 EPS are 100% higher than the $0.06 reported in 2Q13. 3Q and 4Q EPS analyst estimates as reported on NASDAQ.com show similarly impressive anticipated gains of 60% and 425% over the corresponding quarters in FY13. Without question, on an operational basis, CBA is far stronger today than in FY13 as margins have demonstrated consistent improvement and now driving higher anticipated EPS. Yet again, the market is valuing BREW shares virtually identically to three years ago.
CBA Brand Performance Comparisons Show Mixed Results Compared to 2013
Exhibit 2 examines the relative brand performance of CBA's major brands in the two periods. Again, 1Q16 was significantly impacted by the brewery closure, but what is clear is that despite the significant contraction of Widmer and Redhook brands as they are pulled from several hyper-competitive markets and returned to their place as strong regional brands, overall CBA volumes continue upward, buoyed by the rapidly growing KONA brand. Omission brand sales, included in FY13 revenues, have been added back to Widmer FY16 results for comparative purposes.
The weakness of the non-KONA brands is of course a concern and seems to be negatively impacting CBA's valuation to a great degree. The Redhook brand has been most affected by the increasingly competitive market, but again, some of the lost revenue experienced in core brands is being replaced with new partner revenues which are not included in this exhibit.
The majority of the value of BREW, I believe, is the valuation KONA would bring as a stand-alone brand. The strength of KONA was described on the conference call where Nielson data for 1H16 was shared. In the ultra competitive California market, the KONA brand picked up 40 BP of market share of Craft YTD FY16 while grabbing an additional 50 BP of Craft market share nationally.
Faced with the declining sales of CBA's legacy brands, CBA management has entered into minority ownership positions with Cisco Brewing and Appalachian Brewing. Cisco commenced brewing at the company's New Hampshire brewery on April 1st, and was reported to have contributed 4% of volume growth in 2Q16. Management reported that Cisco revenues already have surpassed Redhook revenues in eastern markets so this marks yet another positive aspect of CBA which is contributing to CBA revenues that did not exist in 2013.
The elimination of the "fee cliff" as described in the new distribution agreement makes such minority acquisitions more lucrative for CBA and improves CBA's negotiating position with other potential partners. CBA gets to pick what it sees as future craft winners, receive equity when partner revenues and distribution are limited, then grow the value of the partner brand (and CBA's equity value) by leveraging the power of the AB/I distribution network. Again, a significant development which makes CBA in 2016 compare favorably to 2013.
Investors seem to be placing more emphasis on the impact of the faltering brands than on the 20+ % growth KONA is delivering and the potential for future growth of partner brands.
CBA Shares Appear Frozen at 2013 Brand Multiples
This article compares BREW shares relative trading levels between October, 2013 and today for a specific reason. I mentioned the Duvel Moortgat purchase of Boulevard Brewing as the catalyst for the rally in 2013. This transaction reportedly was priced at approximately $550 / BBL, less than half the rate typically seen for regional acquisitions of craft players today according to multiple sources.
Even using 2013's $500/BBL valuations for Widmer and Redhook these brands should be worth approximately $200 MM or $10 / BREW share. Fast growing KONA I believe would bring at a minimum $1,500/ BBL, and, using 425K BBLS FY16E KONA BBLS (which does not place a lot of hope for revenues from Brazilian sales negotiated last December with AB/I, or the newly introduced Project Husky) would likely bring an additional $33/BREW share. In addition to this $43/share, remember there is now what I call "CBA Global" or the international ownership and distribution rights to all CBA brands which AB/I has negotiated to buy at a "Fair Market Value".
Four Potential Reasons BREW's Rally Faltered
Is there a logical explanation for the market to ignore such significant improvement in operating results, accelerating EPS estimates and the promise of significant cash flows from AB/I's global expansion and sales of CBA products? How long can the market ignore the evolution of CBA's business model, to one of significantly increasing royalty payments which flow straight to pre-tax income without any corresponding COGS or SG&A expenses? I will try to identify the factors which have conspired to halt the appreciation of BREW shares and discount the significant changes in CBA's evolution.
I can identify four items that seemed to increase turnover in the stock and lead to the lower share price we see today. I contend that the some of the market reaction to these events is likely overdone in my opinion, and can offer some detail which might add appropriate color and indicate the market's interpretation of the data was potentially wrong or incomplete at best.
1) The 8-K agreements were a big step forward, but fell short of an acquisition by AB/I
2) Misunderstanding / failure to read the terms of a "Qualifying Offer" regarding the "not less than $22" purchase price for CBA and the implications of a "change in control".
3) One retiring director sold shares in late August as reported on a Form 4
4) The firing of Woodinville WA brewery employees was interpreted as Pabst not being interested in purchasing the Woodinville brewery.
1) Despite having Goldman Sachs as an advisor to CBA, an acquisition of CBA was not consummated by AB/I, but a series of agreements were renewed and new agreements signed as reported in the 8-K filed on 8/24/16. There is no question that shareholders have hoped for years for the ultimate outcome to have CBA acquired by AB/I for a premium price.
However disappointing the failure to achieve this event, full knowledge of the hearing before the US Senate Judiciary Committee in December, 2015, the SEC challenge of AB/I's acquisition of Devils Backbone based on anti-competitive concerns, and the looming and often contentious negotiations with SABMiller, significantly crowded AB/I's plate and made an imminent acquisition problematic. The first two concerns have been settled for weeks and the SABMiller acquisition was finalized just hours ago, so AB/I has considerably less on its plate on the domestic front.
There is still some risk that the DOJ will not approve an acquisition of CBA. I would suspect AB/I would propose buying KONA and spinning off Redhook and Widmer brands, but it is uncertain given AB/I's recent frenzied acquisition spree if the DOJ might not have denied the acquisition or postponed approval to wait additional time to gauge how AB/I's significant moves will affect competitiveness in the craft segment.
But let's face it, Goldman Sachs does not negotiate many distribution agreements and their role as an advisor to the company likely signaled an attempt to sell the company to AB/I which I believe potentially was waived off by the DOJ. A careful reading of the 8-K demonstrates that the agreements are replete with repeated mentions of what constitutes a "change in control". Given the literally dozens of time "change in control" appears, one might think investors would take the hint that CBA and AB/I believe there is a reasonable chance of a change of control event and one might expect the stock might actually rally. But this has not happened. Clearly, with Goldman Sachs as an advisor to CBA, it is not hard to imagine how Goldman maximizes its fee - by ultimately finding a buyer for CBA or its brands in a breakup scenario.
Moreover, AB/I negotiated a "change of control" event as the trigger to execute a "Rights Call Notice", to purchase the distribution rights for each CBA brand then being distributed by AB/I in overseas territories. I believe this demonstrates that AB/I is concerned they may lose the domestic rights to CBA brands and so insured that it would be in a position to own all brands for global distribution- a much more significant business, yet one which apparently has not been accretive to the current share price.
A careful reading of the document also indicates that AB/I only secures the rights to brands "then being distributed" under the agreement. I believe this means the sale of CBA brands will be fast tracked in the international territories (currently Brazil, Mexico and Chile) to enable AB/I to secure the rights to all CBA brands should a change of control event occur which should have a significant positive impact on CBA financials via the royalty fees earned from such sales.
2) There seems to be a significant misinterpretation as to the "Qualifying Offer" and an offer for CBA of "not less than $22". The "qualifying offer" language is as follows:
1.73"Qualifying Offer" shall mean an offer or proposal made by AB or one of its Affiliates for the acquisition in any manner, directly or indirectly, in one transaction or a series of related transactions, of all of the issued and outstanding shares of the common stock, par value $0.005 per share, of CBA (the "CBA Common Stock"), in each case (A) for an aggregate value of (i) from the date hereof to August 23, 2017, not less than $22.00 per share of CBA Common Stock, (ii) from August 24, 2017 to August 23, 2018, not less than $23.25 per share of CBA Common Stock and (iii) from and after August 24, 2018, not less than $24.50 per share of CBA Common Stock, in each case of clauses , and , subject to adjustment for any reclassification, recapitalization, stock split (including a reverse stock split) or subdivision or combination, exchange or readjustment of the issued and outstanding shares of CBA Common Stock, (B) on otherwise customary terms and conditions for a transaction of the type proposed by AB or such Affiliate; provided that, such customary terms and conditions shall in no event include any reverse termination fee payable by AB or any of its Affiliates, and (C) which AB or its applicable Affiliate indicates in writing it is ready and willing to enter into definitive documentation with respect thereto on such terms.
The "not less than $22" minimum purchase price discussion is very unusual in that it does not have customary adjustment provisons for the sale of assets, which seems to hint at how this may unfold.
Some chose to interpret this as an indication that AB/I would pay a maximum of $22 / BREW share despite fairly clear language stating "not less than $22".
Moreover, to embrace a $22 valuation for CBA demonstrates a significant disconnect with the current valuation afforded high growth craft brands, the late stage of the M&A" brand grab", and the level of competition currently existing as large brewers position themselves to compete in the marketplace. Embracing $22 as a "ceiling" could only be achieved by those that believe every shareholder rights attorney in the U.S. is too busy to take on this case, or by those that are uninformed as to the stipulations in CBA's 8-K filings.
KONA's growth has been exceptional for over 5 years. The rate of growth in the TTM has only accelerated and KONA continued to grow in Q2 as the overall craft segment growth slowed markedly. KONA is one of the few craft beers taking market share despite significant number of new entrants into the craft segment. Further, KONA's growth has defied slowing craft brand sales, and will continue to do so as AB/I flexes its muscles in international markets and Project Husky ramps domestic sales.
Ballast Point is reported to have been acquired at $2,750 / BBL. Assuming 425K BBL production for the KONA brand in FY16 and a price of $2,000 / BBL, KONA alone would be worth over $44/share. Using a valuation of $1,375 / BBL, half of the reported Ballast Point valuation, indicates KONA alone would be worth over $30/BREW share. So "not less than $22" would apply in both of the above examples.
Part of the misunderstanding, I believe, originates from what constitutes a "Change of Control". The change of control language in the 8-K is as follows:
1.29"Change of Control Event" shall mean any "person" or "group" (as such terms are used in Sections 13(d) and 14(d) of the Securities Exchange Act of 1934, as amended (the "Exchange Act")), excluding for the avoidance of doubt AB and its Affiliates except pursuant to a Qualifying Offer, becomes the "beneficial owner" (as defined in Rules 13d-3 and 13d-5 under the Exchange Act, except that a person or group shall be deemed to have "beneficial ownership" of all securities that such person or group has the right to acquire, whether such right is exercisable immediately or only after the passage of time (such right, an "option right")), directly or indirectly, in one transaction or a series of related transactions (whether by merger, consolidation, business combination, acquisition, tender offer, exchange offer, amalgamation, equity investment, joint venture or otherwise), of 50% or more of the equity securities of CBA (or of the surviving entity in any merger, consolidation, share exchange or other business combination involving CBA or the resulting direct or indirect parent of CBA or such surviving entity) entitled to vote for members of the board of directors or equivalent governing body of CBA (or such surviving or parent entity) on a fully-diluted basis (and taking into account all such securities that such person or group has the right to acquire pursuant to any option right); a change in the composition of the board of directors of CBA during any period of twelve (12) consecutive months such that individuals who at the beginning of such period constituted the board of directors of CBA (together with any new directors whose election by the board of directors of CBA, or whose nomination for election by the shareholders of CBA, was approved by a vote of a majority of the directors of CBA then in office who were either directors at the beginning of such period or whose election or nomination for election was previously so approved) cease for any reason to constitute a majority of the board of directors of CBA then in office; or the acquisition by any "person" or "group" (as such terms are used in Sections 13(d) and 14(d) of the Exchange Act) in any manner (whether by disposition, lease, license, exchange or other transfer), in one transaction or a series of related transactions, of 50% or more of the consolidated assets of CBA and its subsidiaries (based on the fair market value thereof), including through the acquisition of one or more subsidiaries of CBA owning such assets or (ii) the Kona brand or any Intangible Rights, the disposition of which (without giving effect to any license back to CBA or its Affiliates) would result in CBA no longer being able to Produce, manufacture, brew or distribute any Kona brand products (or products associated with any Kona sub-brand or brand extension).
I have highlighted the passages for emphasis.
The import of this passage is that up to 50% of the fair market value of assets of CBA can be sold and not trigger a "Change of Control" event. My interpretation of this is that Widmer, Redhook, Omission and all other brands and breweries can be sold and not trigger a "change of control". Therefore, if these brands are conservatively valued between $12 and $15, these could be sold and shareholders still could receive a "Qualifying Offer" of "not less than $22" from AB/I. Therefore, AB/I's qualifying offer, if made at the absolute minimum, would still mean BREW shares are worth, at a minimum, between $34 and $37 / share. Given the above, embracing $22 / BREW share as a ceiling price clearly ignores salient information appearing in the financial filing.
3) On August 20th, 2016, BREW shares achieved a near two decade trading high of $22.40. After the close on the preceding trading day, a long term director facing mandatory retirement at the next annual meeting (CBA policy requires mandatory director retirement at age 73), filed a Form 4 indicating he had sold just under 30% of his holdings. On the same day, a Form 4 was filed by a current officer showing a purchase of 1,100 shares in the open market.
BREW shares had reached new highs based upon the filing of the 8-K and the promise that the mutual cooperation and operational integration with AB/I promised improved CBA results. Out of the darkness of uncertainty as BREW shareholders had witnessed AB/I acquire craft brewer after craft brewer without any indication of interest in CBA or its brands, including the remarkable growth KONA brand, finally legitimacy was achieved for CBA and a framework for moving forward both domestically and internationally was established.
I believe market participants interpreted this director sale in two ways. First, it meant that there was no material inside information before the BOD and therefore any thought of an imminent transaction was dashed. Secondly, it was a significant sale of shares by a director at a two decade high for the stock and triggered some holders move toward the exits.
As a long term observer of the stock, I was frankly stunned by the market reaction. The selling director sold the equivalent of .0028% of the combined shares then owned by officers and directors as reported in the latest Proxy. It totally ignored the fact that one officer used his own money to purchase shares and 13 other members of the BOD and management sold no shares despite the stock being at a two decade high! Is there any better example of "the sky is falling" mentality? Individual BREW insiders, some with over 1 million shares sold no stock at all, but due to one soon to retire director's sale, it spread panic among holders of the shares. So much for the efficient market hypothesis!
Moreover, the market reaction also ignored that the sole AB/I director on the CBA BOD, (who happens to be the Chairman of the Board, President and Secretary of Anheuser-Busch Worldwide Investments), has never sold a share of BREW stock and has never surrendered shares in lieu of payment for the taxes on an annual grant of shares. So the director most knowledgeable in the relationship between BREW and AB/I and what lies ahead for the future of the two companies, has never sold a single share of BREW stock. I personally will watch closely for Form 4's filed by AB/I's designated representative on the BOD.
4) On October3, 2016, there was a significant layoff of personnel at the Redhook Woodinville WA brewery. Press reports indicated that the company stated that Pabst volumes at the facility fell below what had been anticipated and therefore CBA was forced to layoff production personnel. The market interpreted this negatively and the shares fell to their current level.
What is not widely known is that a month before the layoff, there was a significant personnel benefit change for grandfathered Woodinville employees which curtailed the "banking" of unused sick days which previously would be paid out when the individual retired, was terminated, or left the company.
In conversations with several of the laid off production staff, I was informed of this change that preceded the layoff. Further, I was informed that many of these individuals had over 17 years of employment with CBA, and had qualified for annual pay raises of 5%. Several of these individuals told me they expect to find work in the industry easily, but at prevailing wages 30-40% below what they were making at CBA.
I was also told that Pabst had approved this facility for the production of three other beers in addition to the Rainier IPA currently produced there. This is a tedious process where test batches are produced and compared to the same brand produced at existing breweries to insure that a beer's flavor profile remains consistent with product produced at all other breweries. This would mean that Pabst has now approved the Woodinville facility to produce 4 different beers which likely could utilize a significant portion of the production capability of this facility, and not just Rainier IPA which is has been producing.
So the question for CBA observers and investors is, are these moves common sense personnel changes to diminish employee expenses by an eventual acquirer, providing the ability to bring in one's own team or in fact an indication that Pabst has determined it is not interested in exercising its option on the brewery?
It should be noted that Pabst is currently involved in a law suit with a third party brewer, so the pitfalls of not controlling one's production is currently a key consideration for the company. But to further put this into perspective, delay or cancellation of the Woodinville transfer will delay the receipt of $25 million in cash and keep a dozen employees on the payroll in production. Compare this disappointment to the likely impact of AB/I producing and selling KONA and other CBA products in Mexico, Brazil and Chile.
Concluding Remarks
I believe the foregoing analysis clearly indicates that CBA shares currently are undervalued at a minimum when compared to the valuation afforded the shares in 2013 let alone in a post 8-K CBA world. Despite brand values expanding 100-400% from the Duvel Moortgat acquisition of Boulevard Brewing in 2013, CBA shares still trade at a discount even when compared to valuations in 2013.
Despite significantly improved gross margin trends and operating results, and a focus on "right sizing" its brewing footprint to lower costs, BREW's share value mirrors a time when results were far less impressive. CBA's KONA brand has achieved a production level and maintained a growth rate few brands ever achieve, yet the market continues to value the entire company as if all brands were faltering.
The renewed and new agreements with AB/I significantly reduce uncertainty for CBA as these agreements increase the cooperation between the two companies and have established operational plans to lower CBA costs and boost its revenues - a significant change from the obscurity which existed in 2013, when the shares were similarly valued.
The market appears to be overlooking an evolution in the CBA model toward a royalty fee based "brand owner / non-brewer" model and the significant implications for EPS going forward. AB/I's considerable global might, enhanced by the recent closure of its SABMiller acquisition, should generate significant cash flow for CBA as the company produces and sells CBA brands in overseas territories with virtually no costs to offset the revenues.
As KONA production migrates to AB/I facilities, the company's largest and most efficient Portland brewery will similarly face over capacity. This move will represent a true separation of the brand families which I believe will be the prelude to a change of control event, and the ultimate unlocking of the significant and overlooked value of BREW shares.
Exhibit 1

Craft Brew Alliance

Selected Financial Data

Q1

Q2

Q3

Q4

Revenue

(000s)

2013

39.4

52.7

53.0

47.3

2016

41.8

66.3

n/a

n/a

%

6.1%

25.8%

Gross Profit

(000)

2013

8.9

15.0

14.8

11.5

2016

8.7

20.5

n/a

n/a

%

-2.7%

36.7%

Gross Margin

(%)

2013

24.4

30.5

30.1

26.0

2016

22.2

32.9

33-34.5E

33-34.5E

Change

-2.2%

2.4%

2.9-4.4E

7-8.5E

E P S

($)

2013

($0.09)

$0.06

$0.10

$0.04

2016

($0.17)

$0.12

$0.16

$0.21

% Change

-88.9%

100.0%

60.0%

425.0%

Gross Margins for 2H16 provided in Q2 conference call

Gross Margin guidance preceded announced ABI deal.
Exhibit 2

Craft Brew Alliance

BRAND SALES ( BBLS (000s) )

BRAND

Q1

Q2

Q3

Q4

KONA

2013

51.8

74.5

70.0

60.5

2016

70.6

130.1

n/a

n/a

% Change

36.3%

74.6%

Widmer

2013

51.4

68.6

70.0

35.3

2016

42.1

58.6

n/a

n/a

% Change

-18.1%

-14.6%

Redhook

2013

45.0

56.6

60.1

55.2

2016

26.2

38.2

n/a

n/a

% Change

-41.8%

-32.5%

TOTAL

2013

148.2

199.7

200.1

151.0

2016

138.9

226.9

n/a

n/a

% Change

-6.3%

13.6%

Widmer numbers include Omission brands
Disclosure: I am/we are long BREW.
I wrote this article myself, and it expresses my own opinions. I am not receiving compensation for it. I have no business relationship with any company whose stock is mentioned in this article.
Additional disclosure: The author is a former Director of the Redhook Ale Brewery (HOOK)and chaired its Audit and Corporate Strategy Committees, negotiating the merger of Redhook Ale Brewery and Widmer Brothers Brewing to form Craft Brew Alliance (BREW). Investors should do their own due diligence and seek professional financial advice before investing in any securities.