One of the counterpoints we've heard for oil prices to remain lower for longer is the ability of shale producers to ramp up production quickly and easily. This is the "shale band" theory advanced by Olivier Jakob, Managing Director of Petromatrix, a consultancy based in Switzerland. Mr. Jakob has said U.S. oil production will be determined by two price points, $45 and $65 a barrel (having since revised downward to $40 and $60). Oil production from shale formations will decline if oil prices fell below $40 a barrel, thereby supporting oil prices; whereas oil prices above $60/barrel will lead to an increase in shale oil production, thereby crashing oil prices.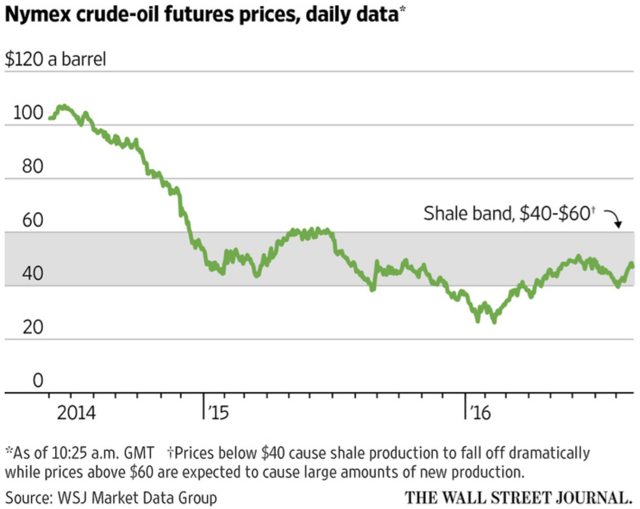 On initial review this argument makes sense as supply is much more elastic than demand, but when we dive further into shale, we find it holds little water.
We believe that natural decline rates coupled with the decrease in long-term capital investments in oil projects will deplete oil inventory to the point where an increase in shale oil production will not only be welcome, but necessary. We've written about the underinvestment in capital here and here, so we'll refer readers to those articles for greater detail. For this article, we'll take a look at shale.
Shale Production in Context
Let's put shale production into context using EIA's data (i.e., EIA's Short-term Energy Outlook (August 2016)). Total worldwide production is approximately +95M bpd (OECD Monthly Report (September 2016)). Total U.S. production for 2016 is forecasted to account for 9% of this or 8.77M bpd. A large component of US production includes oil drilled in Alaska and the Gulf of Mexico, so excluding those figures and other non-shale production we are left with an estimated 4.71M bpd for 2016.
This production is largely associated with 7 major shale formations (formations that comprise what we refer to as "shale oil" today), the last 2 of which (Marcellus and Utica) produces mostly natural gas, leaving 5 shale formations:
1. Bakken
2. Eagle Ford
3. Haynesville
4. Niobrara
5. Permian
2015

2016

2017

Q1

Q2

Q3

Q4

Q1

Q2

Q3

Q4

Q1

Q2

Q3

Q4

US Oil Production

9.49

9.47

9.41

9.30

9.17

8.85

8.49

8.57

8.59

8.55

8.38

8.53

Alaska

0.50

0.48

0.44

0.51

0.51

0.49

0.42

0.48

0.48

0.46

0.42

0.48

Gulf of Mexico

1.43

1.44

1.62

1.57

1.61

1.58

1.57

1.74

1.85

1.87

1.79

1.91

Lower 48

7.56

7.55

7.35

7.22

7.05

6.78

6.50

6.35

6.26

6.22

6.17

6.14

Bakken

1.22

1.22

1.21

1.19

1.14

1.06

0.97

Eagle Ford

1.69

1.61

1.53

1.47

1.39

1.26

1.08

Haynesville

0.06

0.05

0.05

0.05

0.05

0.05

0.05

Niobrara

0.48

0.49

0.48

0.48

0.45

0.42

0.38

Permian

1.79

1.90

1.90

1.91

1.96

1.99

1.97

Utica

0.01

0.01

0.01

0.01

0.01

0.00

0.00

Marcellus

0.04

0.04

0.04

0.04

0.04

0.04

0.04

Total Shale Oil

5.29

5.33

5.22

5.15

5.04

4.82

4.49

Shale % of Lower 48

70%

71%

71%

71%

72%

71%

69%
(EIA STEO, September 2016)
It's important to note that of the 4.71M bpd of shale production, the current "hottest" shale area in the US is the Permian, and this play accounts for only approximately 2M bpd. While this is twice that of any other shale play (i.e., Bakken or Eagle Ford), it still only accounts for 2% of worldwide oil production.
When we compare total shale production (i.e., 4.71M bpd) to worldwide decline rates something becomes very interesting. According to Cambridge Energy Research Associates ("CERA") and IHS, the current worldwide decline rate is forecasted to be 4.5% per year. There's much debate about decline rates, but even if we choose to use Core Lab's lower 3.3% decline rate, at 95M bpd, the overall decline rate ranges from 3-4M bpd . . . every year.
FSU (Russia and other former Soviet countries) and OPEC, which combined account for half of worldwide oil production (i.e., 13.7M bpd FSU + 32.8M bpd OPEC = 46.5M bpd (as of Q2 2016)) have recently agreed to freeze production. We can assume that this means they will also invest enough to make up half of the decline rates.
What of the other half? Of the remaining 48.5M (assuming 95M bpd production), the US accounts for 8.77M bpd, leaving 40M bpd, and assuming a 3.3% decline rate means a potential short-fall of 1.2M bpd. We believe this may be conservative given the remaining countries likely have higher decline rates than 3.3% in this low price environment. As demand is also forecasted to increase by 1.2M bpd (IEA, September 2016), total shortfall equates to 2.4M bpd.
For those who believe that shale can arrest this decline and meet rising oil demand, shale production in the Permian (i.e., 2M bpd) would effectively have to double, and then clone itself every year thereafter. Remember this is the shale band theory, which again surmises that prices will remain within a certain range because shale production can increase/decrease to meet decline rates and demand. We think that's highly unlikely for the following reasons:
1. Not all shale is created equal - although some commentators describe US shale as something monolithic, it is anything but. The specific play, existing infrastructure, availability of service providers, expertise and cost structure of the E&P companies exploiting the fields all contribute to the field's breakeven price. Consequently, production in shale as a whole may not immediately increase simply because oil prices increase beyond $60/barrel. Each area, field, or play will increase production only if E&P companies can achieve economical IRRs. Thus, production may first increase in only the most prolific areas (i.e., Permian), and then much later in the less prolific fields (i.e., Bakken, Eagle Ford and Haynesville).
While Permian operators claim that they can produce economically at $40 per barrel, the Bakken, Eagle Ford, Haynesville, and Niobrara operators will likely need more than $60/barrel before ramping up production. As such, increasing prices won't initially lead to wholesale increase in shale production, and a delay in ramping up production will likely cause a spike in spot prices if oil inventories become too severely depleted.
2. Cost increases - as oil prices and drilling increases, the cost for service providers will also increase. This means that before the shale band breaks, it will be stretched beyond $60/barrel. In areas with high activity like the Permian, service costs will rise (or have begun rising) as operators bring drilling rigs and crews back on-line. Rising costs for services and equipment will translate to higher break-even costs and impact capital efficiency numbers. Costs will also increase if shale production expands outside of the "sweetest" areas as high-grading creates efficiencies by concentrating drilling in certain regions. Such efficiencies will be lost as production migrates to new areas. So while oil prices will increase the profitability of E&P companies, today's low costs/break-even price environment won't last (not if we want a viable oil services industry), which will siphon profits and reduce capital available to spur additional production.
For further context, when shale production was at an all time high in 2014 rising service costs and worker shortages were common themes in the shale industry, and at its peak, shale production only reached 5.33M bpd in 2015 (i.e., 20% from today's levels), what happens when the world asks for more?
3. Marginal wells - as E&P companies have migrated to drilling their best locations, ostensibly the locations to be drilled once shale grows again won't be as efficient or productive. While some of the enhanced completion techniques will be introduced in the new locations, drilling no longer occurs in the sweetest of sweet spots as high-grading gives way to "lower-grading". Assuming that tomorrow's wells will be equally as productive as today's "best of the best" wells is aggressive in our opinion. We will only know if this is true as time passes, as we can recalculate capital efficiency numbers. We think that it stands to reason if you're drilling on your best land today, you won't be when you later expand production.
Ultimately, we believe the shale band will give way to much higher oil prices. Note that this isn't a peak oil argument that the world cannot find enough oil to arrest decline rates and meet increasing demand. We simply believe that shale alone won't be the answer in the face of natural decline rates, three years of historically low capital investments and increasing demand. Lower for longer at this stage exacerbates the decline rates and perpetuates the underinvestment, pulling the supply curve tighter. Oil inventory will continue to decline, and even with higher oil prices, the shale industry won't be able to stem the tide alone. Time to turn on the lights and for the shale band theory to exit stage left.
As always, we welcome your comments. If you would like to read more of our articles, please be sure to hit the "Follow" button above.
Disclosure: I/we have no positions in any stocks mentioned, and no plans to initiate any positions within the next 72 hours.
I wrote this article myself, and it expresses my own opinions. I am not receiving compensation for it (other than from Seeking Alpha). I have no business relationship with any company whose stock is mentioned in this article.