One of the biggest moves in short interest during the month of September came for semiconductor name Advanced Micro Devices (NYSE:AMD). As seen in the chart below, the number of shares short jumped more than 30% during the month, after previously touching its lowest point in more than a year. This was an interesting reaction of the company's financial moves, which will help things over the next couple of years.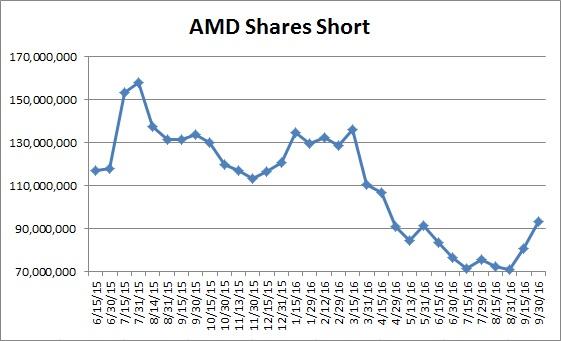 (Source: NASDAQ AMD short interest page)
Back in early September, the company announced it was launching an offering to sell both debt and equity, which helped to mark the yearly high in shares. Shares lost more than 27% from their $7.80 high before rebounding, closing at $6.50 on Tuesday, which actually is the current analyst average price target.
A few days after the original debt/equity announcement, the company announced it was upsizing the convertible debt portion. AMD was going to use the proceeds from the sales to help retire some of its higher rate debt, and the company immediately launched a tender offer for those bonds. The table below summarizes the results of these offers.

(Source: AMD debt press release)
By retiring more than $1 billion in high yield debt, AMD will save about $73 million a year in interest costs. That will be somewhat offset by the roughly $15 million a year interest expense on the new debt, which could rise another million or two depending on what the underwriters do with their option for more debt. All in all, AMD will save around $57 million a year minus deal expenses, but investors were diluted a bit thanks to the equity offering. As a result of these financial transactions, analysts have decreased their non-GAAP loss forecasts for the company for this year and next, as seen below.

(Source: Yahoo Finance analyst estimates page)
Personally, I'm a bit surprised by the sharp rise in short interest for AMD during September. Perhaps there are some who are buying the convertible debt and shorting the stock, while others are shorting due to more dilution. One thing is certain, and that is that AMD has definitely reduced its interest expenses for the next few years, which also will help cash flow. AMD shares look like a decent buy in the low $6s, as they will likely find support at the 100-day moving average (currently at $5.90, but on the rise). With competitor Intel (NASDAQ:INTC) recently stating that PC sales were doing better, investors will look to see if that helped AMD at all when we get earnings on the 20th.
Disclosure: I/we have no positions in any stocks mentioned, and no plans to initiate any positions within the next 72 hours.
I wrote this article myself, and it expresses my own opinions. I am not receiving compensation for it (other than from Seeking Alpha). I have no business relationship with any company whose stock is mentioned in this article.
Additional disclosure: Investors are always reminded that before making any investment, you should do your own proper due diligence on any name directly or indirectly mentioned in this article. Investors should also consider seeking advice from a broker or financial adviser before making any investment decisions. Any material in this article should be considered general information, and not relied on as a formal investment recommendation.