It has been almost a month now since GoPro (NASDAQ:GPRO) unveiled its much-anticipated Karma drone as well as two new HERO cameras. After the stock rallied toward $18, it has come back down to its 50-day moving average as seen in the chart below. Short sellers have returned in a big way recently, with GoPro having a lot to prove this holiday season.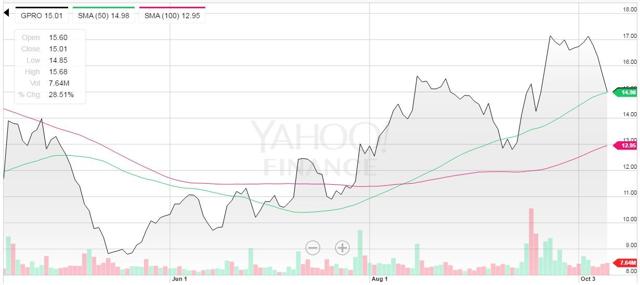 (Source: Yahoo Finance)
Almost half of the company's revenues for this year are expected to come during the fourth quarter. In fact, analysts expect $677 million for this period, a bit above the $634 million seen in Q4 2014, and up 55% from last year's awful holiday period. The Karma drone will certainly help revenues, although the new top-of-the-line HERO camera is priced $100 below where previous launches were.
Revenues are forecast to surge to an all-time high next year, thanks to a full year of drone sales. The key question here is: Can the company sell enough devices? There have been some issues with a lack of features on the Karma drone, and the action camera business is a niche market. With smartphone cameras becoming better by the year, GoPro has to provide enough value for consumers to shell out hundreds of dollars. A new cloud service looks good, but the company will need a lot of subscribers for it to make a dent in revenues.
I personally think GoPro may have missed an opportunity earlier this year by not buying back its stock when shares were at much lower levels. With over $260 million left on the buyback plan, management could have reduced the share count quite a bit. This wouldn't be the first buyback blunder. In Q4 2015, the company bought back $35.6 million worth of stock, but at an average price of more than $23 a share. Investors are hoping that management can do better with its next round of share repurchases.
Even though big growth is expected in Q4, analysts are still below the company's guidance midpoint for the full year, which could lead to upside if sales do materialize. The average analyst price target is currently about $1 below where shares closed on Tuesday. However, analysts aren't the only ones that appear skeptical, as I mentioned above. Short interest has recently shot higher, as seen below, getting close to its all-time highs. With more than a third of the float short, good results could lead to a nice short squeeze.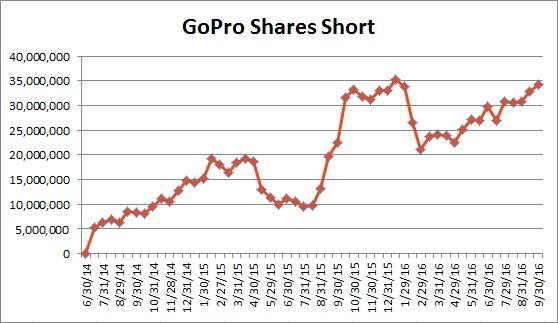 (Source: Nasdaq GoPro short interest page)
GoPro shares have recently backed off their highs, now sitting at their 50-day moving average. Short sellers have returned in a big way, apparently not convinced that new products will significantly drive results. The options market is looking for a huge move over the next three months. GoPro still has a lot to prove after stumbles in the past year or so. If the company can't meet expectations this holiday season, when can it?
Disclosure: I/we have no positions in any stocks mentioned, and no plans to initiate any positions within the next 72 hours.
I wrote this article myself, and it expresses my own opinions. I am not receiving compensation for it (other than from Seeking Alpha). I have no business relationship with any company whose stock is mentioned in this article.
Additional disclosure: Investors are always reminded that before making any investment, you should do your own proper due diligence on any name directly or indirectly mentioned in this article. Investors should also consider seeking advice from a broker or financial adviser before making any investment decisions. Any material in this article should be considered general information, and not relied on as a formal investment recommendation.