Exxon Mobil (NYSE: XOM) is one of the largest oil & gas exploration corporations in the world. The company gets a lot of attention in the financial media, but most of this coverage is focused on areas of the market that might not necessarily reflect what is actually happening in the sector. To be sure, it is a major player in petrochemical products, and numbers from the end of last year show the company operates more than 30k wells.
Exxon stock moved from $77.46 in January 2016 to $87.04 on October 6, indicating a rise of almost 12.37 percent. To gain some perspective, these numbers show outperformance relative to the Nasdaq, which has risen 8.23 percent over the same period. This is somewhat surprising given the fact that the Federal Reserve is positioning for moves that could negatively impact stock markets. Nonetheless, XOM reached its 52-week high at $95.55 on July 15, so the broader range can be defined here using the YTD low of $71.55 that posted on January 20.
During the same period, crude moved from $36.76 per barrel to $50.40 per barrel, signifying a rise of 37.11 percent. For commodities investors, this is a significant disconnect and, ultimately, an indication that Exxon stock has yet to fully benefit from the broader trends that are being seen in energy markets assets.
Chart View: Exxon Mobil 1-Year Chart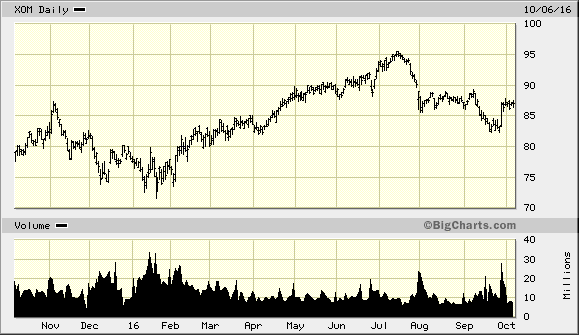 Source: OilTraders.tech
For 2015, Exxon posted revenues of $259.49 billion along with earnings of $16.5 billion. For the first two quarters of FY2016, the company has clocked revenues of $47.1 billion and $56.36 billion, which equates to a staggering growth rate of 19 percent. At the same time, earnings results came in at $1.61 billion and $1.7 billion, which represents a growth rate of 5%.
To be sure, the markets have responded favorably with steady buying activity, but conflicting outlooks at several large banks have kept a lid on bullish rallies. The stock has been supported by an upgrade from Argus in May 2016 and overall good performance in the energy sector. But a downgrade from BofA/Merrill Lynch in June 2016 dragged the stock down and kept many potential investors on the sidelines.
Many of these conflicts continue, however, as analysts are divided on the point that heightened global growth concerns will impact stock performance going forward. Most of these arguments have centered on the fact that slowing economies will pull down demand for crude oil and, in turn, reduce oil prices further. When these areas filter into other areas of the economy, is it much more likely that businesses and individual consumers will find it difficult to make purchases at the same rate.
Unfortunately, China is unlikely to return to the glory days of double-digit growth, the eurozone still needs to absorb the shock from Brexit, and the United States is treading water in its efforts to generate a strong growth number. The Reserve Bank of Australia has also undertaken moves that could derail energy markets. The macro nature of these problems should continue to hit Exxon's revenue and profitability numbers well into next year.
For these reasons, the average expected price for the end of this fiscal year is $89.63 per share, according to the Yahoo analysts poll. This is not very far from the current stock price, so there is limited upside for investors who are not already in active positions. The stock's impressive dividend does help to make up for this, but there is still valuation risk that could easily erode those gains. Add to this the fact that the stock is witnessing more analyst downgrades than upgrades, and we are seeing a climate for put options in XOM at current levels.
Disclosure: I/we have no positions in any stocks mentioned, and no plans to initiate any positions within the next 72 hours.
I wrote this article myself, and it expresses my own opinions. I am not receiving compensation for it (other than from Seeking Alpha). I have no business relationship with any company whose stock is mentioned in this article.