There have been some serious concerns regarding Boeing (NYSE:BA) and its future performance particularly regarding its future ability to maintain its free cash flow. Setbacks in the form of declining orders and production rate for the 737, falling demand for the 747 program, and the phasing out of fighter jet production from the company's Defense, Space, and Security segment have made many question whether or not the company can maintain its streak of growing free cash flows. If true then this scenario could be worrying for long-term investors who also value the company's ability to return value to shareholders through share buybacks and ever increasing dividends, but that does not seem like the case, and let me show you why.

The Leaks
Probably the one commercial plane which Boeing is struggling with the most right now is the 777. So far the company has decided to reduce production of the plane by the start of next year as it continues towards its target of transition to the new 777X plane by 2020. However it's easier said than done. To ease its transition to the new generation model, the company set an order target of 40-50 units per annum, but as of 4th October, net orders for the 777 stand at six according to the company site's information.
There is some consolation though, as the Saudi Airlines and the recent lucrative Qatar Airways deal will see the tally jump up to 31, helping Boeing reach its lower limit for orders this year. The deal has helped Boeing stall another production rate cut, but not completely mitigate it. The reality of the situation is grave: Boeing is being forced to struggle to meet its target for the 777 this year and given that the plane will continue to face declining demand in the coming years will not make it any easier for the Chicago-based plane manufacturer.
A smooth and efficient transition from an old generation model to a new one is absolutely crucial, unless the company likes those one-time costs, which take a hefty bite from quarterly EPS. Maintaining a steady transition will also play a pivotal role in the company's ability to maintain growing free cash flows.
On the other hand, the legendary 747 is on its way out. Global demand for supersized planes is at an all-time low and both Boeing and its European counterpart, Airbus, know this all too well. As long-time customer Cathay Pacific (OTCPK:CPCAY) bid farewell to its 747 earlier this month I believe it has initiated the end of an era. Eventually Boeing will cease production of the 747 altogether. Likewise the company's new defense segment chief announced this year that they would be moving away from the fighter jet production business altogether by the early 2020s. The new president of Boeing's Defense segment, Leanne Caret, insisted that she won't let revenues from the segment drop below $25 billion, but a reduction in revenues from this segment will have a diminishing impact on the company's overall free cash flows.
The Inflows
The 737 continues to be Boeing's cash cow, raking in 326 net orders as of the latest orders list and boasts an orders backlog of 4,300 orders for the model. The company plans to steadily increase its production rate of the 737 to 57 planes a month by 2019 from its current rate of 42 planes a month, and given the company's track record at meeting its goals and targets I believe it can easily achieve this feat. Getting new orders for the 737 or its latest 737 Max series is not going to be a problem for Boeing, as evident from the recent Qatar Airways deal which saw the airline agree to buy 60 narrow-body 737 Max jets for a total worth of $6.9 billion.
Similarly, the 787 Dreamliner is continuing to rake in orders as well. Qatar Airways deal is the gift that keeps on giving, having added 30 orders for the Dreamliner in the massive $18.6 billion. Keep in mind that the 787-9 goes for an average price of $264.8 million a plane according to the price list on the company's site. The 787 had its fair share of troubles, at times hitting the company's stock price directly with its headline-worthy problems. But it seems like the business unit is finally starting to take off as Boeing expects to increase its contribution to its cash flows from the Dreamliner in the years leading up to 2020.
The size of the 737 and 787 programs and their respective potentials is easily more than enough to offset any headwinds from its lagging operational units. Some of these lagging units will actually correct themselves eventually, such as the 777 program, which will most likely adjust its contribution once it completes its transition.
The Numbers
Despite the fact that BA has not fully recovered from the big drop it faced earlier this year the stock price continues to trade between a $125-135 bracket, but I expect this barrier to be broken in the coming year. And this belief stems from the fact that the company continues to return value to shareholders while improving its own free cash flow position.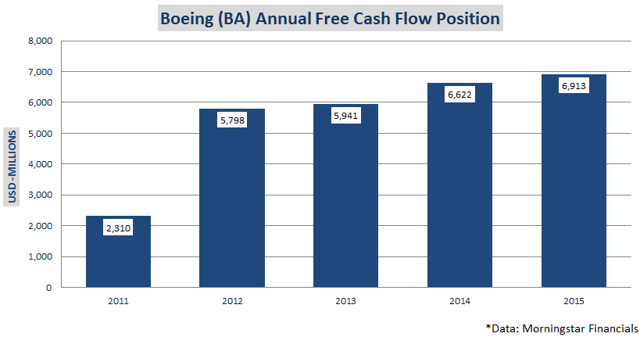 (Chart by Author)
In the past five years, free cash flow has ballooned to $6.913 billion, according to the company's 2015 annual report. Half way into the year Boeing was yet again outpacing last year's FCF by nearly a billion dollars, y-o-y.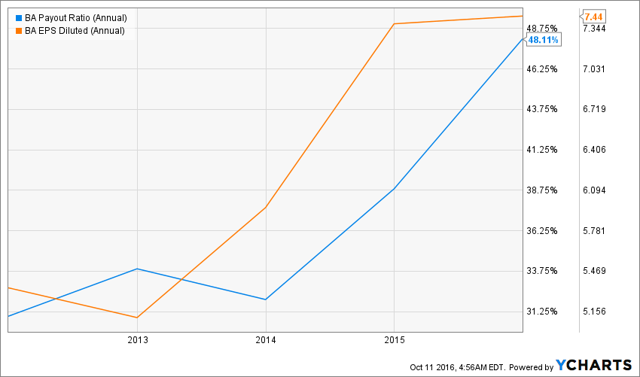 (Source: YChart)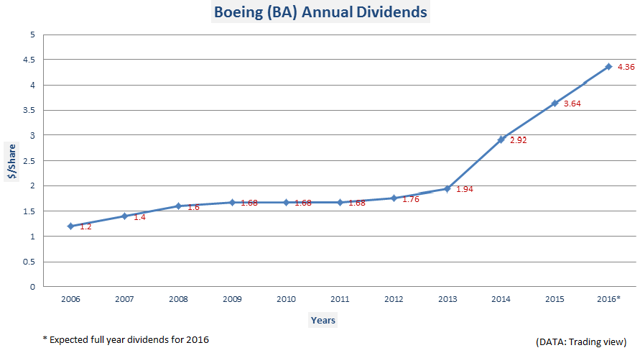 Boeing's dividend history speaks for itself. In fact, in the last few years, it even increased the growth rate of its annual dividends. With a current payout ratio of under 50% and ample reserves to continue increasing this ratio you have a stock which will not only hold its current value but also see itself climb in the coming year. In the upcoming two quarter Boeing should be on its way to record an annual dividend of $4.36 per share. I place a cautious one year target price of $155 on BA.
Disclosure: I/we have no positions in any stocks mentioned, and no plans to initiate any positions within the next 72 hours.
I wrote this article myself, and it expresses my own opinions. I am not receiving compensation for it (other than from Seeking Alpha). I have no business relationship with any company whose stock is mentioned in this article.