I have shorted Wal-Mart (NYSE:WMT) in May 2016 and wrote an article about it. The short thesis was based on margin pressure from other retailers, discount retailers and online retailers. I believe my thesis is now happening. On October 6th, 2016, WMT had an investor conference where the management introduced its strategy for the future. The main points are:
Invest in online: WMT wants to double warehouses to 10 by the end of the year. Firstly, online sales are losing money as management has pointed out in the conference. Secondly, it will decrease FCF and thirdly, it will still be difficult to compete with Amazon (NASDAQ:AMZN), which has 40 warehouses over US and plans to build five more in Q1.
Price investment: This has helped WMT in the first two quarters of this year to increase traffic and consequently sales. But all competitors followed and also decreased prices so I believe that the positive effect will diminish.
Capital expenditures: WMT believes this year's capex is an outlier. I believe that if WMT wants to effectively compete with AMZN it will repeat for a few years.
Slow store count growth: WMT will open this year 130 stores in US, down from projected 135-155, and also down from 230 stores opened last year. Next year, WMT plans to open 55 new stores.
WMT has also set guidance, which disappointed analysts.
2018 EPS are expected to be flat compared to 2017 EPS. This is despite of the large buybacks. WMT has still $11.7B remaining for buybacks from its $20B buyback program.
2019 EPS growth was reduced from 5-10% to 5% because of the needed investments in online sales. That just means WMT is going to invest in money-losing online sales and compete online where it has no competitive advantage. Again, it's despite buybacks. With $11.7B, WMT can buy back 5.4% of its stocks so the net income will probably decline. On top of that, the 2019 expectations are based, from my point of view, on unrealistic assumptions. Management assumes store business continues with good momentum and e-commerce losses decrease after 2018.
Since 5/17/2016 when I have shorted the stock, WMT is the best-performing retailer. Its shares have appreciated by 4.9% compared to Dollar Tree (NASDAQ:DLTR) +0.5%, Target (NYSE:TGT) -5.8%, Dollar General (NYSE:DG) -14.4% and Kroger (NYSE:KR) -15.5%. I believe it is because of exaggerated optimism by investors. Right after better-than-expected Q2 earnings several analysts upgraded the stock and increased price targets. For example, Jefferies put price target at $82, Nomura at $81.
Stock price since 5/17/2016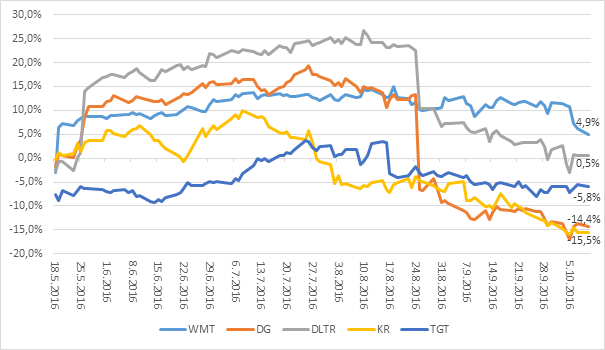 Source: finance.yahoo.com
WMT is the only retailer, which outperformed same-store sales growth expectations in the last two quarters. I give credit to WMT's management because it was one of the first who saw price deflation and it decreased prices. WMT lured in more traffic and people spent more money at the expense of other retailers. But competitors are following WMT and they are also investing in price. Managements of all competitors have stated that they are going to invest in price. The positive effect on WMT will diminish and the company will probably also underperform.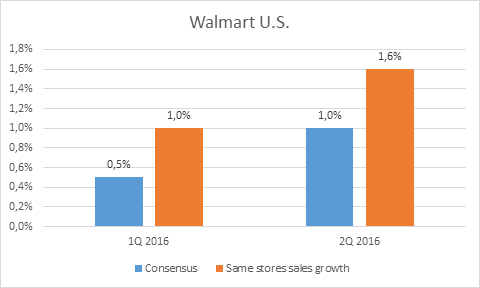 Source: Company's filings. Reporting period for Q2 ending 7/31/2016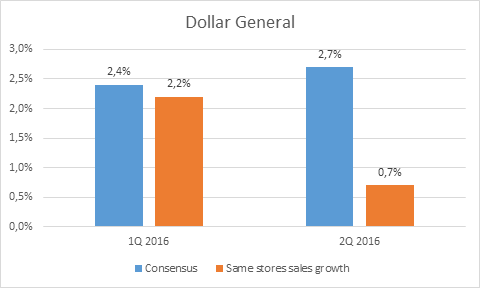 Source: Company's filings. Reporting period for Q2 ending 7/29/2016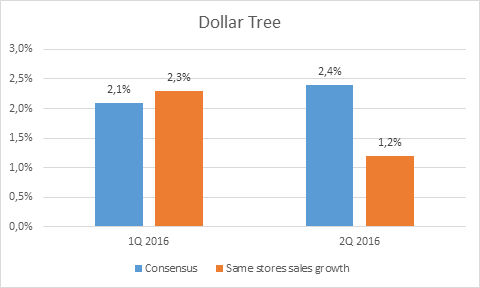 Source: Company's filings. Reporting period for Q2 ending 7/30/2016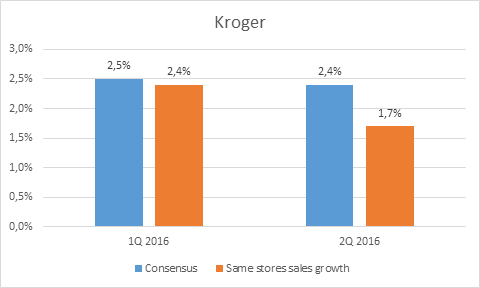 Source: Company's filings. Reporting period for Q2 ending 8/13/2016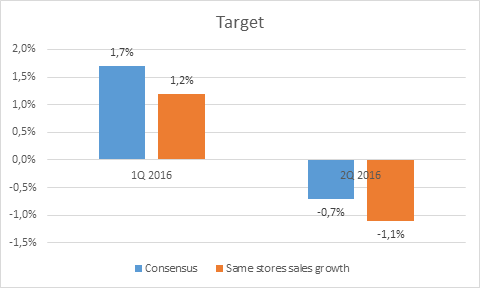 Source: Company's filings. Reporting period for Q2 ending 7/30/2016
Even though WMT's management was one of the first to spot the price deflation and reacted quickly to the coming changes, I believe the industry trend will also hit WMT. Most competitors have decreased prices just recently so the next two quarters will show how WMT can compete in this environment.
After the last investor conference, analysts decreased EPS expectation and two analysts already decreased target price - RBC Capital to $75 and Telsey Advisory Group to $76.
Summary
As I have stated in my last analysis, I believe the price deflation period will be long and will dramatically decrease retailer's earnings. The simple strategy, which every company will follow, will be to decrease prices. This will force others to follow and it will create classical prisoner's dilemma. My target price for WMT is $42.48.
Disclosure: I am/we are short WMT.
I wrote this article myself, and it expresses my own opinions. I am not receiving compensation for it (other than from Seeking Alpha). I have no business relationship with any company whose stock is mentioned in this article.