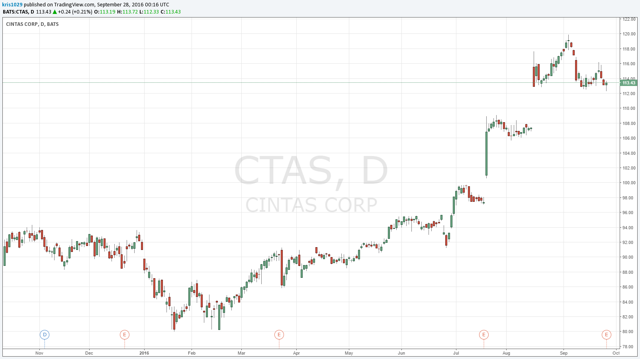 By The Valuentum Team
Cintas (NASDAQ:CTAS) continues to put up strong results, with fiscal 2016 marking its sixth consecutive year of double digit earnings per share growth. The company has raised its annual dividend in each of the past 30+ years, a track record that is enviable by new initiators and one that puts it on the coveted list of Dividend Aristocrats. Though Cintas is a consistent grower of its dividend, special dividends aren't unusual. In fact, during fiscal 2015, the company paid an additional special $0.85 per share dividend related to the cash proceeds from the Shred-it Transaction.
For a company that has a Dividend Cushion ratio of 3+ and has paid a growing dividend in each of the past 30+ consecutive years, it'd be crazy for us to think that Cintas won't hold its dividend track record dear. Despite the company's impressive dividend track record, it still has a meager yield, coming in just above 0.9% at recent price levels. We fully expect the company to continue growing its dividend in coming years, but is its yield enough when paired with its valuation potential? Check out our opinion on the status of shares compared to our fair value estimate in the 'Valuation Analysis' section of this article.
We're forecasting dividend growth at a high-single-digit to low-double-digit pace, and we think the firm's low dividend payout ratio speaks to increased growth potential beyond that. Large share repurchases and potentially value-destructive acquisitions may be the only threats to the pace of dividend expansion for the foreseeable future. Let's take a closer look at the remainder of Cintas' investment thesis. There's much more to consider than the size of its payout, something many investors in today's market may have trouble keeping sight of.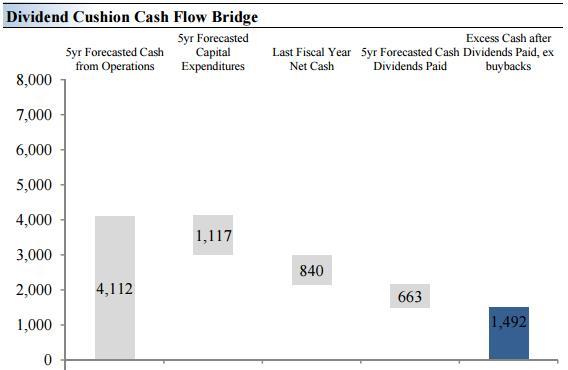 Image source: Valuentum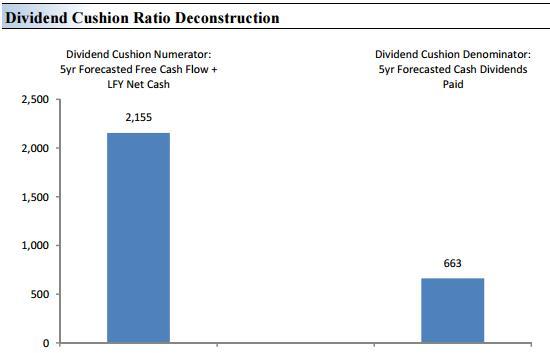 Image source: Valuentum
Cintas Corp's Investment Considerations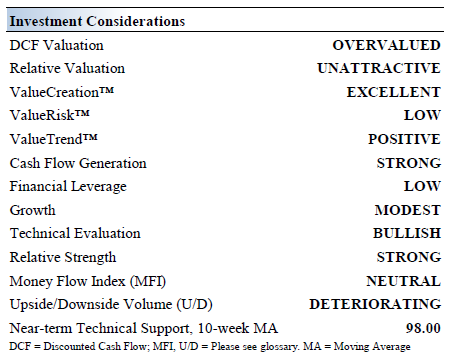 Image source: Valuentum
Investment Highlights
• Cintas primarily provides uniform rental services, but it also has first aid, safety, fire protection, and document management service operations. The company serves 900,000 businesses of all types, boasting significant customer diversity. Cintas recently formed a partnership with Shred-it International.
• Cintas is the largest company in the uniform industry, and its top line and diluted earnings per share have expanded at a nice mid-single-digit annual clip during the past 10 years. With the exception of its 'Uniform Direct Sales' business, gross margins run in the ~45% range.
• Fiscal 2016 was Cintas' sixth consecutive year of double-digit earnings per share growth. The firm's organic growth has outpaced growth in US GDP and employment, and it expects this to continue. Its unmatched scale provides unique leveraging opportunities and global sourcing capabilities.
• Cintas' free cash flow profile has improved, and should continue to do so in the near term. Management recently issued solid performance targets for fiscal 2017, with expectations for revenue to be in the range of $5.15-$5.225 billion. Earnings per share guidance came in at a range of $4.35-$4.45.
• Long-term debt has expanded significantly since the Great Recession, reaching ~$1.1 billion as of late. The firm's credit ratings remain firmly in investment grade territory, however (BBB+/A2). Management continues to buy back stock.
Business Quality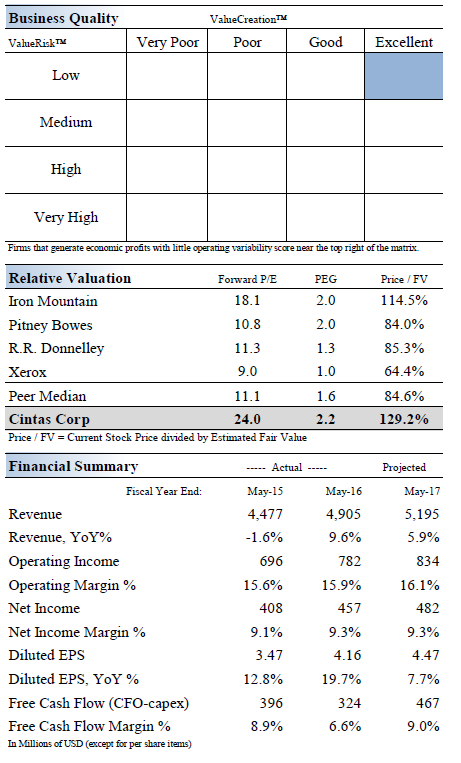 Image source: Valuentum
Economic Profit Analysis
In our opinion, the best measure of a firm's ability to create value for shareholders is expressed by comparing its return on invested capital with its weighted average cost of capital. The gap or difference between ROIC and WACC is called the firm's economic profit spread. Cintas Corp's 3-year historical return on invested capital (without goodwill) is 28.6%, which is above the estimate of its cost of capital of 10.1%. As such, we assign the firm a ValueCreation™ rating of EXCELLENT.
In the chart below, we show the probable path of ROIC in the years ahead based on the estimated volatility of key drivers behind the measure. The solid grey line reflects the most likely outcome, in our opinion, and represents the scenario that results in our fair value estimate.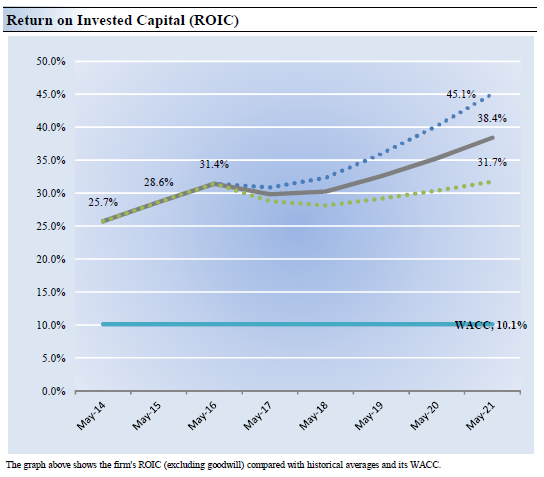 Image source: Valuentum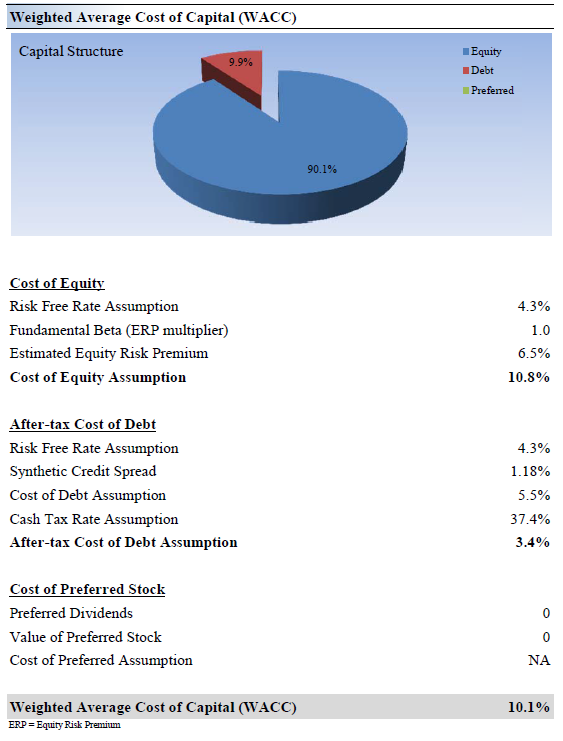 Image source: Valuentum
Cash Flow Analysis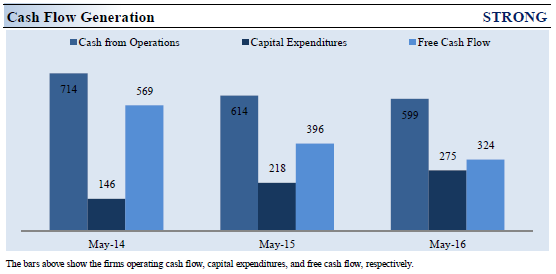 Image source: Valuentum
Firms that generate a free cash flow margin (free cash flow divided by total revenue) above 5% are usually considered cash cows. Cintas Corp's free cash flow margin has averaged about 9.3% during the past 3 years. As such, we think the firm's cash flow generation is relatively STRONG.
The free cash flow measure shown above is derived by taking cash flow from operations less capital expenditures and differs from enterprise free cash flow (FCFF), which we use in deriving our fair value estimate for the company. At Cintas Corp, cash flow from operations decreased about 16% from levels registered two years ago, while capital expenditures expanded about 89% over the same time period.
Valuation Analysis
We think Cintas Corp is worth $83 per share with a fair value range of $66-$100.
The margin of safety around our fair value estimate is derived from an evaluation of the historical volatility of key valuation drivers and a future assessment of them. Our near-term operating forecasts, including revenue and earnings, do not differ much from consensus estimates or management guidance. Our model reflects a compound annual revenue growth rate of 5.7% during the next five years, a pace that is higher than the firm's 3-year historical compound annual growth rate of 4.4%.
Our model reflects a 5-year projected average operating margin of 17%, which is above Cintas Corp's trailing 3- year average. Beyond year 5, we assume free cash flow will grow at an annual rate of 3.8% for the next 15 years and 3% in perpetuity. For Cintas Corp, we use a 10.1% weighted average cost of capital to discount future free cash flows.
Image source: Valuentum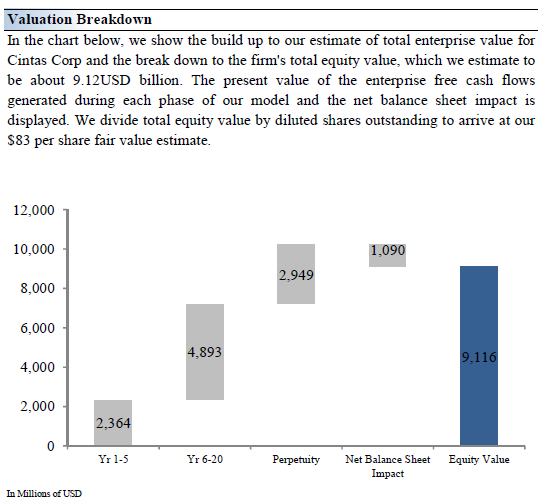 Image source: Valuentum

Image source: Valuentum
Understanding the Fair Value Range and Why It's Important
FAQ: Why do you use such a wide fair value range for certain companies?
One of the most important concepts of the Valuentum methodology (and valuation in general) is the understanding that the value of a company is a range of probable valuation outcomes, not a single point estimate. Even well-seasoned stock analysts are guilty of saying that a company's shares are worth exactly $25 or a firm's stock is worth exactly $100. The reality is that, in the first case, the company's shares are probably worth somewhere between $20 and $30, and in the latter case, the stock is worth somewhere between $75 and $125.
Why? Because all of the value of a company is generated in the future (future earnings and free cash flow), and the future is inherently unpredictable (unknowable). If the future could be predicted with absolute certainly (knowable), then a stock analyst could say a company's shares are worth precisely this, or that a firm's stock is worth precisely that. Not because he or she would know where the stock would be trading at, but because he or she would know precisely what future free cash flows would be (and all other modeling facts-not assumptions in this case) and arrive at the exact and non-debatable value of the firm.
But the truth of the matter is that nobody knows the future, and analysts can only estimate what a company's future free cash flow stream will look like. Certain unexpected factors will hurt that free cash flow stream relative to forecasts, while other unexpected factors will boost performance. That's how a downside fair value estimate and an upside fair value estimate is generated, or in the words of Warren Buffett and Benjamin Graham how a "margin of safety" is generated. Only the most likely scenario represents the point fair value estimate. Any stock analyst that says a company is worth a precise figure--whether it's $1 or $100--falls short of understanding one of the most important factors behind valuation.
But why the large range in many cases?
Well, there are many firms in our coverage universe that have a very large range of outcomes in their future free cash flow growth. And because discounting free cash flows is an integral part of calculating the fair value estimate of a company, the range of fair values will also be large. To illustrate this point, let's take a look at the difference between the levels of free cash flows in Year 20 under three different future growth rates: 10%, 15%, and 20%. Though the growth rate between each scenario is but 5 percentage points, the magnitude of the free cash flow difference is astounding many years into the future, and our discounted cash-flow process considers the long-term intrinsic value of firms.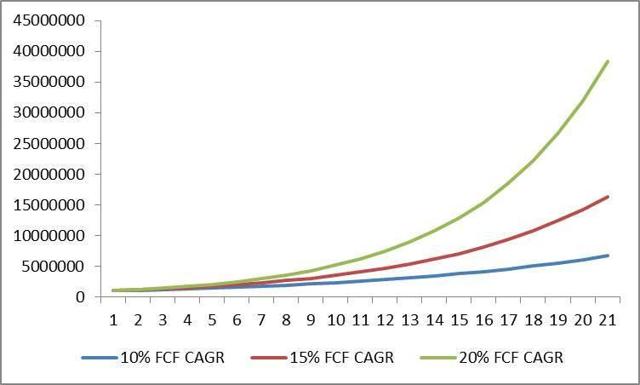 Under these future free-cash-flow scenarios, if we assume an 8% discount rate and 100,000 shares outstanding (and no debt), the difference in the fair value estimate between the upside case (green line) and downside case (blue line) would be an incredible $68 per share ($82 per share less $14 per share). That's a huge fair value range (80%+), and all because of just a 10 percentage point difference in a future free cash flow growth assumption. For firms that are growing cash flows at 200% or 300% per annum, a large range of fair value outcomes is not only inevitable but also very reasonable. In other words, the Valuentum framework provides an avenue to quantify the upside and downside risks investors are taking in high uncertainty and fast-growing enterprises.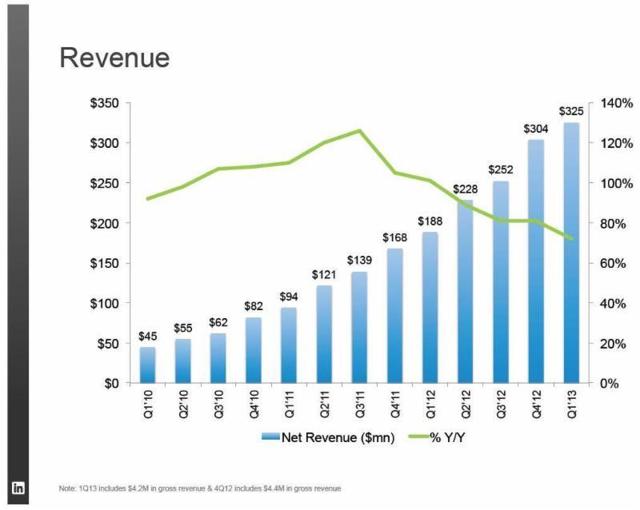 Image Source: LinkedIn
To really hit this point home, shown above is a slide of LinkedIn's (NYSE:LNKD) revenue from the first quarter of 2010 through the first quarter of 2013. The green line (mapped to the right axis) shows LinkedIn's revenue growth rate. Let's assume revenue expansion translates into similar free cash flow growth expectations (not exactly a precise assumption, given the leverage in LinkedIn's business model), but bear with us for simplistic illustrative purposes. Will LinkedIn's revenue/cash flows expand at a 20% rate, a 40% rate, or a 60% rate (or an even greater pace) through year 20?
It's a very, very difficult question to answer. Remember how significant that 10 percentage point spread was in the hypothetical example above? Well, it's even more significant for LinkedIn. We know LinkedIn's free cash flows will expand, and expand fast, but just how fast is certainly debatable. To a very large extent, that's why LinkedIn's range of probable outcomes (fair value range) is so large. Understanding the cone of fair value outcomes of a company is helpful because the size of the range tends to be positively correlated to the equity's volatility. If you recall, look at what happened to LinkedIn's stock recently when investors ratcheted down their long-term growth assumptions (and by extension, the company's intrinsic value).
Shares collapsed in a huge way.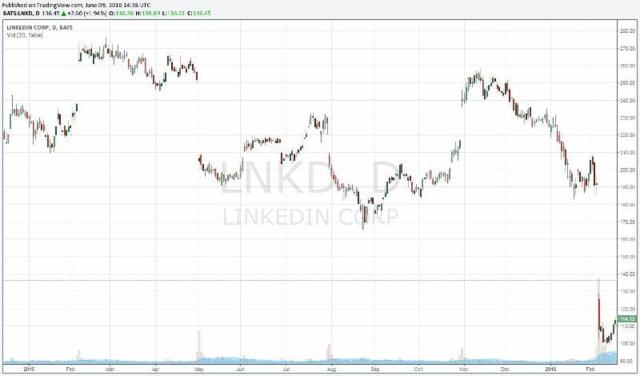 But it was largely because of that same weakness in equity pricing that drove Microsoft (NASDSAQ:MSFT) to take the leap to buy LinkedIn's equity outright just a few months later. Over just a very short period of time, LinkedIn's shares effectively collapsed and then surged as the chart below shows (its intrinsic value range didn't change much, however). Having a fair value range that adequately captures both the upside and downside cases for a company's shares remains an integral part of stock investing. Not only does it help hone in on the potential risk-reward profile of an equity at any given time, it also helps reveal the attractiveness of various "entry" or "exit" points using a robust free-cash-flow based and fundamentally-sound intrinsic value estimate as the anchor.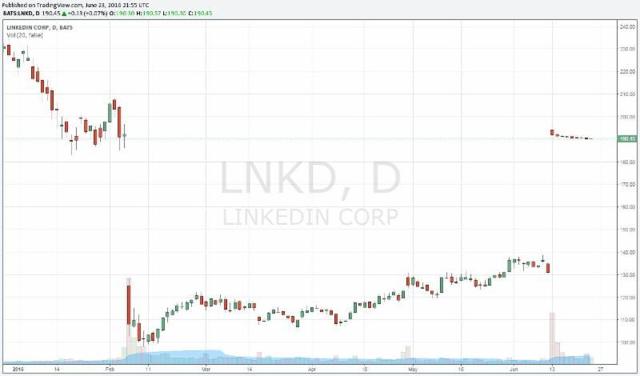 We're scouring our coverage universe for firms that are trading outside of their respective fair value ranges. A firm trading below the low end of its fair value range, for example, is undervalued, while a firm trading above its fair value range is overvalued. The fair value range for each company captures the inherent uncertainty of the trajectory of that firm's unique future free cash flow stream. For the 1,400+ companies we include in our coverage universe, we provide a discounted cash flow derived fair value estimate and a corresponding fair value range -- and a robust discounted cash-flow process is only one aspect of our service.
Margin of Safety Analysis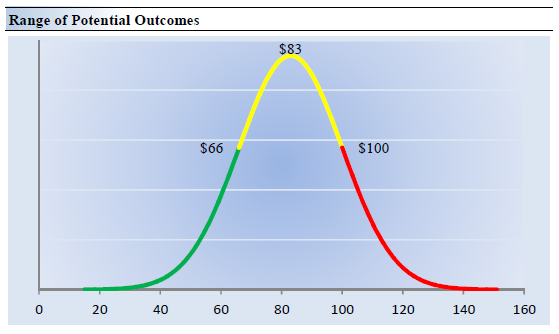 Image source: Valuentum
Our discounted cash flow process values each firm on the basis of the present value of all future free cash flows. Although we estimate the firm's fair value at about $83 per share, every company has a range of probable fair values that's created by the uncertainty of key valuation drivers (like future revenue or earnings, for example). After all, if the future were known with certainty, we wouldn't see much volatility in the markets as stocks would trade precisely at their known fair values.
Our ValueRisk™ rating sets the margin of safety or the fair value range we assign to each stock. In the graph above, we show this probable range of fair values for Cintas Corp. We think the firm is attractive below $66 per share (the green line), but quite expensive above $100 per share (the red line). The prices that fall along the yellow line, which includes our fair value estimate, represent a reasonable valuation for the firm, in our opinion.
Firms that fall along the green line we categorize as 'consider buy,' while companies that fall along the red line we categorize 'consider sell.' The majority of stocks on the market are fairly valued, and thus garner little investment consideration from us. Of course, each investment decision must be made within the context of the broader portfolio within which it is included. Any and all of our fair value ranges should not be considered recommendations to buy or sell and are strictly for informational purposes.
Future Path of Fair Value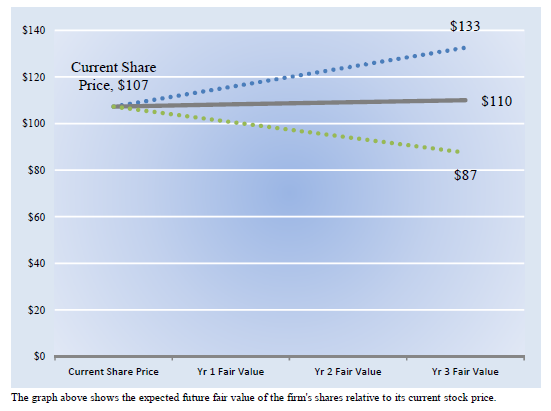 Image source: Valuentum
We estimate Cintas Corp's fair value at this point in time to be about $83 per share. As time passes, however, companies generate cash flow and pay out cash to shareholders in the form of dividends. The chart above compares the firm's current share price with the path of Cintas Corp's expected equity value per share over the next three years, assuming our long-term projections prove accurate.
The range between the resulting downside fair value and upside fair value in Year 3 represents our best estimate of the value of the firm's shares three years hence. This range of potential outcomes is also subject to change over time, should our views on the firm's future cash flow potential change.
The expected fair value of $110 per share in Year 3 represents our existing fair value per share of $83 increased at an annual rate of the firm's cost of equity less its dividend yield. The upside and downside ranges are derived in the same way, but from the upper and lower bounds of our fair value estimate range.
This article or report and any links within are for information purposes only and should not be considered a solicitation to buy or sell any security. Valuentum is not responsible for any errors or omissions or for results obtained from the use of this article and accepts no liability for how readers may choose to utilize the content. Assumptions, opinions, and estimates are based on our judgment as of the date of the article and are subject to change without notice.
Disclosure: I/we have no positions in any stocks mentioned, and no plans to initiate any positions within the next 72 hours.
I wrote this article myself, and it expresses my own opinions. I am not receiving compensation for it (other than from Seeking Alpha). I have no business relationship with any company whose stock is mentioned in this article.