It has been 41 days now since Equity REITs split off from the Financials sector into their own home within the Global Industry Classification Standard (or GICS). Up until September 1st, Equity REITs were categorized in the financial sector along with banks and other traditional financial conglomerates.
This new sector consists of the current group of real estate holdings in the index (except for mortgage REITs, which will remain in the financial sector) and it was designed to add more fuel to the fire, essentially validating the role that real estate is a core asset class that should be a fundamental part of portfolio allocation.
The sector will be populated with 28 new issues with a combined market cap of just over $600 billion. Most of the companies are large cap REITs such as American Tower (NYSE:AMT) and Boston Properties (NYSE:BXP). Some of these REITs include American Tower, Boston Properties, General Growth Properties (NYSE:GGP) and Public Storage (NYSE:PSA).
The GICS sectors (11 now) are widely used to gauge how asset allocations align with markets. With real estate added to the top line of sectors, investors will notice where real estate is and whether they are overweighed or underweighted. Analyses of market movements and fundamentals will focus on real estate the same way they focus on industrials or technology.
Yesterday I wrote an article on Ventas Inc. (NYSE:VTR), one of the REITs in the S&P 500, and I decided that it would be interesting to write a follow-up article comparing the REIT constituents within the S&P 500. As mentioned in my article, I own shares in VTR in addition to several other S&P 500 REITs within my Durable Income Portfolio.
Keep in mind, my Durable Income Portfolio is not structured to overweight the large cap REITs, instead, our stock picks are targeted by selecting sound securities that offer steady and reliable earnings and dividend growth. It's no wonder that the Durable Income Portfolio has drastically outperformed most all REIT ETFs. Year-to-date the Vanguard REIT Index ETF (NYSEARCA:VNQ) has returned 11.8% compared to the Durable Income Portfolio that has returned 21.8%.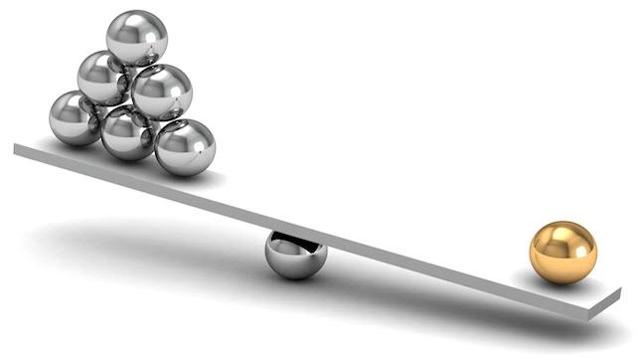 The S&P 500 REITs
Here is a snapshot of the S&P 500 REITs: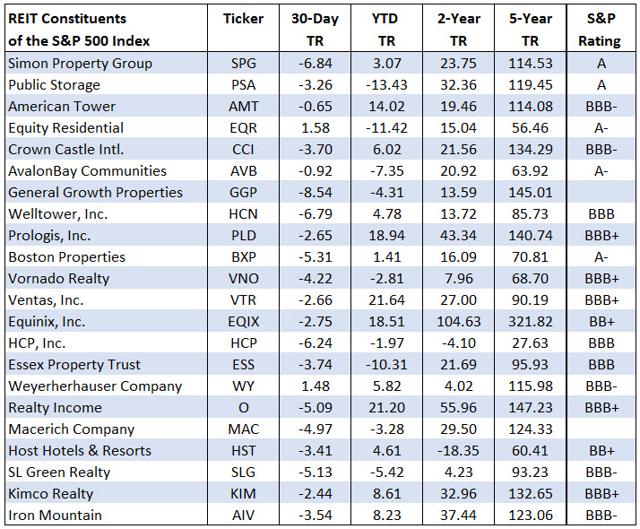 Source: S&P Global Market Intelligence
As you can see below, we have overweight positions - Realty Income (NYSE:O) and Ventas - also the top 1-year performers within the S&P 500 REIT list (the names in blue are REITs we own in the Durable Income Portfolio):

Source: S&P Global Market Intelligence
Over the last two years 3 out of 4 of our Durable Income REITs have outperformed. The average return for all of the S&P 500 REITs was 19.9% and VTR, Kimco Realty (NYSE:KIM) and Realty Income beat that average. Note: EQIX was not included because the company converted to a REIT in 2015.

Source: S&P Global Market Intelligence
Over a 5-year period, 2 of the 4 REITs in the Durable Income Portfolio beat the average. As you can see, O and KIM outperformed as the average of all S&P 500 REITs was 101.2%. Again, EQIX was excluded because the company was converted to a REIT in 2015.
Source: S&P Global Market Intelligence
One of the reasons that we do not own many of these REITs is because of their historical dividend records, most cut dividends during the last recession. Conversely, many of these REITs were able to rebound and claw back dividends. Here is a snapshot of dividend growth from 2015-2016 (Note: several REITs paid special dividends which we excluded. Also, VTR cut its dividend as a result of the CCP spin).

We also decided it would be interesting to model dividend growth for 2017:

There is no doubt that the Real Estate category will become a beacon, bringing more capital into the sector; however, the market is becoming more rattled by the fear of rising rates. Since September 1st, Equity REITs have returned -6.73% compared with -1.37% for the S&P 500 (VNQ returned -7.76%).
Our stock picking strategy - quality versus quantity - has provided outsized results:

Source: S&P Global Market Intelligence
Later this week I will be writing an article for REITs and Rising Rate...stay tuned.
Author's Note: Brad Thomas is a Wall Street writer and that means that he is not always right with his predictions or recommendations. That also applies to his grammar. Please excuse any typos and I assure you that he will do his best to correct any errors if they are overlooked.
Finally, this article is free, and the sole purpose for writing it is to assist with research (Thomas is the editor of a newsletter, Forbes Real Estate Investor) while also providing a forum for second-level thinking. If you have not followed him, please take five seconds and click his name above (top of the page).
Sources: S&P Global Market and FAST Graphs.
REITs mentioned: SPG, EQR, CCI, AVB, HCN, PLD, VNO, EQIX, HCP, ESS, WY, MAC, HST and SLG.
Disclaimer: This article is intended to provide information to interested parties. As I have no knowledge of individual investor circumstances, goals, and/or portfolio concentration or diversification, readers are expected to complete their own due diligence before purchasing any stocks mentioned or recommended.
Disclosure: I am/we are long O, DLR, VTR, HTA , STAG, GPT, ROIC, HCN, OHI, LXP, KIM, WPC, DOC, EXR, MYCC, TCO, SKT, UBA, STWD, CONE, BRX, CLDT, HST, APTS, FPI, CORR, NHI, CCP, CTRE, WPG, KRG, SNR, LADR, PEB, BXMT, IRM, CIO, LTC, DEA, NSA, HASI, LTC.
I wrote this article myself, and it expresses my own opinions. I am not receiving compensation for it (other than from Seeking Alpha). I have no business relationship with any company whose stock is mentioned in this article.