The weather may be cooling down, but things are definitely heating up in the crude oil market. Monday's announcement that Vladimir Putin would support OPEC in "balancing the oil market" sent prices over a dollar per barrel higher, setting the stage for a possible breakout to the upside. Russia is the globe's largest oil producer so Putin's move to align his nation with OPEC's recent decision to cut production by 1% to 2% has to be viewed as a bullish development.
Russia and Saudi Arabia have been on opposite sides of the Syrian Civil War with the former supporting the forces of Bashar Assad and the latter backing the opposition. Russia's close alliance with Iran - Saudi Arabia's biggest rival in the Middle East - means Russia and Saudi have been at loggerheads over oil policy ever since the latter's decision to flood the world with oil.
What has changed is mutual interest. Two years of weak oil prices have severely damaged the domestic financial positions of both nations, threatening social stability in Saudi Arabia and the ability of Russia to continue its aggressive and expensive projection of military power in Ukraine and Syria. Both nations desperately need higher oil prices. Putin's tacit endorsement of a supply cut is a signal that the Saudi plan to flood the globe with oil and force North American frackers and shale oil producers out of business has failed. Saudi Arabia's new willingness to limit production puts new bite into a formerly toothless OPEC.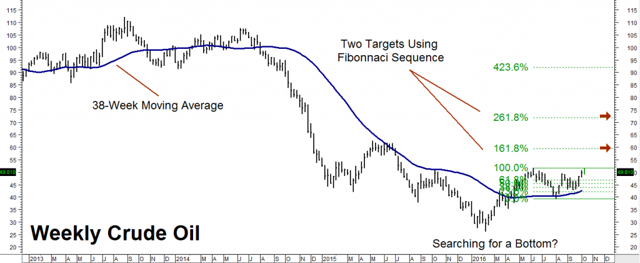 Data Source: Reuters / Datastream
The return of OPEC as a force in the crude oil market is visible in the price chart of crude oil (above). The black, sticky stuff negated its long-term downtrend back in April by closing convincingly over its key 38-week moving average. It tested that moving average again in August and bounced smartly, pushing prices firmly against resistance just above $51.70 per barrel.
Two consecutively higher closes above this level would help confirm the "reverse head and shoulders" bottom that has been forming in crude oil for the past year. Our intermediate-term upside targets are $60.00 and $72.00 per barrel, respectively, once $51.70 is convincingly breeched.
Crude oil call options are expensive, so one way to play crude oil to the upside would be to buy bull call spreads. April 2017 $56/$60 bull spreads in WTI crude oil closed Monday for $1,500. This, plus transaction cost, is the most the buyer of these spreads could lose on the trade. Each spread could be worth as much as $4,000 should crude oil hit our $60 per barrel target prior to option expiration on March 16, 2017.
"Canuck Buck" Is Solid Alternative to Crude
Canada's vast supplies of oil sands have kept the fluctuations of its currency tied closely to the price of crude oil. As the chart below illustrates, the "Canuck Buck" has a long history of tracking the price of crude oil, making it a surprisingly reliable surrogate.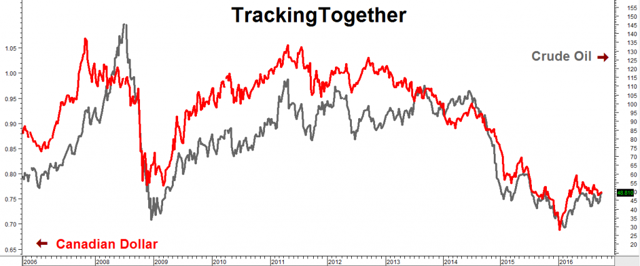 Data Source: Reuters / Datastream
Crude oil is notoriously volatile. This volatility is reflected in the relatively expensive prices of crude oil options. The Canadian dollar, on the other hand, tends to be far less volatile. This is also reflected in the price of Canadian dollar options. Using Canadian dollar options to make a bet on the direction of crude oil makes it possible to risk less while keeping the potential for similar, and at times even better, returns than by just sticking with crude oil.
We examined the weekly chart of crude oil earlier in this "Alert." Now let's take a look at the weekly chart of the Canadian dollar. They look almost identical but there is one important difference. The crude chart shows prices knocking against overhead resistance at old swing highs, but the Canadian dollar chart shows prices still testing their 38-day moving average. That Canadian dollar appears to be lagging crude oil.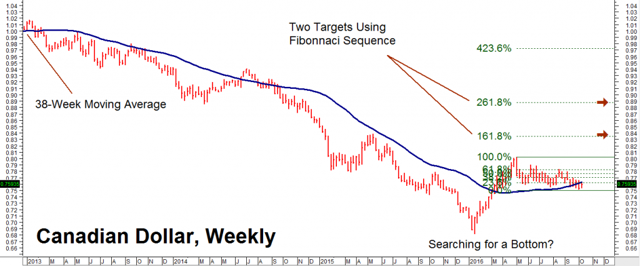 Data Source: Reuters / Datastream
Should the relationship between crude oil and the C-dollar hold up, this means the latter could have a relatively bigger move as it tries to catch up to crude oil on the upside. Better still, cheaper Canadian dollar options have the potential to provide a bigger bang for our buck than the bull call spreads we suggested earlier.
Our price targets for the Canadian dollar, given an upside breakout in crude oil, are .8350 and .8900, respectively. Buying the March 2017 .7900 Canadian dollar call gives us the right but not the obligation to be long the Canuck Buck for .7900 from now until option expiration on March 3, 2017. These calls closed yesterday for 56 points or $560. They will be worth at least as much as $4,500, should the Canadian dollar reach our .8350 upside objective prior to early March expiration and even more at prices above that.
The Canadian call options not only cost less than half the bull spread in crude, potential gains are not capped, making potential rewards greater.