By Jodie Gunzberg, Global Head of Commodities and Real Assets
Rebalancing season is underway again for the S&P GSCI. Last week, the index committee announced the proforma results for the 2017 weights in the S&P GSCI. While it is possible the target weights may change before the official press release, the proforma results are now listed on our website.
One way to look at the results is simply by the weight (Reference Percentage Dollar Weight found on page 11 of the methodology) but most traders want to know how much money is moving as a result of the rebalance to the new target weights. Given the weights on Oct.11, 2016, will change by the year's end, and that the weights announced are still proforma, the numbers calculated here are still approximate. The example shows the percentage weight changes and how many dollars are estimated to move for every $10 billion. The biggest shift is out of brent crude and into live cattle with an estimated $275 million out of brent and $150 million into live cattle for every $10 billion tracking the index. The energy sector is slated for the biggest outflow of over $570 million and livestock is set for the biggest inflow of near $320 million per $10 billion tracking the S&P GSCI. The (WTI) crude oil in the index is positioned to remain as the biggest commodity with a proforma 2017 target weight of 22.8%.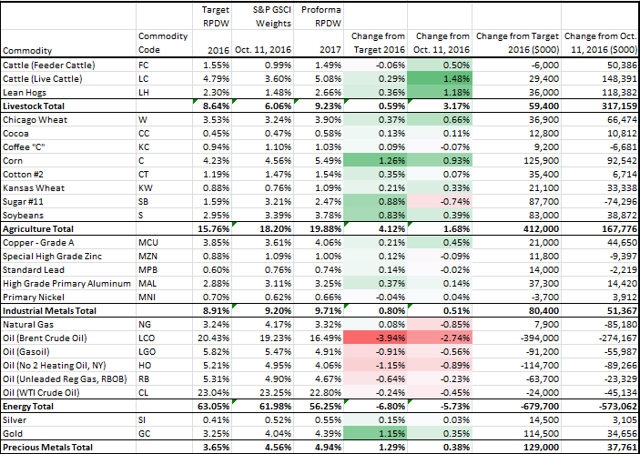 Source: S&P Dow Jones Indices
Disclosure: © S&P Dow Jones Indices LLC 2015. Indexology® is a trademark of S&P Dow Jones Indices LLC (SPDJI). S&P® is a trademark of Standard & Poor's Financial Services LLC and Dow Jones® is a trademark of Dow Jones Trademark Holdings LLC, and those marks have been licensed to S&P DJI. This material is reproduced with the prior written consent of S&P DJI. For more information on S&P DJI and to see our full disclaimer, visitwww.spdji.com/terms-of-use.