Hopefully, this article will help you grow your assets.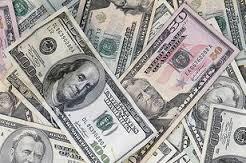 Welltower Inc. (NYSE:HCN) is the largest global healthcare REIT. The company focuses on acquiring, planning, developing, managing, repositioning and monetizing real estate assets in the U.S. (>80%), Canada and the U.K. It primarily invests in senior living, post-acute care and outpatient medical services properties. It focuses on superior properties in affluent, high-barrier-to-entry metropolitan markets. HCN partners with leading operators for senior housing and health systems that deliver superior value, while maintaining above-average earnings. 95% of the company's medical office building portfolio is affiliated with a healthcare system. Only about 6% of HCN's investments are located in the UK ($2.5B in gross real estate investments of $42B in HCN's enterprise value). Hence, HCN should not be overly negatively affected by the Brexit.
HCN has a portfolio as of September 30, 2015, of 1,488 properties in 46 states, Canada and the U.K. It carries a Moody's rating of Baa1 (stable), a Fitch rating of BBB+ (stable) and an S&P rating of BBB (positive). These are all solid investment-grade ratings. In August 2016, HCN paid its 181st consecutive quarterly dividend. HCN pays a 5% annual dividend. On September 14, 2016, HCN was added to the Dow Jones Sustainability Index (DJSI). The above items tell investors that HCN is a stable, reliable company that they can invest in longer term without undue worry.
The ten-year chart of HCN below shows the stock has performed well longer term.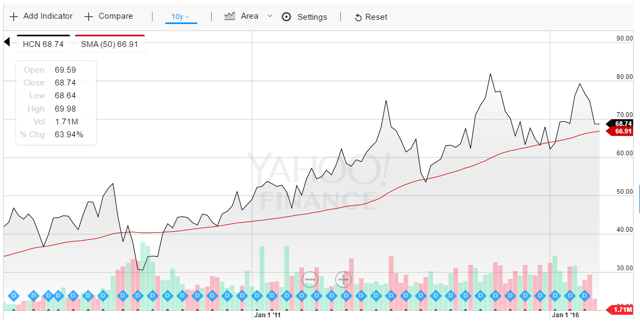 The low point of March 2009 shows that HCN did get hurt by the Great Recession. However, it bounced back quickly; and it has continued to rise far higher from its pre-recession high. In fact, a strong uptrend has been in place since 2000, which is a long time. This tells you HCN may be a good stock to ride a recession out with. The one-year chart of HCN below shows that the recent "taper tantrum" (and USD LIBOR rise) mediated pullback may be a good time to buy HCN. Remember also that HCN was recently added to the Dow Jones Sustainability Index. That is a good indicator of just how strong this stock is/has been over the long haul.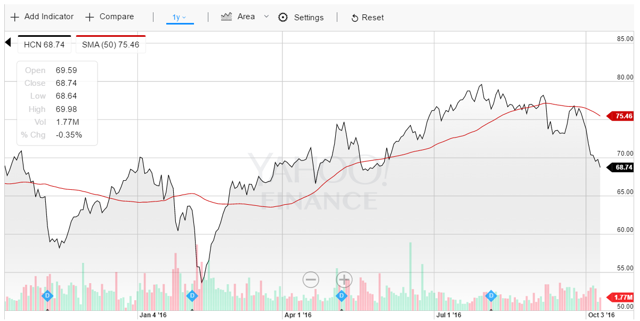 The ECB Monetary Policy Meeting Accounts (released on October 6, 2016) put an end to the "taper tantrum," when the ECB's notes indicated that the ECB intended to continue its €80B per month QE program at least through March 2017 and possibly beyond that, if needed. Some prior Draghi statements had apparently left room for speculation and that is what the market did.
The one-year chart above shows that on a shorter-term basis, HCN has pulled back far below its 50-day SMA. For a stock in a long-term uptrend, that is a good time to buy it. Yes, you still have to worry about a possible recession; but if you are willing to be a long-term investor, HCN should perform well long term regardless of when a new recession hits.
In addition to its long-term performance history, HCN also has good management and great demographics that should push its stock higher in the long run. The charts below show it is well diversified both in types of business and in partners of its businesses.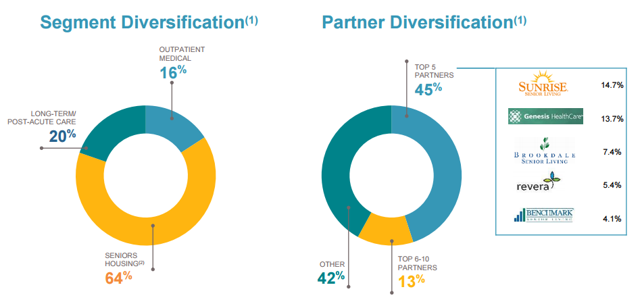 Since the fear of a recession or downturn may be an important factor in investors' decisions to invest, the chart below may soothe investors' worries. It shows that senior housing rents were much less affected than other rent categories in the Great Recession. Since HCN's portfolio is 64% Senior Housing, this is an important detail for investors.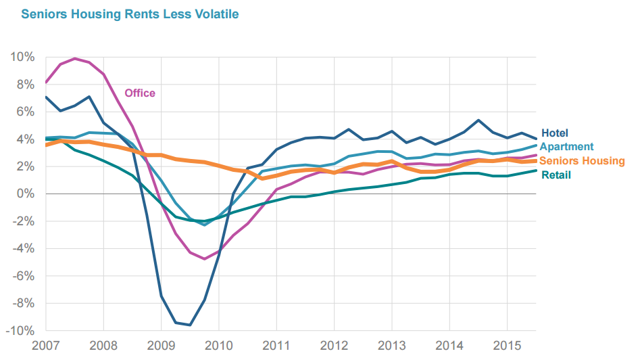 The demographics of the combined US, Canada and the UK of the retirement of the Baby Boom Generation are shown in the chart below.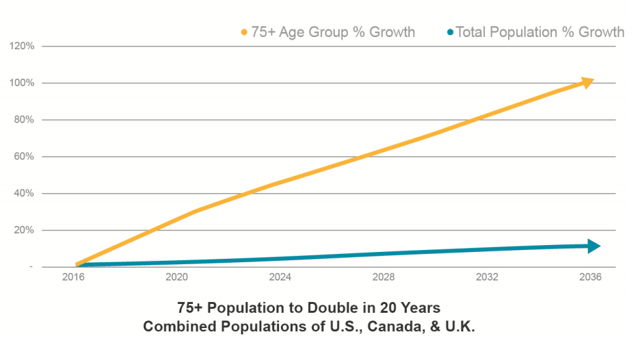 The above chart shows that the number of those aged 75+ in the combined US, Canada and the UK is expected to grow by roughly 100% over the next 20 years. Yet, the combined population for all ages is expected to grow by less than 15% over the same 20-year period. That means any business that caters to older age people has an excellent basis for growth from these demographic changes. Investors should also note that in the US (HCN's largest market) the per capita annual healthcare spend for ages 65-84 is roughly double that of ages 45-64; and the spending of ages 85+ per capita is roughly double again that of ages 65-84.
HCN also cites the rapid growth in the number of people who suffer from dementia worldwide. That number is expected to roughly double every twenty years. Such people will need more care than other people of the same age. That should provide a further growth impetus for HCN's industry and HCN.
There has been a 36% rise in outpatient visits since 1999 compared with only a 6% rise in inpatient visits over the same time period. In addition, there is a movement afoot in medicine today to convert as many inpatient visits as possible to outpatient visits. The latter is far less expensive. The expected strong rise in outpatient visits in coming years should help HCN's medical office business to do well in the future.
HCN tries hard to maintain a Class "A" Portfolio by emphasizing the following:
Investing in high barrier to entry markets.
Investing in newer assets with low Capex needs.
Utilizing Best-In-Class operating partners.
Practicing active portfolio management.
These practices have allowed HCN to generate top same-store NOI growth metrics in its industry (see chart below).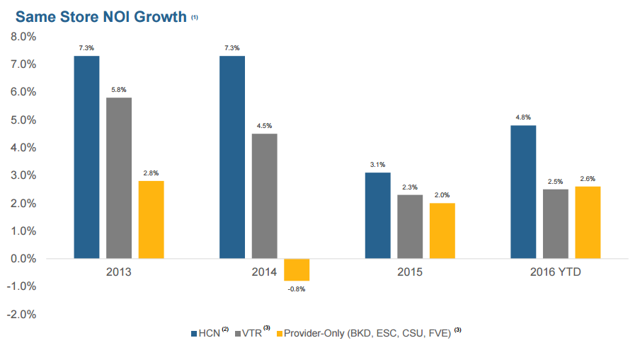 HCN has managed to do the above while driving down leverage. It has shown itself to be a truly well-managed company. The chart below depicts HCN's history of increasing normalized FFO per share (a 6.6% CAGR over the last five years), while decreasing leverage by 620+ bps over the same time.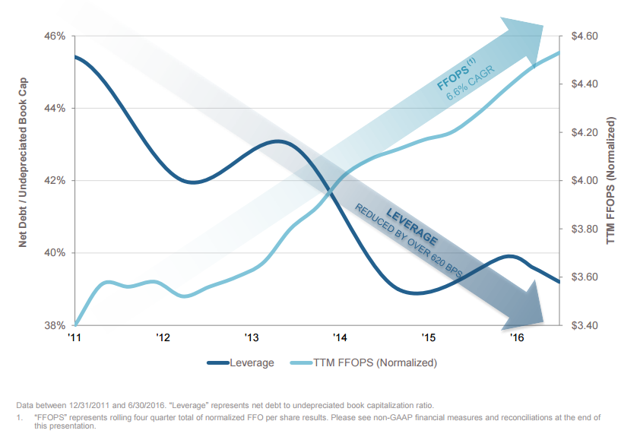 HCN has also improved all of the metrics in the table below nicely.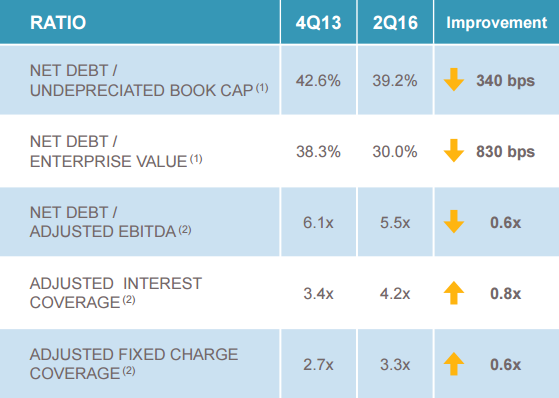 The net result of the great statistics above has been that HCN has produced a +15.8% per year average annual return since its inception. This has far outpaced the S&P 500 average annual return. One of the best and sturdiest aspects of this from an income investors' point of view is that it has grown its annual dividend at a 5.8% CAGR since 1971. In August 2016, it paid its 181st consecutive quarterly dividend (> 45 years). The chart below shows just how consistent HCN's dividend growth has been.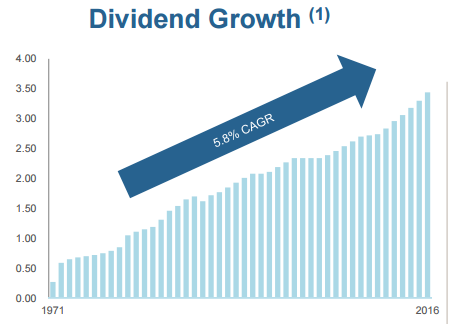 HCN currently pays a 5% annual dividend (a bit higher than normal due to the recent stock dip). The Q2 2016 FFO payout ratio was 75%; and the Q2 2016 FAD payout ratio was 83%. Both are strong numbers.
Other Q2 2016 numbers were good too.
Normalized FFO was $1.15/share (a +0.01/share beat and +6% YoY).
Normalized FAD was $1.04/share (+9% YoY).
Revenues were $1.07B (a +$30 million beat and up
+11.8% YoY).
Net Investments were $1.9B for the quarter.
The Average Net Debt to Undepreciated Book Capitalization Ratio was 38.7%.
Total Portfolio Same-Store NOI grew by 3.3% year over year. This was led by 4.0% growth in Senior Housing Operating.
On August 2, 2016, HCN announced the $1.15B purchase of Vintage Senior Living. This deal will make HCN the largest holder of Senior Housing facilities in California at 114.
Same-Store Senior Housing Operating Occupancy increased by +100 bps to 90.3% and REVPOR grew 3.8%.
The above are all good statistics. The table below compares HCN's Senior Housing statistics to its competition.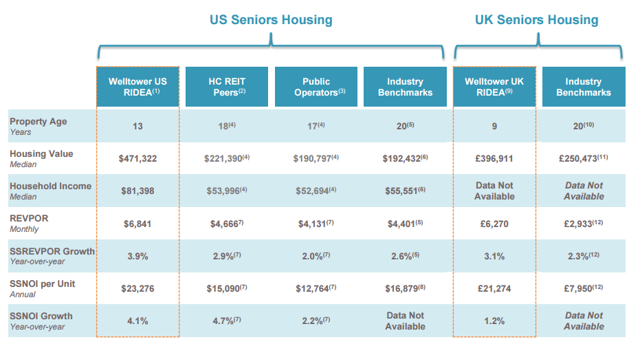 Notably, the above great statistics are gleaned in areas in which the Median Housing Values are high - affluent areas. HCN's properties are Class "A." HCN's other business lines show much the same kind of statistics.
HCN's FY2016 Guidance:
Net Income of $2.74-$2.84 per diluted share.
Normalized FFO of $4.50-$4.60 per diluted share.
Normalized FAD of $3.95-$4.05 per diluted share.
The FFO and FAD guidance above represent a 3%-5% year-over-year increase.
Same Store NOI is expected to grow 2.75-3.25% year over year.
HCN expects $1.3B in Dispositions in FY2016. About $769 million of this is expected to be from held for sale properties. This are expected to have a blended yield on proceeds of 9.3%.
HCN expects to fund additional development of $287 million in 2016 for projects underway on June 30, 2016. HCN expects development conversions of approximately $257 million in 2H 2016. The expected yields of the investments will be about 7.5%.
The Bad News:
HCN closed on a new $3.75B credit facility. The statistics are below.

The facility in itself is not bad news. That is good news. However, LIBOR rates have been going up dramatically lately (see the chart from Bloomberg below)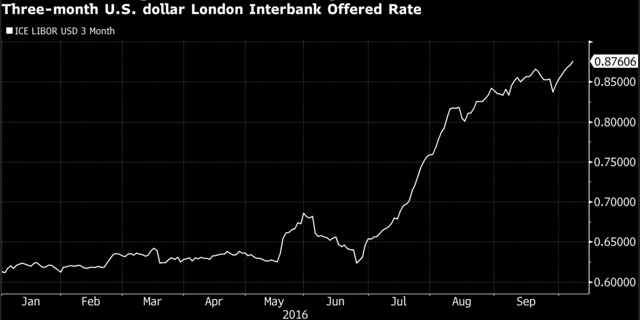 I haven't reviewed all of HCN's loans. There may be other secured or unsecured loans that are susceptible to LIBOR fluctuations. However, the point is that the 3-month LIBOR USD rate has risen from roughly 0.62% in June 2016 to its current 0.876% (+ about 26 bps) very quickly. This rise will translate into higher interest rates for HCN's debt that is dependent on LIBOR.
It is unclear exactly what is going to happen in this area. The apparent reason for this rapid rise is the new SEC regulations that will go into effect on October 14, 2016, on Money Market Funds. The new rules are stricter. They are meant to prevent people from losing money in Money Market funds as some did slightly in 2008. However, the result of these regulations seems at this time to be more costly than the potential savings in extra safety. Perhaps the market has been overreacting? We will have to wait to see. However, at this time the new regulations would seem to be designed to drive people away from US banking and away from borrowing. It may be that we will see companies moving at least some of their borrowing to European (or other) banks. The 3-month Euribor is -0.305% as of October 10, 2016. That is more than 1% less than the USD 3-month LIBOR of 0.876%. Ouch!
I don't know what to tell investors yet. However, you will probably want to watch this development for the near term at least, if you are going to remain in stocks with substantial borrowing like HCN. I expect the LIBOR to settle down any time now; but it is unclear what the ultimate outcome of this situation will be. Some think it will lead to the complete destruction of the USD as the reserve currency. It seems to be a case of a well meaning naif making a law that ultimately hurts the economy - both US banking and US business in general. Perhaps if Trump is elected it will disappear???
For now I will rate HCN a low buy, where I might have rated it a stronger buy without the above problem. HCN has a good management team. They will work this problem out even if they have to go to Europe or elsewhere to do it. Plus the USD 3-month LIBOR has to be close to its near-term top.
NOTE: Some of the fundamental fiscal information above is from Yahoo Finance.
Good Luck Trading/Investing.
Disclosure: I/we have no positions in any stocks mentioned, but may initiate a long position in HCN over the next 72 hours.
I wrote this article myself, and it expresses my own opinions. I am not receiving compensation for it (other than from Seeking Alpha). I have no business relationship with any company whose stock is mentioned in this article.