Energy stocks are a great tool to trade macro economic trends. I have been long Devon Energy (DVN) from the 28th of September until the third of October. I bought because I wanted to frontrun a positive ISM Manufacturing Index print. I was lucky because Reuters announced a possible OPEC production cut shortly after I bought the stock. Oil rallied almost 10% over a span of just a few days after the announcement. The reason why I sold the stock, is the same reason why I am writing this article. The most important fundamental for a successful oil trade started to fall. Of course, I am talking about the US dollar.
Crude prices lost correlation with the USD right after the OPEC news. Oil rallied and had a break-out a few days later.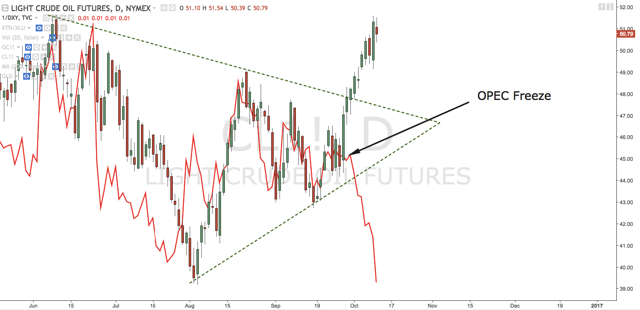 Source: TradingView
I decided to take profit shortly after the break-out. Oil can disconnect from the USD but only for a limited amount of time. The influence of the world's most important currency is just too big as you can see below. There is no long term uptrend without the support of the USD. It's just not possible. Of course, there are influences like production levels and inventories, but these influences are short term. These factors are the reason why everyone should keep stops not to close and limited exposure.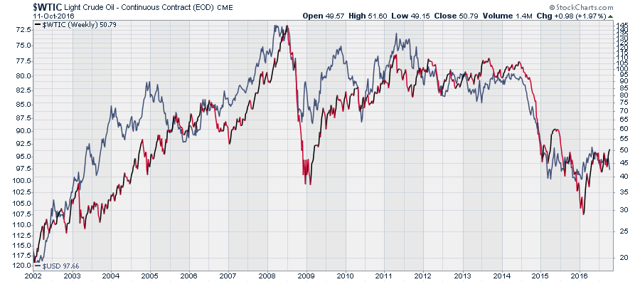 The recent disconnection between oil prices and the USD seems to come to an end. The chance of lower oil prices has risen significantly.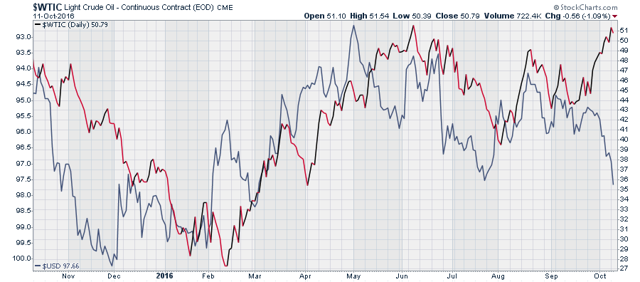 The USD is being pushed higher by the rising likelihood of a rate hike in either November or December. The recent jobs report has not been bad enough to erase these 'hopes'.
If the FED would hike indeed, it would mean that they are hiking into a slow down - again. They did the same about one year ago when the ISM Manufacturing Index was below 50. The following months were very ugly. Stock market volatility spiked until the USD weakened again and the economy recovered (a tiny bit).
The economy remains very weak as you can see below. We are in a typical late-cycle stage of the economy.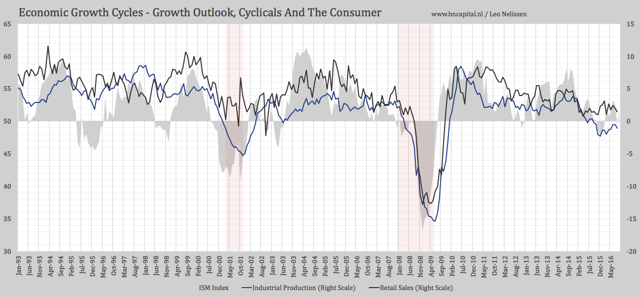 So, what is my plan? I have a relatively big cash position at the moment. I have some market neutral spreads, but I am waiting to pull the trigger on energy related trades like the energy ETF (Energy Select Sector SPDR Fund XLE) or the even more aggressive fracking ETF (VanEck Vectors Unconventional Oil & Gas ETF FRAK). Traders who like to play short term trades often use the leveraged ETF (VelocityShares 3x Crude Oil ETN UWTI). Although my point is not to encourage you to invest in leveraged funds, I want to make clear that the odds for a successful oil trade have almost vanished entirely. The economy is slowing rapidly and the FED is very likely to hike rates. This would be a strong bear case for energy related trades. Therefore, wait until the USD weakens again after a rate hike.
Many thanks for reading my article. Please leave a comment if you have questions or remarks.
Extra: If you want more information about the economic situation, feel free to read a few of my latest articles.
Disclosure: I/we have no positions in any stocks mentioned, and no plans to initiate any positions within the next 72 hours.
I wrote this article myself, and it expresses my own opinions. I am not receiving compensation for it (other than from Seeking Alpha). I have no business relationship with any company whose stock is mentioned in this article.