Stocks discussed on the in-depth session of Jim Cramer's Mad Money TV Program, Tuesday, October 11.
Tuesday was a bad day for the market, and this put fear in the minds of investors. In Cramer's opinion, there is still money to be made in the long term, and one should not fixate on days like Tuesday. There is no new money coming in, and it is the existing money that is moving around the place.
The biotech sector has been crushed. Gilead Sciences (NASDAQ:GILD) has fallen from a high of $111 to $73. It has made lot of money on its hepatitis C drugs, and yet, it trades at 6 times earnings. Celgene (NASDAQ:CELG) and Regeneron (NASDAQ:REGN) have new drugs in the pipeline and are still being hammered. Why is that? "I almost hesitate to answer this question because it touches on the third rail that is politics. Hillary Clinton's bite could be every bit as bad as her bark when it comes to controlling drug pricing," said Cramer.
If Republicans lose the presidency and the Senate, then a Democratic wave could take over. This means investors will be willing to pay lower for drug stocks. "Given that the Republicans will still be able to filibuster in the Senate even if they lose their majority, this seems like an extreme reaction, but I can understand the sentiment," he added.
If this was not enough, Alcoa (NYSE:AA) reported disappointing earnings, leading to a fall in the stock price. This led to pin action in Honeywell (NYSE:HON) and Eaton (NYSE:ETN) stocks.
The sell-offs on days like Tuesday only led to bargains in other hot tech stocks Facebook (NASDAQ:FB), Amazon (NASDAQ:AMZN) and Netflix (NASDAQ:NFLX). Money is flowing out of cybersecurity too. "It's important not to be too big a slave to any one day, because otherwise, with the S&P 500 selling off badly and at a three-week low, you'd think 'who needs this?' The answer is someone who wants to make money a little longer term, that's who," concluded Cramer.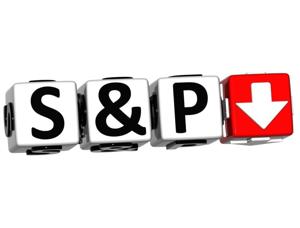 Off the charts
Cramer wanted to see how the market-leading stocks are doing technically. He checked the charts of market-leading stocks like Disney (NYSE:DIS), Starbucks (NASDAQ:SBUX), Under Armour (NYSE:UA) and General Electric (NYSE:GE) with the help of technician Robert Moreno.
Moreno examined the weekly chart of Disney from 2011-2015, in which time the stock has tripled. Post that, it has been lagging the S&P 500 by 30%. The stock is trading below its 40-week moving average, with Relative Strength Indicator and Chaikin Money Flow trending lower. The stock can go lower if it breaks down.
Starbucks shows a similar pattern. Like Disney, it is trading below its 40-week moving average, and its Relative Strength Indicator and Chaikin Money Flow are trending lower. If the stock breaks the $53 level, it will head towards the $40s.
Charts of Under Armour and General Electric do not show a good picture either. Under Armour's MACD momentum indicator along with the Chaikin Money Flow are negative and worrisome, according to Moreno. General Electric is also likely to erode its 2016 gains if the current level holds.
Cramer is not clear if Moreno's gloom scenario will take place or not, but he advised being cautious about the market.
Buy Apple (NASDAQ:AAPL)
In Cramer's opinion, the stock price of Apple would have been higher if it weren't for the market sell-off. Samsung's (OTC:SSNLF) Galaxy Note 7 exploding is a bigger deal than many realize. Cramer could see the fear of passengers on the flight as they were eyeing other people's phones. He is wondering why security is allowing the phones on flights given its combustible nature.
The liabilities from recalls could be endless for the company. What's worse is the damage to the reputation of the brand. Samsung has ended production of the device, and it could take a while for a new device to come.
Till that time, there is less competition for Apple, which will lead to increased sales. Cramer reiterated his buy on Apple, which is a core position for his trust as well.
Off the tape
Cramer went off the tape to review the privately held Lyft (LYFT). He interviewed co-founder and President John Zimmer to know more about the interest shown by General Motors (NYSE:GM) in Lyft.
"Lyft right now is not for sale. We believe that the best way to get to that ultimate vision of creating that alternative to car ownership is an independent business," said Zimmer. He added that car ownership in America has become a burden rather than freedom. In his vision for the future, he expects private car ownership to end in the US by 2025. Americans spend more than $2 trillion a year on cars, and the subscription model makes more sense.
Ride-sharing helps people to live without a car and engage in freedom without high traffic or high bills for the vehicle. "Over the last couple of years as we have been our business, we have been talking to all of the major auto companies. And when we spoke to General Motors at the end of last year, they agreed with our vision in that consumers will move towards more of a Netflix (NFLX) or Spotify (MUSIC) model, where they buy a subscription for transportation," he said.
Lyft is the number 2 ride-sharing company behind Uber (UBER), and it has been working hard to gain market share and establish itself as a rival. The company is in 200 cities and executes over 1 million rides every 2 days. It is also working along General Motors to build driverless vehicles that can be hailed via the app.
"What we are delivering at Lyft is actually that freedom that everyone wants and has wanted when they turned 16, which is the ability to get where they want to go, when they want to go there. And I think that is why with the coming of smartphones and Lyft, you are actually able to deliver that true freedom," said Zimmer. He adds that technology is important for the entire economy, and cities should be built around people and not cars.
Viewer calls taken by Cramer
Royal Dutch Shell (NYSE:RDS.A): Cramer is not a fan. He prefers Chevron (NYSE:CVX).
Wal-Mart (NYSE:WMT): Once it breaches the 3% yield level, it's a good buy. The company is investing in technology for the long term.
::::::::::::::::::::::::::::::::::::::::::::::::::::::::::::::::::::
Jim Cramer's Action Alerts PLUS: Check out Cramer's multi-million dollar charitable trust portfolio and uncover the stocks he thinks could be HUGE winners. Start your FREE 14-day trial now!
Get Cramer's Picks by email - it's free and takes only a few seconds to sign up.