MobileIron's (NASDAQ:MOBL) life as a public company hasn't exactly been a success story so far. The company's initial public offering priced at $9 in June 2014, raising gross proceeds of $100 mln.
To provide some background:
The company is offering Enterprise Mobility Management (EMM) solutions, helping enterprises to secure and manage mobile apps, content and devices while at the same time providing their employees with privacy. Basically MobileIron is trying to capitalize on the ongoing bring-your-own-device (BYOD) trend.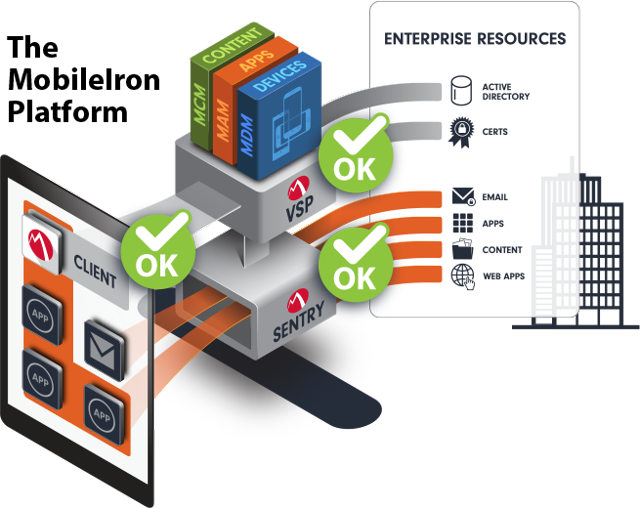 Slide: The MobileIron Platform - Source: MobileIron, Inc.
Since the company's inception in 2007, mobile device management (MDM) and EMM has become a hot and increasingly crowded space as large players like IBM (NYSE:IBM), Citrix Systems (NASDAQ:CTXS) and VMWare (NYSE:VMW) started acquiring MobileIron's main competitors Fiberlink, Zenprise and Airwatch a couple of years ago.
Despite the growing competition, MobileIron did well for a couple of quarters and constantly beat analysts' expectations over the course of FY2014.
But the success story ended abruptly during Q1/2015 with the company substantially missing on both revenue and billings expectations. Management cited problems to close large deals with North American customers and a shift to the company's monthly subscription offering (which does not generate substantial billings) at that time. MobileIron was also forced to lower guidance for Q2 and FY2015 subsequently. Moreover, the company's CFO resigned.
While the company managed to put up rather solid quarters for the second half of the year, the share price continued to languish and finished 2015 at $3.60, down 60% from its IPO price and down 72% from its all time high. The company also announced a CEO change at the beginning of 2016.
It turned out that prevailing investor skepticism was well-founded as MobileIron reported just another disappointing fiscal first quarter back in April and subsequently dropped its previous FY2016 billings target of $180-200 mln on a disastrous conference call with analysts which erased a good chunk of management's credibility.
Not surprisingly, the stock went into freefall in the aftermath, dropping from the $4.50 level to below $3 within a few weeks. While Q2 came in basically in line with again lowered expectations, investors and analysts continued to give up on the stock, widely anticipating further competitive pressures going forward. Accordingly, the shares continued their retreat almost to the $2.50 level in September and closed the last week at $2.69.
But quite unexpectedly, MobileIron on Monday announced strong Q3 numbers, with the all-important billings number coming in up almost 15% year over year at the midpoint of the guidance range vs. an initial guide of just 7%.
Gross billings for the quarter are expected to be in the range of $46.5-$47.5 million, above the company's previous guidance of $43-$45 million. Total revenues are anticipated to be between $41.0-$42.0 million, above the previous guidance of $39-$41 million. Non-GAAP operating expenses are expected to be at the low end of the company's guidance of $41-$43 million. The company ended the quarter with cash and cash equivalents plus short-term and long-term investments of approximately $80 million for a sequential reduction of roughly $6 million.

(...)

"We've spent the last year putting together a new executive team, differentiating our platform, refining our go-to-market strategy, and focusing on execution. There's a big market in front of us and our results this quarter demonstrate that we're winning," said Barry Mainz, President and CEO, MobileIron. "We're very pleased with Q3 and we believe we're on track to be cash flow positive in the fourth quarter. I look forward to providing details on our regularly scheduled quarterly earnings conference call on October 27."
Should the company be able to reproduce the quarter's billings growth rate in Q4, the company's largest billings quarter of the fiscal year, MobileIron would actually manage to come in within its original (and later pulled) billings guidance of $180-200 mln.
Clearly, the news took the market by surprise and after some initial back and forth, the shares finished the session up 33% on more than 12x daily average trading volume. The stock even managed to add another 4% in an otherwise ugly session on Tuesday - again on much higher than average volume.
MobileIron will report detailed Q3 earnings roughly two weeks from now and until then the stock might hold further upside as market participants will be speculating on upbeat management commentary and strong Q4 guidance given the obvious improvements in the business.
While tempting, the trade is not without risk, particularly when considering the company's inconsistent execution history.
Moreover, there might be some rather unexciting explanations for Q3 upside as the company could have simply experienced a pull-forward of license renewals from Q4 to Q3 or a single, large deal might have accounted for the entire upside in the quarter.
Particularly the pull-forward issue would lead to potentially disappointing Q4 guidance and the shares subsequently giving back most or all of their gains caused by the recent preannouncement.
Investors not willing to take the bet, might consider selling their position ahead of the earnings date on October 27, hopefully at substantially higher prices than today.
Personally, I am currently planning to take the gamble and hold onto my substantial position acquired at the start of the regular session on Monday through the earnings release. Admittedly, the risk of losing money for me looks quite low at this point given the highly favorable purchase price. But for the sake of risk management, I might consider taking some partial profits should the stock continue to rally over the next two weeks.
My optimism with regard to MobileIron most likely providing strong Q4 guidance is mostly based on the fact that both revenues and billings came in above expectations during Q3, an indicator for a pick-up in the day-to-day business.
Moreover, the company did another good job in containing operating expenses and reaffirmed its expectations for being cash flow positive in Q4.
Furthermore, the current MobileIron setup reminds me of another, highly successful turnaround story that started around the same time last year. I am actually speaking of Five9 Inc. (NASDAQ:FIVN), a provider of cloud software for contact centers. The company went public two months before MOBL and after an already poorly received initial public offering and subsequently guiding for a weaker than expected Q3/2014, the stock was basically left for dead by analysts and investors for a couple of quarters. The share price almost halved from the $7 offering price but the company quickly refined its business approach and since then has managed to put up an impressive, uninterrupted string of beat-and-raise quarters. Accordingly, the shares are up by more than 300% over the last twelve months.
Unfortunately I exited my position already in the $7-$8 area at the end of last year, leaving very substantial gains on the table but as a daytrader, I hardly commit to longer term positions (neither short nor long) mostly due to opportunity cost considerations and accordingly was quite happy about a roughly 100% gain within a couple of weeks.
Looking at MobileIrons fundamentals, the company had $80 mln left in the bank at the end of Q3 and expects to record positive cash flow from operations in Q4. Current analysts' expectations for FY2017 are calling for substantially reduced operating losses and a moderate 11% revenue increase. Should the company be able to perform at least in line with this forecast, cash operating losses would most likely be reduced substantially in FY2017 with a perspective to turn cash flow positive in FY2018.
So MobileIron might use some additional cash in 2017, but I don't expect this number to be substantial and would be surprised to see the company's liquidity fall below $70 mln at any time during 2017.
Clearly, the company is not at risk of running out of cash anytime soon - accordingly I do not expect dilution at current price levels.
From a valuation perspective, the company is currently trading at a market capitalization of roughly $320 mln or just 2x expected FY2016 revenues. Additionally, the company still has close to $1 in cash per share. While MobileIron has struggled with growing its business over 2015 and most of 2016, a potentially improved growth profile going forward would clearly lead to a substantial revaluation of the company and perhaps even the re-emergence of takeout rumors over time.
Should management indeed guide for the business to pick up going into 2017, I would expect the shares to potentially approach the company's initial public offering price of $9 over time, calculating to roughly 4x expected 2017 revenues or almost 150% upside from current levels. My optimistic projection assumes no further hiccups, of course, and consistent execution at the high end of expectations over the next few quarters.
Bottom line:
MobileIron's business might be beginning to turn the corner going into 2017 as evidenced by the recent upside preannouncement. Should the company's new senior management finally start to perform consistently in line with or even above expectations, the shares might hold substantial upside for speculative investors.
The idea is not without considerable risk given the company's inconsistent execution history, ongoing competitive pressures and the danger of management coming up with a rather disappointing explanation for the surprisingly good Q3 on the upcoming conference call.
Investors not willing to take the risk to hold the shares going into earnings could still be entitled to substantial gains over the next two weeks, as I expect more investors and traders chasing the stock in anticipation of positive management commentary and guidance on the call.
Investors not willing to take the gamble at all should simply wait for management's commentary and Q4 guidance on the call. While initiating a position after strong guidance might come at a somewhat or even considerably higher price, there would be still substantial upside left to capture in this case.
As always, don't bet the farm and adequately manage your risk.
Disclosure: I am/we are long MOBL.
I wrote this article myself, and it expresses my own opinions. I am not receiving compensation for it (other than from Seeking Alpha). I have no business relationship with any company whose stock is mentioned in this article.