1. On February 17, 2016, George Hartzman, Plaintiff, v. Wells Fargo & Company (NYSE:WFC), Defendant, was ordered to proceed to trial on July 10, 2017 by the United States District Court for the Middle District of North Carolina. This Sarbanes-Oxley Act of 2002 (SOX) whistleblower retaliation case implicates John Stumpf and other Wells Fargo and Wachovia executives in illegal acts.
Within the order which overcame a Wells Fargo motion to dismiss, Chief Judge William L. Osteen Jr. wrote,
"the court finds that Plaintiff has met his burden of pleading an objectively reasonable belief regarding Wells Fargo's alleged failure to include the receipt of federal monies in its [Securities and Exchange Commission] (SEC) filings" and "Plaintiff alleges both that the Securities Division of the North Carolina Department of the Secretary of State found enough merit to his concerns on this issue to refer them to [the Financial Industry Regulatory Authority] (FINRA) and the SEC, and former SEC officials who were interviewed about the issue found plausible violations among his concerns." And "If financial experts and the SEC itself were concerned about the materiality of these non-disclosures and possible violations of the securities laws, it is contrary to reason to find it unreasonable for Plaintiff to have believed they were violations as well" and "the court finds that Plaintiff has alleged that he had an objectively reasonable belief that these actions constituted a violation of the law."
2. This action may coincide with a "top-to-bottom review of cases, complaints, or violations" ordered by Labor Secretary Thomas Perez in late September, 2016, which will include a review of "the entire docket" of open and closed whistleblower complaints against Wells Fargo since 2010.
Some of this information may enable Wachovia shareholders to pursue legal actions against Wells Fargo for not disclosing material terms of loans and credit lines provided by the U.S. Federal Reserve Bank (FED) before the Wachovia Wells Fargo merger. Litigation by clients whose accounts were governed under the Investment Advisors Act of 1940 (The Advisors Act) involving bogus financial plans created to qualify for Financial Advisor retention incentive bonus' after the Wells Wachovia merger is another possible outcome.
Background
3. In 2008 and 2009, unknown to shareholders and the public but known to Wells Fargo CEO John Stumpf among others, Wells Fargo borrowed money from the Fed's Term Auction Facility (TAF), representing massive, material undisclosed loans and credit lines with the Fed, details of which were not disclosed within Wells Fargo's 2008 and 2009 Wachovia merger related litigation pleadings, affidavits and SOX certified SEC filings.
4. Unencumbered Collateral (credit line value), representing assets free and clear of any encumbrances such as creditor claims or liens, showed that Wells Fargo had an unreported Fed credit line values worth tens of billions of available capital (far right column), which has never been publicly reported;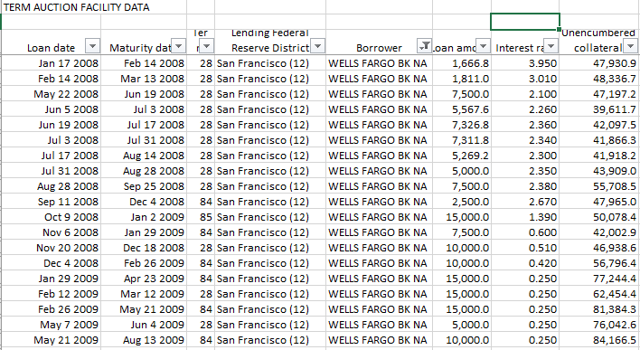 5. Wells Fargo's 2008 era Annual Reports;
Search for "Term Auction" results for 2008 = Zero.
Search for "Discount Window," which Wachovia borrowed from before merging with Wells Fargo on October 6, 2008, results = Zero.
Search for "TAF" results for 2008 = "S'taf'f"
6. Wells Fargo's 2008 annual report certified by Stumpf, didn't disclose the overall size of Fed's TAF credit lines, terms, interest charges, dates, collateral, values or amounts of U.S. Government provided financial assistance.
7. In an interview on Tuesday, June 10, 2008, after Wells Fargo borrowed billions from the Fed's TAF, representing 15.27% of the company's market capitalization at the time, Stumpf stated;
"I have a general aversion to using public money, our citizen's money, to bail out problems for a particular sector" and "...in our company's case, to be able to not only pay for the credit hits we took, we actually added to our reserves" and "We added organically to capital"
which wasn't true.
8. In March, 2009, Senator Bernie Sanders reported,
"During the worst financial crisis in our nation's history since the Great Depression - a crisis which has led to the largest taxpayer bailout ever - the very least we can do is explain to the American people what the Federal Reserve is doing with their hard-earned taxpayer dollars," Sanders said. At a Senate Budget Committee hearing on March 3 [2009], Sanders asked Fed Chairman Ben Bernanke to name the hundreds of banks that took money since the financial crisis began. Bernanke refused to name any of the financial institutions and would not say what the banks are doing with the money. Sanders noted that a separate $700 billion financial rescue package that was signed into law last October [2008] requires the Treasury Department to identify recipients of bailout funds."
(See video)
9. On December 21, 2011, after the Fed was forced to reveal which banks received how much money, then Wells Fargo Executive Vice President and Controller Richard D. Levy responded to an inquiry by the SEC's Stephanie L. Hunsaker inquiring,
"We have become aware through various news reports that you may have accessed various Federal Reserve and Federal Deposit Insurance Corporation sponsored funding programs during 2008 and 2009, including the Term Auction Facility (TAF)..." And "you do not appear to have provided any discussion about certain other programs that were in existence at this time, such as the TAF…"
10. If some at the SEC became aware through the news that Wells Fargo borrowed billions from the Fed, Wells Fargo failed to report this material information to the SEC in filings certified by John Stumpf.
11. Levy's response
"We did participate in the Term Auction Facility (TAF) during 2008 through August 2009." And "At December 31, 2008, our short-term borrowings under TAF totaled $72.5 billion, which included $40 billion of TAF borrowings by Wachovia Corporation at the time of acquisition. However, the TAF borrowings were classified differently in the legacy Wells Fargo and Wachovia accounting systems..., which resulted in our reporting of $32.5 billion of the TAF borrowings in the "Commercial paper and other short-term borrowings" line item, and the $40 billion of Wachovia TAF borrowings reported in the "Federal funds purchased and securities sold under agreements to repurchase" line item of Note 13 (Short-Term Borrowings) in our 2008 Form 10-K. Despite the accounting systems difference, our management did not distinguish TAF from other sources of short-term borrowings"
meaning both company's accounting was combined for the fourth quarter of 2008, as there was no Wachovia 2008 annual report and
"nor did we access the Federal Reserve's discount window for liquidity purposes during 2008 and 2009"
yet Wachovia did, while sharing the same auditor, KPMG. (Source)
Stumpf, Kovacevich and Steel
12. Wells Fargo & Company's Director Code of Ethics states,
"Insider trading involves the purchase or sale of securities of a company or other entity while in possession of material, nonpublic information (also called "inside information") about the company or entity. Material Inside Information - "Inside" or "nonpublic information" is information about a business organization that is not generally available to or known by the public. Such information is considered to be "material" if there is a likelihood that it would be considered important by an investor in making a decision to buy or sell a company's securities. Information should be presumed "material" if it relates to, among other things, any of the following: significant gains or losses; significant merger or acquisition proposals or agreements; significant purchase or sale of assets; significant borrowing; new debt or equity offerings; liquidity problems..."
13. After borrowing $1.6 billion from TAF on January 17, 2008, with Wells Fargo in possession of an unreported $47.9 billion Fed credit line, John Stumpf exercised 68,980 shares of Wells Fargo stock worth $2,077,815. On May 5, 2008, Stumpf bought 1,550 shares of Wells Fargo worth 44,841.
On June 6, 2008, while Wells Fargo was in possession of undisclosed Fed TAF loans, former Wells Chairman Richard M. Kovacevich purchased 40,398 of Wells Fargo stock valued at $1,052,367.
14. During 2008, Wells Fargo stock option related insider transactions also involved Atkins Howard I (Senior Executive VP & CFO), Milligan Cynthia (Director), White Julie M (Executive Vice President), Runstad Judith M (Director), Swenson Susan (Director), Quigley Philip (Director), Oman Mark C (Sr. Executive Vice President), Tolstedt Carrie L (Sr. Executive Vice President) and Loughlin Michael J (Executive Vice President).
It's unclear if Stumpf's, Kovacevich's and other insider trades were discretionary and exactly who was informed of the Fed's TAF borrowing.
Wachovia
15. Before arriving on July 9, 2008, as CEO of Wachovia, Robert Steel was in a 'need to know position' of massive undisclosed material Fed borrowing as Under Secretary for Domestic Finance of the United States Treasury under former Goldman Sachs (NYSE:GS) colleague Hank Paulson.
16. On March 31, 2011, Bloomberg reported;
"During the financial crisis and prior to the Wells Fargo merger while still an independent company"
but after the merger with Wells Fargo was announced on October 3, 2008, and
"Wachovia borrowed and repaid funds from the discount window," Mary Eshet, spokeswoman for San Francisco-based Wells Fargo, said..."
which was explicitly denied in Controller Richard D. Levy's December 21, 2011, response to an inquiry by the SEC's Stephanie L. Hunsaker without consequence in item 11.
17. On April 4, 2011, Bloomberg reported,
"Wachovia Corp. was the only U.S. bank among the top five discount-window borrowers as the crisis peaked. The company, based in Charlotte, North Carolina, borrowed $29 billion from the discount window on Oct. 6, 2008 in the week after it almost collapsed, the data show. …The Wells Fargo deal closed at the end of 2008. Wells Fargo spokeswoman Mary Eshet declined to comment on Wachovia's discount-window borrowing"
after commenting on Wachovia's discount window borrowing on March 31, 2011, four days earlier.
18. On October 31, 2008, in Wells Fargo's "COMPANY FORM S-4 REGISTRATION STATEMENT UNDER THE SECURITIES ACT OF 1933" concerning Wells' merger with Wachovia, which prominently listed James M. Strother, Esq., Executive Vice President and General Counsel of Wells Fargo, declared,
"Liquidity continued to decline and by the end of September 26, Wachovia's management was concerned that, without accessing the Federal Reserve's discount borrowing window, Wachovia's banking subsidiaries would not be able to fund normal banking activities on Monday, September 29. Wachovia had been regularly reviewing its liquidity situation with the Federal Reserve and the OCC, who on that day remained on site."
after Wachovia borrowed $12.5 billion from the Fed's Term Auction Facility and $29 billion from the Fed's discount window on October 6, 2008.
19. I had an "objectively reasonable belief that these actions constituted a violation of the law", as the securities filings didn't disclose the type, terms, interest rates, dates, collateral, values or amounts of federal financial assistance provided by the Fed.
20. Wachovia's credit line (Unencumbered Collateral) values have never been publicly reported: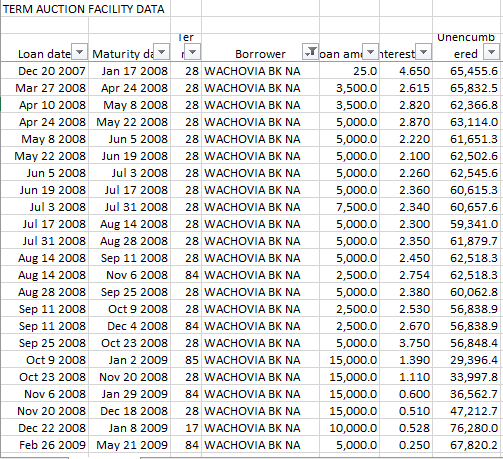 21. On March 27, 2008, Wachovia borrowed an undisclosed $3.5 billion from the Federal Reserve's Term Auction Facility with $65.8 billion in Unencumbered Assets, which showed Wachovia had a massive unreported material Federal Reserve relatively liquid credit line bigger than Wells Fargo's.
22. On 6/30/2008, Wachovia's outstanding Federal Reserve provided Term Auction Facility borrowings totaled $10 billion, representing a material 29.82% of the company's market capitalization at the time.
23. Wachovia Corporation's June 30, 2008, form 10-Q certified by Robert Steel did not disclose the type, terms, interest charges, dates, collateral, values or amounts of federal financial assistance provided by the Fed's TAF.
24. On July 22, 2008, Mr. Steel personally purchased 1,000,000 shares of Wachovia's stock, among others and without consequence, as Wachovia' undisclosed TAF borrowing reached $12.5 billion, representing a material 34.85% of the company's market capitalization.
It appears Steel's insider trade was discretionary.
25. In an interview with CNBC's Jim Cramer On Monday, September 15, 2008, Robert Steel said,
"I think it's really about...transparency. People have to understand the assets and really be able to say, this is what I own" and "Complete disclosure" and "we can work through this with transparency, liquidity and capital" and "Our strategy was to give you all the data" and "we're raising capital ourselves by basically shrinking the balance sheet, cutting the dividend, cutting expenses. We can create more capital ourselves that way"
After Jim Cramer asked "Should there be any sort of quick regulatory relief from the SEC that would make life easier to be able to make your bank much stronger?", Steel misled when he responded;
"I don't think it's about my bank"
which wasn't true, as the SEC and Fed clearly appear to have allowed violations of SOX reporting requirements by both Wells Fargo and Wachovia among others for Steel to have been able to make the statement, SEC certifications and trades without regulatory intervention.
26. On 9/25/2008, when Wachovia borrowed an undisclosed $5 billion from the Fed's TAF, Wachovia's unreported credit line was $56.8 billion.
27. Wachovia Corporation's form 10-Q for the quarterly period ended September 30, 2008 certified by Robert Steel, did not disclose the type, terms, interest charges, dates, collateral, values or amounts of financial assistance provided by the Fed and other material terms.
I "alleged that [I] had an objectively reasonable belief that these actions constituted a violation of the law" when Wachovia's report certified,
"I, Robert K. Steel, certify that: I have reviewed this Quarterly Report on Form 10-Q for the quarter ended September 30, 2008 of Wachovia Corporation; Based on my knowledge, this report does not contain any untrue statement of a material fact or omit to state a material fact necessary to make the statements made, in light of the circumstances under which such statements were made, not misleading with respect to the period covered by this report."
28. An October 3, 2008, "Statement from Wells Fargo and Wachovia" misleadingly reads,
"Wells Fargo & Company and Wachovia Corporation (WB) said today they have signed a definitive agreement for the merger of the two companies including all of Wachovia's banking operations in a whole company transaction requiring no financial assistance from the Federal Deposit Insurance Corporation (FDIC) or any other government agency"
29. The Fed unanimously approved Wachovia's merger with Wells Fargo on October 12, 2008, as Wachovia's Fed TAF and Discount Window borrowings were a material 449.72% of Wachovia's market capitalization.
30. Bloomberg reported how much each company borrowed, but not the size of Wells Fargo and Wachovia's credit lines. Bloomberg appears to have taken down some data relating to the story since.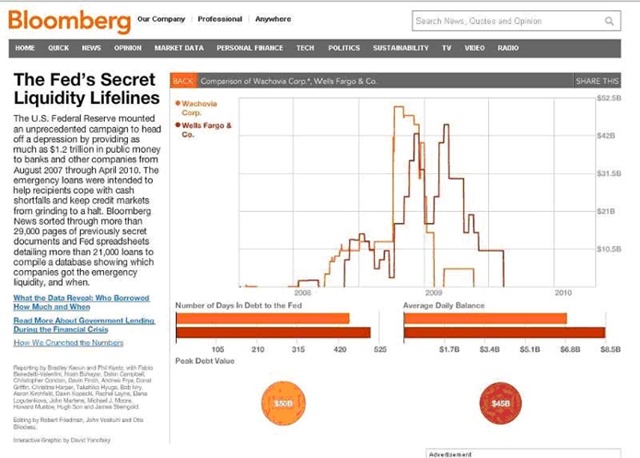 31. As the Fed both approved the merger and lent both banks money, some Federal employees at the Fed must have known Wachovia and Wells Fargo CEO's Robert Steel and John Stumpf didn't disclose Fed TAF and Discount Window borrowings in merger related SEC filings and Wells Fargo's combined 2008 annual report after the two firms merged on December 31, 2008.
32. As KPMG was/is the auditor for both Wachovia and Wells Fargo as well as other Wall Street firms, KPMG should have been aware of the TAF and Discount Window borrowings, considering the size of the loans and pledged collateral.
33. Wachovia's market capitalization lost about $42.672 billion between the first undisclosed TAF borrowing with an undisclosed $65.4 billion credit line and the Wells Fargo merger before the end of 2008 leaving Wachovia shareholders with massive losses caused in part by the non-disclosure.
34. On November 17, 2008, Robinson Bradshaw's Robert Fuller filed a "BRIEF OF DEFENDANT WACHOVIA CORPORATION AND OF INDIVIDUAL DEFENDANTS OPPOSING PRELIMINARY INJUNCTION" in defense of the Wells Fargo Wachovia merger which declared,
"In the three-week period prior to October 3, Wachovia experienced an acute liquidity crisis that, ...placed Wachovia on the brink of receivership" without disclosing Wachovia's available Fed borrowings and credit lines. And "Without the Wells merger, Wachovia either had to pursue a sale of assets ... or go into FDIC receivership and suffer a complete and certain loss of its shareholders' equity."
without disclosing Wachovia's available Fed credit lines. And
"financial market participants, depositors, and other counterparties had begun refusing to deal with Wachovia" after Wachovia's Robert Steel didn't disclose the firm's available Fed credit lines. And "The merger agreement had the desired effect of providing assurance to third parties that allowed Wachovia to obtain access to capital and recover stability"
after Wachovia's Robert Steel and Wells Fargo's John Stumpf failed to disclose Wachovia's or Wells Fargo's Fed borrowing or available access to capital via Fed credit lines. And
"Despite diligent, persistent, and continuous efforts after the board meeting on September 16 to raise capital, sell assets ... Wachovia had been unable to reach any definitive agreement with a third party that would allow Wachovia to resolve its liquidity issues and avoid FDIC receivership"
while Wachovia was in possession of an undisclosed Fed credit line totaling $56.838 billion, which Robert Steel was aware of and John Stumpf should have been.
35. On December 31, 2008, Wachovia had no borrowings from the Fed's Discount Window before year end, shifting the total of $40 billion in borrowings to the TAF, while Wells Fargo borrowed $32.5 billion from the TAF, totaling a material $72.5 billion borrowed on the eve of a merger transaction which executives from both companies had said no government agencies were materially involved in, which wasn't true.
36. Wells Fargo CEO John Stumpf should have known of the undisclosed material Fed related loan information provided by the U.S. Government to Wachovia, and proceeded with the merger without disclosure.
37. After the Wachovia merger, Wells Fargo's 2008 annual report certified by John Stumpf didn't disclose Wachovia's Discount Window or TAF borrowing, or the overall size of Fed's TAF loans and credit lines, interest rates and maturities, all of which were material inside information known to Wells Fargo CEO John Stumpf and Wachovia CEO Robert Steel, but few others.
38. An example of what Wachovia and Wells Fargo should have disclosed is shown in Zions Bancorporation's fiscal-year-ended December 31, 2008, form 10-k, which states,
"In December 2007, the Federal Reserve Board announced a new program, the Term Auction Facility ("TAF"), to make 28 day loans to banks in the United States and to foreign banks through foreign central banks. These loans are made using an auction process. Zions Bank is currently participating in the TAF and may continue to do so as long as money can be borrowed at an attractive rate. The amount that can be borrowed is based upon the amount of collateral that has been pledged to the Federal Reserve Bank. At December 31, 2008, $1.8 billion in borrowings were outstanding under this program as compared to $450 million at December 31, 2007. However, by February 13, 2009, the TAF borrowings outstanding had been reduced to $500 million. At December 31, 2008, the amount available for additional Federal Reserve borrowings was approximately $4.3 billion, which had increased to $5.7 billion by February 13, 2009. An additional $1.3 billion could be borrowed at December 31, 2008 upon the pledging of additional available collateral.

At December 31, 2008, the Company's subsidiary banks had a total of $13.1 billion of immediately available, unused borrowing capacity at the Fed and various FHLBs, which had increased to $14.3 billion as of February 13, 2009."
39. On 3/31/2009 I managed more than 60 client accounts governed by the Investment Advisers Act of 1940 while employed at Wells Fargo Advisors, where the financial advisor has a fiduciary duty to act in the best interest of clients, in which advisors must disclose any conflict, or potential conflict, prior to and during a contractual business engagement. My book of business at the time was $35,595,572.83, including both fiduciary and non-fiduciary accounts.
40. On August 21, 2011, Bloomberg reported,
"Fed officials argued for more than two years that releasing the identities of borrowers and the terms of their loans would stigmatize banks, damaging stock prices or leading to depositor runs. A group of the biggest commercial banks last year asked the U.S. Supreme Court to keep at least some Fed borrowings secret. ...After fighting to keep the data secret, the central bank released unprecedented information about its discount window and other programs under court order in March 2011.

...Banks also shifted balances among Fed programs [like Wachovia before the merger]. Many preferred the TAF because it carried less of the stigma associated with the discount window, often seen as the last resort for lenders in distress, according to a January 2011 paper by researchers at the New York Fed."
TARP, TAF, 4front and Wells Fargo's Ethics Line
41. On October 21, 2011, after realizing I was played for a fool, I filed a confidential Wells Fargo Ethics line after losing money by waiting to qualify for Wells Fargo's 4front retention incentive bonus until Wells' disclosed TARP borrowings were paid off. After I filed the complaint, I was not contacted by an internal investigator.
42. I filed a Wells Fargo Ethics Line report on 12/02/2011 summarized as "Falsification of Company Records" which stated,
"Sarbanes-Oxley Act, Title III ...mandates that senior executives take individual responsibility for the accuracy and completeness of corporate financial reports. It ...specifies the responsibility of corporate officers for the accuracy and validity of corporate financial reports. ...Section 302 requires that the company's "principal officers" (typically the Chief Executive Officer and Chief Financial Officer) certify and approve the integrity of their company financial reports quarterly. ...The CEO and CFO are now required to unequivocally take ownership for their financial statements under Section 302… Title IV ...requires timely reporting of material changes in financial condition... Sarbanes Oxley required the disclosure of all material off-balance sheet items."
43. I filed a Wells Fargo Ethics Line report on 12/03/2011 summarized as "Auditing Irregularities" which cited,
"Wells Fargo's Code of Ethics and Business Conduct" that said; "You are responsible for preparing and maintaining accurate records to the best of your knowledge ...in compliance with applicable regulations, law and Wells Fargo's record retention policies. All business transactions ...must be properly and accurately recorded ...in accordance with applicable accounting standards, legal requirements, and Wells Fargo's system of internal controls. Falsification of any company...information is prohibited." And "Falsification refers to knowingly misstating, altering, adding information to, or omitting or deleting information from a Wells Fargo record or system which results in something that is untrue, fraudulent or misleading."
44. After repeated phone calls to the Ethics Line, I finally engaged in a very short interview with a Senior Investigative Agent and Vice President with Wells Fargo Corporate Investigations, after which I received an email stating
"Please confer with your manager if you feel the need, but our case is closed."
These email communications are public records as they are filed with the court.
45. I wrote "Wells Fargo's Code of Ethics and Business Conduct" citing,
"...The Audit and Examination Committee of the Wells Fargo & Company Board of Directors will oversee the investigation of concerns raised about accounting, internal accounting controls, and auditing matters."
which appears to not have happened.
46. After asking "What am I supposed to tell my clients?" and "Did the Board of Directors oversee the investigation?" I was told
"we do not share the results or how it will be addressed".
After asking "If the investigation is complete, where is the report?", the reply was
"we do not share the results or any report." and "...unless there is something new that needs to be looked into, there will be no further communication…"
47. Afterward, I took the closed case issues to my manager.
48. On Monday, January 09, 2012, as I suddenly felt outed, I sent an email to a few reporters with the subject line which read,
"Ethics Line Issue to keep in your email files" and "So far, no one wants to touch it. I'm told it has been sent higher, and to not stir kettle for the moment. Told "you don't want to be marked" …Our earnings reports were inaccurate. I teach the ethics component for NC CPAs. Some of my clients, including myself and my family, were harmed by my not knowing what I should have. Lots of folks made a mint doing what they were told. I and mine lost. They lied. I teach ethics. If I don't object, I am a fraud."
49. On January 11, 2012, I submitted a complaint to the Securities Exchange Commission, Reference Number; TCR1326304475861, citing Sarbanes-Oxley and "Material misstatement or omission in a company's public filings or financial statements," after which I did not receive a response.
50. On Thursday, January 19, 2012, after I sent an email saying;
"Please provide an update on this ethics issue. This is some info from the 10ks"
The reply stated,
"George, I thought we agreed that you would stop this??"
I replied with
"How can I teach ethics and do nothing?"
After which I was threatened with
"You have been warned to stand down on this, that is all I'm saying."
51. I believed my life and family were in danger, as I openly accused the top brass of Wells Fargo of securities fraud and insider trading, amongst many others in the financial industry, as the ethics line and internal investigators seemed to not want to pursue the issue after violating my confidentiality by contacting my manager before I did.
52. On February 8, 2012, I filed another Ethics Line report on Envision financial plans Wells Fargo Advisors utilized to qualify for retention incentive bonus' after the Wells Fargo Wachovia merger in 2009.
53. After trying and failing to get a response from Wells Fargo's Board, audit leaders and other executives, I received an email from an investigator saying "the Company expects that all future communications regarding your Ethics Line allegations will be directed only to my attention (or others I may designate to assist with the Company's review of your allegations)."
54. Wells Fargo then withheld a July 23, 2012, 'independent' investigative report by Oyster Consulting's Hank Sanchez (The Sanchez Report) exonerating Wells of all my concerns, the same day I received a "Final Warning," threatening me with termination. As Fuller wrote "Similar to WFA's investigation, the third-party investigator determined that Hartzman's allegations regarding "secret" loans, Envision and the 4front incentive plan were meritless."
Both the inside and outside investigators and management failed to disclose any details of their findings and didn't forward the complaints to The Audit and Examination Committee of Wells Fargo's Board of Directors, as the SEC and FINRA chose not to act.
55. Wells Fargo and Wachovia didn't inform shareholders, investment clients and employees material data the firm owed a fiduciary duty to concerning Fed TAF and Discount Window loans, and I was all three.
56. The following is an excerpt of what I sent to thousands of email addresses on September 10, 2012, in an attempt to cause federal regulatory action;
"...If some financial estimates and hypothetical illustrations exclude perpetual levels of data, some information be manipulated to show what may not be true to benefit a few at the expense of many.

It is difficult to get a man to understand something,

when his salary depends on his not understanding it.

Upton Sinclair

This information is being emailed to the Federal Reserve Board, Financial Industry Regulatory Authority (FINRA), Securities and Exchange Commission, North Carolina Department of Insurance, North Carolina Department of Justice, Federal Trade Commission, Carolina Secretary of State, Securities Division, Financial Accounting Standards Board, the FBI, American Institute of Certified Public Accountants (AICPA), North Carolina Association of Certified Public Accountants (NCACPA), Consumer Financial Protection Bureau, Public Company Accounting Oversight Board, and the North Consumer Financial Protection Bureau among others. The example I am using to illustrate this phenomenon involves Wells Fargo's Envision Plans...

I have taught the North Carolina Bar Association Ethics CE. ...That the US regulatory infrastructure has done nothing for more than seven months seems revealing, considering the lack of accountability and prosecutions of Wall Street after 2008. ...A possible reason is the US regulators assigned to this issue as well as any other whistleblower case, won't say whether a case is closed or not, won't say anyone will ever get back to follow up or not, and won't confirm to the press whether or not an investigation is in progress.

For someone who chose to not be a fraud while teaching ethics, I feel as though I have been betrayed by many who earn taxpayer money to keep free market capitalism accountable. The lack of any confirmation also means my family, friends and coworkers don't know if I am being truthful or not and/or otherwise.

Since first going public with this information in mid-June, 2012 after little success with Wells Fargo and our nation's regulatory industry, I have been blacklisted from being able to teach the North Carolina CPA Continuing Education Ethics Component by the NC State Board of CPA Examiners... I began this journey in December, 201[1]. I believe I am doing the right thing. Time for some who can investigate and disseminate to do the same.

I am running out of courage in the face of such apathy.

Please help.

George Hartzman"
57. My employment at Wells Fargo Advisors was terminated on October 8, 2012, for what I believe to be direct retaliation for disseminating whistleblower information that our regulatory infrastructure seemed unwilling to act upon. My "U5" written by Wells states,
"Termination Explanation: Violation of the firm's policies, including policies prohibiting the disclosure of the firm's proprietary and/or internal use only information".
58. After being fired, Wells Fargo froze a joint brokerage account shared with my wife, forced a taxable event by canceling my 401k plan loan, increased my healthcare costs and demanded the merger-related retention bonus back while the firm retained overwhelmingly most of my clients and related managed assets, among other hardships.
59. On November 30, 2012, I received emails, now public records filed with the court, from Rolling Stone's Matt Taibbi, in which he wrote,
"George just FYI -- I've talked to several prominent securities lawyers and some former congressional aides and you will be interested to know that nobody knows the answer to whether or not the failure to disclose secret Fed lending constitutes an actionable violation. The issue, it seems, has not come up before. One former Senate aide put it this way: "It certainly sounds like an omission of a material fact, but I doubt there's any precedent which establishes that it's a violation, especially when the Fed itself has a policy of keeping it secret (access to the Fed window undermines confidence in the bank)."

Another Taibbi email stated; "I just talked to one of the top securities lawyers in DC. When asked if this is a material violation, he said "How could it not be?" and "I had a conference call with Chase and a Treasury official on the disclosure issue. I also spoke with the former chief accountant of the SEC. …In short the people who are more believable are in agreement with you. The banks' argument is that the info is not material. But my SEC guy does not agree."
60. On January 4, 2013, Taibbi published "Secret and Lies of the Bailout", which reported,
"...From the start, taxpayer money was used to subsidize a string of finance mergers, from the Chase-Bear Stearns deal to the Wells Fargo- Wachovia merger to Bank of America's acquisition of Merrill Lynch. ...The bailout ended up being much bigger than anyone expected, expanded far beyond TARP to include more obscure (and in some cases far larger) programs with names like TALF, TAF, PPIP and TLGP.

...Meanwhile, at the same moment that leading banks were taking trillions in secret loans from the Fed, top officials at those firms were buying up stock in their companies, privy to insider info that was not available to the public at large. ...The stock purchases by America's top bankers raise serious questions of insider trading. Two former high-ranking financial regulators tell Rolling Stone that the secret loans were likely subject to a 1989 guideline, issued by the Securities and Exchange Commission in the heat of the savings and loan crisis, which said that financial institutions should disclose the "nature, amounts and effects" of any government aid. ...According to the banks, it's none of your business if those same CEOs are making use of a secret $50 billion charge card from the Fed. ...The broader and more pressing concern is the clear implication that by failing to act, federal regulators- have tacitly approved the nondisclosure. ...The bailout has ...made lying on behalf of our biggest and most corrupt banks the official policy of the United States government."
61. On January 8, 2012, Taibbi wrote,
"While brokers in most places started taking the big bath in 2007 and 2008 as the subprime market collapsed, George was quietly killing it. In both those years he made very good money for his clients, his family and himself, mainly by shorting the very companies that had inflated the subprime bubble, firms with names like Goldman, Sachs, MBIA and Merrill Lynch. "I saw it early," he says, a bit immodestly, but with perspective, too. "I was doing great, right up until the time I wasn't."

...In early 2009, he placed a series of short bets against the market… He explained to his clients that even though the government and the talking heads in the financial press kept insisting the worst was over, he still thought a lot of firms, particularly financial firms, were in deep trouble. "I thought they were screwed," he says. "The numbers just didn't add up."

What happened instead is that the stock market went into a prolonged and seemingly miraculous rebound… George couldn't figure out how so many seemingly insolvent companies were doing it - where was the money coming from?

...George eventually pulled …short bets and "went to cash," taking his portfolio to money market accounts and other safe harbors...

...George agonized over his mistake, poring over news reports as well as the SEC disclosures and annual reports of all the big banks in search of an explanation, but didn't find one. It wasn't until August of 2011 that George saw a partial explanation.

Bloomberg earlier that year had taken the Federal Reserve to the Supreme Court and won the right to have a historic Freedom of Information Act request honored. ...When the Supreme Court rejected the Fed's demands for secrecy, Bloomberg was handed over the data. The news agency learned that Wall Street companies like Goldman, Citigroup and even Wachovia/Wells Fargo had collectively borrowed upwards of $7 trillion from the Fed through a variety of programs that were never intended to be disclosed to the public. This meant that the government had extended a secret lifeline to Wall Street upwards of ten times the size of the TARP program...

When George saw the Bloomberg story, he was floored. He felt like a fool, having bet against companies that essentially had limitless charge cards with the government all along... Moreover, he believes that many companies that took that secret lending would have been saved if investors knew how much credit they had with the government. He points to his own former firm, Wachovia… "I believe that if Wachovia had announced the loan details at the time," George says, "the stock price might have gone up instead."

Even worse, when George checked the SEC disclosures and annual reports of other banks and financial companies, he found something interesting. Some banks, in particular smaller regional banks, did disclose their emergency financing from the Fed. He points as an example to the Carolina-based Union Bank and Trust, which announced its relatively small $5 million lifeline with the Federal Reserve on page 16 of its 2009 Annual Report.

...when George thought about the issue, he suddenly realized he was in a bind ethically. He wanted to tell his clients about the non-disclosure problem, and how that might have helped cause their losses, but as the SEC's letters make plain, there was really no way to do that without pointing out that his own company, Wells Fargo, was one of the firms that had not disclosed its billions in secret borrowing.

...Wells Fargo …believes it was never obligated to disclose the borrowing highlighted in the Bloomberg piece… In early 2009, Wells Fargo had a balance of over $45 billion with the Fed, but apparently even that sum of money fell short of being material.

...The real import of Hartzman's story is that he and his clients lost money when they made what in retrospect turned out to be poor investment decisions, because they were denied access to the same information many of America's leading banks (and, by extension, its leading bankers) had in the years after the crash.

…It was one thing when he'd merely lost money betting against firms without all the data at his fingertips - it was another when companies like his very own former firm Wells Fargo could make (according to Bloomberg) $878 million in profits by availing itself of the secret aid.

...the architects of the federal rescue (from both the Bush and Obama administrations, as well as from the Federal Reserve) created a two-tiered market. The new economy has two classes of investors: those who know the real numbers, and those who don't. ...the bailouts officially created a sucker class.

When banks started making fortunes again in 2009 and beyond, it wasn't a victimless situation. There were losers in this trade, too. Hartzman and his clients are examples of the kind of people who lost when the government made decisions about who's entitled to the truth and who wasn't."
62. On January 22, 2013, Lanny Breuer, Assistant Attorney General, admitted to purposefully not pursuing illegality after choosing not to criminally indict HSBC (NYSE:HSBC) executives for laundering drug money and enabling terrorist financing. Breuer explained;
"We are frequently on the receiving end of presentations from defense counsel, CEOs and economists who argue that the collateral consequences of an indictment would be devastating for their client. …I have heard sober predictions that a company or bank might fail if we indict, that innocent employees could lose their jobs, that entire industries may be affected, and even that global markets will feel the effects.

Sometimes-though, let me stress, not always-these presentations are compelling. In reaching every charging decision, we must take into account the effect of an indictment on innocent employees and shareholders, just as we must take into account the nature of the crimes committed and the pervasiveness of the misconduct. ... the health of an industry or the markets is a real factor. Those are the kinds of considerations in white collar crime cases that literally keep me up at night, and which must play a role in responsible enforcement."
63. On March 6, 2013, United States Attorney General Eric Holder testified to the Senate Judiciary Committee that the size of large financial institutions has made it difficult for the Justice Department to bring criminal charges when they are suspected of crimes, because such charges can threaten the existence of big firms and therefore their interconnectedness may endanger the economy.
64. After paying Robert Steels' former Goldman Sachs colleague Peter Weinberg's Perella Weinberg Partners $25 million and Steels' former employer Goldman Sachs $25 million to advise Wachovia on the merger with Wells Fargo, Steel became CEO of Perella Weinberg Partners in 2014 after serving as Deputy Mayor for Economic Development in the administration of New York City Mayor Michael Bloomberg. Judge Osteen didn't allow my Racketeer Influenced and Corrupt Organizations Act (RICO) retaliation related cause of action proceed, but I believe Wells is at much higher risk of RICO and/or Wachovia shareholder litigation as a result.
OSHA and the DOL
65. Representing Wells Fargo, Robinson Bradshaw's Robert Fuller wrote to the court,
"After his employment ended, Hartzman filed a retaliation complaint against WFA with the Occupational Health and Safety Administrations ("OSHA"), alleging he was terminated in retaliation for engaging in protected activity. After OSHA found that Hartzman's complaint had no merit, Hartzman appealed to the United States Department of Labor's Office of Administrative Law Judges. It was in discovery in the DOL Action that Hartzman received the Sanchez Report."
66. On February 23, 2015, NBC's Vicky Nguyen, Liz Wagner and Felipe Escamilla reported: "OSHA [Occupational Safety and Health Administration] Whistleblower Investigator Blows Whistle on Own Agency" and "Employee says the federal whistleblower program isn't protecting whistleblowers or the public", which reported,
"Whitman examines complaints from workers who have been fired for speaking up…"

...Whitman said that after he began his job in 2010 he discovered a disturbing pattern of what he considers mismanagement by his supervisors. He said superiors pressured employees to rush investigations to eliminate a growing backlog of cases and dismiss complaints even when Whitman found they had merit. He points to at least six instances where he believes managers bungled the outcome of cases or decided to dismiss them unfairly.

...NBC Bay Area's Investigate Unit spoke with six additional whistleblowers who believe Region 9 managers mishandled or unfairly dismissed their cases. OSHA statistics show that only a small number of investigations result in merit findings, or a so-called victory for the whistleblower. From 2009 to 2014 OSHA's Region 9 issued merit findings 16 times out of 562 investigations, or 2.8 percent.

...Whitman shared emails sent between multiple investigators in his office last year highlighting similar concerns over "pressure to close out more cases" and meet "quotas."

A former Region 9 whistleblower investigator who agreed to speak on the condition of anonymity said managers consider the quantity of cases closed more important than the quality of investigations.

...A 2010 audit conducted by the Office of Inspector General in the Department of Labor found that OSHA "did not always ensure that complainants received appropriate investigations."

…Whitman points to his reports that he says his supervisor altered without his consent. In one instance, he says the conclusion was changed from a merit finding to a non-merit determination. "This is an example of falsification of documents," he said.

..."The message has gotten out to a lot of people. You either quit your job or keep your mouth shut because if a company doesn't fire you or blacklist you, OSHA will destroy your life," Whitman said. "As a consequence there are a lot of things that aren't being reported. And that's the scarier part."
67. The following are OSHA Sarbanes-Oxley complaint determinations between 2005 and 2014, with a lower percentage of cases deemed to have merit than OSHA's Region 9.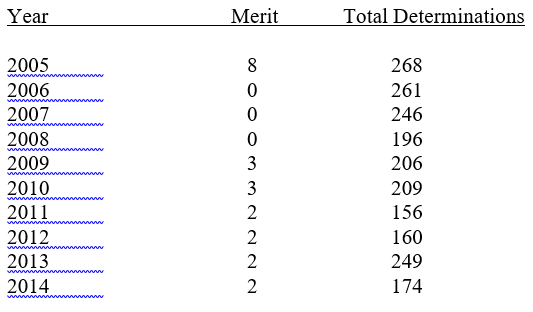 68. The DOL found Merit in 22, or 2.32% of 948 SOX retaliation related Determinations before, during and after the greatest financial crisis since the Great Depression, which seems highly unlikely as OSHA's Region 9 issued merit findings of 2.8% which as reported is indicative to being very artificially low. The above DOL link in item 70 appears to not disclose the information anymore.
69. On September 27 and 28th, 2016, CNN's Matt Egan and Kohn, Kohn and Colapinto's Mary Jane Wilmoth reported;
"The U.S. Labor Department is reviewing both open and closed whistleblower complaints against Wells Fargo amid allegations that the bank retaliated against employees who called the ethics line. The request for an investigation came as a result of the recent revelation that Wells Fargo employees had created millions of phony accounts...

OSHA has received "a number of" whistleblower complaints from Wells Fargo employees over the past five years, Labor Secretary Thomas Perez said... Nearly a half-dozen former Wells Fargo employees told CNNMoney exclusively they were fired after trying to put a stop to these practices by calling the ethics line.

...The whistleblower review is part of a "top-to-bottom review of cases, complaints, or violations" ordered by Perez related to Wells Fargo. ...Perez said he has directed OSHA to review "the entire docket" of open and closed complaints against Wells Fargo since 2010 "to examine the handling and disposition of those cases."

...Senator Warren stated, "I'm glad DOL is initiating a prompt and thorough agency-wide review of all cases, complaints, and violations implicating Wells Fargo over the past several years to determine whether the agency should bring additional claims against the bank. Every other federal agency with jurisdiction in this matter should follow DOL's lead and promptly determine whether Wells Fargo and its senior executives should be prosecuted or otherwise sanctioned."
(See also)
70. In ordering my retaliation suit (1:14CV808) against Wells Fargo proceed to trial, Chief Judge Osteen wrote;
"Title VIII of SOX is designated as the Corporate and Criminal Fraud Accountability Act of 2002. Section 806 of this Act, codified at 18 U.S.C. § 1514A, provides "whistleblower" protection to employees of publicly traded companies. SOX prohibits retaliation against an employee who "provide[s] information, cause[s] information to be provided, or otherwise assist[s] in an investigation regarding any conduct which the employee reasonably believes constitutes" mail, wire, or securities fraud, a violation of any rule or regulation of the SEC, or a violation of any federal law relating to fraud against shareholders. 18 U.S.C. 1514A(1)." And "There appears to be no dispute as to the second and third elements that Plaintiff must allege, namely that: (1) Defendant was aware of Plaintiff's protected activity, and (2) Plaintiff suffered an adverse personnel decision when he was given a formal warning and ultimately terminated. As such, the only remaining relevant inquiry is whether or not Plaintiff's reporting of these believed violations was a "contributing factor" in that adverse personnel decision.

...Plaintiff initially brought his claims to Wells Fargo in late November and early December of 2011. …Plaintiff then continued to pursue these claims internally despite first being told that his complaints were being investigated and finally being given instructions to stop raising the issue… The report from the internal investigation that Wells Fargo commissioned was finalized on July 23, 2012… That same day, Plaintiff was issued a "Final Warning."

...There is nothing in the record showing the internal process used to terminate Plaintiff, or any document or affidavit detailing the rationale behind that decision…"
71. U.S. Congressman Mark Walker's office resent some of this information from Greensboro, North Carolina to the House Financial Services Committee on October 3, 2016, after a review with Walker's Communications Director Jack Minor Jr.
72. I believe it took a group effort for not one high level Wall Street executive to not be prosecuted since 2008, as the recent Wells Fargo banking related action was initiated by the City of Los Angeles, as opposed to a federal regulatory authority.
73. FILED 12 3 2014 First Amended Complaint
74. SEC Whistleblower Evidence
George Hartzman
Greensboro, North Carolina
Disclosure: I/we have no positions in any stocks mentioned, and no plans to initiate any positions within the next 72 hours.
I wrote this article myself, and it expresses my own opinions. I am not receiving compensation for it. I have no business relationship with any company whose stock is mentioned in this article.
Additional disclosure: Efficacy through understanding could be exponential, as long as most don't know what they could. Information has been obtained from sources believed to be reliable, but accuracy is not guaranteed. The material has been prepared solely for information purposes. Any action taken as a result of information, analysis is ultimately reader responsibility. Consult investment or tax advisers before investment decisions. Past performance is no guarantee of future results. Author is not liable if observation alters the observed. Think for yourself and act accordingly. It's your money and your responsibility.