Investors in pipeline operator Kinder Morgan, Inc. (NYSE:KMI) have seen an impressive turnaround this year, which, frankly, was for the most part sentiment driven. The energy price rout was a major contributing factor to the energy meltdown at the beginning of the year, but investors that went against the flow and gobbled up some shares at a point of maximum pessimism, made a great investment decision indeed. As a result, they are sitting on significant unrealized capital gains, making an investment in the pipeline company especially lucrative from a total return point of view.
Since January, Kinder Morgan's shares have risen ~40 percent, which is a spectacular price return for investors in an energy company whose shares have been kicked to the curb after the pipeline operator cut its dividend at the end of last year.
Investors that gobbled up some shares around the January lows are looking at a capital gain of ~85 percent, which is an astounding price return given Kinder Morgan's huge size.
See for yourself.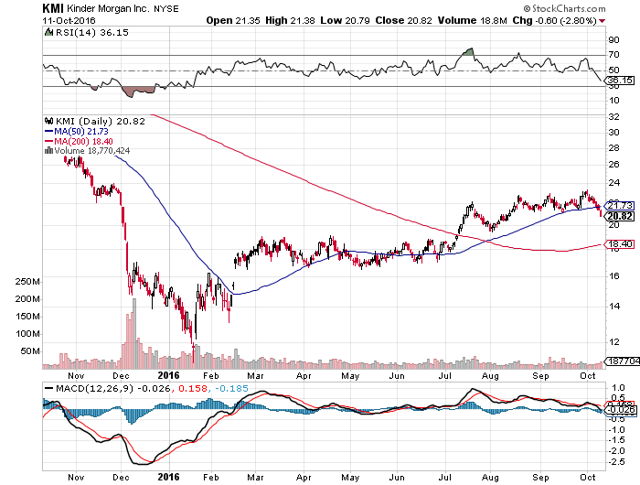 Source: StockCharts.com
Kinder Morgan's turnaround has been nothing short of impressive, but I warned in my last piece on the energy company that investors are underestimating Kinder Morgan's correction risk, considering how great the shares have done for investors this year.
In my last piece on Kinder Morgan, entitled "Kinder Morgan: Brace For Impact?", I said this:
Slowing oil demand growth and persistent supply growth are obviously not good news for energy companies, and it can be expected that the IEA assessment of the current and future state of the energy markets, and related downgrades will weigh on the sector, including Kinder Morgan. A 10-15 percent pullback is entirely within the realms of possibility.
Though the IEA oil market report has not had as negative an effect as I feared at the time on Kinder Morgan, profit taking and concerns over disruptive acts on the part of environmentalists could mean trouble for pipeline companies over the short haul.
On the other hand, this may open up yet another buying opportunity for income investors that want to speculate on a higher dividend and share buybacks down the road.
According to various media reports (here, here), environmentalists from the Climate Direct Action group said that they shut down pipelines in order to demonstrate their solidarity with native American tribes which clashed with Energy Transfer Partners L.P. (NYSE:ETP) over the construction of the Dakota Access pipeline. Enbridge Inc. (NYSE:ENB) and TransCanada Corp. (NYSE:TRP) also were negatively affected by the group's actions.
The activists have succeeded in disrupting the flow of crude oil from Canada to the U.S., which is something that could weigh on pipeline companies in the coming days and weeks, especially if the group follows up with more attacks. That being said, though, I don't think that such acts of disruption are in any meaningful way going to affect the investment case for U.S. midstream companies, which for the most part appear to be attractively valued today. As far as I am concerned, any further sell-off related to any short term pipeline disruptions is an interesting buying opportunity.
Your Takeaway
Kinder Morgan's shares have fallen back lately on the back of profit taking, lower crude oil prices, and disruptive actions of climate activists. However, none of these events will have a long term impact on pipeline companies including Energy Transfer Partners and Kinder Morgan. In fact, I think any drop in valuation is an opportunity to gobble up some more shares at a discounted price. Buy dips for capital appreciation and income generation.
If you like to read more of my articles, and like to be kept up to date with the companies I cover, I kindly ask you that you scroll to the top of this page and click 'follow'. I am largely investing in dividend paying stocks, but also venture out occasionally and cover special situations that offer appealing reward-to-risk ratios and have potential for significant capital appreciation. Above all, my immediate investment goal is to achieve financial independence.
Disclosure: I am/we are long KMI.
I wrote this article myself, and it expresses my own opinions. I am not receiving compensation for it (other than from Seeking Alpha). I have no business relationship with any company whose stock is mentioned in this article.