This review updates my initial look at NorthStar Realty (NYSE:NRF) from my July 4, 2016 article, "It's Time To Judge Whether My NorthStar Realty Finance Recommendations Proved Profitable"
Though I hope you will read the original linked article in full, my bottom-line assessment and buy recommendation at the time were as follows:
It appears that its share price fall is primarily a result of the board's decision to spin off divisions: First NorthStar Asset Management (NYSE:NSAM) in 2014, then NorthStar Realty Europe (NYSE:NRE) the following year, which are currently trading as separate entities under the symbols provided above...

However, on a brighter note, especially for preferred equity investors, now might be a wonderful time to pick up one or more of NorthStar Realty Finance's [NRF] preferred series of equities: A, B, C, D, or E. However, except for their call dates and initial coupon yield, all are pari passu...

Let's compare the Five:

NRF-A pays 2.1875/per share/year, callable since 2011

NRF-B pays 2.06/per share/year, callable since 2012

NRF-C pays 2.21875/per share/year, callable 10/11/2017*

NRF-D pays 2.125/per share/year, callable 4/10/18*

NRF-E pays 2.1875/per share/year, callable since5/15/19*...

Digging into the numbers: As I write, A is $23.19, B is $22.31, C is $23.20, D is 22.51 and E is priced at $22.51- an absolute no brainer as the best buy of the day. At these prices, the effective yield of each is

A 2.1875/23.19 = 9.43%

B 2.06/22.31 = 9.23%

C 2.1875/23.20 = 9.43%

D 2.125/22.51 = 9.44%

E 2.1875/22.51 = 9.72% - The Best...

Bottom line: As a knowledgeable preferred investor that has a long history of investing in NRF, initially as a common shareholder, frankly, I am little concerned with the viability of this company because I see little risk of it going bankrupt in the near future and over the long term.
Let's see how NRF's commons have performed over the past quarter since I wrote the previous article. Because of the greater volume of common shares traded as opposed to the limited liquidity of most preferreds, I find the commons to be a better indicator of a company's overall performance.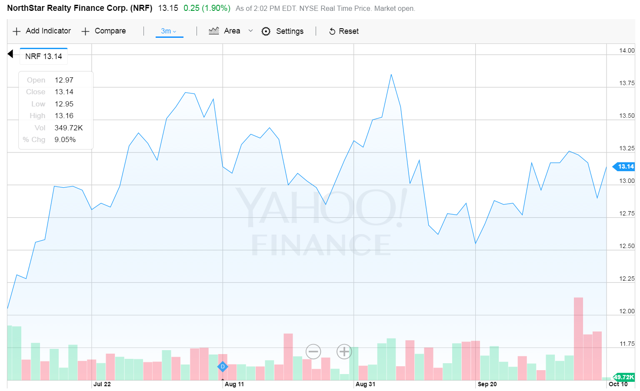 It appears that over the past three months, NRF's share price movement has trended upward nicely. On July 11, 2016, it traded at $12.05, now it's priced at $13.15. That's a $1.20 increase in three months.
Before we discuss NRF's future prospects, let's see how its preferreds have fared during the past three months. The following charts are provided by MarketWatch: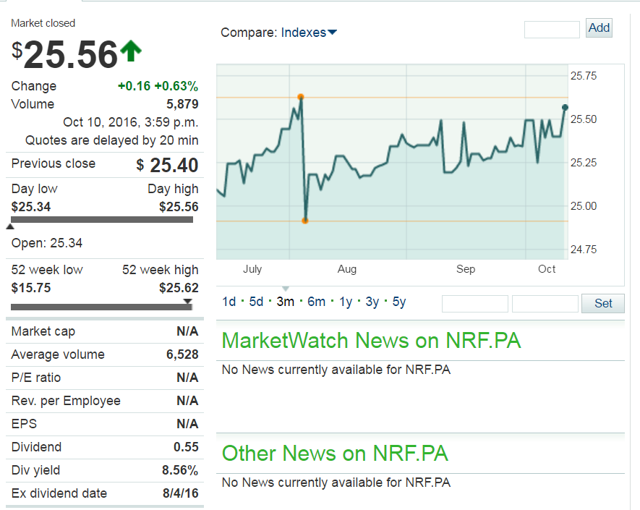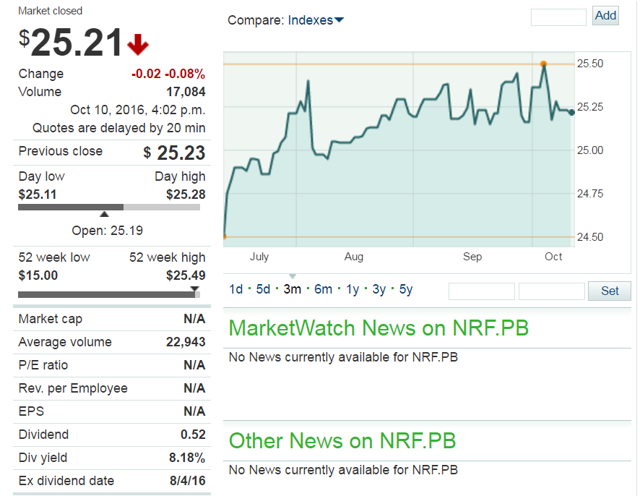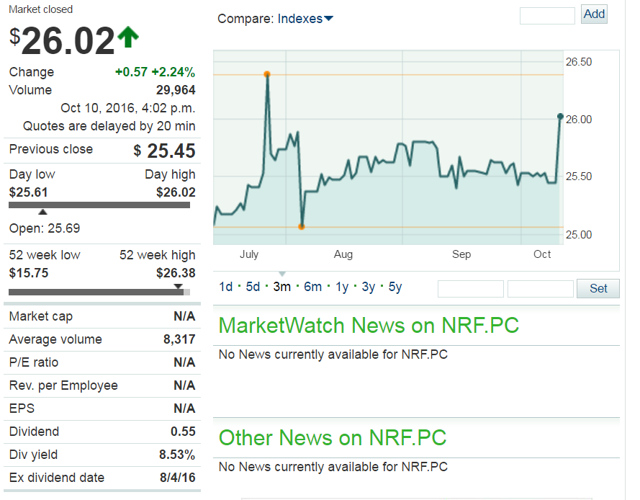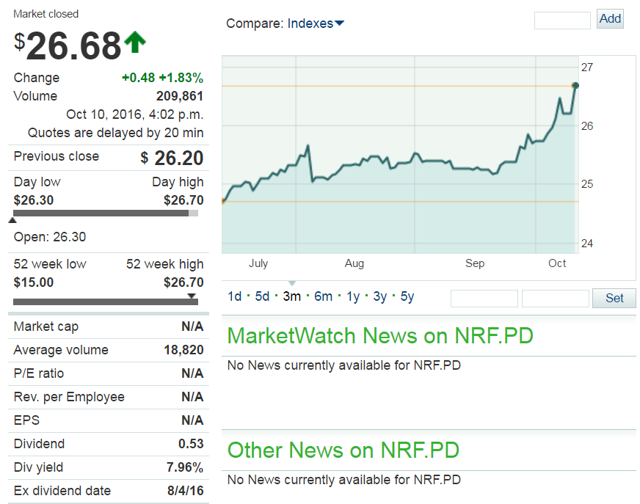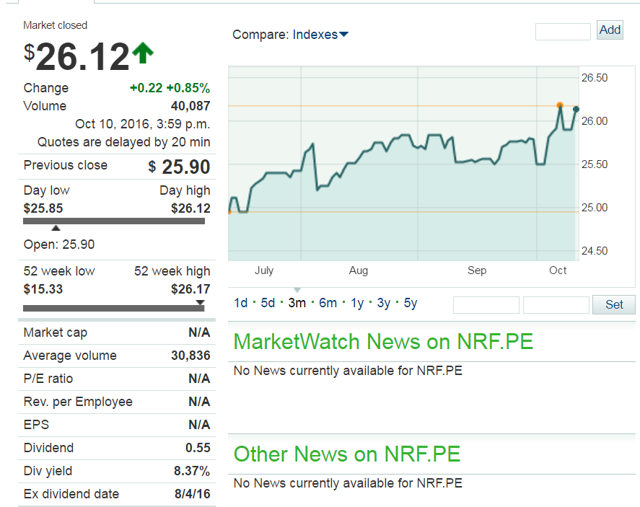 A spectacular performance across the boards, surpassing even its commons. All NRF's preferreds are currently priced above par value, and all except the E Series are currently callable. The E is callable 5/15/19.
NRF Preferreds 10-10-16
| | | | | | |
| --- | --- | --- | --- | --- | --- |
| Symbol | Yearly Dividend | Price | Dividend/Price | Yield | Best |
| NRF-A | 2.1875 | 25.56 | 2.1875/25.56 | 8.56% | |
| NRF-B | 2.06 | 25.21 | 2.06/25.21 | 8.17% | |
| NRF-C | 2.21875 | 26.02 | 2.21875/ | 8.53% | |
| NRF-D | 2.125 | 26.68 | 2.125/26.68 | 7.96% | |
| NRF-E | 2.1875 | 26.12 | 2.1875/26.12 | 8.37% | Best |
Now for that recommendation you have been eagerly awaiting. Let's begin with when each is callable, which is quite relevant because all are currently priced above par. The A & B are currently callable. The C is callable 10/11/17, the D 4/10/18 and the E 5/15/19. Consequently, I've eliminated the A & B because they're callable now, the C because of its price and that it's callable in a year, and if any are called, the C will be the first to go because it costs NRF the most per share.
Forget the D because of its crazy price and correspondingly low yield, which leaves the E as the best of breed and wins the blue ribbon. However, to be perfectly frank, the B will probably be the last to be called because it costs the company the least per share, and it's only 0.21 above par, the amount the buyer at this price would lose per share when and if it is called. But there remains a slim possibility that it could be called within the year (after the A of course), and before the C, D and E become callable. I know, a mouthful.
Now for a little forward guidance
Because as a long-term cumulative preferred investor, I am little concerned about quarterly financial reports and their attendant conference calls, which are liberally spun, I don't bother paying much attention to them unless the particular company is at risk of suffering some existential threat. NorthStar Realty is no such company, as illustrated by the price of its preferreds and its common price performance these past three months.
For those few of you that might require a bit more, I'd like to direct you to my recently posted article 'Why This Preferred Investor Is More Concerned About External Forces Than Quarterly Financial Reports' that goes into detail explaining the previous paragraph and how well this approach has served me since I became a dedicated preferred investor.
Disclosure: I am/we are long NRF-B.
I wrote this article myself, and it expresses my own opinions. I am not receiving compensation for it (other than from Seeking Alpha). I have no business relationship with any company whose stock is mentioned in this article.