Background
Global Water Resources, Inc. (NASDAQ:GWRS) operates and manages water, wastewater and recycled water utilities principally in and around Phoenix, Arizona. GWRS began trading on the NASDAQ on April 28, 2016 at an offered amount of $6.25 a share. As of October 11, 2016, GWRS owned seven water and wastewater utilities in communities principally in metropolitan Phoenix.
At the time of this article, GWRS current price was $7.71 - above its 52 week low of $6.23 - with a current PE of 7.93, a market capitalization of $151.33 million and a dividend of 3.37%.
This analysis is based on information from GWRS public SEC filings , press releases and earnings calls from the period 1Q15 through 2Q16.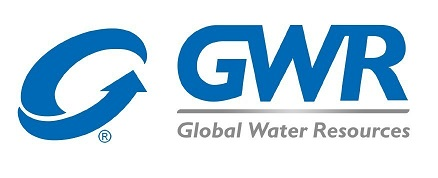 IPO
GWRS began trading on the NASDAQ on April 28, 2016 at an offered amount of $6.25 a share. Previously the parent company, Global Water Resources Corp, traded on the Toronto Stock Exchange. On May 3, 2016 the parent company merged with its only subsidiary, Global Water Resources, Inc.
On June 24, 2016 GWRS issued two issuances of unsecured notes at a blended interest rate of 4.55%. One tranche of $86.3 million pays interest only the first five years. These issuances allowed GWRS to refinance existing tax-exempt bonds at a more favorable interest rate.
On the 2Q16 earnings call, management stated the IPO allowed GWRS to accomplish two objectives:
Simplifying the corporate structure
Trigger the ability to refinance long-term debt on favorable terms
In addition, the refinancing transaction resulted in:
Lowering interest expense by $2 million a year due to lower interest rates
Increasing cash flow by $2 million a year for five years due to interest-only payments
Eliminating debt service reserve requirements freed $8.8 million in cash
Allowing early payment option on the acquisition liability of Sonoran assets for a gain of $954,000
$25 million of cash on hand as of June 30, 2016
Divestitures and Tax Deferred Gain
Of the several divestitures GWRS made during the period from 1Q15 to 2Q16, the largest was Valencia Water Company for $55 million in March 2015. The tax owed on this gain was deemed eligible for deferral by the IRS if certain stipulations were met in purchasing capital assets or making significant improvements to existing assets within the next two years. The tax savings of 38% will incentivize GWRS to either pull forward capital improvements or aggressively pursue acquisition opportunities.
Unique Characteristics of GWRS
GWRS has several unique characteristics that set this water utility apart from the larger publicly traded ones.
Phoenix, Arizona
GWRS has the majority of its operations and customers in the metro Phoenix area. The recent Arizona Supreme Court decision to affirm the Arizona Corporation Commission's decision on System Improvement Benefits opens opportunities for additional consolidation in the state. This decision along with the opportunity to defer the tax on the Valencia sale provides a unique opportunity to expand in the Phoenix market.
A successful acquisition should turn around the falling revenues and stagnating growth in connections that GWRS is experiencing. This data is illustrated below


GWM/FATHOM
FATHOM is a business unit of GWM, a wholly owned subsidiary of GWRS. GWM was sold in June 2013 to an investor group in exchange for $848,000 in equity and $750,000 in 10% convertible notes. GWM/FATHOM is considered a variable interest entity (VIE) but GWRS is not required to consolidate due to the minority interest and limited involvement in the GWM/FATHOM business. The investment is accounted for under the equity method.
GWM/FATHOM still provides billing; customer service and other support services for GWRS regulated utilities for a fee. These service fees averaged $600,000 a quarter over the 1Q15 to 2Q16 period.
Management stated in the 2Q16 earnings call that GWRS is earning close to $400,000 a year in royalties from GWM/FATHOM, however it is worth noting these royalties are currently more than offset by continuing equity losses from the GWM/FATHOM investment.
GWRS financials were dissected based on the above information with amounts obtained from the respective SEC filings.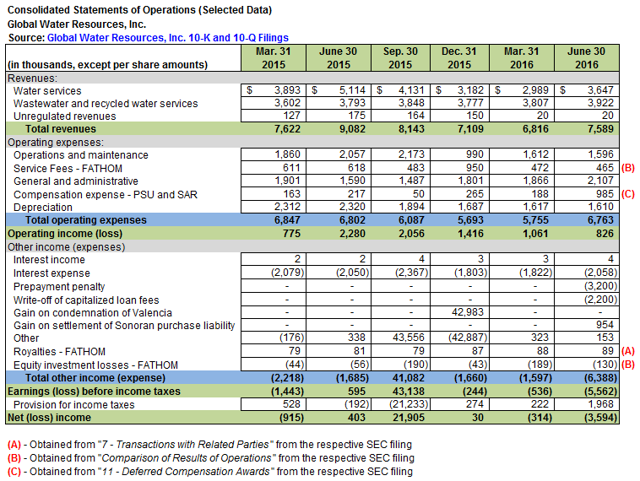 Deferred Compensation
GWRS utilizes several stock-based compensation methods to award the board, management and employees. Two of these methods have a material impact on the income statement.
Phantom Stock Units (PSU)
PSU value is tied to the performance of GWRS shares and allows the holder to receive a cash payment for the market value of GWRS shares at that moment. These PSUs vest ratably over three to four years. The total remaining PSU costs through 2018 are $389,000.
Stock Appreciation Rights (SAR)
SARs are granted at a certain exercise price and allow the employee to sell vested shares and retain the difference between the exercise price and share price. The total remaining SAR costs through 2019 are $2.608 million.
The total compensation for the period 1Q15 to 2Q16 is material and noted in the table above.
Conclusion
GWRS is the newest publicly traded water utility with a market capitalization of $150 million. GWRS is small compared to the other companies in the industry and has unique opportunities to grow due to regulatory rulings, tax guidance and a sizable cash balance. However, this growth may not manifest in the share price due to the current overhang of deferred compensation benefits. In addition, the continued drag on expenses and equity losses from the GWM/FATHOM investment may hinder the efficiency of operations.
The dividend is enticing, but investors may want to avoid GWRS until earnings become more stable.
Disclosure: I/we have no positions in any stocks mentioned, and no plans to initiate any positions within the next 72 hours.
I wrote this article myself, and it expresses my own opinions. I am not receiving compensation for it (other than from Seeking Alpha). I have no business relationship with any company whose stock is mentioned in this article.