Intel (NASDAQ:INTC) helped popularize tiny personal computer designs with its brand of Next Unit of Computing (NUC) and PC Stick computers. However, the personal computer industry is still on a downtrend. Intel, therefore, is now expanding its business to commercial drones. The Intel Falcon 8+ is a great follow-up to Intel's $60 million investment in Yuneec Aviation last year. Intel also bought German drone maker Ascending Technologies last January.
Intel's decision to create its own brand of drones is timely and judicious. Intel's rivals Qualcomm (NASDAQ:QCOM) and Nvidia (NASDAQ:NVDA) are already working on their own drone boards. Intel upgraded its strategy by becoming a real vendor of drones. QCOM and Nvidia will likely only focus on selling their drone board designs, but Intel is more ambitious.
The drone business is a nascent but fast-growing industry where Intel can still make an impact. PricewaterhouseCoopers LLP estimated that the global applications for drone technology could grow from $2 billion to $120 billion, from 2016 to 2020.
Business Insider also predicted two years ago that cumulative global spending for civilian and military drones could reach $98 billion until 2024. Selling drones could, therefore, help Intel offset the declining sales of personal computers.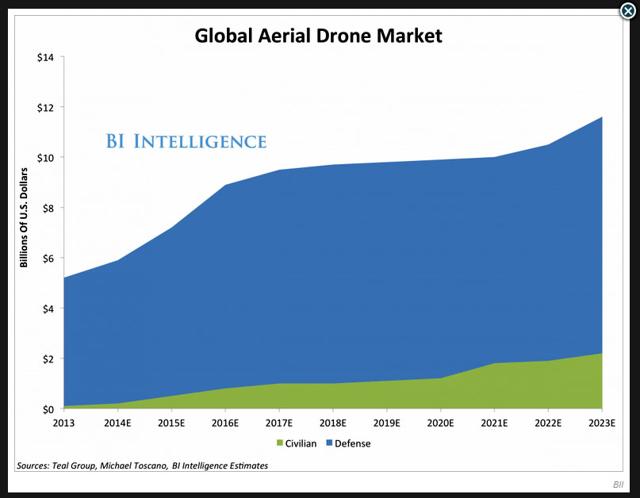 (Source: Business Insider)
It is my fearless forecast that the Intel Falcon 8+ (and its next iterations) could be used for any civilian and military purposes. This drone is the successor to Ascending Technologies' industrial-worthy AscTec Falcon 8. The patented V-form octo-copter design from Ascending Technologies' flagship drone is retained in the Intel Falcon 8+. It also uses a full-body Sony (NYSE:SNE) NEX digital camera.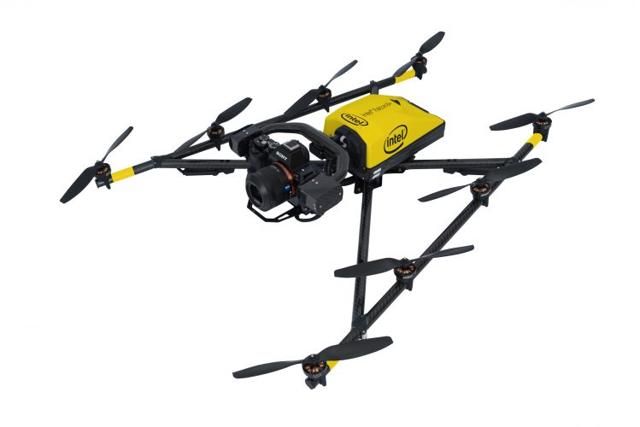 (Source: Intel)
Just from the picture above, we can already tell that the Falcon 8+ is only for customers who can afford to buy drones with 5-figure price tags. Back in 2014, the AscTec Falcon 8 retails for $31,000. Intel's new version should also retail for about the same price.
Intel is right in focusing first on the niche market for high-end Unmanned Aerial Vehicles. Catering to big-spending government and corporate clients have been a profitable strategy for Intel's server-grade processors. Intel is better off starting by selling $31K drone, rather than immediately competing with sub-$1,000 consumer drones of DJI and Parrot.
Aggressive advertising to its existing list of government/enterprise customers could help Intel sell 3k to 30k units of the Falcon 8+ every year. My optimism over the drone industry is based on the many commercial applications for unmanned aerial vehicles.
The U.S. military (and other foreign military agencies) might find the new Intel Falcon 8+ as a great addition to the AscTec Firefly. Intel has been promoting the AscTec Firefly octo-copter as workhorse for the U.S. Navy. Intel has been supplying processors and networking products to military, aerospace and government agencies. Intel could also become a trusted supplier of military-usable drones like the Falcon 8+.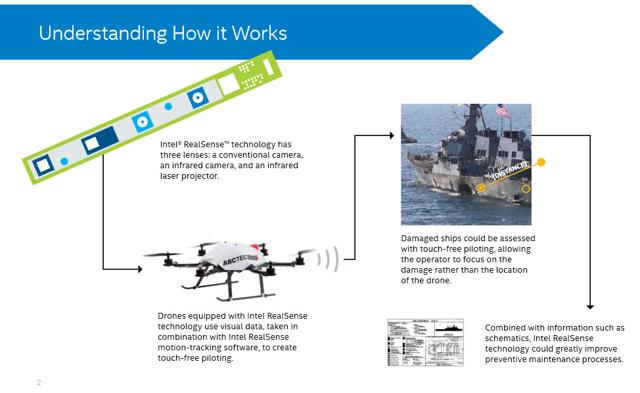 (Source: Intel)
Ascending Technologies' SWARM technology could help Intel supply drones for the U.S. military's futuristic smart swarm of "Gremlins" attack drones.
Aside from military/surveillance/ reconnaissance purposes, there are more than two dozen of other situations where Intel's high-end drone could be utilized.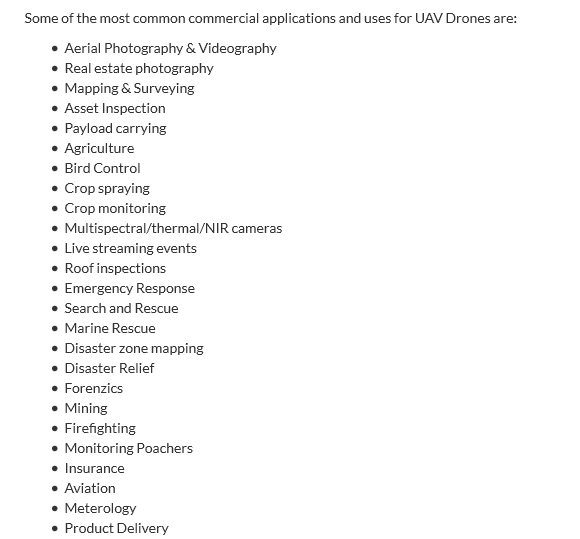 (Source: riseaboveyou.com.au)
Muscling In On Smaller Firms like DJI and Parrot
Ascending Technologies can help Intel muscle its way inside the growing drone industry. The top drone companies right now, DJI, Parrot and 3D Robotics are small and vulnerable to serious competition from a mega-cap company like Intel.
If a small firm like GoPro (NASDAQ:GPRO) can challenge DJI, Intel can certainly present a more formidable challenge to DJI.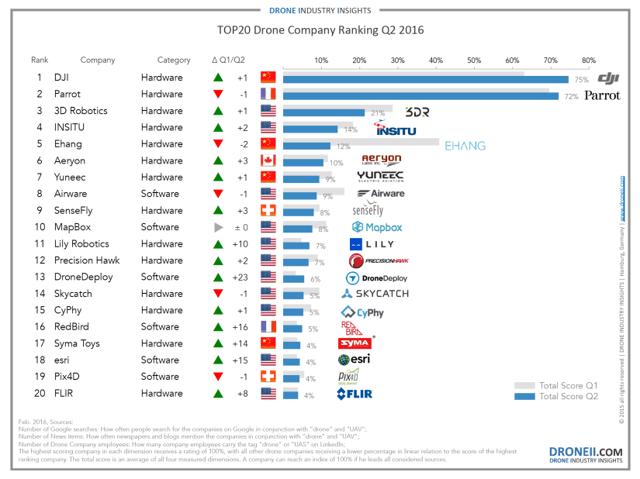 (Source: Drone Industry Insights)
I prefer Intel focusing on high-end advanced drones. However, much like how Intel sells both entry-level desktop processors and server-grade Xeon processors, Intel could eventually release consumer-grade drones. DJI's estimated revenue last year was $1 billion. DJI's success is good enough reason for Intel to also invade the consumer/hobbyist drone market.
Consumer drones could help Intel sell more of its Atom-based processors, RealSense cameras and Intel Powerpack smart batteries. I do not think drone makers like DJI and Parrot will start replacing their Ambarella-based (NASDAQ:AMBA) drone processors for Intel's Aero platform anytime soon.
Taking a pro-active approach like selling Intel-branded drones is one way for Krzanich to annoy DJI and other drone makers. Intel could rebrand some of Yuneec's quadcopters to quickly come up with alternatives to DJI's Phantom drones.
Conclusion
Intel's expansion to selling its own brand of drones is one more reason for us to stay long INTC. Intel's brand is far more recognizable than AscTec's. Intel-branded drones are likely to attract more interests from non-European customers.
AscTec will probably keep selling its own brand of drones in Europe. Intel will sell its drones in North America, Latin America, Africa and Asia. Having invested in Yuneec (no.7 global drone vendor) and Ascending technologies, Intel already has everything it needs to become a top 5 drone vendor within the next 2 or 4 years.
High-end drones for industrial and military purposes are already a multi-billion opportunity for Intel. Challenging DJI's dominance in consumer-grade drones could be another multi-billion diversification move for Intel.
Disclosure: I am/we are long INTC, NVDA, QCOM, SNE.
I wrote this article myself, and it expresses my own opinions. I am not receiving compensation for it (other than from Seeking Alpha). I have no business relationship with any company whose stock is mentioned in this article.