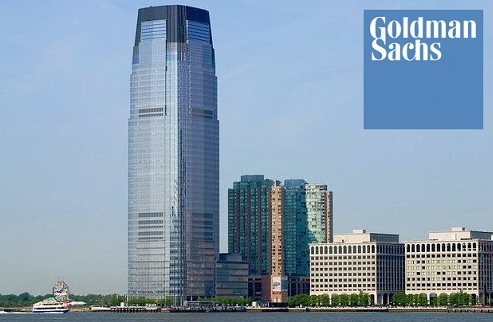 Goldman Sachs (NYSE:GS) has - like many other financials - had a very hard time rallying in the past couple of years. After hitting relative highs in the summer of last year, the stock has been pummeled and made lows at just $137 earlier this year. But since that double bottom, GS has found new life and has rallied along with the rest of the sector. Heading into Q3 earnings due out next week, GS is at multi-month highs and is only a few dollars from its YTD peak. Given the uncertainty for financials these days, is caution warranted going into Q3?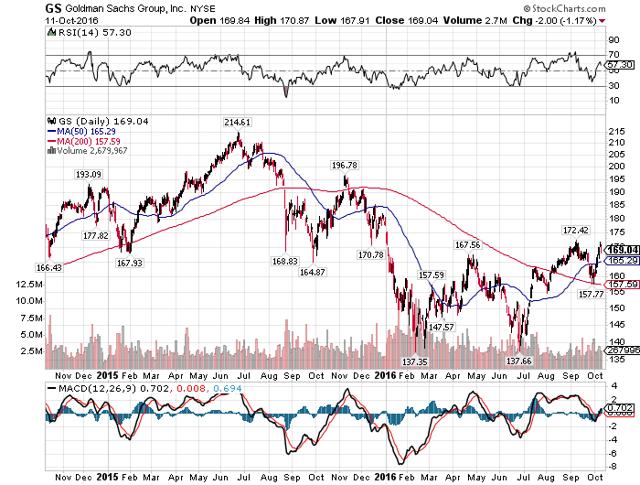 After the Q2 report, I was very cautious on GS. The rally off of the double bottom made at $137 was powerful and swift and at the time, I though GS was fairly valued. That was at $161 and obviously, we've moved up a bit since then so heading into the report, for me at least, GS' valuation could present an issue.
On the revenue front, analysts are looking for a robust 8%+ gain over last year's Q3. That would represent an enormous improvement over the -13% showing for Q2 and while we know GS' revenue moves all over the place, the composition of it will be of note as it always is. Markets have been very calm since the end of Q2 and that is exactly the kind of environment where GS can thrive. The investment banking segment was off 11% in Q2, a number I expect a marked improvement upon for Q3. FICC and debt underwriting were pockets of strength in Q2 but the weakness we saw in the equities business should have abated some. There are always lots of moving pieces for GS' revenue and they are all important but one thing I'm pretty sure of is that Q3's revenue will look a lot better than the prior quarter.
GS has seen much lower litigation and other non-compensation expenses so far this year and that should continue in Q3, helping to boost margins. GS was caught up in lawsuit after lawsuit in the past few years along with every other major financial but those days seem to be over and it is helping immensely with GS' ability to produce profits. In addition, headcount reductions continue and GS is spending less overall, something it needed in Q2 to salvage the quarter. GS' headcount is normally pretty fluid but I'm looking for another down quarter in terms of expenses and combined with strong revenue, that should produce a very nice profit number for GS. Analysts are looking for $3.79 in Q3 but given lower expenses and a bit of strength on the top line, I think the risk is to the upside.
The thing is that at 11.9 times this year's earnings, GS isn't exactly cheap. That amounts to a pretty robust multiple for a financial, even one named Goldman Sachs. The multiple is just 9.9 on next year's earnings but that assumes 20% EPS growth. That's not impossible but it is going to be tough at the same time so while I'm tilting towards bullish on this year's estimates, the story is the opposite moving into next year.
Goldman's return on equity has continued to suffer as returns in the post-crisis world have dwindled. That implies that until ROE recovers, GS should have a difficult time sustaining rallies and in fact, that has been the case. What GS reports for ROE in Q3 will be telling; is the downtrend intact or did GS manage to increase its returns?
Overall, I'm still neutral on GS because while there are pockets of strength, it is also robustly valued going into the report. It would take a blockbuster in my view for GS to make another leg higher from here but I'm not sure it would take much of a hiccup for it to fall.
The stock is still in excess of the 200DMA, which continues to fall, so that should provide some support if the stock moves down. I'd be more interested if that happens but for me, going into the report, I think there is a bit too much downside risk for me without the commensurate chance of an upside move; I'm on the sidelines going into the report at $169.
Disclosure: I/we have no positions in any stocks mentioned, and no plans to initiate any positions within the next 72 hours.
I wrote this article myself, and it expresses my own opinions. I am not receiving compensation for it (other than from Seeking Alpha). I have no business relationship with any company whose stock is mentioned in this article.